Delicious Vegan Halloween Chocolate Cupcakes Recipe
I'm no expert baker, but I can assure you that these vegan Halloween chocolate cupcakes are delicious! I recently tried them out for a Halloween party and they were a huge hit! Made with rich cocoa, creamy vegan butter, and natural plant-based ingredients, they were moist and flavorful, and the perfect addition to our spooky celebration. Plus, they were surprisingly easy to make – no special tools or skills are required! So, if you're looking for a tasty treat that's sure to impress, these vegan Halloween chocolate cupcakes are the way to go!
Vegan Halloween Chocolate Cupcakes Recipe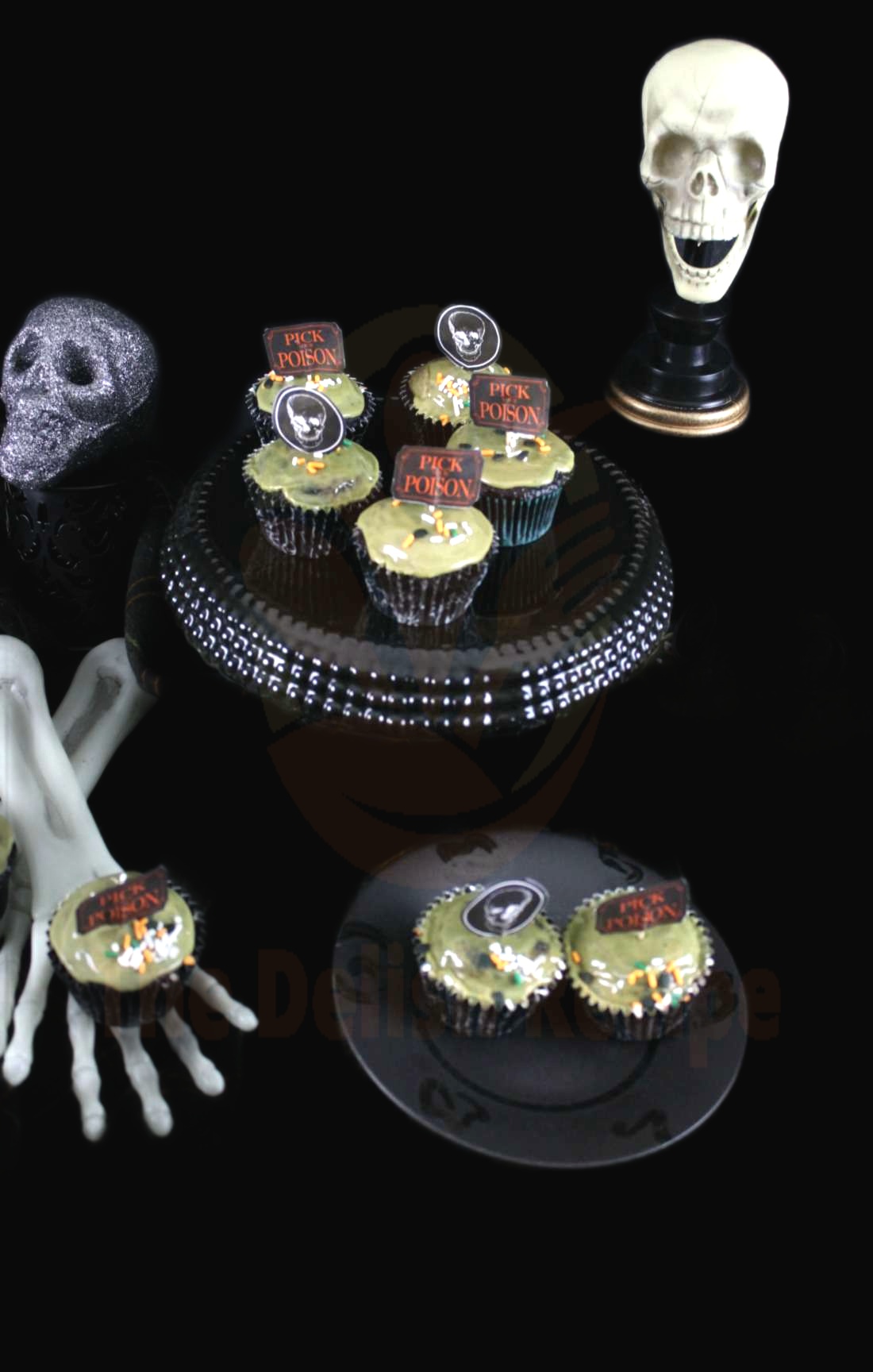 Ingredients
1 ½ cups all-purpose flour
1 teaspoon baking powder
½ teaspoon baking soda
¼ teaspoon salt
½ cup vegan butter, softened
¾ cup granulated sugar
2 teaspoons vanilla extract
1 cup almond milk
1 tablespoon unsweetened cocoa powder
2 tablespoons vegan dark chocolate chips
Vegan cream cheese frosting
Vegan sprinkles (optional)
Instructions
Preheat your oven to 350°F.
In a medium bowl, mix together the flour, baking powder, baking soda, and salt. Set aside.
In a larger bowl, cream together the vegan butter and sugar until it is light and fluffy.
Beat in the vanilla extract and almond milk.
Gradually add the dry ingredients to the wet ingredients, mixing until combined.
Add in the cocoa powder and mix until fully incorporated.
Fold in the vegan dark chocolate chips.
Line a cupcake pan with cupcake liners.
Divide the batter evenly between the liners, filling each one about halfway full.
Bake for 30 minutes, or until a toothpick inserted into the center of the cupcakes comes out clean.
Once the cupcakes have cooled, frost with vegan cream cheese frosting and top with vegan sprinkles, if desired.
Enjoy your vegan Halloween chocolate cupcakes!
Nutrition Facts
Calories: 250
Total Fat: 12g
Saturated Fat: 3g
Trans Fat: 0g
Cholesterol: 0mg
Sodium: 180mg
Total Carbohydrate: 33g
Dietary Fiber: 2g
Sugars: 18g
Protein: 4g
What vegan alternatives can be used to make these cupcakes?
You can make delectable vegan Halloween Chocolate Cupcakes with a few vegan substitutes. With vegan margarine, dairy-free chocolate, and flax eggs, you can create a delicious batch of spooky cupcakes without any animal products.
For the margarine, you can use a vegan alternative such as Earth Balance or any other vegan margarine product. This will take the place of traditional butter and create the same fluffy texture in your cupcakes.
To make the chocolate vegan, you can use dairy-free chips or you can use cocoa powder. If using chips, try to find chips that are free of any animal products. If using cocoa powder, make sure that it is labeled vegan as some cocoa powders contain animal products.
Finally, flax eggs are an easy vegan alternative to traditional eggs. To make a flax egg, simply mix 1 tablespoon of ground flaxseed with 3 tablespoons of water and let it sit for about 10 minutes. This will create a gel-like consistency that you can use in place of traditional eggs.
Making vegan Halloween Chocolate Cupcakes is easy and fun. With just a few vegan substitutes, you can create a delicious batch of spooky cupcakes for your Halloween celebration.
What decorations can you add to make these cupcakes look spooky and festive?
When making vegan Halloween chocolate cupcakes, there are plenty of fun decorations you can add to make them look spooky and festive. You can start by topping the cupcakes with black frosting or a combination of spooky colors like orange and purple. You can also create a creepy look with spider webs, ghosts, bats and witches' hats made of fondant and piped using buttercream. And don't forget the edible eyeballs! You can also use vegan candy like gummies and chocolate to decorate the cupcakes. For a real spooky vibe, you can use edible glitter in black, orange and purple to give the cupcakes a shimmery effect. Finally, you can add a few spooky props like mini plastic spiders and bats.
What are the benefits of making vegan cupcakes for halloween?
Going vegan for Halloween doesn't mean you have to miss out on delicious desserts! Vegan cupcakes offer plenty of benefits, making them an ideal treat this spooky season.
Vegan cupcakes are much healthier than traditional cupcakes. They don't contain cholesterol or animal-derived products, and are often made with natural sweeteners like agave or date syrup instead of refined sugar.
Making vegan cupcakes is also a great way to reduce your carbon footprint. By using plant-based ingredients and reducing the need for animal-derived products, you'll be doing your bit to help the environment this Halloween.
Vegan cupcakes are a great option for those with dietary restrictions. Whether you're vegan, vegetarian, or have food allergies, you can make sure that everyone can enjoy your Halloween cupcakes.
Baking vegan cupcakes can also be a great way to get creative in the kitchen.
What are some tips for making a perfect batch of vegan halloween cupcakes?
You're ready to make some delicious vegan Halloween chocolate cupcakes, but you want them to come out perfectly! Here are some tips to help you make that perfect batch of vegan Halloween cupcakes:
Gather the right ingredients: Make sure you have all of the necessary ingredients, including vegan butter and vegan chocolate chips. If you're using a recipe, double-check it to make sure you have all of the ingredients listed.
Preheat your oven: Preheat your oven to the temperature specified in the recipe. This will make sure your cupcakes cook evenly and don't take too long or burn.
Grease your pans: Grease your cupcake pans before adding the batter. This will ensure your cupcakes don't stick to the pans and are easy to remove.
Measure correctly: It's important to measure your ingredients correctly. Using too much of one ingredient can change the texture and taste of your cupcakes.
Don't overfill the pans: When adding batter to the cupcake pans, make sure you don't overfill them. Doing so will cause your cupcakes to overflow and make a mess.
Don't overmix: Once you've added the batter to the pans, don't overmix it. Doing so can cause the cupcakes to become dense and chewy.
Bake for the right amount of time: Make sure you bake your cupcakes for the amount of time specified in the recipe. Baking them for too long will cause them to become dry and overcooked.
Let them cool: Once you've taken your cupcakes out of the oven, let them cool for at least 10 minutes before removing them from the pans. This will ensure they come out perfectly.
How can you make these cupcakes more exciting to eat for halloween?
You don't have to be a professional baker to make your vegan Halloween chocolate cupcakes more exciting to eat. There are plenty of creative and fun decorations that you can use to bring the festive spirit to your cupcakes. Here are some ideas to get you started.
To make your cupcakes spooky, you can use Halloween themed sprinkles or decorations. Ghost, pumpkin, and spider sprinkles will transform your cupcakes into a festive treat. You can also use candy eyes, edible fangs, and mini bats to give your cupcakes a spooky look.
For a sweeter take on your cupcakes, you can top them with miniature pumpkins, candy corn, and other seasonal candies. You can also pipe orange and black frosting on top, or use a combination of both for a truly unique look.
If you're feeling extra creative, you can make a graveyard scene out of your cupcakes. Use crushed Oreos for "dirt," green food coloring for "grass," and white chocolate chips for "headstones." You can also use candy corn, marshmallows, and gummy worms to create a creepy yet delicious decorative topping.
No matter how you choose to decorate your cupcakes, you'll be sure to impress your friends and family with a delicious vegan treat this Halloween.