Vanillekipferl Recipe: How To Make Authentic Austrian Vanilla Crescent Cookies
I'm so excited to share my favorite winter cookie recipe with you – Vanillekipferl! It's a traditional Austrian cookie that my grandmother used to make every year during the holidays. The process of making these cookies is so rewarding – from forming the crescent shapes to rolling them in the sugar and vanilla powder. The combination of flavors and textures make them simply irresistible. So, get ready to get your hands and aprons dirty as you create some magical cookies in your own kitchen!
Vanillekipferl Recipe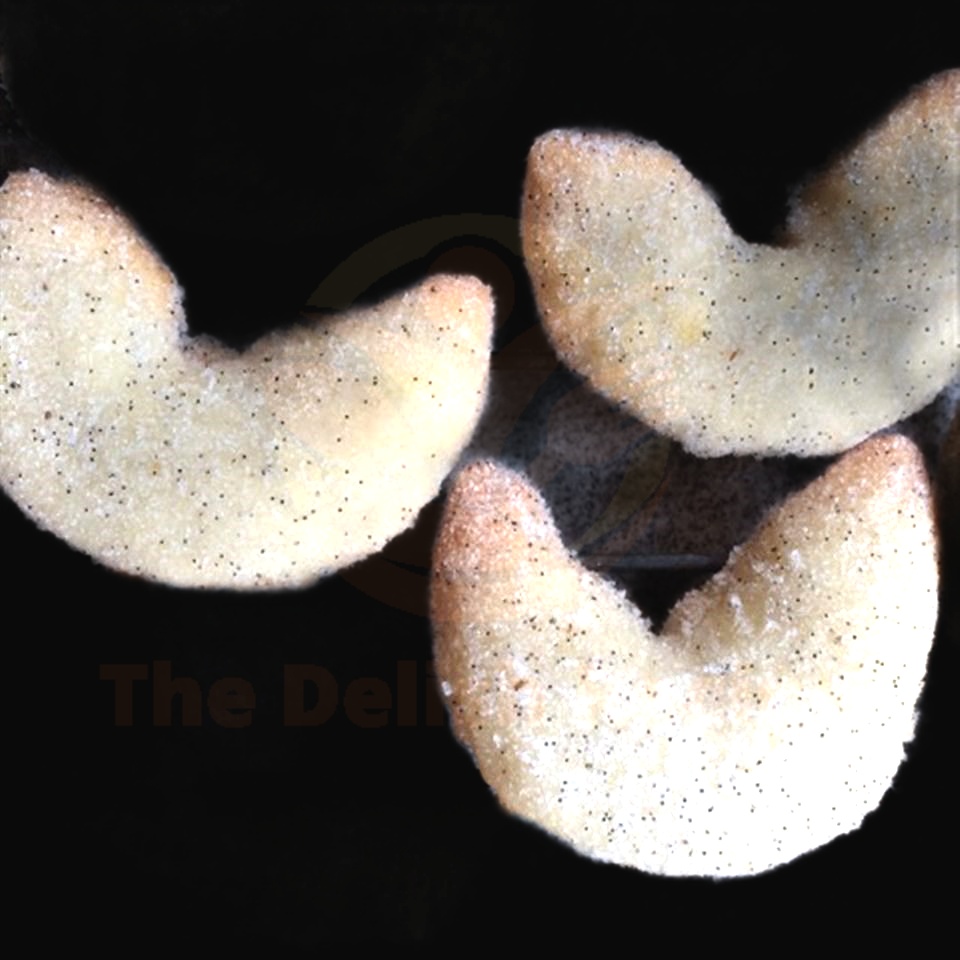 Ingredients
1 cup (125 g) all purpose flour
1/2 cup (50 g) almond flour
3/4 teaspoon ground cardamom
1/4 teaspoon ground cinnamon
1/4 cup (50 g) sugar
1/4 teaspoon salt
1/2 cup (115 g) butter, softened
2 teaspoons vanilla extract
2 tablespoons icing sugar
Instructions
Let's get started making some delicious Vanillekipferl! Preheat your oven to 350°F (175°C).
In a medium bowl, mix together the all purpose flour, almond flour, ground cardamom, ground cinnamon, sugar, and salt.
Add the softened butter and use a pastry blender or a fork to combine the ingredients until you have a crumbly texture.
Add the vanilla extract and mix until fully incorporated.
Now it's time to roll up your sleeves and get to work! Take a handful of the dough and roll it into a log shape about 1-2 inches wide.
Cut the log into 1-inch pieces and shape each piece into a crescent-moon.
Place the Vanillekipferl onto a baking sheet lined with parchment paper and bake in the preheated oven for 20 minutes.
Once the Vanillekipferl are golden brown and fragrant, remove them from the oven and let cool for 10 minutes.
When the Vanillekipferl are cool, roll them in the icing sugar to coat.
Enjoy your delicious Vanillekipferl!
Nutrition Facts
Calories: 298,
Total Fat: 13.1g,
Saturated Fat: 7.5g,
Cholesterol: 31mg,
Sodium: 294mg,
Total Carbohydrates: 37.2g,
Dietary Fiber: 1.2g,
Sugars: 11.2g,
Protein: 4.3g.
Have you ever tried the traditional austrian cookies called vanillekipferl?
Have you ever tried the traditional Austrian cookies called Vanillekipferl? If you haven't, you're missing out on a sweet treat! These crunchy, crescent-shaped cookies are packed with flavor, and they are sure to make your taste buds dance with joy.
Vanillekipferl originated in Austria centuries ago, and they are still a popular treat today. They are made with a combination of ground almonds, sugar, and butter, and they are usually flavored with vanilla. The dough is rolled into crescents, which are then sprinkled with more sugar before being baked to perfection. The result is a crispy, flavorful cookie that is sure to delight.
Vanillekipferl are not just a delicious treat; they are also incredibly easy to make. All you need are four ingredients and a few minutes of your time! Once your dough is prepared, you can shape it into crescents and bake it. The end result is a crunchy, sweet cookie with a heavenly flavor.
So, if you haven't tried Vanillekipferl yet, now is the time to give them a go! They are sure to be a hit with your friends and family.
What makes these cookies so unique and special?
You may be wondering what sets Vanillekipferl cookies apart from regular cookies? The answer is simple: these delightful treats are made with a unique combination of ingredients that make them truly special and delicious.
Vanillekipferl are made with a combination of fine almond flour and butter, as well as sugar and vanilla extract. This combination of ingredients creates a unique flavor that is hard to replicate with other cookie recipes. The almond flour also adds a hint of nuttiness to the cookies, creating a complex flavor that you won't find with any other type of cookie.
The shape of the cookie is also quite unique. Unlike other cookies, Vanillekipferl are shaped into crescent moons, giving them a distinctive appearance that sets them apart from other cookie recipes. This shape is created by rolling the dough into small balls and then pressing them into the signature crescent shape.
There is also something special about the texture of Vanillekipferl. The cookie dough is slightly crunchy on the outside, while the inside is soft and chewy. This combination of textures makes them enjoyable to eat, and you won't be able to resist reaching for one (or two!).
When it comes to cookies, Vanillekipferl are truly one-of-a-kind. From their unique flavor to their distinctive shape, these cookies are sure to be a hit with everyone who tries them.
What kind of flavour does vanillekipferl have?
Vanillekipferl is a traditional German cookie with an incredible flavor! These cookies have a deliciously sweet and nutty taste. They are made of ground almonds and walnuts, sugar, egg yolks, and a hint of vanilla extract. The combination of these ingredients creates a unique, delectable flavor that is sure to satisfy any sweet tooth!
The vanilla extract is what gives Vanillekipferl its signature flavor. The vanilla extract is mixed into the cookie dough and then baked to perfection. The resulting cookies have a fragrant, sweet and nutty flavor that is sure to make any cookie-lover swoon. The creamy flavor of the almond and walnut, mixed with the subtle sweetness of the vanilla extract, create a flavor that is truly out of this world!
Vanillekipferl are a classic German holiday treat, but they can also be enjoyed any time of year. Put a plate of these delightful cookies out at your next get-together, or simply enjoy them as a special treat for yourself.
What is the origin of the name vanillekipferl?
You may have heard of the delicious Austrian cookie called Vanillekipferl, but do you know where it got its unique name? Vanillekipferl is a traditional Christmas treat and its name is derived from the German words "Vanille" and "Kipferl", which mean "vanilla" and "crescent" respectively.
The name of the cookie is believed to have originated from the shape of the cookie itself. Vanillekipferl are made with a rich, buttery dough that is rolled into a crescent shape and then dusted with either vanilla sugar or ground nuts. These crescent shaped cookies are believed to have been invented by a baker in Vienna in the early 19th century.
It's likely that the name was inspired by the shape of the cookies and the traditional ingredients used to make them. The combination of the two words Vanille and Kipferl perfectly captures the crescent shape and the sweet vanilla flavor of this scrumptious cookie.
So, there you have it! The origin of the name Vanillekipferl is a combination of two German words which mean "vanilla" and "crescent". This traditional Austrian cookie is a delightful treat enjoyed by people all over the world and its unique name perfectly captures its delicious flavor and shape.
What are some creative ways to enjoy vanillekipferl?
There are so many creative ways to enjoy Vanillekipferl! You can enjoy them as a snack on their own, or you can incorporate them into a variety of recipes and treats. Here are some of the most popular and creative ways to enjoy these delicious cookies:
Dip them in chocolate for a delicious treat! You can dip the whole cookie in melted chocolate or drizzle chocolate over them for a more elegant presentation.
Crumble them up and sprinkle over ice cream for a crunchy and sweet topping.
Use them as a crust for pies or tarts.
Make ice cream sandwiches with them and your favorite ice cream flavor.
Turn them into a coffee cake by layering them with coffee flavored cream.
Use them as decoration for cakes and cupcakes.
Make a trifle with layers of Vanillekipferl, cream, and your favorite fruits.
Make a creamy mousse by blending the cookies with a few ingredients.
These are just a few of the many creative ways to enjoy Vanillekipferl! With a little creativity, you can use these cookies in a variety of recipes and treats.
What is the best recipe for making vanillekipferl?
If you're looking for the best recipe for making vanillekipferl, you've come to the right place! Making this traditional Austrian cookie is a fun and easy way to get into baking. You just need a few simple ingredients and you'll be ready to go.
Vanillekipferl is a traditional Austrian cookie made up of ground almonds and ground hazelnuts, sugar, butter and, of course, vanilla. The dough is shaped into a crescent-like shape and rolled in either granulated sugar or powdered sugar. The finished cookies are sweet, delicate and melt-in-your-mouth delicious.
To make vanillekipferl, start by preheating the oven to 350°F. In a bowl, combine the ground almonds and hazelnuts, and then stir in the confectioners' sugar. In a separate bowl, beat the butter until it is light and fluffy. Then add in the vanilla extract and mix until it is fully incorporated.
Gradually add the almond-hazelnut mixture to the butter mixture, stirring until you have a dough. On a lightly floured work surface, roll out the dough to about ¼ inch thick. Cut out crescent-shaped cookies and place them on a parchment-lined baking sheet. Bake for 15 to 20 minutes, or until golden brown. Let the cookies cool slightly before rolling them in either granulated sugar or powdered sugar.
Enjoy these delicious and traditional Austrian cookies. With a few simple ingredients and a bit of baking know-how, you can easily make these delectable treats right in your own kitchen.