Warm & Sweet Vegan Butternut Squash Soup Recipe
Whenever I'm feeling down, there's nothing like a warm, comforting bowl of soup to brighten my mood. That's why I'm so excited to share my recipe for Sweet Vegan Butternut Squash Soup! Not only does it have a deliciously sweet flavor, but it's also vegan and full of veggies. Plus, it's easy to make and only takes about 25 minutes to prepare. So grab your ingredients and let's get started!
Sweet Vegan Butternut Squash Soup Recipe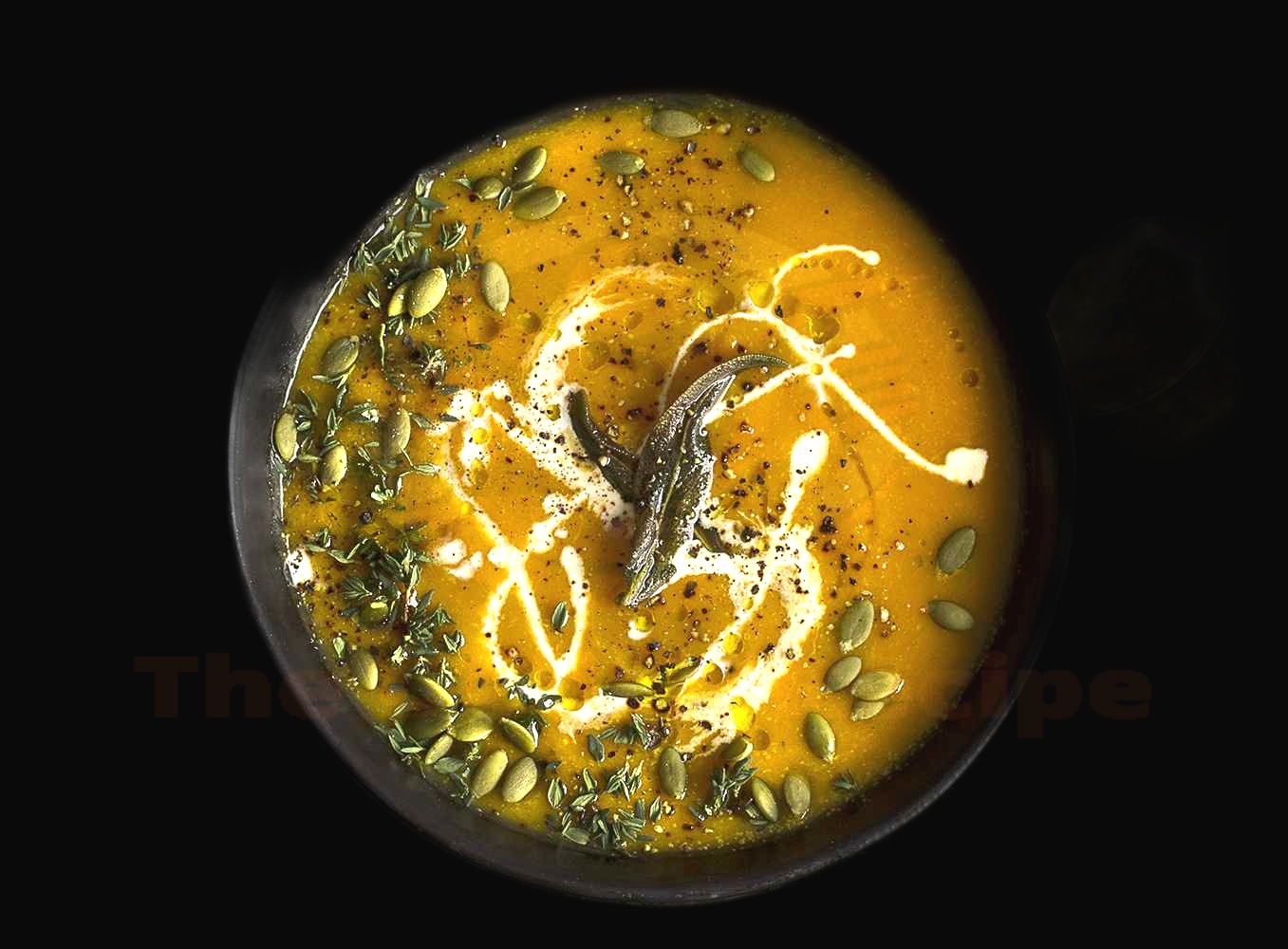 Ingredients
1 medium butternut squash, peeled, seeds removed, and diced
1 large onion, diced
3 cloves garlic, minced
1 teaspoon fresh ginger, minced
2 tablespoons olive oil
3 cups vegetable broth
1/4 teaspoon ground cinnamon
1/4 teaspoon ground nutmeg
1/2 teaspoon sea salt
1/4 teaspoon ground black pepper
1/4 cup maple syrup
1/4 cup coconut milk
2 tablespoons vegan butter
2 tablespoons fresh parsley, chopped (for garnish)
Instructions
Hey there! Welcome to my sweet vegan butternut squash soup recipe. We're going to have a great time making this delicious soup! Let's get started!
First, you will need to prep the ingredients. Peel, seed, and dice the butternut squash. Dice the onion, mince the garlic and ginger.
Next, heat the olive oil in a large soup pot over medium heat. Add the diced onion and garlic and cook for about 5 minutes, stirring occasionally. Add the minced ginger and cook for another minute.
Now, it's time to add the rest of the ingredients: the butternut squash, vegetable broth, cinnamon, nutmeg, sea salt, black pepper, maple syrup, and coconut milk. Stir to combine.
Bring the soup to a boil, then reduce the heat and let it simmer for 45 minutes. Once the squash is soft and cooked through, turn off the heat.
Use an immersion blender to blend the soup until smooth. Stir in the vegan butter and let it melt.
Garnish with chopped parsley and serve. Enjoy!
Nutrition Facts
Calories: 170
Fat: 8g
Carbohydrates: 24g
Protein: 2.5g
Sodium: 450mg
Fiber: 3g
Sugar: 11g
What makes this sweet vegan butternut squash soup so special?
What makes this Sweet Vegan Butternut Squash Soup so special? It's all in the details! This soup has a unique blend of spices that give it an incredible depth of flavor, and the addition of coconut milk makes it deliciously creamy. The perfect mix of sweet and savory, this soup is sure to satisfy even the pickiest eater.
The star of the show is, of course, the butternut squash. This vegetable is packed with vitamins and minerals and adds a beautiful orange hue to the soup. It's also surprisingly easy to prepare and is a great source of fiber.
The soup is also made with fragrant garlic and onions, which add a subtle sweetness and depth of flavor. Fresh ginger and a pinch of cayenne give it a touch of heat and zing. Finally, a hint of maple syrup tempers the spice and creates a perfectly balanced broth.
This Sweet Vegan Butternut Squash Soup is a cozy and comforting meal that's perfect for chilly nights. Plus, it's incredibly healthy and can easily be made ahead of time.
What other ingredients can be used to add flavor and texture to this dish?
Adding flavor and texture to vegan butternut squash soup can really take it to the next level! There are a variety of ingredients you can use to add flavor and texture such as mushrooms, onions, garlic, and ginger. For even more flavor, you can also add a pinch of nutmeg, cinnamon, and cayenne pepper. For texture, you can add crunchy croutons, roasted pumpkin seeds, or even diced apples. The possibilities are endless! With the right combination of ingredients, you can create a delicious and nutritious vegan butternut squash soup that everyone can enjoy.
How does the sweetness of this recipe balance with the natural flavors of the ingredients?
Yes! The sweetness of this vegan butternut squash soup really works to bring out the natural flavors of the ingredients. Here's how:
The combination of butternut squash, apple and orange creates a sweet, fruity base that is balanced by a hint of savory aroma from the onion and garlic.
A generous helping of fresh rosemary adds a subtle herbal flavor to the mix, which helps to balance out the sweetness.
Finally, a splash of maple syrup brings out the natural sweetness of the vegetables and fruits, giving the soup a unique flavor that is both sweet and savory.
What are the health benefits of vegan butternut squash soup?
Yes, vegan butternut squash soup is good for you! Here are just a few of the health benefits you can enjoy when you make this delicious soup:
Rich in Vitamins and Minerals: Butternut squash is a great source of vitamins and minerals, including vitamin A, vitamin C, vitamin E, magnesium, potassium, and calcium.
Low in Calories: One serving of butternut squash soup contains only about 75 calories, making it a great option for those looking to watch their calorie intake.
Heart-Healthy: Butternut squash is packed with fiber, which can help reduce cholesterol levels and lower your risk of heart disease.
High in Antioxidants: Butternut squash is rich in antioxidants, which can help protect your body from harmful free radicals and boost your immune system.
Good for Digestion: The fiber in butternut squash can also help keep your digestive system running smoothly.
What tips or tricks can you share to make this recipe even more delicious?
Roast the Butternut Squash: Roasting the butternut squash before adding it to the soup gives it a far more intense and sweet flavor. Simply cut the squash into cubes, toss them with some olive oil, salt, and pepper, and roast in the oven at 400°F for 25-30 minutes.
Add a Sweetener: If you find that the soup is not sweet enough, you can add some brown sugar or maple syrup to give it an extra boost. Start with a teaspoon and add more as needed.
Add Creamy Texture: If you like your soup to have a bit of a creamy texture, you can add some coconut milk or cashew cream. This will not only add some richness to the soup, but also a hint of sweetness.
Spice it Up: To add a bit of a kick to your soup, you can add some curry powder and cayenne pepper. A pinch of each should do the trick. You can also add some freshly-chopped herbs, such as thyme, rosemary, or sage.
Serve with Toppings: To really make this soup stand out, add some toasted nuts or seeds, freshly-chopped herbs, or a dollop of vegan yogurt. This will add a nice crunch and some extra flavor to your soup.
What are the best ways to serve this sweet vegan butternut squash soup?
Serving up this sweet vegan butternut squash soup is a breeze! It's a perfect appetizer or light lunch for any occasion, and you can easily make it look as impressive as it tastes. Here are some of the best ways to serve up this delicious soup.
Top with roasted squash seeds: Roasted squash seeds are a great way to add a crunchy texture and nutty flavor to the soup. Simply scoop out the seeds from the butternut squash, rinse them, toss them in olive oil and salt, and roast them in the oven for about 10 minutes.
Drizzle with a flavorful oil: A drizzle of high-quality oil can add a flavor-packed punch to the soup. Try a combination of olive oil and truffle oil for an earthy flavor, or walnut oil for a nutty taste.
Sprinkle with crushed nuts: Sprinkling the soup with some crushed nuts is a great way to give it some texture. Try walnuts, almonds, or hazelnuts for a delicious nutty flavor.
Garnish with herbs: Adding a few sprigs of herbs can make the soup look as amazing as it tastes. Try adding some fresh thyme, rosemary, or sage for color and flavor.
Serving up this sweet vegan butternut squash soup can be easy and delicious.