Sizzling Spicy Snack Mix – The Perfect Bite For Any Occasion!
I'll never forget the first time I tried this delicious Spicy Snack Mix. It was love at first bite! The sweet and spicy combination of flavors was simply irresistible. I knew right away that I had found a snack I could enjoy time and time again. Now, I'm excited to share this recipe with you so you can experience the same delight I did when I first tried this mix!
Spicy Snack Mix Recipe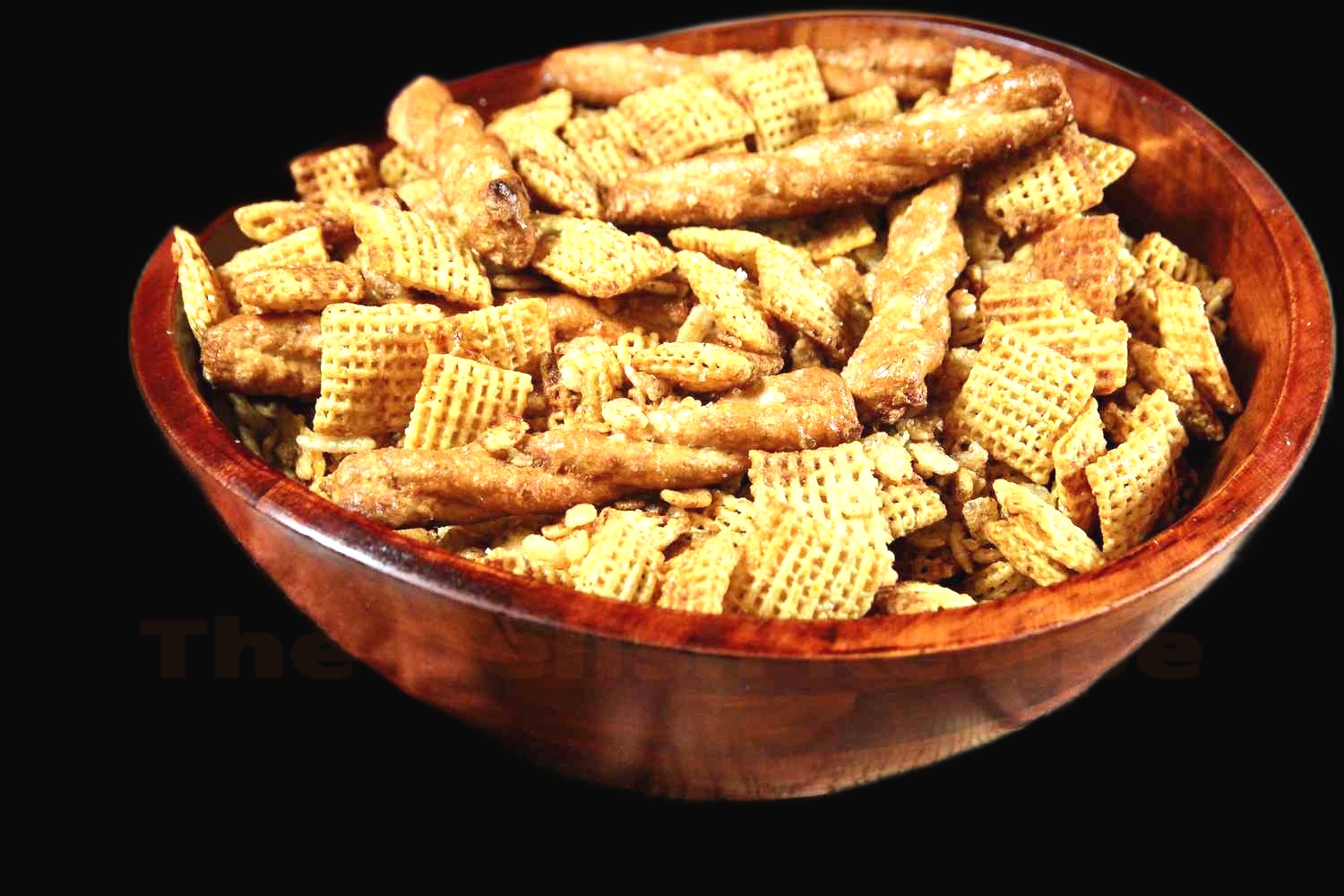 Ingredients
1 ½ cups of pretzels
1 cup of roasted peanuts
½ cup of sesame sticks
¼ cup of sunflower seeds
2 tablespoons of garlic powder
2 tablespoons of onion powder
2 tablespoons of nutritional yeast
2 tablespoons of olive oil
1 tablespoon of cayenne pepper
1 tablespoon of paprika
1 tablespoon of chili powder
1 teaspoon of sea salt
Instructions
Preheat your oven to 350°F and grab a large baking sheet.
In a bowl, mix together the pretzels, peanuts, sesame sticks, and sunflower seeds.
In a separate bowl, mix together the garlic powder, onion powder, nutritional yeast, olive oil, cayenne pepper, paprika, chili powder, and sea salt.
Pour the seasoning mix over the pretzel mix and stir together until the dry ingredients are well coated.
Spread the mixture out onto the baking sheet evenly.
Bake the mix in the oven for 15 minutes.
Once done, let the spicy snack mix cool for 15 minutes before serving.
Enjoy your spicy snack mix!
Nutrition Facts
Calories: 313
Fat: 9.2g
Carbohydrates: 42.6g
Protein: 10.6g
Sodium: 826mg
Cholesterol: 0mg
Sugar: 0g
Fiber: 5.9g
What makes this spicy snack mix so unique and delicious?
This spicy snack mix is truly one-of-a-kind! It's loaded with a delicious combination of crunchy, savory, and spicy ingredients that will tantalize your taste buds and leave you wanting more. The mix includes a variety of nuts, seeds, pretzels, and popcorn, all seasoned with a unique combination of spices, including cayenne, garlic powder, and onion powder. This heavenly mix of flavors and textures is sure to become your favorite go-to snack!
The key to this snack mix's deliciousness is the perfect balance of sweet, savory, and spicy. The combination of cayenne, garlic powder, and onion powder give the mix a nice kick, while the sweetness of the nuts and seeds balance it out. The pretzels and popcorn provide a delightful crunch, adding an extra layer of texture to the mix. It's truly a flavor and texture experience that is hard to beat!
What makes this snack mix even more special is that it's totally customizable. You can mix and match the ingredients to create your own unique flavor and texture combinations. Whether you're a fan of sweet and savory, or a lover of spicy and crunchy, you can create a mix that is sure to please your palate.
What ingredients are essential in making the perfect spicy snack mix?
When it comes to making the perfect spicy snack mix, there are some essential ingredients you'll need. You can't go wrong with a classic combination of crunchy pretzels, potato chips, Chex cereal, and peanuts. Then, to make it extra spicy, add a combination of cayenne pepper, chili powder, garlic powder, and paprika. For even more heat, you can throw in some jalapenos or hot sauce! To give the mix some sweetness, add some dried fruit, like cranberries or cherries. Finally, to tie it all together, add some butter, olive oil, and a sprinkle of salt.
What are the health benefits of making and eating this spicy snack mix?
The health benefits of making and eating this spicy snack mix are undeniable! Here are a few of the many benefits you can expect to get when you make and enjoy this tasty snack:
Improved Digestion: The mix of nuts and seeds in this snack mix provide a good source of fiber, which can help improve your digestive health and promote regularity.
Improved Heart Health: The nuts in this snack mix are packed with heart-healthy fats, like omega-3 fatty acids, which can help reduce cholesterol levels and lower your risk of heart disease.
Increased Energy Levels: The combination of nuts, seeds, and spices provides a good source of protein, which can help give you an energy boost and keep you feeling energized throughout the day.
Reduced Stress: The spices in this snack mix may help reduce stress levels by relaxing the body and calming the mind.
Improved Immunity: The mix of nuts, seeds, and spices provides a good source of vitamins and minerals, which can help boost your immune system and ward off sickness.
By making and eating this spicy snack mix, you can reap the many health benefits it has to offer.
What is the best way to prepare this spicy snack mix?
The best way to make a spicy snack mix is to combine a variety of your favorite crunchy snacks, like pretzels, corn chips, and popcorn, and add some heat with a variety of spices. You can use chili powder, cayenne pepper, paprika, garlic powder, and onion powder to give your snack mix an extra kick. To finish it off, you can add some butter or oil and mix everything together until it's evenly coated.
How can you customize this spicy snack mix to suit your taste?
If you're looking to add some extra spice to your snacking routine, then creating your own spicy snack mix is a great way to do it! With just a few simple ingredients, you can customize this snack mix to suit your tastes. Here's how you can do it:
First, decide on what type of base you'd like to use for your snack mix. You can go with something traditional like popcorn or pretzels, or choose something more unique like plantain chips or roasted chickpeas. Whatever you choose, make sure it's something that won't be too spicy on its own.
Next, pick out your favorite spices. You can choose from a variety of spices like chili powder, cayenne pepper, smoked paprika, and more. Start with a small amount, then adjust the spice level as needed.
Finally, add some extra flavor and texture elements. This could be anything from crunchy nuts and seeds, to dried fruits and even chocolate. Whatever you choose, make sure it pairs well with the spices you selected.
Once you've got all your ingredients together, simply mix everything and enjoy! Just remember to adjust the amount of spices you use depending on how spicy you like your snack mix.
What are some creative ideas to serve this spicy snack mix?
If you're looking for some creative ways to serve up a delicious and spicy snack mix, we've got you covered! With just a few simple ingredients, you can create a snack mix that is sure to tantalize everyone's taste buds. Here are some of our favorite ideas for taking your snack mix to the next level:
Serve your spicy snack mix in parmesan cups. Simply fill parmesan cups with your mix and top with a sprinkle of chili powder for an extra kick. The cheesy, crunchy cups will be a hit with everyone!
Turn your spicy snack mix into a dip. Mix it with cream cheese, sour cream, and a pinch of cayenne pepper. Serve with tortilla chips, crackers, or sliced vegetables for an irresistible appetizer.
Use your spicy snack mix to top salads. Sprinkle it over a bed of lettuce and top with a zesty vinaigrette. The mix adds a little crunch and a lot of flavor to any salad.
Make a spicy snack mix trail mix. Combine your mix with dried fruit, nuts, and seeds, and you have a delicious and healthy snack.
Turn your snack mix into a pizza topping. Sprinkle it over a cheese pizza before baking for a unique and flavorful twist on a classic dish.
No matter which of these ideas you choose, your spicy snack mix is sure to be a hit! You can make the mix as mild or as spicy as you like, and the possibilities for creative serving ideas are endless.