Deliciously Spicy Pumpkin Scones Recipe
I've been making these Spicy Pumpkin Scones for years, and they have become a staple in my home. Not only are they deliciously moist, but the combination of sweet pumpkin and spicy cinnamon makes them truly irresistible. Whether for breakfast or an afternoon snack, my family can't get enough of these scones – and I'm sure you won't be able to either!
Spicy Pumpkin Scones Recipe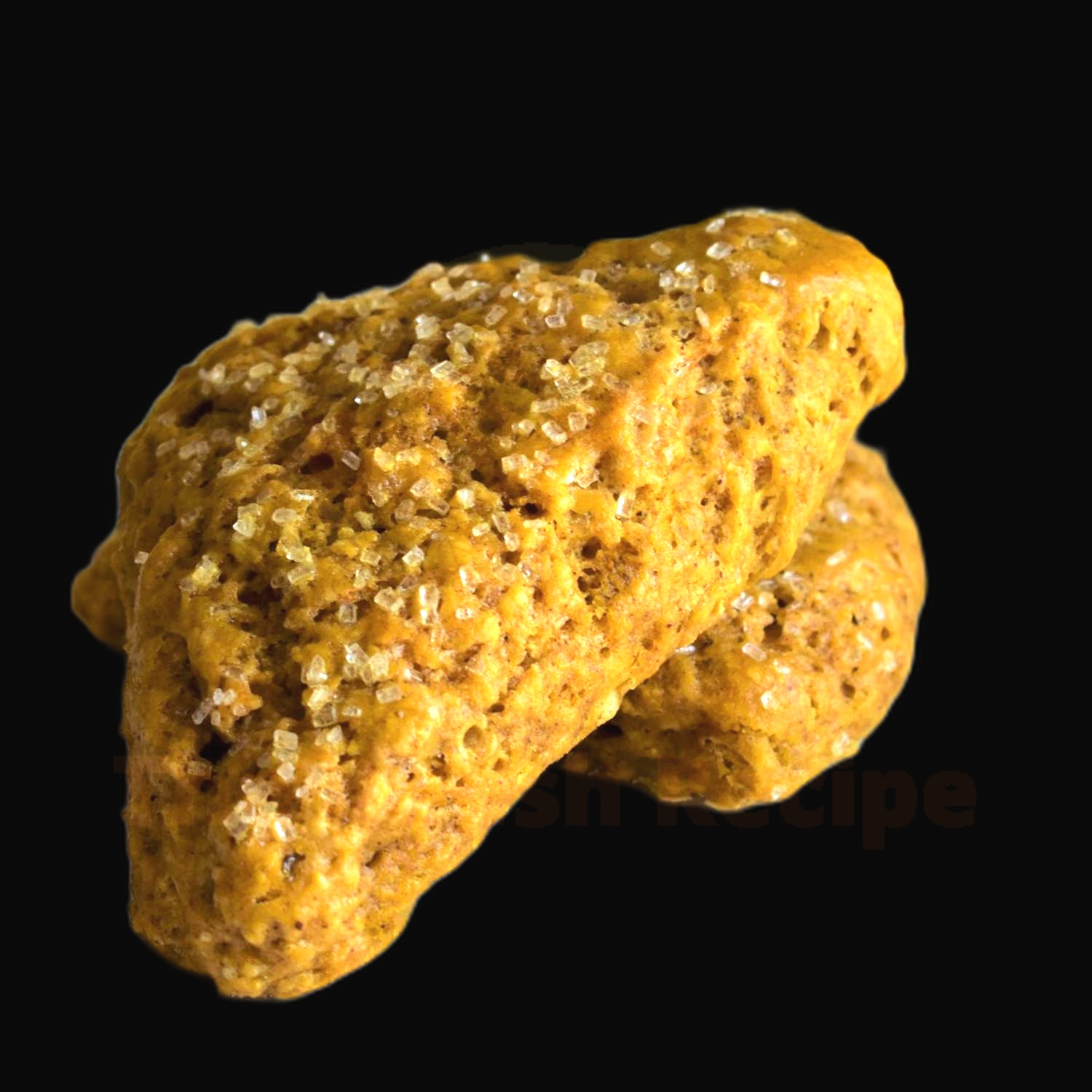 Ingredients
1 cup all-purpose flour
1 teaspoon baking powder
1/2 teaspoon baking soda
1/2 teaspoon ground cinnamon
1/2 teaspoon ground ginger
1/4 teaspoon ground nutmeg
1/4 teaspoon ground allspice
1/4 teaspoon salt
5 tablespoons chilled, unsalted butter, cut into small pieces
1/2 cup canned pumpkin puree
1/4 cup packed light brown sugar
1/4 cup buttermilk
2 tablespoons honey
1 teaspoon vanilla extract
1/4 cup chopped, toasted pumpkin seeds
Instructions
Hey everyone, let's make some delicious Spicy Pumpkin Scones!
First, grab 1 cup of all-purpose flour, 1 teaspoon baking powder, 1/2 teaspoon baking soda, 1/2 teaspoon ground cinnamon, 1/2 teaspoon ground ginger, 1/4 teaspoon ground nutmeg, 1/4 teaspoon ground allspice, and 1/4 teaspoon salt. Mix all of these together in a bowl.
Next, take 5 tablespoons of chilled, unsalted butter which you have cut into small pieces and add it to the bowl. Use a pastry cutter to mix the butter until it forms a crumbly texture.
Now, add 1/2 cup of canned pumpkin puree, 1/4 cup of packed light brown sugar, 1/4 cup of buttermilk, 2 tablespoons of honey, and 1 teaspoon of vanilla extract. Use a spoon to mix everything together until it forms a dough.
Once the dough is formed, grab a lightly floured work surface and roll the dough out until it is about 1 inch thick. Then, use a biscuit cutter to cut the scones into the desired shape. Place the scones on a greased baking sheet.
Finally, sprinkle the chopped, toasted pumpkin seeds on the scones and bake them in the oven for 20 minutes at 350°F. Once they are done, let them cool for 5 minutes before serving.
And there you have it! Delicious Spicy Pumpkin Scones in just 25 minutes! Enjoy!
Nutrition Facts
Serving size: 1 scone
Calories: 181
Total fat: 8 g
Saturated fat: 5 g
Trans fat: 0 g
Cholesterol: 20 mg
Sodium: 168 mg
Total carbs: 25 g
Dietary Fiber: 1 g
Sugars: 8 g
Protein: 3 g
What makes these pumpkin scones so special?
These pumpkin scones are special because of the flavorful combination of spices that make them so delicious. The tasty blend of cinnamon, nutmeg, ginger, and cloves is the perfect complement to the natural sweetness of the pumpkin. Plus, the texture of these scones is unbeatable – they have a light, flaky crust and are slightly sweet and spiced on the inside. All of these factors come together to make pumpkin scones that are truly irresistible.
What inspired this recipe for spicy pumpkin scones?
I was inspired to create this recipe for Spicy Pumpkin Scones by my love of all things spicy – from fiery jalapenos to fiery chili peppers. I love the flavor of spice and the warmth it can bring to a dish. I thought adding a bit of spice to my classic pumpkin scones recipe would be a great way to add some flavor and kick to a fall favorite. Plus, the combination of pumpkin and spices is just so delicious! So, I set out to create a spicy pumpkin scone that would be sure to satisfy the taste buds.
How do you know when the scones are done baking?
If you've been waiting all morning for your Spicy Pumpkin Scones to bake, you're probably wondering when they're done. Here's how to know when your scones are ready to enjoy:
Look for a golden color – When the top of your Spicy Pumpkin Scones begin to turn golden brown, they're almost ready!.
Test with a toothpick – Insert a toothpick into the middle of one of your scones. If it comes out clean, they're done baking.
Check the bottom – The bottoms of your scones should be lightly browned. If they're too pale, they may need a few more minutes in the oven.
What spices are used to make these pumpkin scones?
When it comes to Spicy Pumpkin Scones, you can expect to find a delectable mix of spices in this delicious treat! Cinnamon, nutmeg, allspice, and ginger are the perfect combination to give these scones a warm and inviting flavor. A pinch of cayenne pepper can also be added to add an extra kick to the recipe. These spices and herbs give the scones a unique flavor that's sure to tantalize your taste buds.
What's the best way to serve these spicy pumpkin scones?
The absolute best way to serve up these spicy pumpkin scones is with lots of butter and a dusting of sugar! Not only does the butter perfectly melt into the warm scones, but the sugar adds a nice little bit of sweetness to balance out the spiciness. You can also serve them with jam, clotted cream, or even honey.
How easy is it to make these scones from scratch?
Making these delicious spicy pumpkin scones is incredibly easy! All you need is a few simple ingredients and a little bit of time in the kitchen. You can whip up a batch of these scones in no time at all.
The process is straightforward and requires minimal effort. You'll start by combining your dry ingredients in a bowl, including all-purpose flour, baking powder, baking soda, and your favorite spices. Then, in a separate bowl, you'll mix together the wet ingredients – pumpkin puree, melted butter, and an egg. Once the wet and dry ingredients are combined, you'll knead the dough together until it's smooth.
Next, you'll roll out the dough and cut it into scone shapes with a biscuit cutter or a sharp knife. Place the scones on a baking sheet and brush them with an egg wash for extra flavor and a golden-brown color. Finally, bake them in the oven until they're cooked through.
When they're finished, you'll have a delicious batch of spicy pumpkin scones that are perfect for breakfast, brunch, or an after-dinner treat. So, don't be intimidated – making these scones from scratch is easy and rewarding.