Delicious S'Mores Cookie Recipe
I'll never forget the first time I made S'mores Cookies. I was a child and my mom had just taught me how to make them. It was a brilliant combination of chocolate chips, marshmallow, and graham cracker crumbs that I had never seen before. I was so excited to try them and the result was heavenly. The cookies were chewy and the chocolate chips melted in my mouth. I was hooked from the first bite and I've been making them ever since! Now I'm sharing my recipe for S'mores Cookies so you can enjoy them as much as I do.
S'mores Cookie Recipe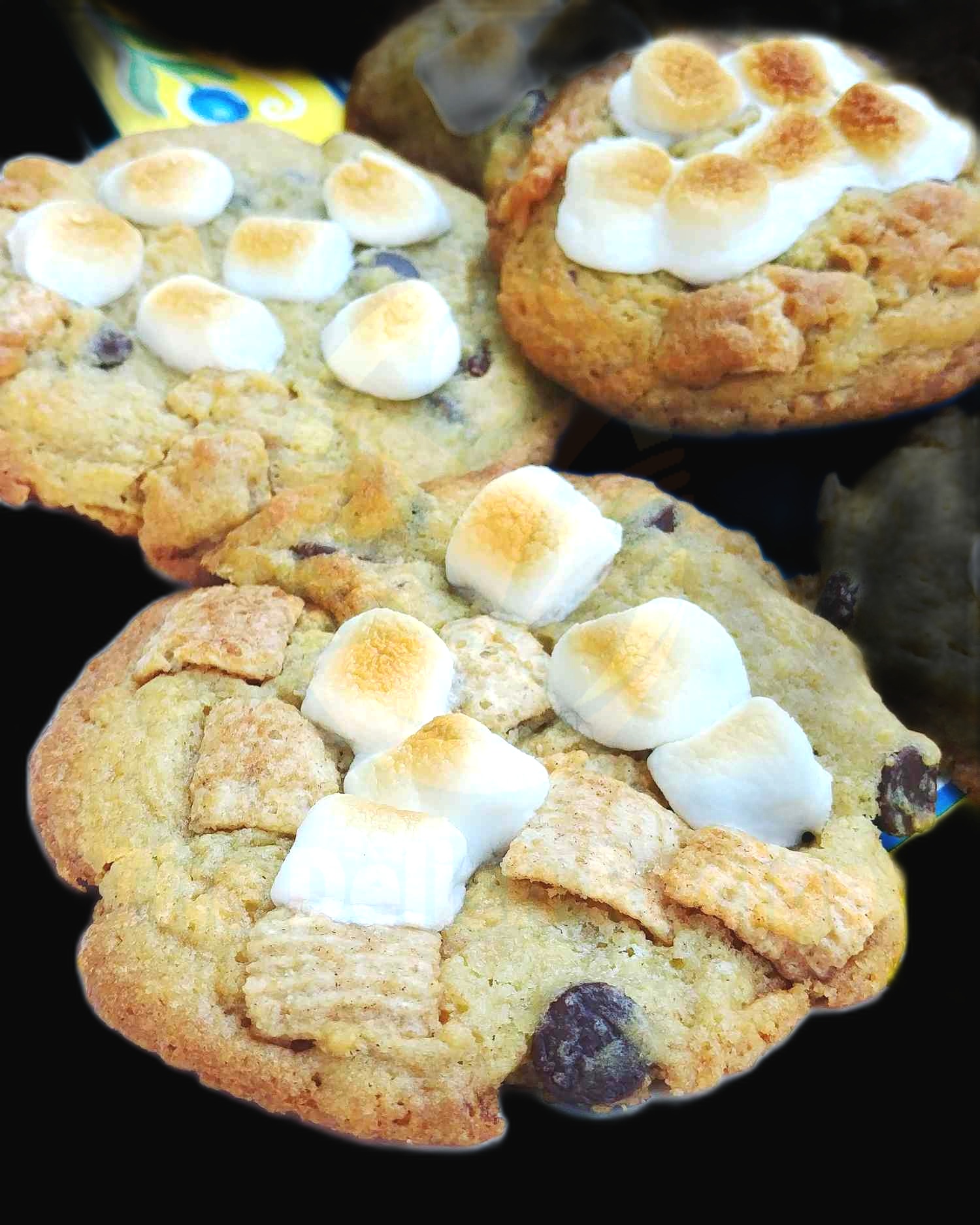 Ingredients
1/2 cup (1 stick) butter, softened
1/2 cup sugar
1/2 cup light brown sugar
1 large egg
1 teaspoon vanilla extract
1 1/2 cups all-purpose flour
1/2 teaspoon baking soda
1/4 teaspoon salt
2 cups graham cracker crumbs
2 cups miniature marshmallows
1/2 cup semi-sweet chocolate chips
Instructions
Preheat your oven to 350 degrees Fahrenheit and grease a cookie sheet.
In a medium bowl, cream together the butter, sugar and light brown sugar until light and fluffy.
Beat in the egg and the vanilla extract.
In a separate bowl, whisk together the all-purpose flour, baking soda and salt.
Gradually add the dry ingredients to the wet ingredients until fully combined.
Stir in the graham cracker crumbs, miniature marshmallows and semi-sweet chocolate chips.
Drop the cookie dough onto the greased cookie sheet in 1 tablespoon-sized mounds.
Bake the cookies for 15 minutes, or until lightly browned.
Let the cookies cool before eating and enjoy your delicious s'mores cookies!
Nutrition Facts
Calories: 263
Total Fat: 11.6 g
Saturated Fat: 6.8 g
Cholesterol: 30.9 mg
Sodium: 151.2 mg
Total Carbohydrate: 35.5 g
Dietary Fiber: 1.2 g
Sugars: 22.3 g
Protein: 3.3 g
What is a s'mores cookie?
You've heard of s'mores, the classic campfire treat, but have you ever tried a s'mores cookie? These delicious treats combine two of your favorite flavors into one amazing, gooey dessert. A s'mores cookie is a soft and chewy cookie, chock-full of chocolate chips, marshmallows, and graham crackers. It's like a s'mores sandwich, but in cookie form!
These cookies are incredibly simple to make. All you need is a basic cookie dough—like a chocolate chip cookie—and some s'mores ingredients. Start by stirring in some mini marshmallows and crushed graham crackers into your cookie dough. Then, add in some chocolate chips, and you've got the perfect s'mores cookie dough.
Once your dough is ready, it's time to get baking! Portion out your dough into small balls and place them onto a lined baking sheet. Bake for about 10 minutes and voila, you've got yourself some amazing s'mores cookies!
These cookies are sure to be a hit with family and friends. Whether you're enjoying them at a summer barbecue or as an after-dinner treat, these sweet treats are sure to bring smiles all around.
What are the main ingredients for a s'mores cookie?
If you're looking for the perfect s'more cookie recipe, the key is in the ingredients. You'll need graham crackers, chocolate chips, mini marshmallows, butter, sugar, eggs and vanilla extract. With these seven ingredients, you can create a delicious, gooey and crunchy cookie that will have your taste buds singing in delight.
Let's start with graham crackers. These are the perfect base for a s'more cookie, providing a crunchy, yet sweet flavor. Next, chocolate chips are essential. Choose any type of chocolate that you like, whether it's semi-sweet, dark or milk chocolate.
Now for the mini marshmallows. These are what give the cookie its gooey texture, so don't be shy about using a lot of them. The butter and sugar add sweetness and creaminess to the cookie, while the eggs and vanilla extract give the cookie its flavor.
So there you have it, the seven ingredients you need for the perfect s'more cookie. Now all you have to do is mix them together and pop them in the oven.
How do you make a s'mores cookie?
You can make a delicious s'mores cookie by following these easy steps:
Preheat your oven to 375 degrees Fahrenheit.
In a medium bowl, mix 1/2 cup of softened butter, 1/2 cup of packed brown sugar, 1/3 cup of sugar, 1 teaspoon of vanilla extract, 1 egg, and 1/2 teaspoon of baking soda until everything is creamy.
In a separate bowl, combine 1 1/2 cups of all-purpose flour and 1/2 teaspoon of salt.
Add the dry ingredients to the wet ingredients and mix until everything is evenly combined.
Crush 3 graham crackers into crumbs and stir them into the dough.
Take a tablespoon of dough and shape it into a ball.
Put the cookie balls onto a greased baking sheet and bake for 10 to 12 minutes until they are golden brown.
Allow the cookies to cool for 10 minutes.
Place a marshmallow on top of each cookie and put them back into the oven for 2 minutes.
Spread a thin layer of chocolate spread on top of the marshmallow and place the cookie back into the oven for 1 minute.
Let the s'mores cookies cool for 5 minutes before serving.
What taste does a s'mores cookie have?
Do you have a sweet tooth? If so, you're in for a treat with a s'mores cookie! This delicious treat is a combination of a chocolate chip cookie and a s'more. It has all the best parts of the campfire classic in one scrumptious treat. So, what taste does a s'mores cookie have? In a word: heavenly.
The cookie starts off with a soft, buttery chocolate chip cookie base. This is then topped with a generous helping of gooey marshmallow and, lastly, a layer of rich and creamy milk chocolate. Together, these three ingredients create a taste sensation that is sure to tantalize your taste buds. The chocolate is sweet, the marshmallow is sticky and sweet, and the cookie has a lovely buttery flavor. All these components combine to give you a cookie that is truly unforgettable.
When you bite into the cookie, you get all the tantalizing flavors at once. The chocolate and marshmallow melt together and the cookie provides a lovely crunch. Each bite is a perfect combination of sweet, sticky, and crunchy that will have you coming back for more. So, if you're looking for a unique treat that is sure to satisfy your sweet tooth, then look no further than a s'mores cookie.
How can you make your s'mores cookie unique?
You can make your s'mores cookie unique by adding a variety of fun ingredients! To start, you can try adding some chopped nuts, toasted coconut flakes, or even some mini-marshmallows for an extra ooey-gooey texture. Additionally, you can experiment with different flavors in the cookie. For instance, try adding a teaspoon or two of instant espresso powder, ground cinnamon, or even some chai spice mix for a unique twist. Or, get creative and add some zest from a citrus fruit like orange or lemon for a pop of brightness. Finally, top it off with a drizzle of melted chocolate for the ultimate s'mores cookie experience. With these easy additions, you can make a s'mores cookie that's uniquely yours.