Delicious Slow Cooker Cuban Beef Recipe – Easy To Shred!
I'm always looking for a delicious dinner that's easy to make, so when I came across this Shredded Slow Cooker Cuban Beef recipe I knew I had to try it! It was the perfect combination of my favorite flavors – juicy beef, sweet peppers and onions, and a zesty garlic-lime sauce. I couldn't wait to dig into this savory dish!
Shredded Slow Cooker Cuban Beef Recipe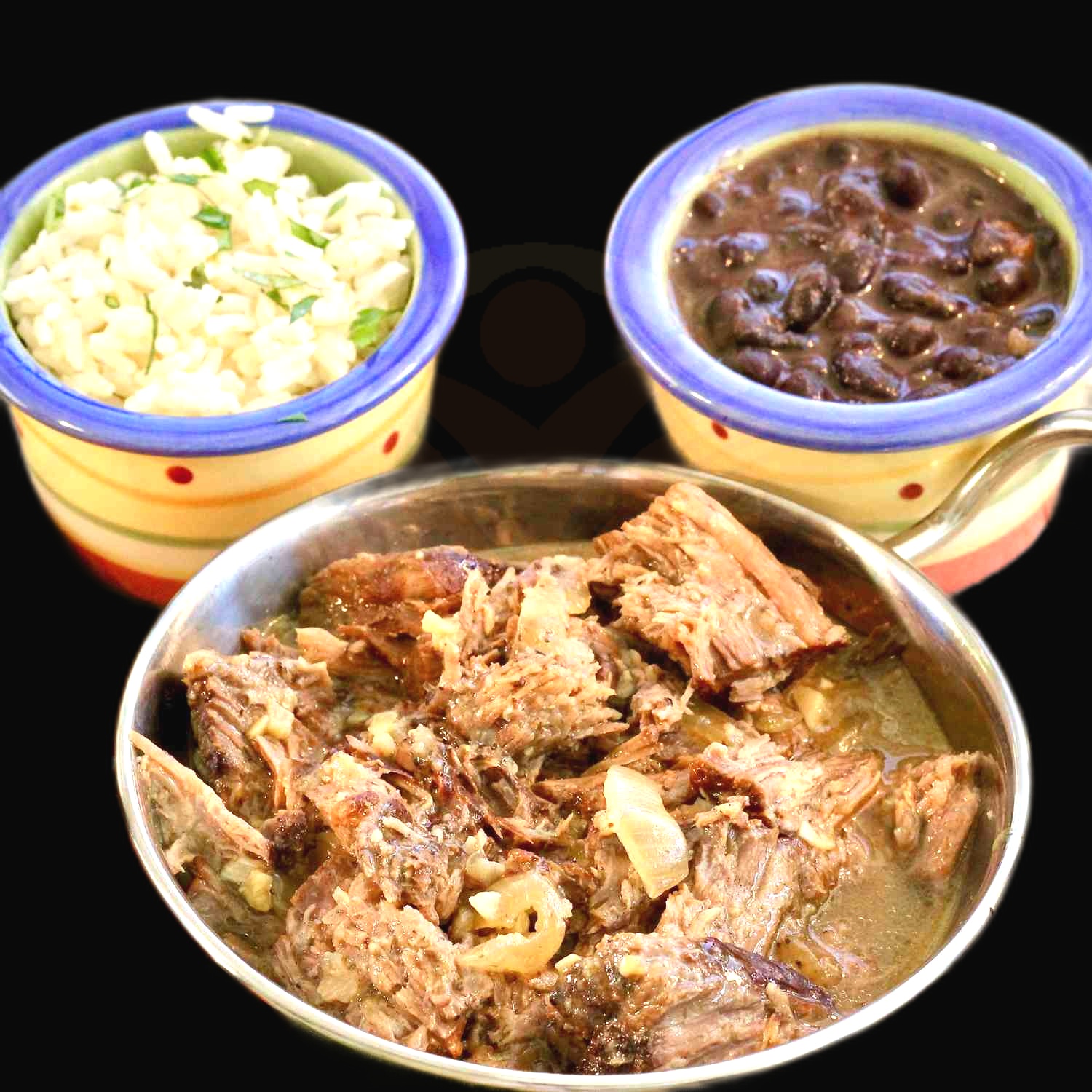 Ingredients
2 pounds beef chuck roast
1 teaspoon cumin
1 teaspoon chili powder
1 teaspoon paprika
1 teaspoon garlic powder
1 teaspoon oregano
1/4 teaspoon black pepper
1 teaspoon salt
1 onion, diced
2 cloves garlic, minced
1 green bell pepper, diced
1 red bell pepper, diced
1 jalapeño, seeded and diced
1/4 cup beer
1/4 cup beef broth
1/4 cup Worcestershire sauce
2 tablespoons lime juice
2 tablespoons brown sugar
2 tablespoons tomato paste
1/4 cup fresh cilantro, chopped
Instructions
Get ready to make a delicious Shredded Slow Cooker Cuban Beef! Start by gathering all the ingredients you will need. This includes 2 pounds of beef chuck roast, cumin, chili powder, paprika, garlic powder, oregano, black pepper, salt, an onion, 2 cloves of garlic, a green and red bell pepper, 1 jalapeno, beer, beef broth, Worcestershire sauce, lime juice, brown sugar, tomato paste, and fresh cilantro.
Now it's time to prepare the beef. Cut the beef chuck roast into large chunks and place them in the slow cooker. Sprinkle the cumin, chili powder, paprika, garlic powder, oregano, black pepper and salt over the beef. Add the diced onion, minced garlic, diced bell peppers and seeded and diced jalapeno.
In a medium bowl, mix together the beer, beef broth, Worcestershire sauce, lime juice, brown sugar and tomato paste. Pour the mixture over the beef, onions and peppers in the slow cooker.
Cover the slow cooker, turn it on low and let it cook for 6 hours.
After 6 hours, the beef should be tender and shred easily. Shred the beef with two forks and stir in the chopped cilantro.
Let the beef cook for an additional 3 hours, stirring occasionally.
After 9 hours of cooking, your delicious Shredded Slow Cooker Cuban Beef is ready to enjoy. Serve it with warm tortillas, salsa, and your favorite toppings. Enjoy!
Nutrition Facts
Calories: 320
Total Fat: 9g
Saturated Fat: 3.5g
Cholesterol: 84mg
Sodium: 374mg
Total Carbohydrate: 20g
Dietary Fiber: 4g
Sugars: 8g
Protein: 31g
What makes this shredded slow cooker cuban beef dish so special?
If you are looking for a unique and delicious slow cooker dish, you have to try this Shredded Slow Cooker Cuban Beef. This dish is really something special with its unique combination of flavors, textures, and aromas.
Cuban cuisine has a distinctive flavor profile that combines sweet, savory, and tangy elements. This Shredded Slow Cooker Cuban Beef dish captures that flavor profile perfectly. The beef is marinated with a mix of garlic, oregano, cumin, and lime juice, giving it a bold, zesty flavor and tender texture. The marinade is cooked along with the beef, infusing the entire dish with its delicious flavor.
The slow cooking process is what really makes this dish so special. The beef is cooked slowly in a combination of beef broth and tomato paste, creating a rich, flavorful sauce. As the beef cooks, it slowly absorbs all the flavors of the marinade and the sauce, creating a tender and juicy dish with a complex and unique flavor.
This dish is also incredibly easy to make. The beef is simply marinated in the morning, and then placed in the slow cooker in the evening. After several hours of slow cooking, you will be rewarded with an incredibly flavorful and tender dish.
Simply put, this Shredded Slow Cooker Cuban Beef dish is truly something special. Its unique combination of flavors and textures make it an unforgettable meal, and its easy preparation and slow cooking process make it an ideal dish for busy weeknights.
What are some tips to make sure your cuban beef comes out tender and flavorful?
Make sure to purchase a cut of beef that is meant for slow cooking, like chuck roast, rump roast, or brisket. Avoid tougher cuts like sirloin or round.
Season the beef with a dry rub before cooking for an extra layer of flavor.
Cut the beef into 1 inch cubes when prepping it for cooking.
Sear the beef on all sides in a hot skillet before transferring it to the slow cooker. This will help lock in the beef's juices and give it a deliciously crispy exterior.
Use beef broth instead of water or other liquids when slow cooking the beef. This will give the beef an extra boost of flavor.
Don't skimp on the slow cooking time. The long, slow cooking process will ensure the beef is tender and flavorful.
Check the beef periodically while it's cooking and stir the contents occasionally to make sure everything is cooking evenly.
Let the beef rest after cooking to help retain its juiciness.
Consider adding a splash of vinegar or citrus juice at the end to give the beef a bit of acidity.
What type of meat is used for this dish and why is it the best choice?
If you're looking to make a delicious shredded slow cooker cuban beef, then you'll want to use a lean cut of beef chuck. The chuck has a great balance of fat and meat that give it a juiciness and flavor that other cuts of meat just don't have. Plus, its lower fat content makes it ideal for slow cooking, allowing the beef to become incredibly tender and succulent by the end of the cooking process.
What are the main flavors for this dish and how do they work together?
If you're looking for delicious Latin flavors, Shredded Slow Cooker Cuban Beef is the perfect dish for you! This dish includes a great combination of flavors that work together and bring out the best in each other. The main flavors in this dish are garlic and cumin, with a hint of lime, oregano, and chili pepper for spice.
Garlic and cumin provide a savory base for the dish, while lime juice and zest add a delicious touch of acidity. Oregano and chili pepper give the dish a bit of heat, but not too much to overpower the other flavors.
All of these ingredients work together to create a delicious, Latin-inspired dish. The beef is slow cooked to perfection, creating a tender, juicy texture. The garlic and cumin provide a savory flavor, while the lime adds a subtle, yet refreshing, acidity. The oregano and chili pepper add just the right amount of heat, creating a perfect balance between all the flavors.
Shredded Slow Cooker Cuban Beef is a great way to enjoy Latin flavors at home. With its combination of flavors, this dish is sure to please.
Which side dishes pair best with this slow cooker cuban beef?
If you're looking for the perfect accompaniment to your slow cooker Cuban beef, you've come to the right place! With the shredded beef as the star of the meal, your side dishes should complement its flavor profile. Here are some delicious sides to serve up with your slow cooker Cuban beef.
Black beans are a popular Cuban side dish that adds a hearty texture and earthy flavor to your meal. To make them, simply cook your black beans with a mixture of onion, garlic, cumin, oregano, and bay leaves until they're tender. You can also add a diced tomato or hot pepper for an extra kick.
Fried plantains are a classic Cuban side dish that will add sweetness and crunch to your meal. Slice some ripe plantains into half-inch-thick slices, then fry them in a skillet with a little oil until they're golden brown and caramelized. For an extra zesty touch, sprinkle them with a little lime juice before serving.
Rice is another popular Cuban side dish that adds a light and fluffy texture to your meal. To make it, simply cook your white or brown rice in a mixture of chicken broth, garlic, cumin, oregano, and bay leaves until it's tender. If you're feeling adventurous, you can also try adding diced green peppers or tomatoes for a little extra flavor.
Finally, no Cuban meal is complete without a sprinkle of freshly chopped cilantro. This aromatic herb adds a bright and zesty flavor to any dish. Simply chop some cilantro and sprinkle it over your slow cooker Cuban beef and sides before serving.
With these sides, your slow cooker Cuban beef is sure to be a hit! Whether you're serving it up for dinner or lunch, these sides will take your meal to the next level.
What techniques can you use to make sure the beef is cooked perfectly?
Cooking beef to perfection is easy with a slow cooker! To make sure your Shredded Slow Cooker Cuban Beef turns out perfectly, there are some key techniques you can use.
The first technique is to use the right cut of beef. Chuck roast is the best choice for slow-cooking because it's marbled with fat and will shred easily when cooked. Any other cut of beef will not shred as easily, so make sure to buy a chuck roast for your meal.
Next, season your beef with the right ingredients. Adding garlic, onion, chili powder, and cumin will give your beef a delicious Cuban flavor. For added depth, try adding some Worcestershire sauce, soy sauce, and a squeeze of lemon.
Finally, the time it takes to cook your beef will vary depending on the size of your slow cooker. For best results, cook your beef on low for 8-10 hours. This will ensure that your beef is cooked through and shreds easily.
How long does it take to make this shredded slow cooker cuban beef?
Making this delicious shredded slow cooker Cuban beef dish is a breeze! It takes about 8 hours to get it ready, but it's totally worth the wait!
To make this slow cooker Cuban beef, you'll need to mix together garlic, cumin, oregano, pepper, and oil. Then, add your beef to a slow cooker and spread the seasoning mix over the top. Next, pour in beef broth, diced tomatoes, and tomato paste, and let it cook on low heat for 8 hours.
After 8 hours, your Cuban beef will be ready to be shredded and served. Simply take two forks and shred the beef into strands. If it's not as tender as you'd like, you can cook it for a bit longer.
No matter how long you cook it, this Cuban beef is sure to be a hit! Serve it with rice, beans, and your favorite toppings for a flavorful and easy dinner.