Tantalizing Ricotta Berry Cake – An Easy & Delicious Recipe
I absolutely love this Ricotta Berry Cake recipe! It's one of my favorite desserts to make and every time I do, I'm always surprised by how delicious it turns out. It's moist and flavorful, and the combination of ricotta and fresh berries make it truly unique. It's one of those recipes that you can make in a pinch and be sure that it will be a hit with everyone. Trust me, you won't regret giving this one a try!
Ricotta Berry Cake Recipe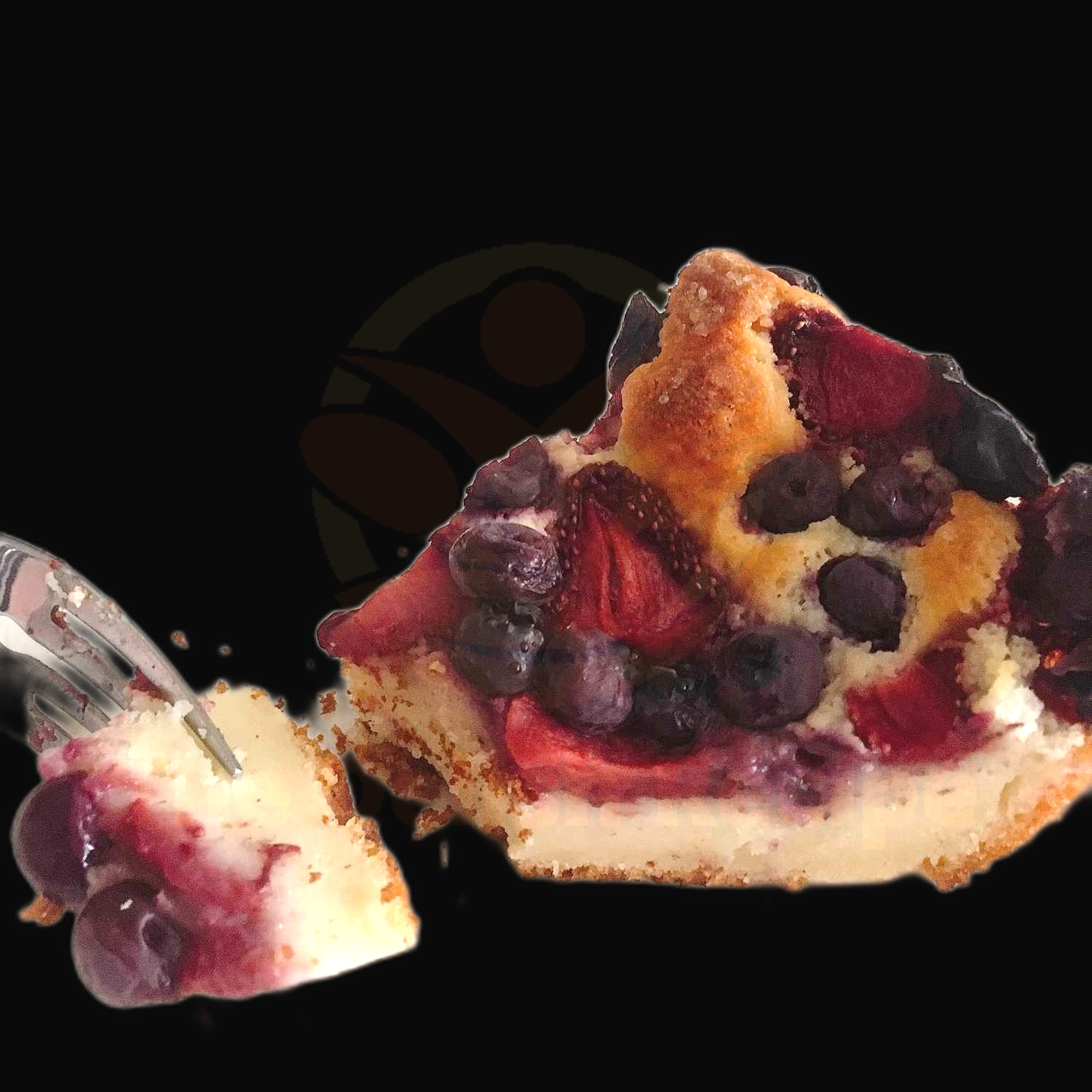 Ingredients
1 ½ cups all-purpose flour
2 teaspoons baking powder
¼ teaspoon baking soda
¼ teaspoon salt
½ cup butter, softened
1 cup granulated sugar
2 large eggs
1 teaspoon vanilla extract
1 cup ricotta cheese
1 cup fresh berries (strawberries, blueberries, blackberries, raspberries, etc.)
Instructions
Preheat your oven to 350°F and prepare a 9-inch round cake pan by greasing it with butter.
In a medium-sized bowl, whisk together 1 ½ cups of all-purpose flour, 2 teaspoons of baking powder, ¼ teaspoon of baking soda, and ¼ teaspoon of salt. Set aside.
In a large bowl, beat together ½ cup of softened butter and 1 cup of granulated sugar until light and fluffy.
Add in 2 large eggs and 1 teaspoon of vanilla extract and mix until combined.
Slowly mix in the flour mixture until everything is just combined.
Add in the 1 cup of ricotta cheese and mix until combined.
Gently fold in 1 cup of your favorite fresh berries.
Pour the batter into the prepared cake pan and bake in the preheated oven for about 45 minutes, or until a toothpick inserted in the center comes out clean.
Allow the cake to cool in the pan for 10 minutes before transferring it to a wire rack to cool completely.
Enjoy your Ricotta Berry Cake with a cup of coffee or tea!
Nutrition Facts
Serving Size: 1 slice
Calories: 279
Total Fat: 11 g
Saturated Fat: 6 g
Cholesterol: 65 mg
Sodium: 246 mg
Total Carbohydrates: 36 g
Dietary Fiber: 1 g
Sugar: 18 g
Protein: 5 g
What makes this ricotta berry cake special?
You might be wondering what makes this Ricotta Berry Cake so special. Well, the answer is simple: it's the combination of two delicious ingredients that make this cake so unique. The fluffy ricotta cheese gives it an incredibly light texture, while the fresh berries add a burst of sweetness to the cake. Plus, this cake is so easy to make that you don't need to be a pastry chef to whip it up! All you need to do is mix the ricotta, sugar, and eggs together, pour it into a cake tin, and top it with some fresh berries. Bake it in the oven and you'll have a delicious, flavorful cake in no time.
What are the key ingredients for this ricotta berry cake?
If you're looking to make a delicious Ricotta Berry Cake, then you'll need some key ingredients! Firstly, you'll need ricotta cheese, eggs, and butter for the cake base. You'll also need some sugar and flour for the batter. To add flavor, you'll need some vanilla extract and a pinch of salt. Finally, you'll need some fresh berries of your choice. These can be strawberries, blueberries, or any other kind of berry.
How long does it take to make this ricotta berry cake?
Making this delicious Ricotta Berry Cake takes no time at all! All you need to do is gather the ingredients, mix everything together, pour it in a pan, and bake it in the oven. In less than an hour, you'll have heavenly deliciousness coming out of your oven!
The preparation time for the Ricotta Berry Cake is incredibly short. All you need to do is mix together ricotta cheese, eggs, sugar, and butter with a dash of vanilla extract, then fold in the raspberries (or any other berry of your choice) and pour the mixture in a cake pan. After that, pop the pan in the oven and wait for a few minutes until the cake is done.
The baking time of the Ricotta Berry Cake is about 30 minutes. To ensure that the cake is done, simply insert a toothpick into the center of the cake and see if it comes out clean – if it does, you know the cake is ready!
Finally, the cooling time for the Ricotta Berry Cake is about 10 minutes. After taking it out of the oven, allow the cake to cool for at least 10 minutes before slicing it.
So there you have it – with all the preparation and baking, you can make this delicious Ricotta Berry Cake in no more than 40 minutes.
What is the best way to serve this ricotta berry cake?
Serving your Ricotta Berry Cake is as easy as slicing it up and setting it on the table! Of course, there are a few extra steps you can take to make it look amazing and leave a lasting impression.
For starters, you can use a cake stand to show off the beautiful cake. You can also add a few decorations to the top such as a few fresh berries or an edible flower. This will make your cake look extra special and really make it stand out.
You can also serve your cake with some sort of sauce or whipped cream. A fresh raspberry sauce or a dollop of whipped cream will make it extra special. Or you can even try a homemade lemon curd or a rich chocolate ganache.
Finally, you can garnish the plate with a few more fresh berries and a sprig of mint. This will really make the cake look like a work of art.
With these simple steps, you can serve your Ricotta Berry Cake in style and leave a lasting impression.
What are some creative ways to decorate this ricotta berry cake?
Decorating a ricotta berry cake is a great way to get creative in the kitchen! To give your cake some extra flair, you can top it with colorful fresh berries, colorful sprinkles, a drizzle of melted chocolate or white chocolate, or even a light dusting of powdered sugar. Another great idea is to use edible flowers for a unique and beautiful look. You can also make a fun pattern on top of the cake with a variety of different berries. Finally, you can decorate the sides of the cake with nuts, crushed biscuits, or any other creative topping of your choice.