Delicious Rhubarb Raspberry Crisp Recipe
Making a Rhubarb Raspberry Crisp is one of my favorite desserts to make. There's just something about the sweet and tart combination of the rhubarb and the raspberries that I find irresistible. The crunchy topping of oats and brown sugar provide a delicious contrast to the soft, fruity filling. I love to serve it warm with a scoop of vanilla ice cream on top. Every time I make it, I'm always amazed at how quickly it disappears. Making this delicious treat is definitely a must in my kitchen!
Rhubarb Raspberry Crisp Recipe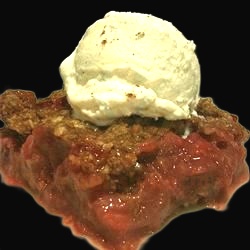 Ingredients
3 cups fresh or frozen rhubarb, cut into 1/2-inch pieces
2 cups fresh or frozen raspberries
1/2 cup white sugar
1/4 cup all-purpose flour
3 tablespoons butter
1/4 cup quick-cooking oats
1 teaspoon ground cinnamon
1/4 teaspoon ground nutmeg
1/4 teaspoon ground ginger
Instructions
Preheat the oven to 350°F.
In a large bowl, mix together the rhubarb and raspberries with the white sugar.
In a separate bowl, mix together the flour, butter, oats, cinnamon, nutmeg, and ginger until fully combined.
Pour the fruit mixture into a 9×13 inch baking dish.
Sprinkle the flour/butter/oat mixture over the top of the fruit.
Place the baking dish into the preheated oven and bake for 40 minutes.
After 40 minutes, remove the baking dish from the oven and let it cool for 10 minutes.
Serve your delicious Rhubarb Raspberry Crisp warm, topped with a scoop of ice cream or whipped cream. Enjoy!
Nutrition Facts
Calories: 529
Total Fat: 11g
Saturated Fat: 7g
Cholesterol: 30mg
Sodium: 25mg
Carbohydrates: 97g
Fiber: 8g
Sugar: 60g
Protein: 8g
What makes rhubarb raspberry crisp such a delicious summer treat?
Rhubarb raspberry crisp is one of the most delicious summer treats around! The combination of tart rhubarb and sweet raspberries makes for a perfect flavor balance that is just irresistible. The crunchy oat topping adds a delightful texture to the dish, making it even more scrumptious. Plus, it's a cinch to make – just mix the rhubarb and raspberries together and top with an oat mixture. This yummy summer dessert is sure to be a hit with family and friends.
How does this dessert lend itself to creating a memorable experience for family and friends?
Deliciously Sweet and Tart: The combination of rhubarb and raspberries in this dessert is simply irresistible! The tartness of the rhubarb and the sweetness of the raspberries create a unique flavor that will have your family and friends wanting more.
Perfect for Every Occasion: Whether you're hosting a dinner party or just having a cozy night in with your family, this Rhubarb Raspberry Crisp is the perfect way to make any gathering special. It's a great way to end a meal or have as a snack during a movie night.
DIY Fun: This dessert is easy to make and allows your guests to get involved in the process. They can join in the fun by helping to assemble the crisp or by adding their own desired toppings. It's a great way to create a memorable and interactive experience.
Comfort Food: This classic dessert is sure to bring back fond memories of childhood, and will have your guests feeling comforted and relaxed. The sweet and tart flavors are sure to satisfy any sweet tooth!.
Making this Rhubarb Raspberry Crisp is a surefire way to create a memorable experience for your family and friends. The combination of sweet and tart flavors, the opportunity for interactive and DIY fun, and the comforting feeling it provides will have your guests wanting to come back for more.
What creative ways can you use to serve up this fruity treat?
When it comes to creative ways to serve up the delicious Rhubarb Raspberry Crisp, the possibilities are endless! Whether you're looking for a showstopping presentation for a dinner party, or just want to jazz up your kitchen table with something special, this fruity treat is sure to please. Here are just a few ideas to get your creative juices flowing:
Create Individual Bowls – To get the party started, why not serve individual portions of Rhubarb Raspberry Crisp in individual glass bowls? To add a touch of elegance, top each bowl off with a dollop of ice cream or whipped cream.
Try A Parfait – For a slightly more indulgent presentation, layer the Rhubarb Raspberry Crisp with scoops of ice cream in tall glasses. Top with a few raspberries or a sprinkle of cinnamon for a delightful, colourful twist.
Make it Mini – For a fun way to serve the Rhubarb Raspberry Crisp, try making mini versions of the dessert. All you need is mini muffin tins and your favourite crisp topping. Bake in a preheated oven for about 15 minutes and you'll have the perfect bite-sized treat for your guests!
Serve it With a Twist – For a truly unique presentation, why not try serving the Rhubarb Raspberry Crisp with a twist? Wrap the crisp in puff pastry and bake it until golden brown. Serve with a generous scoop of ice cream and a sprig of fresh mint.
No matter how you choose to serve it, the Rhubarb Raspberry Crisp is sure to be a hit! With these creative ideas, you can transform a simple dessert into something truly special.
How can you make the perfect rhubarb raspberry crisp every time?
Making the perfect Rhubarb Raspberry Crisp every time is easy! The key is to use the right ingredients in the right amounts and balance the tartness of the rhubarb with the sweetness of the raspberries. Here's a quick guide to help you make a delicious, golden-brown Rhubarb Raspberry Crisp every time.
First, start by prepping your ingredients. You'll need 2 cups of chopped rhubarb and 2 cups of raspberries. Be sure to chop the rhubarb into small pieces, so it cooks evenly. You may also want to add 1/4 cup of sweetener, such as sugar or honey, to balance out the tartness of the rhubarb. Then, prepare the topping by combining 1/2 cup of flour, 1/2 cup of oats, 1/2 cup of butter, and 1/4 cup of sugar in a bowl. Mix the topping ingredients until they're well-combined.
Next, in a 9×13 inch baking dish, layer the rhubarb, raspberries, and sweetener. Spread the topping over the fruit, making sure all the fruit is covered. Finally, bake the crisp in the oven at 350°F for 45 minutes, or until the topping is golden-brown and the fruit is bubbling.
Making the perfect Rhubarb Raspberry Crisp every time is as easy as that! With a little bit of prep work and some baking time, you can enjoy a delicious, golden-brown crisp that's sure to be a hit with your family and friends.
What is the history of this classic summer dessert?
Rhubarb Raspberry Crisp is a classic summer dessert that has been around for centuries! This delicious combination of tart rhubarb, sweet raspberries, and a crunchy oat topping has been enjoyed by generations of dessert lovers.
The exact origins of Rhubarb Raspberry Crisp are a bit of a mystery, but it is believed to have originated in the late 1800s in America. It is a combination of two traditional desserts: Rhubarb Pie and Raspberry Cobbler.
The first written recipes for Rhubarb Raspberry Crisp appeared in the early 1900s. Since then, the recipe has evolved and variations have been created. Some recipes use different fruits, like blueberries or strawberries, and others use different kinds of nuts or streusel in the topping.
Today, Rhubarb Raspberry Crisp is a beloved summer favorite. It's a perfect way to enjoy the best of both rhubarb and raspberry season.