Easy Rhubarb Crumble Recipe – Delicious And Healthy!
I'm always so excited when rhubarb season rolls around! This Rhubarb Crumble is one of my favorite recipes to make with the sweet-tart stalks, and it never fails to delight. Each bite is a scrumptious combination of smooth, creamy custard and crunchy, golden crumb topping. Plus, it's an easy dessert to make and it looks especially impressive when served in individual ramekins!
Rhubarb Crumble Recipe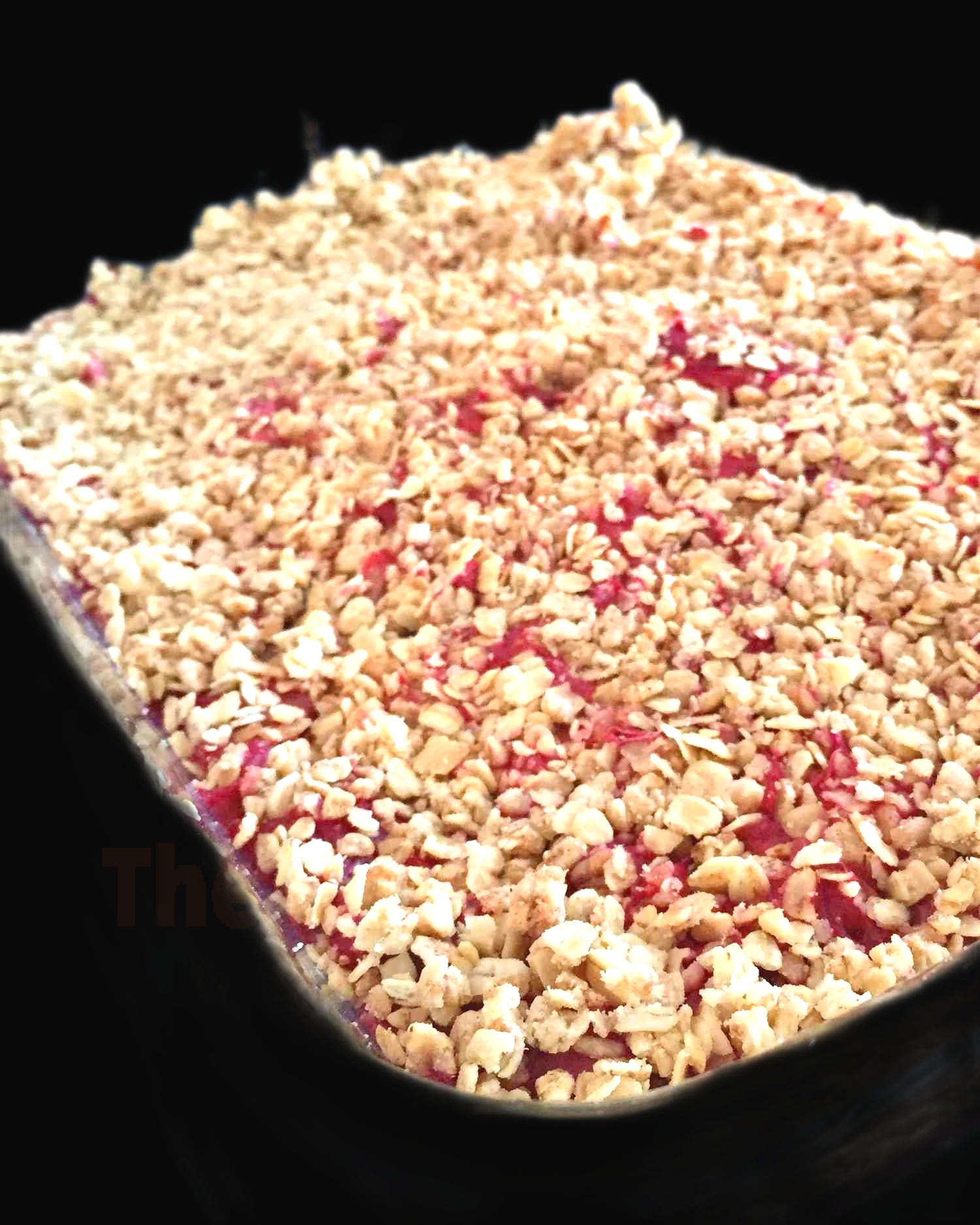 Ingredients
2 cups rhubarb, diced
½ cup light brown sugar
2 tablespoons cornstarch
2 tablespoons unsalted butter
1 teaspoon ground cinnamon
¼ teaspoon ground nutmeg
1 cup all-purpose flour
½ cup rolled oats
½ cup granulated sugar
¼ teaspoon salt
½ cup unsalted butter, melted
Instructions
Preheat your oven to 350°F.
Start by dicing your 2 cups of rhubarb and placing it in a 9-inch baking dish.
In a separate bowl, mix together ½ cup of light brown sugar, 2 tablespoons of cornstarch, 2 tablespoons of unsalted butter, 1 teaspoon of ground cinnamon, and ¼ teaspoon of ground nutmeg. Then pour this mixture over the rhubarb and mix everything together.
In a third bowl, add 1 cup of all-purpose flour, ½ cup of rolled oats, ½ cup of granulated sugar, and ¼ teaspoon of salt. Then stir to combine.
Pour ½ cup of melted unsalted butter over the dry ingredients and use your hands to mix everything together until crumbly.
Sprinkle the crumble mixture over the rhubarb and spread it out evenly.
Place the baking dish on a baking sheet and bake in the preheated oven for 40 minutes, or until the crumble is golden-brown.
Let the rhubarb crumble cool for 5 minutes before serving. Enjoy!
Nutrition Facts
Calories: 520
Total Fat: 25g
Total Carbohydrates: 70g
Protein: 5g
Sugar: 36g
Sodium: 150mg
What makes rhubarb crumble so special?
You don't know what you're missing until you've tasted a Rhubarb Crumble! It's a divine combination of sweet, tart and crunchy goodness. But what makes Rhubarb Crumble so special?
It all starts with the rhubarb. Rhubarb is a special kind of vegetable that's rarely found in nature. It has a unique sweet-tart flavor that's hard to find in other fruits and vegetables. When combined with the right ingredients, it creates a flavor that's irresistible!
The secret to Rhubarb Crumble is the combination of rhubarb, sugar, and butter. The juicy rhubarb is mixed with a generous amount of sugar to create a sweet-tart flavor. Then, butter is added to the mix to create a crispy, crunchy topping. This combination of ingredients creates a unique flavor that's hard to replicate.
The final element of a Rhubarb Crumble is the baking process. By adding heat to the mix, the sugar and butter combine to create an even more delectable crust. The heat also helps the rhubarb to soften and release its sweet-tart flavor. The result is a divine treat that's both sweet and tart, with a crunchy topping that will leave you wanting more.
So there you have it: that's what makes Rhubarb Crumble so special. Its unique combination of flavors and textures, combined with the baking process, creates a flavor that's hard to beat.
What ingredients do you need to make rhubarb crumble?
You don't need many ingredients to make a delicious rhubarb crumble – just some rhubarb, butter, sugar, and flour! To make it, you will need:
cups of rhubarb, cut into small pieces
cup of all-purpose flour
cup of cold butter, cut into small pieces
cup of brown sugar
teaspoon of ground cinnamon
You may also want to add a pinch of salt to the topping for a bit of extra flavour.
For the topping, you'll need to combine the flour, butter, brown sugar, and cinnamon until it resembles a crumbly texture. Then, in a separate bowl, mix together the rhubarb and the brown sugar until it's all evenly coated.
Finally, spread the rhubarb mixture in the bottom of a baking dish and top it with the crumble. Bake the crumble in a preheated oven at 350°F (175°C) for 40-45 minutes or until the topping is golden brown.
What are the best tips for preparing rhubarb crumble?
If you're looking for the perfect rhubarb crumble, you've come to the right place! Here are our top tips for preparing a delicious rhubarb crumble:
Choose the right rhubarb – Look for firm, deep red stalks that are free of blemishes.
Cut the rhubarb into small pieces – For best results, cut the rhubarb into small cubes or slices.
Sweeten the rhubarb – Add a bit of sugar to the rhubarb to balance out its tartness.
Use an oil-based crumble topping – An oil-based crumble topping will give your rhubarb crumble a moist, crunchy texture.
Bake at the right temperature – Bake your rhubarb crumble at 375°F for about 30 minutes.
Let it cool – Let your rhubarb crumble cool for at least 10 minutes before serving.
How do you know when rhubarb crumble is done?
You'll know your rhubarb crumble is done when the top is golden-brown and it's bubbling around the edges. To make sure it's cooked through, insert a knife or a skewer into the center and it should come out clean.
Here are some other signs of a perfect rhubarb crumble:
The rhubarb should be soft and tender, not crunchy.
The crumble topping should be evenly browned and crisp.
You should be able to smell the sweet aroma of the cooked fruit and spices.
When tapped, the crumble should sound hollow.
What are the health benefits of eating rhubarb crumble?
Eating rhubarb crumble is a delicious way to enjoy some amazing health benefits! Here are some of the reasons why you should make it a regular part of your diet:
Rich in Antioxidants: Rhubarb is rich in antioxidants, which help to improve your overall health and protect your body from dangerous diseases.
Good for Digestion: Rhubarb contains high levels of dietary fiber, which helps to keep your digestive system running smoothly.
Low in Calories: One serving of rhubarb crumble contains about 70 calories, making it a great snack for those trying to lose weight.
Boosts Immunity: Rhubarb is packed with Vitamin C, which can help to boost your immune system and keep you feeling healthy.
Promotes Healthy Skin: The Vitamin A in rhubarb can help to keep your skin looking young and healthy.
What are some creative ways to serve rhubarb crumble?
Serving up rhubarb crumble can be a fun and creative experience! Here are some ideas to get your creative juices flowing.
One way to switch up the traditional rhubarb crumble is to go mini. Instead of a single large crumble, try making individual mini crumbles! This way, everyone can have their own personal crumble, and it's a great way to get creative with the topping.
If you're feeling daring, why not try a savory version of rhubarb crumble? This version swaps the traditional crumble topping for a cheesy and buttery biscuit crust. You can fill the crumble with all kinds of savory flavors like onions, garlic, and herbs.
You can also try serving your rhubarb crumble with a scoop of ice cream or a dollop of whipped cream. Not only does this make the crumble even creamier and more delicious, but it also makes it look impressive.
Finally, you can make your rhubarb crumble the star of the show by adding a unique twist. Try adding a sprinkle of cinnamon, or mix up the crumble topping with some nuts, seeds, and dried fruit. The possibilities are endless!
No matter how you choose to serve your rhubarb crumble, it's sure to be a hit.
How can you make your rhubarb crumble extra delicious?
You can make your rhubarb crumble extra delicious by adding a few special touches! To start, use fresh and organic rhubarb stalks, as this will make the flavor much more intense. You can also add a bit of freshly grated ginger or cardamom to the crumble topping for an added depth of flavor. Finally, for a truly luxurious finish, top your crumble with a dollop of creamy Greek yogurt or a scoop of vanilla ice cream.