Deliciously Moist Pumpkin-Orange Muffins
I love a good muffin for breakfast, and my favorite by far is pumpkin-orange muffins. I remember the first time my mom made them for me – the smell of pumpkin and oranges mixing together in the kitchen was so inviting, and the muffins were so deliciously soft and moist. Now, I'm excited to share my mom's secret recipe with you so you can make your own pumpkin-orange muffins. Let's get baking!
Pumpkin-Orange Muffins Recipe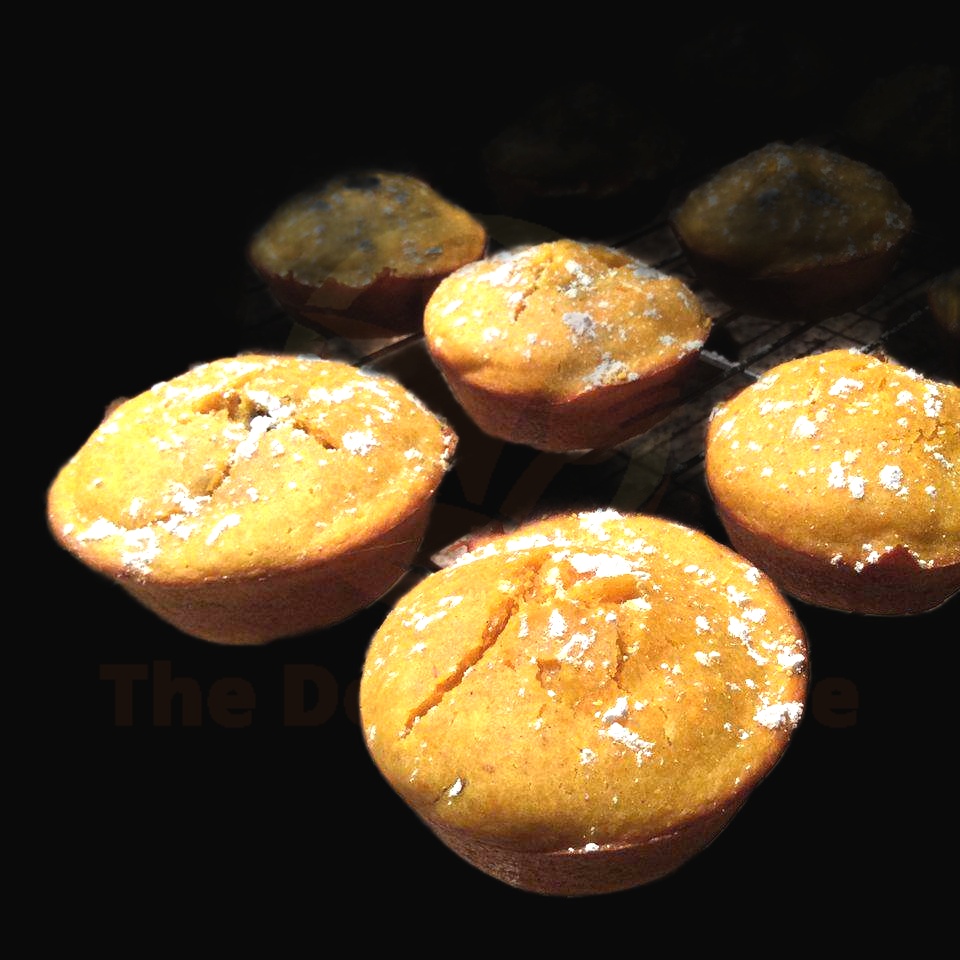 Ingredients
1 cup all-purpose flour
1/2 teaspoon baking soda
1/2 teaspoon ground cinnamon
1/8 teaspoon ground nutmeg
1/4 teaspoon salt
1/3 cup vegetable oil
3/4 cup sugar
2 large eggs
1 cup pumpkin puree
1 teaspoon orange zest
1/2 cup chopped walnuts (optional)
Instructions
Preheat your oven to 350°F. Grab a bowl and let's get started!
In the bowl, mix together the all-purpose flour, baking soda, ground cinnamon, ground nutmeg, and salt.
In another bowl, whisk together the vegetable oil, sugar, and eggs until the sugar is dissolved.
Add the pumpkin puree and orange zest and mix until everything is incorporated.
Add the wet ingredients to the dry ingredients and mix until they are just combined.
If you'd like to add walnuts, fold them into the mixture.
Grease a 12-cup muffin tin with cooking spray or butter and fill each cup about 3/4 full with the batter.
Place the muffin tin in the preheated oven and bake for 25 minutes.
After 25 minutes, check to see if the muffins are done by inserting a toothpick into one of them. If the toothpick comes out clean, they're ready!
Allow the muffins to cool in the tin for 5 minutes before transferring them to a cooling rack. Enjoy!
Nutrition Facts
Calories: 470
Fat: 23g
Saturated Fat: 4g
Cholesterol: 75mg
Sodium: 500mg
Carbohydrate: 60g
Fiber: 5g
Sugar: 36g
Protein: 9g
What makes pumpkin-orange muffins unique?
Pumpkin-orange muffins are unique because they combine two delicious flavors – pumpkin and orange – into one delicious treat! The combination of flavors creates a delicious and slightly tangy taste that is unlike any other muffin. Plus, they're packed with all the goodness of pumpkin, including fiber, potassium, and vitamins A and C. So, not only do they taste great, but they're also a nutritious snack.
How can you make these muffins without compromising on taste?
Making pumpkin-orange muffins without compromising on taste is actually quite easy! All you need to do is follow a few simple tricks and you'll be able to make a delicious, mouth-watering batch of muffins.
The most important step is to use quality ingredients. Make sure you're using fresh pumpkin puree and freshly squeezed orange juice, as this will really bring out the flavors. Also, make sure to use organic ingredients whenever possible.
Another tip is to mix the ingredients well. If you want to keep the muffins light and fluffy, you'll want to make sure that there are no lumps in the batter. It's also important to use the right ratio of wet to dry ingredients. Too much liquid will result in dense and heavy muffins.
Finally, don't overbake the muffins. They should be golden-brown on the outside and moist on the inside. To test if the muffins are ready, insert a toothpick or skewer into the center of one. If it comes out clean, the muffins are done.
By following these tips, you'll be able to make delicious pumpkin-orange muffins without compromising on taste.
What other flavors can you add to the mix?
When it comes to pumpkin-orange muffins, the possibilities are endless! You can add all sorts of flavors to the mix to make them even more delicious. Some of our favorite add-ins include dried cranberries, diced apples, and chopped nuts such as pecans or walnuts. You can also add a touch of cinnamon or nutmeg to give them a warm and cozy flavor. Add a handful of dark chocolate chips or a spoonful of cocoa powder to make them extra special. You can even add a bit of pumpkin spice to take them to the next level. No matter what you choose to add, your pumpkin-orange muffins will be sure to tantalize your taste buds.
What type of pumpkin should you use for the best results?
The best type of pumpkin to use for delicious pumpkin-orange muffins is definitely canned pumpkin puree! Not only is canned pumpkin convenient and easy to work with, but it also provides a smooth, consistent texture for the muffins. Plus, you don't have to worry about the added hassle of having to cook and purée fresh pumpkin.
When it comes to baking pumpkin-orange muffins, you're better off using canned pumpkin puree. This type of pumpkin is already cooked and puréed and ready to use straight from the can, making it easier and faster to prepare. The canned pumpkin puree also has a smoother, more consistent texture that helps to make your muffins look and taste their best.
In addition to being convenient and easy to use, canned pumpkin puree also has the added bonus of being more affordable than fresh pumpkin. The price of canned pumpkin puree is usually significantly lower than the cost of fresh pumpkin, which can make a big difference if you're baking a large batch of muffins.
All in all, canned pumpkin puree is the best type of pumpkin to use for pumpkin-orange muffins. It's convenient, easy to use, and more affordable, and it produces consistently delicious results every time.
How can you store these muffins for the longest shelf life?
If you want to get the most out of your delicious Pumpkin-Orange Muffins, you'll want to make sure you store them properly to maximize their shelf life. Here are some tips that will ensure your muffins stay as fresh as possible:
Store in a cool, dry place. Heat and humidity can cause your muffins to spoil, so make sure you store them in a location that isn't too hot or humid.
Make sure they are completely cooled before storing. If you put them away while they are still warm, the warmth can cause them to become soggy and stale quicker.
Keep them in an airtight container. This will help prevent moisture and air from getting in and spoiling the muffins.
If eating within a few days, store at room temperature. If you plan on eating them within a few days, you can store them at room temperature in an airtight container.
If storing longer than a few days, put them in the fridge. If you want to keep them for longer than a few days, it's best to store them in the fridge, in an airtight container.
Following these tips will ensure your Pumpkin-Orange Muffins stay fresh and delicious for as long as possible.