Fall-Flavored Pancakes – Pumpkin Banana Pancakes
I have to admit, I'm a sucker for pancakes. The smell of sweet batter and the joy of flipping them on the griddle has been a part of my breakfast routine since I was a kid. But recently, I've discovered a delicious twist on the traditional pancake: Pumpkin Banana Pancakes! They're soft and fluffy on the inside, with a delightfully crunchy exterior. The sweetness of the banana and the subtle flavor of pumpkin combine perfectly for a breakfast that is both tasty and filling. Give it a try and you won't be disappointed!
Pumpkin Banana Pancakes Recipe
Cook Time
4-5 per side mins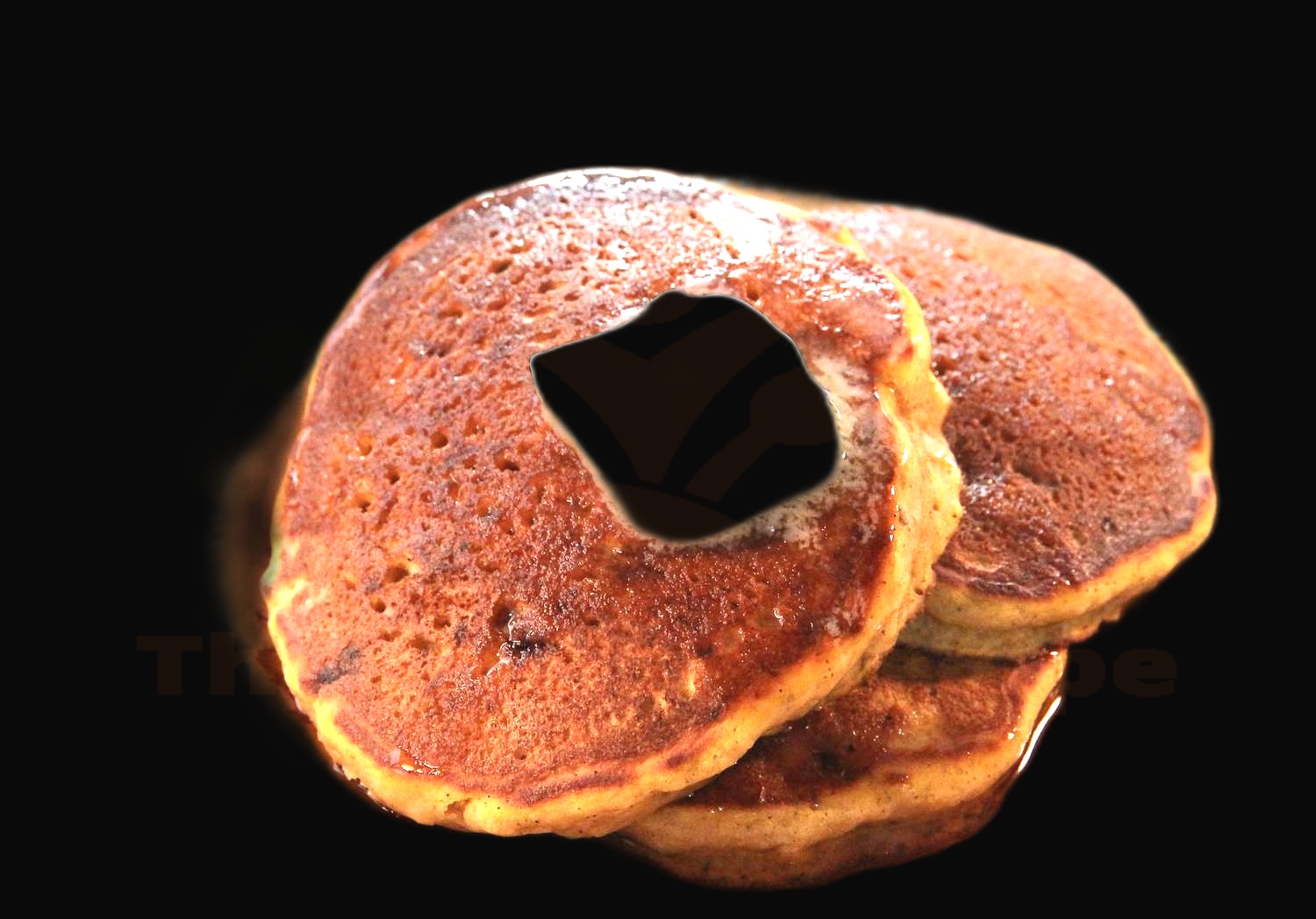 Ingredients
1 cup all-purpose flour
1 teaspoon baking powder
1/2 teaspoon baking soda
1/4 teaspoon ground cinnamon
1/8 teaspoon ground nutmeg
1/4 teaspoon salt
2 ripe bananas, mashed
3/4 cup pumpkin puree
2 eggs
2 tablespoons vegetable oil
1/4 cup dark brown sugar
1/2 cup milk
Instructions
Gather all the ingredients you will need to make your Pumpkin Banana Pancakes: all-purpose flour, baking powder, baking soda, ground cinnamon, ground nutmeg, salt, two ripe bananas, pumpkin puree, two eggs, vegetable oil, dark brown sugar, and milk.
Put all the dry ingredients in a medium-sized bowl and mix them together thoroughly: 1 cup all-purpose flour, 1 teaspoon baking powder, 1/2 teaspoon baking soda, 1/4 teaspoon ground cinnamon, 1/8 teaspoon ground nutmeg, and 1/4 teaspoon salt.
In a separate bowl, mash the two ripe bananas until they are smooth.
Add the mashed bananas and the pumpkin puree to the dry ingredients bowl and stir until combined.
In a small bowl, whisk together the eggs, vegetable oil and dark brown sugar until light and frothy.
Pour the egg mixture into the dry ingredients and banana-pumpkin mixture and stir until everything is combined and there are no lumps.
Slowly add the milk to the batter and mix until everything is combined.
Heat a non-stick pan or griddle over medium heat.
Grease the pan with butter or oil and using a 1/4 cup measure, pour the batter onto the pan.
Cook each side of the pancake for 4-5 minutes or until golden brown.
Serve with your favorite toppings and enjoy!
Nutrition Facts
Calories: 210
Fat: 5g
Carbohydrates: 34g
Protein: 5g
Cholesterol: 40mg
Sodium: 280mg
Sugars: 11g
What makes pumpkin banana pancakes so delicious?
Pumpkin Banana Pancakes are simply irresistible. With the perfect combination of pumpkin puree, banana slices, and warm spices, these pancakes have an incredible flavor that can't be replicated. Not only are these pancakes delicious, but they also have a unique texture and richness that will have you coming back for more. The warm aromas of cinnamon and nutmeg add an extra layer of complexity and make these pancakes truly special. So, what makes Pumpkin Banana Pancakes so delicious? It has to be the mouthwatering combination of warm spices and the sweetness of banana that make these pancakes a favorite for everyone.
What flavor profile do pumpkin banana pancakes offer?
Pumpkin banana pancakes offer a truly unique flavor profile that is sure to tantalize your taste buds! The combination of sweet and creamy banana, warm and comforting pumpkin, and the light and fluffy texture of pancakes creates a truly special breakfast experience. The addition of pumpkin to this classic breakfast dish adds an unexpected hint of spice that pairs perfectly with the sweetness of the banana. The banana also brings a subtle and creamy texture to the pancakes, making them even more indulgent and enjoyable. Whether you're looking for a cozy breakfast to start your day or a special treat to share with friends and family, pumpkin banana pancakes are sure to please.
What are the nutritional benefits of pumpkin banana pancakes?
Pumpkin Banana Pancakes are a delicious, nutritious breakfast option that offers a range of health benefits.
The combination of pumpkin and banana results in an antioxidant-rich treat that helps to reduce oxidative stress in the body.
The pumpkin in these pancakes provides a good source of dietary fiber, which is essential for healthy digestion and overall well-being.
The combination of pumpkin and banana also supplies the body with a range of vitamins and minerals, including vitamin A, vitamin C, potassium, and magnesium.
The banana in these pancakes supplies a good source of potassium, which helps to regulate blood pressure and reduces the risk of heart disease.
The combination of pumpkin and banana helps to provide a slow release of energy throughout the day, helping to keep you feeling full for longer.
The combination of these two ingredients can also help to reduce inflammation in the body, which can help to improve overall health.
Finally, these pancakes are a low-calorie, low-fat option that can help to satisfy hunger without packing on the pounds.
How can pumpkin banana pancakes be served?
Serving pumpkin banana pancakes is a great way to upgrade your brunch game! They're delicious, easy to make, and add a wonderful seasonal flavor to your menu. Here are some delicious ways to serve up pumpkin banana pancakes:
Top with a maple syrup drizzle. This classic breakfast combination is always a hit.
Add some chopped nuts for a crunchy contrast. Walnuts, pecans, and almonds all work great.
Give them a sweet and spicy kick with a sprinkle of cinnamon and nutmeg.
For a decadent twist, top with some cream cheese frosting.
For a healthier option, serve with a dollop of Greek yogurt, a drizzle of honey, and fresh berries.
Pumpkin banana pancakes are the perfect way to bring a touch of fall to your brunch table.
What ingredients are used in pumpkin banana pancakes?
Pumpkin banana pancakes are a tasty and healthy twist on the classic breakfast dish! The delicious combination of pumpkin and banana is sure to brighten up your breakfast table! To make these pancakes, you'll need a few simple ingredients: all-purpose flour, baking powder, salt, cinnamon, pumpkin puree, mashed banana, eggs, and milk. Once these ingredients are gathered, you can get to work! Combine the dry ingredients and the wet ingredients separately, then mix the two together and cook on a preheated skillet until golden brown.
How can a homemade pumpkin banana pancake recipe be made?
If you're looking for a delicious and easy way to start your day, look no further than a homemade pumpkin banana pancake recipe! These pancakes are packed with wholesome ingredients like pumpkin puree, banana, and oats, making them a great option for a nutritious breakfast. Plus, they're incredibly simple to make, so you can enjoy them in no time! Here's how to make them:
Ingredients:
½ cup oats
½ cup canned pumpkin puree
½ banana, mashed
½ cup milk
egg
teaspoon baking powder
teaspoon cinnamon
A pinch of nutmeg
Butter or oil for cooking
Instructions:
In a medium bowl, mash the banana with a fork.
Add the oats, pumpkin, milk, egg, baking powder, cinnamon, and nutmeg.
Mix the ingredients together until fully combined.
Heat a non-stick skillet over medium-high heat and melt a pat of butter or a drizzle of oil.
Pour ¼ cup of the batter onto the skillet and cook until golden brown, about 2-3 minutes.
Flip the pancake and cook for an additional 2-3 minutes on the other side.
Serve with your favorite toppings, like maple syrup, chopped nuts, or fresh fruit.