Delicious Prosciutto And Basil Pizza Recipe
One of my favorite meals to make is Prosciutto and Basil Pizza. It's a simple, yet incredibly flavorful dish that I make every chance I get. The combination of salty prosciutto, savory basil, and doughy pizza crust is something that's hard to beat. Making this dish is a fun activity that I often do with my family and friends. Everyone loves it and it's always a hit! I'm excited to share this recipe with you so you can enjoy it just as much as I do.
Prosciutto and Basil Pizza Recipe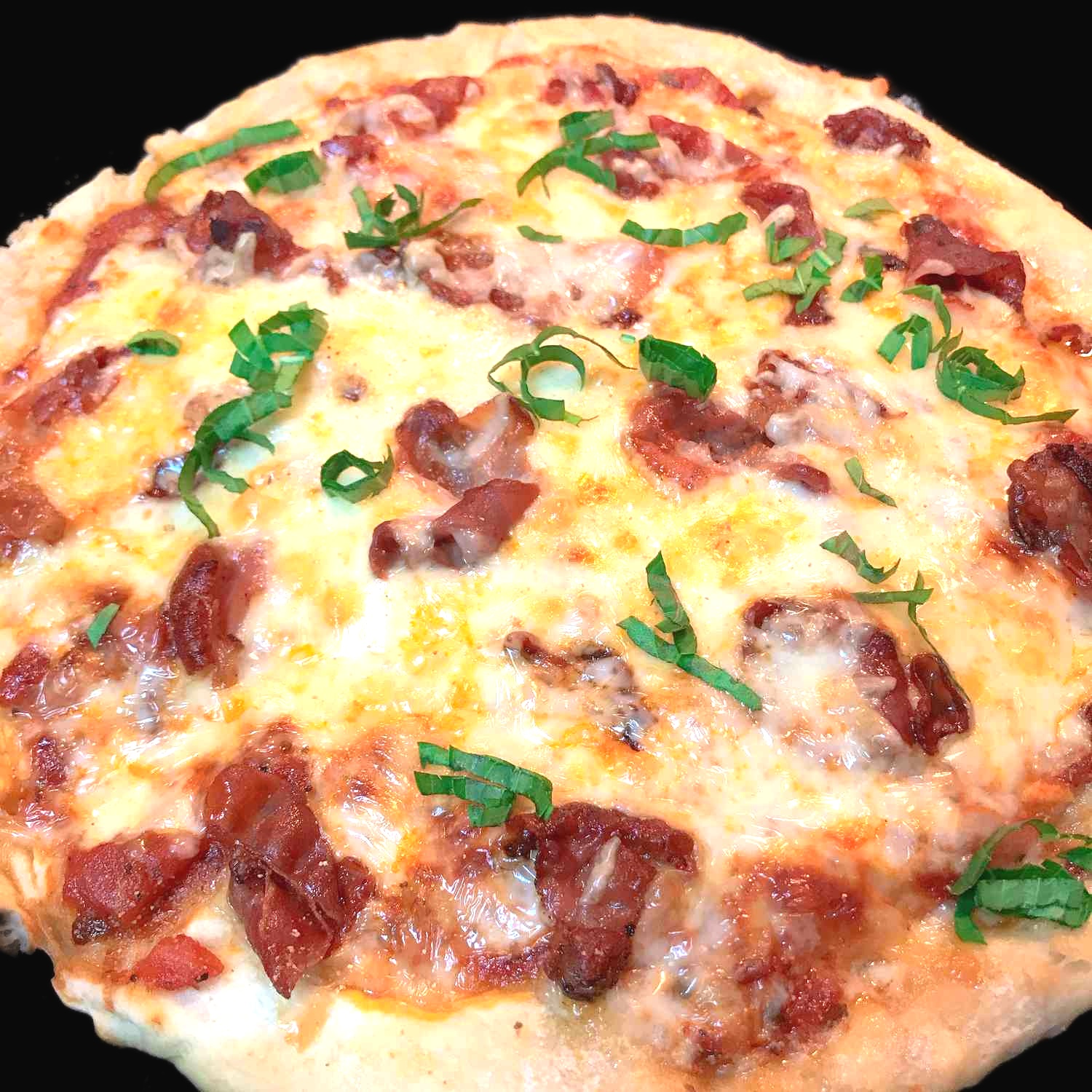 Ingredients
1 pound pizza dough
1/4 cup olive oil
2 cloves garlic, minced
2 cups shredded mozzarella cheese
1/2 cup Parmesan cheese, grated
8 ounces thinly sliced prosciutto
1/4 cup fresh basil leaves, thinly sliced
Salt and freshly ground black pepper, to taste
Instructions
Preheat your oven to 425°F.
Get your pizza dough ready: on a floured surface, roll out the pizza dough into a 12-14 inch round.
Brush the dough with the olive oil and spread the minced garlic over it.
Sprinkle the mozzarella cheese over the pizza dough, followed by the Parmesan cheese.
Layer on the prosciutto and basil leaves.
Season with salt and pepper, to taste.
Place the pizza on a baking sheet and bake for 15 minutes, or until the crust is golden brown and the cheese is melted.
Let cool for 5 minutes, then grab your favorite drink and enjoy your delicious Prosciutto and Basil Pizza!
Nutrition Facts
Calories: 280 kcal
Protein: 13 g
Carbohydrates: 30 g
Fat: 10 g
Saturated Fat: 3.5 g
Cholesterol: 15 mg
Sodium: 490 mg
Potassium: 110 mg
Fiber: 2 g
Sugar: 1 g
Vitamin A: 150 IU
Vitamin C: 0.6 mg
Calcium: 100 mg
Iron: 1.4 mg
What makes this pizza dish stand out from other pizzas?
This Prosciutto and Basil Pizza stands out due to its unique and delicious combination of flavors! The salty prosciutto provides a perfect balance to the sweet and savory flavors of the basil, making this pizza dish a truly unique and special treat. The crunchy crust and melty cheese take this pizza to the next level, creating a truly unforgettable flavor. Plus, it's a relatively easy dish to make which makes it even better! With its one-of-a-kind flavor profile, this Prosciutto and Basil Pizza is sure to be a hit with the whole family.
What are the benefits of making a prosciutto and basil pizza?
Making a prosciutto and basil pizza is a great way to enjoy delicious flavors in one dish!
The combination of salty prosciutto and sweet basil is a classic Italian flavor duo that can't be beat.
The prosciutto adds an interesting texture to the pizza, giving it a crunchy bite.
The basil adds an herbal flavor that complements the salty prosciutto and creates an earthy, savory flavor in the pizza.
The pizza is also low in calories and fat, making it a healthier option for pizza night.
The combination of flavors also adds a unique and exciting twist to a classic dish, making it perfect for trying something new.
What are some tips for making the perfect prosciutto and basil pizza?
Start with a good dough. For a thin crust, a mixture of all-purpose flour and semolina flour is ideal, with some olive oil and a pinch of sugar. For a thicker crust, add some baking powder. Let your dough rest for at least 12 hours.
Pre-bake your crust. Pre-baking ensures that your pizza crust is crispy, with just the right amount of chewiness. Pre-bake in an oven pre-heated to 400F for 8-10 minutes.
Top with a thin layer of tomato sauce. Make sure the sauce is spread evenly, leaving enough room for the other toppings.
Add some slices of prosciutto. Thinly slice the prosciutto to get nice, even pieces.
Top with shredded mozzarella cheese. Shred the mozzarella yourself for the best results.
Add some fresh basil leaves. Tear the leaves into smaller pieces for better flavor.
Bake in the oven for 10-12 minutes. Bake at 400F until the cheese is melted and golden brown.
Let the pizza cool for a few minutes before cutting into slices.
What kind of cheese should i use to get the best flavor?
The best cheese for getting amazing flavor in your Prosciutto and Basil Pizza is definitely mozzarella! Mozzarella is a classic Italian cheese that provides a subtle yet unmistakable cheesy flavor that pairs perfectly with the salty prosciutto and fresh basil. Plus, mozzarella is a good source of calcium and protein, so it's also a healthy choice for your pizza.
If you're looking for a bit more of a kick, you could try Parmesan or Asiago. These cheeses have a stronger flavor than mozzarella, but can still be used in moderation to give your pizza a tasty kick. Both of these cheeses are also high in calcium and protein, so they're another healthy choice.
For a truly unique flavor, you could try a blend of different cheeses. Mixing mozzarella with Parmesan and Asiago is a great way to get a robust, flavorful taste that will really stand out. You could also experiment with other cheeses like provolone, fontina, or even goat cheese.
What are some creative toppings i can add to my prosciutto and basil pizza?
If you're looking for creative toppings to add to your prosciutto and basil pizza, you're in luck! There are plenty of delicious and unexpected options that'll take your pizza from classic to extraordinary. Here are some ideas to get you started:
Mushrooms – Sautee some mushrooms in butter and garlic for a flavorful topping that adds a hearty texture to your pizza.
Artichoke Hearts – Artichoke hearts give your pizza a pop of flavor with a gentle bitterness.
Peppers – Bell peppers, jalapenos, and other varieties of peppers add a little heat and a lot of color.
Olives – Olives are a classic topping that adds a hint of salt to your pizza.
Spinach – Spinach is a great way to add a touch of green and a boost of vitamins.
Arugula – Arugula adds a peppery flavor and a unique texture.
Figs – Sweet, juicy figs are a great way to add a touch of sweetness to your pizza.
Caramelized Onions – Caramelized onions add a delicious sweetness and a bit of crunch.
Prosciutto – Double up on the prosciutto for an extra salty, savory topping.
0. Balsamic Glaze – Drizzle your pizza with a balsamic glaze for a touch of sweetness and a bright pop of color.
Whatever toppings you choose, you can be sure that your prosciutto and basil pizza will turn out delicious! Have fun experimenting and enjoy your masterpiece.
What side dishes pair nicely with a prosciutto and basil pizza?
When it comes to side dishes that pair nicely with a prosciutto and basil pizza, you really can't go wrong. But if you want to really kick it up a notch and make it an unforgettable meal, we recommend pairing your pizza with some delicious, complementary sides.
A light, fresh salad is a great place to start – think spinach, tomatoes and cucumbers, with a light, bright vinaigrette. The crunchy, juicy and crisp textures will be a great contrast to the creamy, savory pizza and help to balance out the meal.
For something a little more substantial, roasted Brussels sprouts are an excellent choice. The earthy, nutty flavor goes great with the salty prosciutto and the sweetness of the basil. You can oven-roast them in a simple combination of olive oil, garlic and salt, or get a little more fancy with a balsamic glaze.
And if you're still looking for something a little more indulgent, try pairing your prosciutto and basil pizza with some garlic bread. The garlicky, buttery flavors are the perfect complement to a cheesy pizza and the crunchy, toasted bread is the perfect contrast to the soft, doughy crust.
No matter what you choose, a prosciutto and basil pizza is always a great dinner choice. With the right side dishes, you can turn it into an unforgettable meal that everyone will love.