Delicious Pistachio Muffins – Easy Recipe
I'm a huge fan of muffins, so when I heard about the delicious Pistachio Muffins, I just had to give them a try. I was not disappointed! The combination of the sweet pistachio flavor and the buttery texture of the muffin was amazing. I highly recommend this recipe to anyone who enjoys a delicious, easy-to-make treat.
Pistachio Muffins Recipe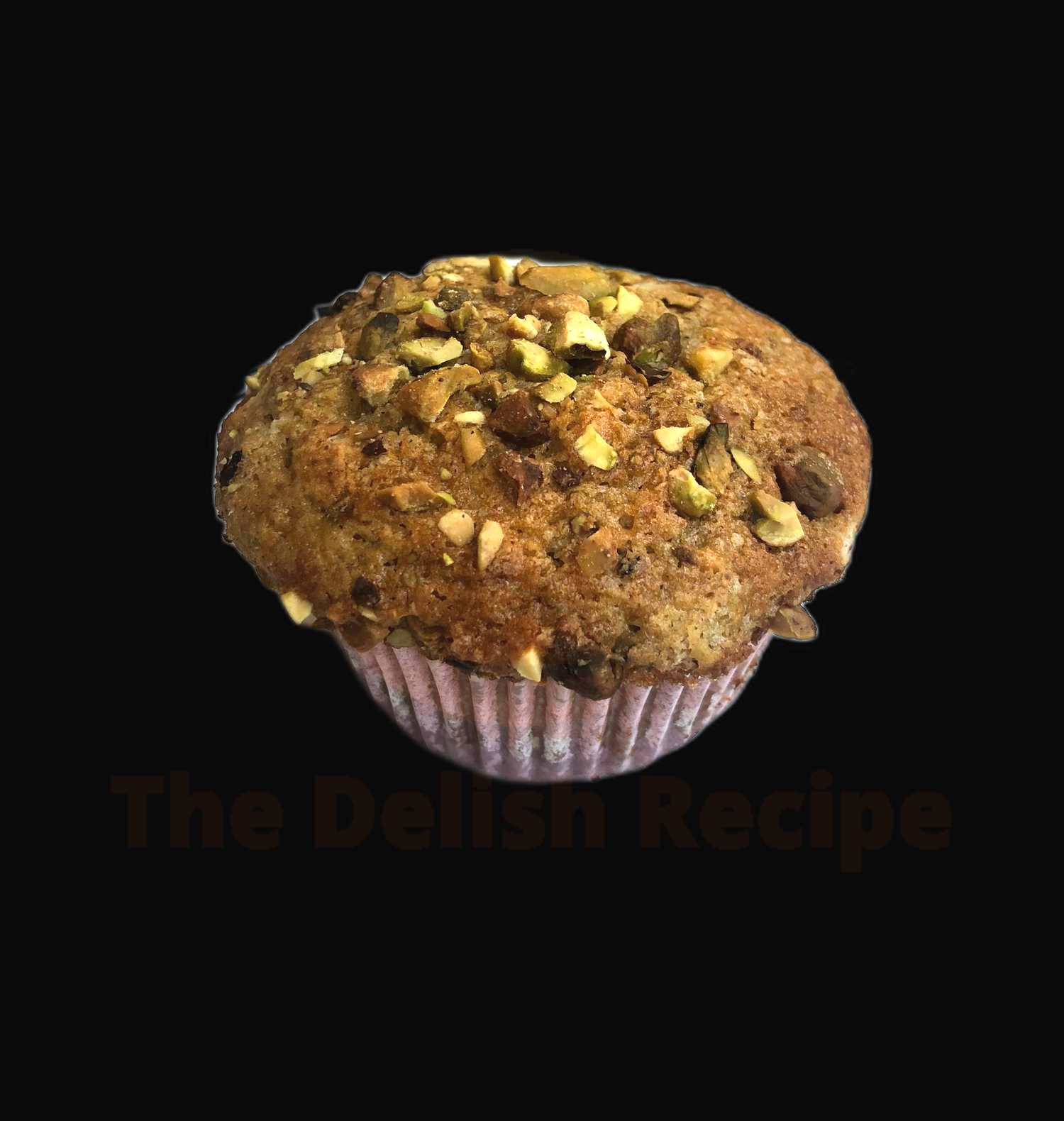 Ingredients
2 cups all-purpose flour
1 teaspoon baking powder
1/2 teaspoon baking soda
1/4 teaspoon salt
1/2 cup butter, softened
2/3 cup granulated sugar
2 large eggs
2/3 cup buttermilk
1 teaspoon vanilla extract
1/2 cup finely chopped pistachios
1/2 cup semi-sweet chocolate chips
Instructions
Preheat your oven to 350℉.
In a medium-sized bowl, whisk together the flour, baking powder, baking soda, and salt.
In a large bowl, cream together the butter and sugar.
Once combined, add in the eggs, one at a time, and mix until just incorporated.
Add the buttermilk and vanilla and mix until combined.
Gradually add the dry ingredients and mix until just combined.
Fold in the pistachios and chocolate chips.
Grease a 12-cup muffin tin and fill each cup with the batter.
Place in the oven and bake for 20-25 minutes or until a toothpick inserted into the center comes out clean.
Allow the muffins to cool in the pan for 5 minutes before transferring to a wire rack to cool completely.
Enjoy your delicious Pistachio Muffins!
Nutrition Facts
Calories: 438 kcal
Carbohydrates: 43.2 g
Protein: 7.2 g
Fat: 25.8 g
Saturated Fat: 12.6 g
Cholesterol: 77 mg
Sodium: 436 mg
Fiber: 1.6 g
Sugar: 17.6 g
What makes pistachio muffins the perfect snack for any occasion?
Pistachio muffins are the perfect snack for any occasion because they are incredibly delicious, easy to make, and wonderfully versatile. With the perfect balance of sweet and salty, pistachio muffins are sure to satisfy everyone's cravings. They can be enjoyed as an indulgent treat, a healthy snack, or a tasty accompaniment to your favorite meal. Moreover, they are extremely simple to make and can be made ahead of time for a convenient and delicious snack.
The sweet, nutty flavor of pistachios makes these muffins a tasty treat that can be enjoyed any time of day. The crunchy texture of the pistachios adds a delightful texture to the muffins that cannot be found in any other type of baked goods. Moreover, the addition of the pistachios adds an extra layer of protein and healthy fats that make these muffins a healthier alternative to the traditional sugary snacks.
Another great thing about pistachio muffins is that they are incredibly versatile. From adding different fruits or nuts to creating a savory version with cheese, herbs, and garlic, these muffins can be tailored to suit any occasion. They are also perfect for packing in your lunch box or taking on a picnic, as they are easy to transport and don't need to be reheated.
All in all, pistachio muffins are the perfect snack for any occasion. They are flavorful, nutritious, and easy to make. With just a few simple ingredients, you can have a delicious and satisfying snack that everyone will enjoy.
How to make pistachio muffins that are both delicious and healthy?
You can make delicious and healthy pistachio muffins in just a few simple steps! Here's how:
Start by preheating your oven to 375°F and greasing a muffin tin.
In a large bowl, whisk together 1 1/2 cups of whole wheat flour, 1/2 cup of almond flour, 1 teaspoon of baking powder, 1 teaspoon of baking soda, and 1/4 teaspoon of salt.
In a separate bowl, mix together 1/2 cup of olive oil, 1/4 cup of honey, 2 eggs, 1/2 teaspoon of vanilla extract, and 1/2 cup of plain Greek yogurt.
Add the wet ingredients to the dry ingredients and gently stir until just combined. Be careful not to overmix!.
Fold in 1/2 cup of chopped pistachios and 1/2 cup of semi-sweet chocolate chips.
Divide the batter evenly among the muffin tins and bake for 20-25 minutes, or until a toothpick inserted into the center comes out clean.
Let the muffins cool for a few minutes before serving.
How to store pistachio muffins for maximum freshness?
Storing Pistachio Muffins for Maximum Freshness:
Store muffins in an airtight container or bag and keep them on the countertop.
Place a paper towel inside the container to absorb excess moisture.
If you're not eating the muffins the same day, store them in the refrigerator and enjoy within 2-3 days.
Alternatively, you can freeze the muffins for up to 3 months. Wrap them individually in plastic wrap and place them in a freezer-safe container.
To reheat, place the muffins on a baking sheet and bake them in a preheated oven at 350 degrees Fahrenheit for about 5-8 minutes.
Are pistachio muffins suitable for vegans and vegetarians?
Yes, pistachio muffins are a great choice for vegans and vegetarians! These tasty treats are made with plant-based ingredients, such as vegan butter, almond milk, and flaxseed meal. Plus, pistachios are a rich source of protein, healthy fats, and other essential nutrients. So not only are these muffins delicious, but they can also provide a nutritious snack or breakfast option.
When preparing pistachio muffins, be sure to use vegan butter and plant-based milk. If you don't have vegan butter on hand, coconut oil can work as an alternative. You can also swap out the almond milk for another plant-based milk, such as oat or soy milk. Additionally, you might consider adding some mashed banana or applesauce to the batter for an extra burst of flavor and natural sweetness.
Pistachio muffins are a great way to get in some extra plant-based nutrients while also enjoying a delicious treat. They're an easy and effortless way to satisfy your craving for something sweet, without sacrificing your vegan or vegetarian diet.
What are the key ingredients for a delicious pistachio muffin?
Making a delicious pistachio muffin simply requires four key ingredients: pistachios, sugar, flour, and butter. With these four ingredients, it's easy to whip up a batch of irresistible, fluffy, flavorful muffins.
Pistachios are the star of this muffin, so it's important to use top-quality nuts to ensure flavor and texture. Toasting the pistachios before adding them to the muffin batter adds nuttiness and crunch to the finished product.
Sugar helps the muffins rise, so it's important to use a generous amount for those big, airy muffins. You can opt for white or brown sugar, depending on the sweetness level you prefer.
Flour is the base of the muffin, adding structure and texture. All-purpose flour works best for a classic muffin, but you can use a combination of all-purpose and whole wheat flour for a more wholesome muffin.
Finally, butter gives the muffins richness and flavor. Unsalted butter is best, so you can better control the amount of salt in the muffins.
With these four simple ingredients, you can make a delicious batch of pistachio muffins that will please family and friends. A few extra touches, like a sprinkle of chopped pistachios on top or a drizzle of chocolate glaze, can take these muffins to the next level.
What are some creative ways to add a unique twist to pistachio muffins?
Adding a unique twist to pistachio muffins is easy! There are plenty of creative ways to make this classic snack extra special. Here are a few of our favorite ideas:
Use a variety of mix-ins like dried cranberries, white chocolate chips, or butterscotch chips to give the muffins a flavorful punch.
For a fun and flavorful crunch, add chopped walnuts or macadamia nuts to the batter.
Add a swirl of lemon curd or a layer of cream cheese frosting to the top of each muffin to give them a zesty and sweet finish.
For a bit of sophistication, try using a blend of almond and pistachio flours instead of regular all-purpose flour.
For a more savory take on the classic, add some crumbled bacon or shredded cheese to the batter.