Sweet And Crunchy Pecan Shortbread Delights
My mouth waters just thinking about these delicious Pecan Shortbread Cookies! I've been making them for years, and they're always a hit with family and friends. The sweet, nutty flavor of the pecans is perfectly balanced with the buttery shortbread, and the combination of textures is simply irresistible. Plus, they're so easy to make that I can whip up a batch in no time. If you're looking for a delicious and easy-to-make treat, look no further: Pecan Shortbread Cookies are the perfect choice!
Pecan Shortbread Cookies Recipe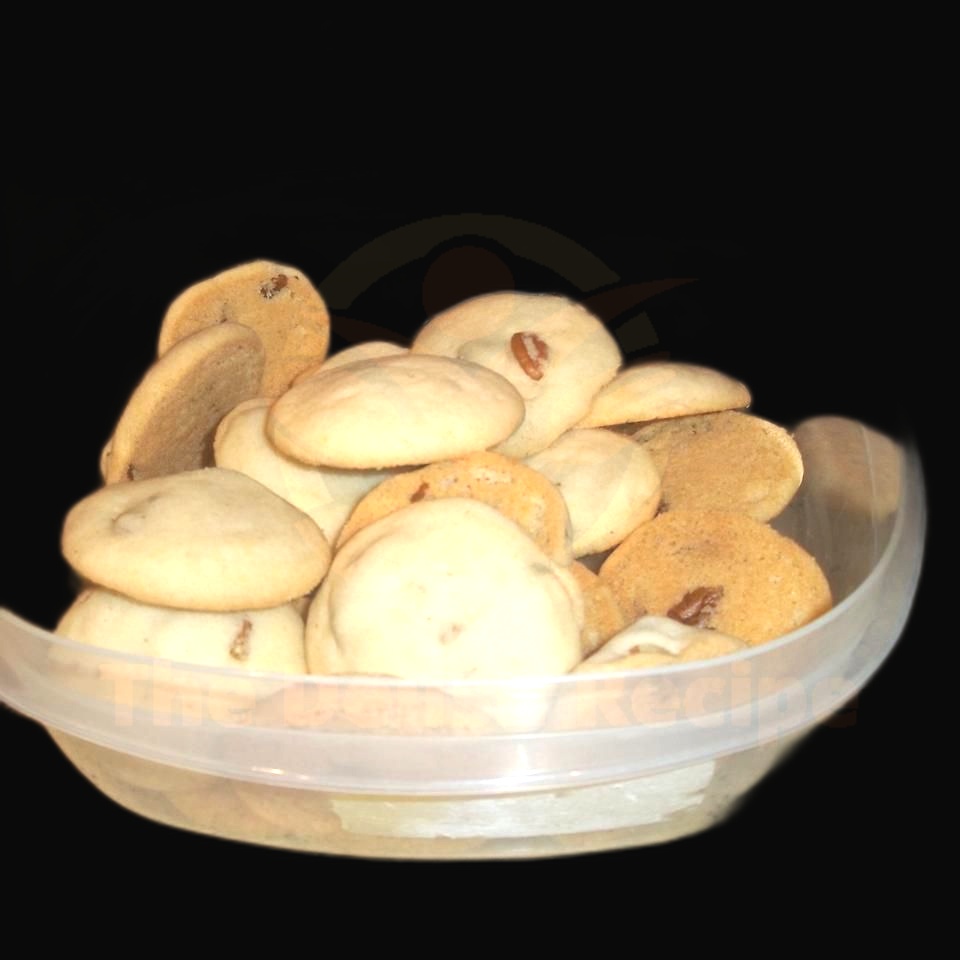 Ingredients
1 cup all-purpose flour
¼ teaspoon salt
½ cup unsalted butter (at room temperature)
¼ cup granulated sugar
½ cup finely chopped pecans
1 teaspoon vanilla extract
Instructions
Preheat your oven to 350 degrees Fahrenheit.
In a medium-sized bowl, combine your flour and salt.
In a separate bowl, cream together the butter and sugar until light and fluffy.
Add the pecans, vanilla extract, and the flour and salt mixture to the butter and sugar. Mix everything together until a soft dough forms.
Take a tablespoon of dough and roll it into a ball. Place it on a parchment-lined baking sheet. Continue doing this until all of the dough is used up.
Flatten each ball slightly with the palm of your hand.
Bake the cookies for 12-15 minutes, or until they are golden brown.
Let the cookies cool for 5 minutes on the baking sheet before transferring them to a wire cooling rack to cool completely.
Enjoy your delicious homemade Pecan Shortbread Cookies!
Nutrition Facts
Calories: 340 kcal, Fat: 18g, Saturated Fat: 11g, Cholesterol: 40mg, Sodium: 170mg, Carbohydrates: 40g, Fiber: 1g, Sugar: 15g, Protein: 3g
How long does it take to make pecan shortbread cookies?
It takes around 45 minutes to make delicious and buttery pecan shortbread cookies! That's not too bad, right? These cookies are easy to make, and can be enjoyed as a sweet treat or even as a snack. Plus, they make a great gift to share with family and friends!
Making pecan shortbread cookies is a simple process that begins with creaming together butter and sugar in a large bowl. After this is mixed until light and fluffy, add in some flour and toasted pecans and mix until a dough is formed. Then, roll out the dough and use cookie cutters to shape into desired shapes. Once the cookies are on a greased baking sheet, bake for 10-15 minutes or until golden-brown in color.
These cookies can be kept in an airtight container for up to a week. If you prefer your cookies to be a little crispier, you can bake them for a few minutes longer.
What are the benefits of making pecan shortbread cookies?
Delicious Taste: Pecan shortbread cookies are absolutely delicious! The crunch of the pecans give these cookies a unique texture and flavor, while the buttery shortbread base is sure to satisfy your sweet tooth.
Easy to Make: These cookies require only five ingredients and a few easy steps. Plus, they don't require a lot of time to make, so you can whip up a batch in no time.
Affordable: Pecan shortbread cookies are also very affordable. All of the ingredients for these cookies are relatively inexpensive, so you can save a bit of money while still enjoying a tasty treat.
Versatile: There's plenty of room for creativity when it comes to making pecan shortbread cookies. You can top them with melted chocolate, sprinkles, crushed candy, or whatever else you can think of.
Perfect for Any Occasion: Pecan shortbread cookies are perfect for any occasion. Whether you're hosting a party or just looking for an after-dinner dessert, these cookies will be a hit.
What are some tips and tricks for perfecting pecan shortbread cookies?
Start with high-quality ingredients: For perfectly-textured shortbread cookies, you'll want to make sure you're using the best butter you can find. Unsalted butter is the most common type of butter used in shortbread recipes, but feel free to experiment with different types. Additionally, try to use fresh pecans that you've chopped yourself.
Use a food processor: If you want to achieve a fine and even crumb, use a food processor to combine your butter, sugar, and flour. Additionally, you can use it to quickly chop your pecans.
Roll out evenly: Once you've combined your ingredients, make sure to roll out the dough evenly. This helps to ensure that your cookies are all the same size, so they bake evenly.
Chill the dough: To avoid having your cookies spread out too much when baking, chill the dough for at least 1 hour. This will give them a better shape and texture when they come out of the oven.
Use parchment paper: To avoid having your cookies stick to the pan, line your baking sheet with parchment paper. This will make the cookies easier to remove and will also help them to cook evenly.
Don't overbake: Shortbread cookies should be removed from the oven when they are just beginning to brown. This will ensure that they stay soft and chewy, not crunchy.
Let cool: Finally, let your cookies cool completely before serving or storing. This will give them time to set and will also ensure that they keep their delicious flavor.
What flavor combinations work well with pecan shortbread cookies?
When it comes to flavor combinations for pecan shortbread cookies, the possibilities are endless! From classic sweet and salty combinations, to more creative pairings, you can't go wrong with pecan shortbread cookies. For a classic twist, try mixing in dark chocolate chips and a generous sprinkle of sea salt. For something a bit more adventurous, try adding a hint of rosemary or lavender and some orange zest. Another great option is to add a layer of creamy caramel or a dollop of raspberry jam to the cookie before baking.
What kind of equipment do you need to make pecan shortbread cookies?
If you're looking to make delicious pecan shortbread cookies, you're going to need some basic kitchen equipment. The most important pieces of equipment are a bowl, a spoon, a baking sheet, parchment paper, and a rolling pin. You'll also need measuring cups, measuring spoons, and a spatula. Other optional equipment you may want to have on hand include a pastry blender and a wire cooling rack.
To begin the process, start by preheating your oven to 325 degrees Fahrenheit. While your oven is preheating, combine the flour, brown sugar, and butter in a bowl. Use a spoon or a pastry blender to mix the ingredients until they form a crumbly texture. Then, stir in the chopped pecans and roll the mixture into a ball.
Next, place the dough on a lightly floured surface and roll it out until it's about one-quarter of an inch thick. Then, use a cookie cutter to cut out your desired shapes and place them on a parchment-lined baking sheet. Bake the cookies in the preheated oven for 15 minutes, or until they're golden brown. Finally, let the cookies cool on a wire cooling rack before serving.
With these simple pieces of equipment, you'll be able to make delicious pecan shortbread cookies in no time.
What variations can you make to pecan shortbread cookies?
There are so many ways to make pecan shortbread cookies! You can leave them plain, or you can make them extra special by adding different ingredients. Here are some delicious variations that you can make:
Chocolate Chip Pecan Shortbread: Add some semisweet chocolate chips to the dough for a sweet treat.
Brown Sugar Pecan Shortbread: Substitute brown sugar for some of the granulated sugar for a richer flavor.
Maple Pecan Shortbread: Replace some of the vanilla extract with maple extract for a unique flavor.
Coconut Pecan Shortbread: Sprinkle some sweetened shredded coconut over the top for a tropical flavor.
Candied Pecan Shortbread: Add some chopped candied pecans to the dough for a crunchy texture.
If you're feeling creative, you could even experiment with different spices and herbs to make your own unique pecan shortbread cookie.