Deliciously Crunchy Pecan Brittle
I have to say that my grandmother's Pecan Brittle is one of the best recipes I have ever tasted. Every time I come to visit, she breaks out a batch of this heavenly treat. The combination of the crunchy, sweet, and nutty flavors make it an absolute delight. It's a treat that I look forward to each time I visit her. But, the best part of it is that it's so easy to make. So, I'm going to share with you my grandmother's recipe for Pecan Brittle.
Pecan Brittle Recipe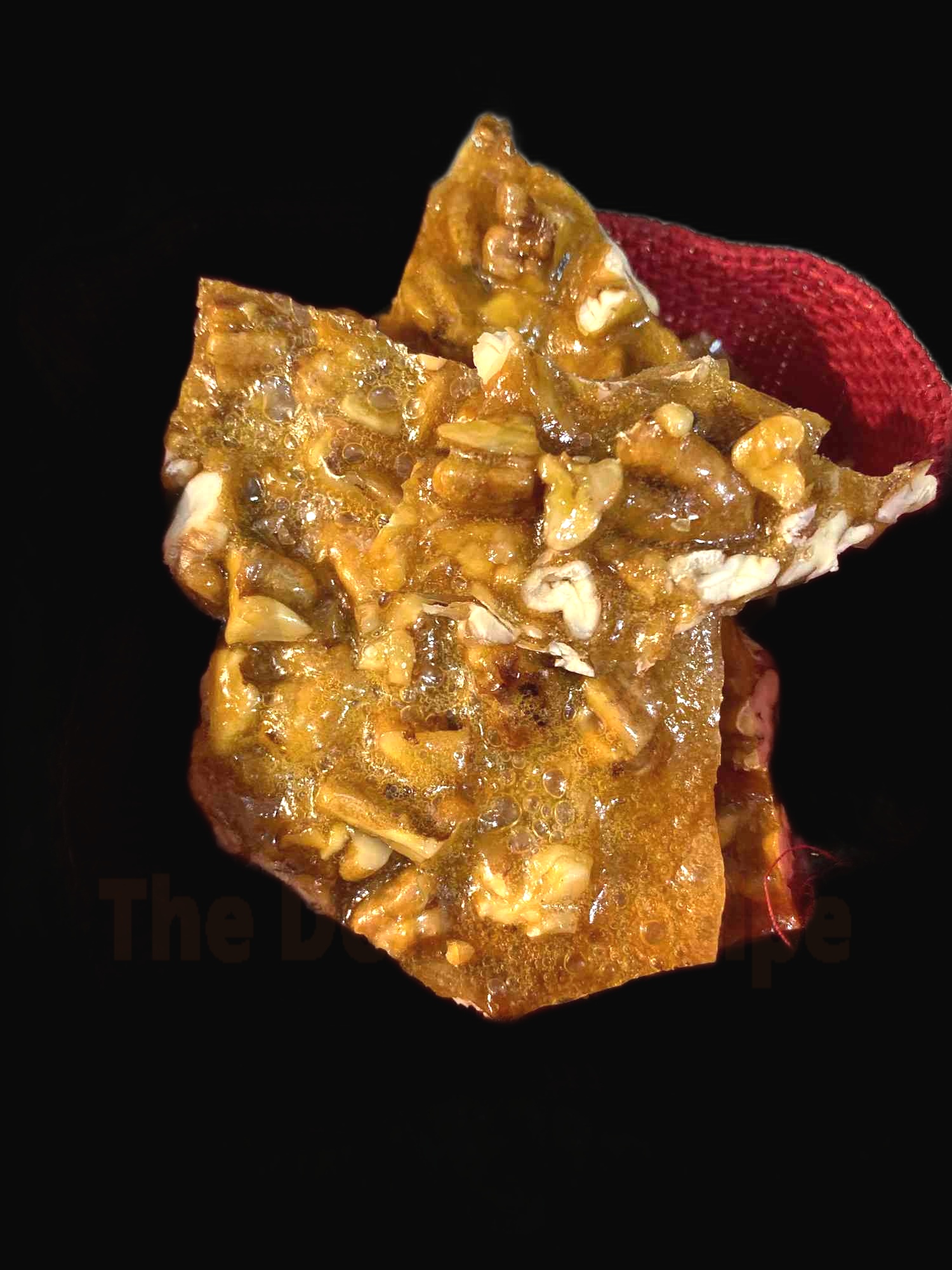 Ingredients
2 cups of granulated sugar
1/2 cup of light corn syrup
1/2 cup of water
1 teaspoon of vanilla extract
2 cups of pecans, chopped
1 tablespoon of butter
1/2 teaspoon of baking soda
Instructions
Gather all the ingredients for the Pecan Brittle: 2 cups of granulated sugar, 1/2 cup of light corn syrup, 1/2 cup of water, 1 teaspoon of vanilla extract, 2 cups of pecans, chopped, 1 tablespoon of butter, and 1/2 teaspoon of baking soda.
Begin by combining the granulated sugar, light corn syrup, and water into a medium-sized saucepan. Place the saucepan over medium heat and stir the mixture until the sugar has completely dissolved.
Once the sugar is fully dissolved, increase the heat to high and let the mixture come to a boil.
When the mixture reaches a rolling boil, stir in the vanilla extract, chopped pecans, and butter.
Reduce the heat to medium-low and let the mixture simmer for 8-10 minutes, stirring occasionally to prevent burning.
When the mixture starts to thicken and darken in color, remove the pan from the heat and quickly stir in the baking soda.
Immediately pour the mixture onto a greased baking sheet and spread it out into an even layer.
Let the brittle cool for 12 hours before breaking it into pieces.
Enjoy your delicious Pecan Brittle!
Nutrition Facts
Calories: 287
Total Fat: 14 g
Saturated Fat: 3 g
Cholesterol: 5 mg
Sodium: 73 mg
Total Carbohydrates: 38 g
Dietary Fiber: 2 g
Sugars: 33 g
Protein: 3 g
What is the history behind pecan brittle?
Pecan brittle is a classic Southern treat that dates back to the early 1900s. It's a sweet and crunchy candy made with pecan pieces, brown sugar, butter and sometimes a touch of corn syrup. The history of this delicious treat is a little murky, but it's believed to have originated with the Native Americans who lived in the Southeastern United States. They made a similar version using wild hickory nuts, honey and whatever spices they had access to. Over time, this recipe morphed and was eventually adapted by settlers in the area, who substituted pecans for the hickory nuts and added butter, brown sugar and sometimes a bit of corn syrup.
How can pecan brittle be used in recipes and desserts?
Pecan brittle is a delicious and versatile treat that can add a sweet crunch to many recipes and desserts. From a buttery pecan brittle bar to a crunchy pecan brittle topping, this candy can be used to make a range of tasty treats. It can also be used in a variety of other recipes, from cakes and pies to ice cream and puddings. Pecan brittle can even be used to make a unique and delicious brittle brittle truffle. With just a few simple ingredients, you can create a delicious dessert that everyone will love. Whether you're looking for a crunchy topping or an interesting new recipe, pecan brittle is a versatile treat that can be used in a variety of recipes.
What are the benefits of making pecan brittle?
Delicious Treat: Pecan brittle is a delicious treat that can be enjoyed at any time of the year. Its rich, nutty flavor and crunchy texture make it a favorite among sweet tooths.
Easy to Make: Making pecan brittle is surprisingly easy, even for those with limited cooking experience. All you need is some sugar, butter, corn syrup, baking soda, and of course, pecans.
Low-Fat Option: Compared to other sweets, pecan brittle is surprisingly low in fat. While it's still relatively high in calories, it's a much healthier option than other sugary treats.
Versatile: Pecan brittle can be enjoyed in a variety of ways. Not only can it be eaten on its own, but it can also be used as a topping or filling for cakes, cookies, and other desserts.
Perfect Gift: Pecan brittle makes a great gift. It's easy to make and looks impressive when presented in a pretty box or tin.
What are the essential tips for making perfect pecan brittle?
Start with the right ingredients: Make sure to get enough granulated sugar, light corn syrup, butter, and the star of the show – pecan halves.
Prepare the pan: Line a baking sheet with parchment paper and set aside.
Cook the sugar: Heat the sugar, corn syrup, and butter in a saucepan over medium heat. Stir constantly until the sugar dissolves and the mixture is boiling.
Add the pecans and spread it out: Once the sugar mixture is boiling, add the pecan halves and stir until they are evenly coated. Quickly spread the mixture evenly on the parchment paper lined baking sheet.
Cool the brittle: Allow the brittle to cool completely before breaking it into small pieces. This can take up to an hour.
Enjoy! Once cooled, grab a handful of the perfect pecan brittle and enjoy the sweet crunch.
What are some fun variations to the traditional pecan brittle recipe?
When it comes to trying something new in the kitchen, pecan brittle is a classic favorite! Whether you're looking to put a new spin on the traditional recipe or trying something completely new, there are plenty of ways to switch up this classic treat. Here are some fun variations to the traditional pecan brittle recipe that you can try.
A great way to give pecan brittle a unique twist is by adding some unexpected ingredients. For example, you can incorporate white chocolate chips and cranberries for a sweet and tart flavor combination. You can also add some spiciness by mixing in a little cayenne pepper or smoked paprika. Peanut butter, coconut, and butterscotch chips are all great additions that can add a delicious element to the brittle.
You can also try making a savory brittle. Instead of pecans, opt for roasted almonds and walnuts. Add a little salt and pepper, and mix in some garlic, shallots, and rosemary for a delicious and savory flavor. Or, try adding some dried herbs such as oregano, thyme, and basil to give the brittle an Italian touch.
Finally, you can also try making a fruity brittle. Instead of pecans, mix in diced dried fruits such as apricots, peaches, and apples. You can also add a little citrus zest to the mix for a zesty flavor.