Delicious Pear Pie Recipe
I'm so excited to share this amazing pear pie recipe with you! I've been making it for years, and it's always a hit! What I love about this recipe is that it's easy to make and always turns out perfectly. The combination of sweet pears, crunchy crust, and delicious spices creates a perfect balance of texture and flavor that's sure to impress. Plus, it's the perfect dessert for any occasion. So grab your ingredients and let's get baking!
Pear Pie Recipe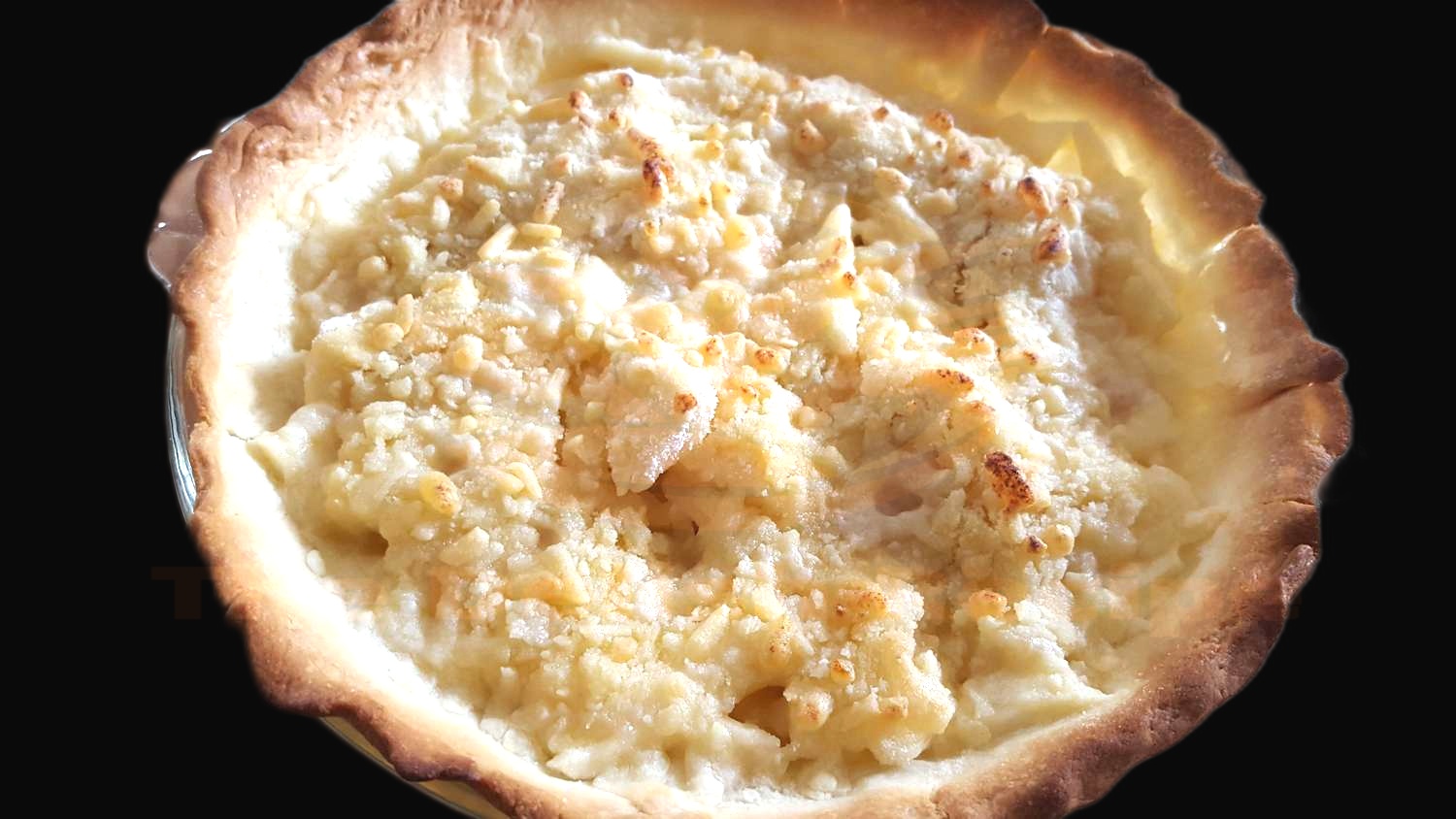 Ingredients
10 inch unbaked pie crust
3 cups peeled, chopped pears
1/2 cup sugar
3 tablespoons all-purpose flour
1/4 teaspoon ground cinnamon
1/4 teaspoon ground nutmeg
2 tablespoons butter, cut into small pieces
Instructions
) Preheat your oven to 375 degrees Fahrenheit.
) Peel and chop the pears into small pieces, then measure out 3 cups of chopped pears and place them in a bowl.
) In a separate bowl, mix together the sugar, flour, cinnamon, and nutmeg.
) Add the dry ingredients to the bowl with the pears and mix together until everything is evenly combined.
) Place the pie crust into a 9-inch pie plate and pour the pear mixture into the crust.
) Dot the top of the mixture with the butter pieces, then place the pie in the preheated oven.
) Bake for 60 minutes, or until the crust is golden brown and the filling is bubbling.
) Let cool for at least 30 minutes before serving. Enjoy your delicious Pear Pie!
Nutrition Facts
Calories: 250
Total Fat: 8g
Saturated Fat: 4g
Cholesterol: 20mg
Sodium: 140mg
Total Carbohydrate: 47g
Dietary Fiber: 4g
Sugars: 28g
Protein: 3g
What's so special about pear pie?
If you haven't experienced a pear pie yet, you're in for a real treat! There's something special about this classic dessert that sets it apart from other pies. Here's what makes a pear pie so special and why you should add it to your baking repertoire ASAP!
First of all, the combination of sweet pears with a buttery, flaky crust is truly unbeatable. The pears are lightly cooked and slightly softened, so they still have a bit of texture, but still melt in your mouth. The crust is also a key factor – it adds the perfect level of crunch that contrasts with the sweetness of the pears.
The flavor of pear pie is also unique and special. The pears are usually seasoned with cinnamon and nutmeg, which adds a warm spiciness that complements the sweet pears perfectly. The sugar and lemon juice help to bring out the natural sweetness of the pears, making it a truly decadent treat.
Finally, pear pie is incredibly versatile. You can use canned or frozen pears, and you can top it with ice cream, whipped cream, or a crumble topping. You can also make it with a variety of crusts – from a traditional pie crust to a crumbly streusel topping. No matter what you choose, you can be sure that your pear pie will be a hit!
Overall, pear pie is a classic dessert that has stood the test of time.
What tips can you use to make sure your pear pie comes out perfectly every time?
You can easily make a perfect pear pie every time with the following tips:
Follow the recipe to the letter: Every recipe has been tested to perfection, so make sure you follow the instructions carefully and accurately.
Make sure your ingredients are fresh: The fresher the ingredients, the better the taste of your pie.
Pre-cook your pears: Pre-cooking your pears ensures that they're not too firm or too mushy when they're put in the pie.
Make sure your pie crust is golden brown: If your pie crust is too pale, the pie won't have the same delicious, crunchy texture.
Let the pie cool before serving: Allowing the pie to cool gives the flavors time to meld together and makes sure the filling isn't too runny.
What makes this pie the perfect dessert for any occasion?
You'll love this Pear Pie, because it's the perfect dessert for any occasion! This delicious treat is made with juicy pears, buttery pastry and a pinch of cinnamon, making it sweet, comforting and utterly mouth-watering. Plus, it's incredibly easy to make – all you need to do is mix the ingredients, spoon the mixture into a pre-made pastry shell, and bake it in the oven. The result is a gorgeous golden-brown pie that's sure to get rave reviews!
What's more, this pie is the perfect way to celebrate the end of a special meal. Whether it's a birthday, holiday or just a regular day, this delicious dessert will bring a smile to everyone's face. It's also a great way to show your friends and family how much you care, as it's a tasty treat that's sure to be enjoyed.
Finally, the best part about this pie is that it's a healthier alternative to other sweets. The pears provide a natural sweetness without the need for added sugar, while the buttery pastry provides a delicious crunch. So, no matter what the occasion, this Pear Pie will make the perfect dessert.
How can you easily make this pear pie with minimal ingredients?
Making a pear pie is surprisingly easy and requires minimal ingredients. All you need is a ready-made pie crust, some sliced pears, sugar, butter, and a few basic spices. It takes no time to prepare, and the result is a delicious, juicy, and flavorful pie that your family and friends will love.
To make this pear pie, start by preheating your oven to 375°F. Take a 9-inch pie plate and line it with the ready-made pie crust. Next, mix together the sugar, butter, and spices. Then spread the mixture over the crust. Arrange the pear slices in the pie plate and pour the sugar mixture over the pears. Bake for about 45 minutes until the crust is golden brown.
Let the pie cool before cutting and serving.
What types of pears are best for baking a delicious pear pie?
When it comes to baking a delicious pear pie, you can't go wrong with a Bosc pear. It has a unique sweet-spicy flavor that adds a delicious complexity to your pie. Plus, its firm texture helps keep the pear slices from becoming mushy after baking. Other types of pears that work great for baking include Anjou, Comice, and Concorde. All of these pears have a sweet flavor, but vary in texture. Anjou is slightly soft, Comice is very juicy, and Concorde is a bit firmer. Experiment with different types to find the one that works best for you.
What other ingredients can you use to add flavor to your pear pie?
You can add lots of delicious ingredients to your pear pie to give it the perfect flavor! Try adding cinnamon or nutmeg for a spicy kick. Or, you can use vanilla extract or almond extract to add a sweet and nutty flavor. You can also mix in some brown sugar to make it even sweeter. Or, if you want to add some crunch, you can mix in some chopped walnuts or almonds. If you're feeling adventurous, you can even try adding some raisins or dried cranberries for a tart, fruity flavor.
What are some creative ways to serve pear pie?
You don't have to settle for the same old classic pear pie! There are so many creative ways to serve up some delicious pear pie. Here are some of our favorites:
Try swapping out traditional pie crust for a crumbly oat topping. It's a great way to add some texture and nutty flavor to your pear pie.
For a delicious twist, add a layer of cocoa powder to your classic pear pie. The combination of sweet pears with the rich chocolate is heavenly!
For a different take on pear pie, try adding a creamy layer of cream cheese. Not only does it add a silky texture, it also adds a nice tangy flavor.
To give your pear pie a fruity boost, layer it with some fresh raspberries or blackberries. The tartness of the berries will contrast nicely with the sweet pears.
If you're feeling adventurous, try adding some crushed amaretti cookies to your pie. The almond-y flavor of the cookies will add a unique twist to your pear pie.
These are just a few of the delicious ways you can serve up some pear pie. So don't settle for the same old classic! Get creative and whip up something special—your taste buds will thank you.