Delicious Peach-Ginger Slushie For Hot Summer Days
I'm always looking for a new way to cool off on a hot summer day, and this Peach-Ginger Slushie hits the spot every time! It's a flavorful and refreshing treat that's easy to make and can be enjoyed anytime. The combination of sweet peaches and spicy ginger is irresistible and always leaves me wanting more. Try it for yourself and you won't be disappointed!
Peach-Ginger Slushie Recipe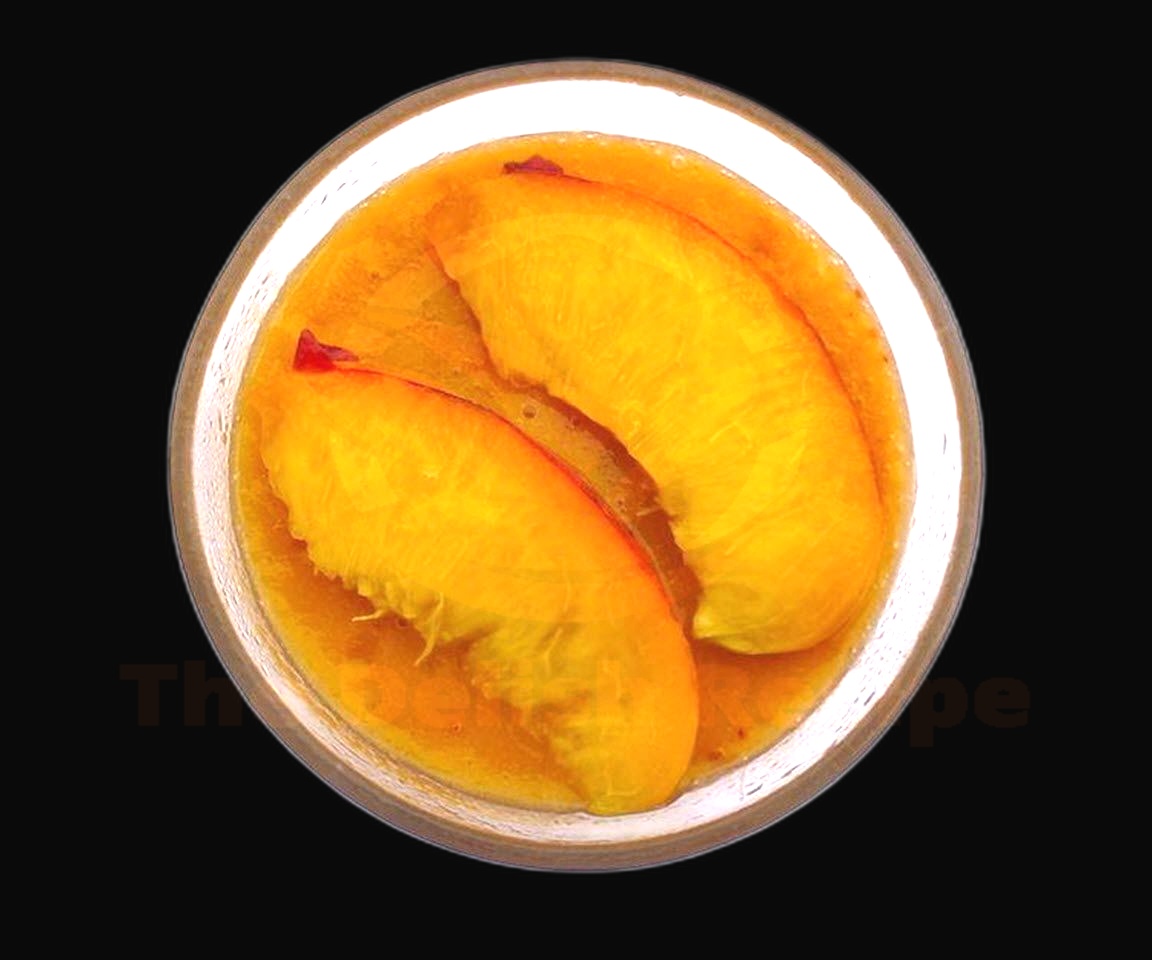 Ingredients
6 cups of frozen peaches
1/4 cup of fresh ginger, grated
3/4 cup of white sugar
1/2 cup of freshly squeezed lemon juice
2 cups of cold water
1/4 teaspoon of ground cinnamon
1/4 teaspoon of ground nutmeg
Ice cubes, as needed
Instructions
Get your ingredients ready! You'll need 6 cups of frozen peaches, 1/4 cup of fresh ginger (grated), 3/4 cup of white sugar, 1/2 cup of freshly squeezed lemon juice, 2 cups of cold water, 1/4 teaspoon of ground cinnamon, and 1/4 teaspoon of ground nutmeg. Plus, you'll need some ice cubes.
Put the frozen peaches, grated ginger, sugar, lemon juice, and cold water in the blender. Give it a whirl until everything is combined.
Add the ground cinnamon and nutmeg to the blender, and give it a few more pulses until everything is fully combined.
Add some ice cubes to the blender and give it a few more pulses until it's a slushy consistency.
Pour your Peach-Ginger Slushie into glasses and enjoy!
Nutrition Facts
Calories: 172 kcal
Fat: 0.2 g
Carbohydrates: 44 g
Protein: 1.4 g
Sugar: 31.4 g
Sodium: 11 mg
Fiber: 2.6 g
What makes a peach-ginger slushie so special?
You may be asking yourself, "What makes a peach-ginger slushie so special?" The answer is simple – it's the perfect blend of sweet and spicy! The combination of juicy peaches and zesty ginger creates a flavor that will have your taste buds tingling with delight. In addition to its deliciousness, this slushie is also incredibly refreshing. The slushie's icy texture and fruity flavors make it an ideal drink for hot summer days or after a heavy meal.
But what makes this slushie stand out from the rest? The ginger adds a unique and unexpected twist. Ginger is known for its anti-inflammatory, antioxidant, and digestive properties – making this slushie a great choice for those looking for a healthier beverage option. The ginger also adds a nice kick, making the peach-ginger slushie both refreshing and flavorful.
Finally, the peach-ginger slushie is incredibly versatile. You can enjoy it as-is or add a few sprigs of mint or a splash of lime to give it a more refreshing edge.
What are the health benefits of drinking a peach-ginger slushie?
If you've been looking for a refreshingly delicious beverage that can also provide a ton of health benefits, then look no further than a peach-ginger slushie! Not only does this drink taste amazing, it also has many great health benefits to offer. Here are just a few of the advantages of drinking this delectable beverage:
Rich in Vitamins and Minerals: Peaches are a great source of vitamins A and C, while ginger is packed with minerals like manganese and potassium. Both ingredients provide your body with essential nutrients and vitamins that can help promote overall health.
Natural Digestive Aid: Ginger has long been known to help aid digestion and reduce bloating. Furthermore, the peaches found in a peach-ginger slushie can help stimulate your digestive system and make it easier for your body to break down food.
Boosts Energy Levels: The natural sugars found in peaches and the energizing properties of ginger can give you a much-needed boost throughout the day. So why not try a peach-ginger slushie for a more natural way to stay energized and alert?.
Immune System Booster: Peaches are filled with antioxidants and vitamin C which can help your body fight off any unwanted viruses or bacteria. Additionally, ginger has antibacterial and anti-inflammatory qualities which can help to boost your immune system.
So why not give a peach-ginger slushie a try? Not only is it incredibly tasty, it also provides a number of health benefits that can help you stay healthy and energized.
What flavors does this drink combine to make it unique?
This Peach-Ginger Slushie is a unique and delicious combination of fruity sweetness and a spicy kick! The peachy flavor is complemented by a hint of ginger, creating a perfect balance between the two. The tartness of the ginger adds a zing to the drink that will definitely leave your taste buds wanting more! The sweetness of the peach cuts through the spice of the ginger and creates a truly unique flavor.
How can you customize the peach-ginger slushie to make it your own?
You can customize the peach-ginger slushie to make it your own in a few simple steps! To begin, you can choose your preferred type of sweetener; try using honey or agave nectar for a natural sweetness, or add a few drops of liquid stevia for a sugar-free option. You can also adjust the strength of your slushie by decreasing or increasing the amount of ginger used. If you like a sweeter slushie, try adding some frozen mango or pineapple to the blender for a tropical twist. Lastly, for a little extra zing, add a splash of lime juice to top it off.
What special occasions could a peach-ginger slushie be perfect for?
A peach-ginger slushie is the perfect and unique addition to any special occasion! Whether it's a birthday, graduation, or a summer barbecue, this delicious slushie will be a sure hit with your guests. The combination of sweet and spicy is perfect for any season and any occasion.
For a summery twist, try adding some fresh mint leaves to the slushie. Not only will it add a refreshing flavor, it will also give it a beautiful presentation. Or, if you're feeling adventurous, some fresh rosemary or basil leaves can add an exciting and unique flavor to your slushie.
A peach-ginger slushie is also a great addition to any romantic dinner. Its unique flavor and beautiful presentation will make it a memorable part of any dinner. Serve it in a large glass pitcher for a fun and interactive way to enjoy the slushie with your partner.
And lastly, a peach-ginger slushie is the perfect addition to any baby or bridal shower. Its light and refreshing flavor will be a hit with both the kids and adults at the shower. Serve it in cute Mason jars to give it an even more special presentation.