Delicious Chilean Pastel De Choclo Recipe
I've been making Pastel de Choclo for years, and it's still one of my favorite dishes. This traditional Chilean dish has a rich history, made up of sweet corn, beef, and a savory topping. It's easy to make, and always a crowd pleaser. Not only is it delicious, but it's a great way to bring the tastes of a distant culture into your own kitchen. So, let's get started!
Pastel de Choclo Recipe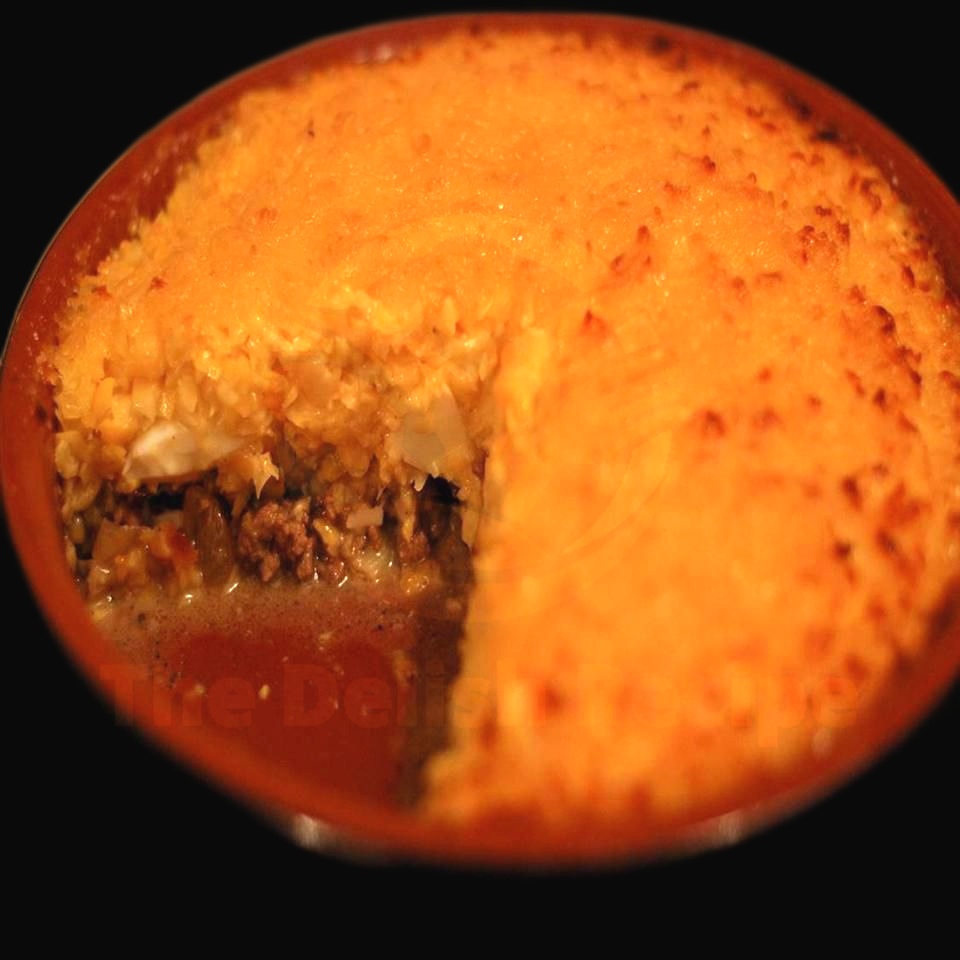 Ingredients
1/2 cup butter
1/4 cup vegetable oil
1 large onion, chopped
2 cloves garlic, minced
1 red bell pepper, chopped
2 cups cooked ground beef
2 teaspoons ground cumin
1 teaspoon ground coriander
1 teaspoon smoked paprika
1 teaspoon dried oregano
1/2 teaspoon salt
1/4 teaspoon freshly ground black pepper
1/2 cup raisins
3 tablespoons chopped fresh parsley
3 tablespoons chopped fresh cilantro
1 (14-ounce) can whole-kernel corn, drained
3 cups prepared mashed potatoes
2 cups grated mozzarella cheese
1 cup grated Parmesan cheese
Instructions
Preheat your oven to 375°F and get ready to make an amazing Pastel de Choclo!
Start by melting the butter and vegetable oil in a large skillet set over medium heat.
Add the onion, garlic, and bell pepper, and cook until softened, about 5 minutes.
Add the ground beef and cook until it's no longer pink, about 8 minutes.
Add the cumin, coriander, paprika, oregano, salt, and pepper, and stir to combine.
Add the raisins, parsley, and cilantro, and cook for an additional 3 minutes.
Remove the skillet from the heat and stir in the corn.
Place the mashed potatoes in a 9×13-inch baking dish and spread evenly.
Place the beef mixture over the potatoes and spread evenly.
Sprinkle the mozzarella and Parmesan cheese over the beef mixture.
Place the baking dish in the preheated oven and bake for 45 minutes, or until golden brown.
Allow the Pastel de Choclo to cool for 10 minutes before serving. Enjoy!
Nutrition Facts
Calories: 400 kcal, Fat: 20 g, Saturated Fat: 9 g, Cholesterol: 50 mg, Sodium: 400 mg, Protein: 17 g, Carbohydrates: 33 g, Dietary Fiber: 3 g, Sugars: 8 g
What is pastel de choclo and why is it a popular dish in chile?
Pastel de Choclo is a traditional Chilean dish that is popular throughout the country. It's made with a delicious base of ground corn, beef, onions, garlic, and a variety of spices, then topped with a thick layer of creamy mashed potatoes. The combination of the corn, beef, and creamy potatoes make this dish a favorite among Chileans.
The name "Pastel de Choclo" comes from the Spanish word for corn, which is "choclo". The dish is typically served in a large baking dish, making it perfect for a large family gathering or a dinner party.
The dish has been around for centuries, and is a staple in Chilean cuisine. It's often served as a side dish to a variety of main courses, and is a favorite among both children and adults alike. The dish is also popular as an appetizer during special occasions, such as birthday parties and anniversaries.
Pastel de Choclo is a popular dish because of its delicious flavors and versatility. It's easy to make and requires minimal ingredients, so it's ideal for busy households. The dish also has a rich history, making it a symbol of Chilean heritage and culture.
To make this delicious dish, you'll need ground corn, beef, onions, garlic, a variety of spices, and mashed potatoes. Once all the ingredients are combined, you can bake the dish in the oven for about an hour. The end result is a savory and creamy dish that is sure to please everyone at the dinner table.
So if you're looking for a tasty and easy way to impress your guests, or if you just want to enjoy a delicious traditional Chilean dish, look no further than Pastel de Choclo.
What makes the base of the dish so unique?
You may be wondering what makes the base of Pastel de Choclo so unique. The answer lies in the combination of ingredients that makes this traditional Chilean dish so special. The base of this dish is a thick corn base made from fresh corn kernels, chicken broth, onion, garlic, and a touch of cumin. This creates a delicious base for the other ingredients, like shredded chicken, hard-boiled eggs, olives, and raisins. The combination of these ingredients gives the dish a mix of savory and sweet flavors that are sure to please your taste buds. The dish is then topped with a layer of melted cheese, adding an extra layer of flavor and creaminess. It is a dish that is truly unique in its flavor and texture, and it is sure to be a crowd-pleaser at any gathering.
What tips do you have for making the perfect pastel de choclo?
Start with the perfect choclo – look for the freshest option with bright green, plump kernels.
Precook your choclo. Place it in boiling water for about 10 minutes and strain it before using it in your pastel de choclo.
Toast the onions – lightly fry the onions to release their sweet, nutty flavor and add them to your mixture.
Add a unique flavor – include some smoked garlic and sundried tomatoes to give your pastel de choclo a unique flavor.
Balance the flavors – make sure to include a variety of herbs and spices, such as cumin, coriander, oregano, and parsley, to balance the flavors of the pastel de choclo.
Cook slowly – slowly cook the pastel de choclo on low heat to ensure the flavors have time to develop.
Crunchy topping – sprinkle some freshly ground breadcrumbs on top of the pastel de choclo before baking for a crunchy, golden topping.
Let it cool – once the pastel de choclo is baked and golden, let it cool for about 15 minutes before slicing and serving.
What ingredients are needed to make an authentic pastel de choclo?
If you're looking to get a taste of classic Chilean home cooking, you'll want to try your hand at making Pastel de Choclo. This traditional dish is made with a flavorful mix of ingredients, and it's not too difficult to make. The key ingredients are corn, chicken, beef, hard-boiled eggs, olives, and onion.
To make the base, you'll need to combine two cups of frozen corn with a can of condensed milk and a teaspoon of sugar and salt. Blend these ingredients together and spread the mixture onto the base of a baking dish.
Next, you'll need to prepare the filling. This is where the chicken, beef, hard-boiled eggs, olives, and onions come in. Start off by sautéing the onions and garlic in a pan. Then add the chicken and beef and cook until they're browned. Finally, add the olives and eggs and cook for a few more minutes.
Once the filling is cooked, spread it over the corn base. Then top it off with some grated cheese and bake for about 25 minutes until the cheese is melted and bubbly.
You now have a delicious Pastel de Choclo that is sure to please the taste buds.
What are some creative ways to serve the dish?
Serving Pastel de Choclo can be a creative way to impress your guests! This delicious Chilean dish, which is a type of corn casserole, is made with a sweet topping of ground beef, chicken, raisins, olives, and hard-boiled eggs. Here are some creative ways to serve this delightful dish:
Serve it with a side of mashed potatoes. This will give your guests an added layer of flavor and texture that will elevate the dish.
Top it with a dollop of sour cream. This will give it a creamy richness that will balance out the sweetness of the topping.
Serve it with a fresh salad. The lightness of the salad will counter the heaviness of the casserole.
Add a topping of melted cheese. This will give the dish a nice creamy texture and a hint of cheesy flavor.
Serve it with a side of steamed vegetables. This will add a healthy touch to the meal.
These are just a few creative ways to serve Pastel de Choclo.