Decadent Double-Chocolate Oreo Brownies
Hey everyone! I've recently discovered the most delicious combination of two classic desserts: Oreo brownies! I've been baking these up for a few weeks now and I can't get enough of them. They're a perfect combination of the rich and gooey brownie texture and the sweet and crunchy Oreo taste. Not only are they extremely tasty, they're also really easy to make. I'm excited to share the recipe and my experiences with you, so you can bake up these delectable treats yourself. So let's get started!
Oreo Brownies Recipe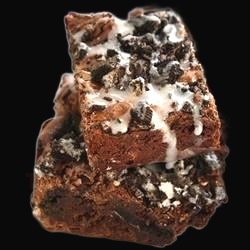 Ingredients
150g dark chocolate
110g butter
3 large eggs
150g caster sugar
1 teaspoon vanilla extract
75g plain flour
40g cocoa powder
12 Oreo biscuits, roughly chopped
Instructions
Preheat your oven to 180 degrees Celsius and grease a baking tin.
Place your dark chocolate and butter in a bowl and melt them together in the microwave. Give it a stir every 30 seconds until everything is melted and combined.
In a separate bowl, whisk together the eggs and caster sugar until light and fluffy.
Pour the cooled chocolate mixture into the egg and sugar mixture and stir until everything is combined.
Add the vanilla extract and stir until combined.
Sift in the flour, cocoa powder, and a pinch of salt and stir until everything is combined.
Add the chopped Oreo biscuits and stir until combined.
Pour the mixture into the prepared baking tin and spread it out evenly.
Bake in the preheated oven for 25-30 minutes until the brownie is cooked through and a skewer comes out clean.
Allow the brownies to cool for 5-10 minutes before cutting and serving. Enjoy!
Nutrition Facts
Calories: 330,
Fat: 19g,
Carbohydrates: 39g,
Protein: 5g,
Sodium: 150mg,
Sugar: 27g.
What is the perfect combination of two desserts?
The perfect combination of two desserts is Oreo Brownies! There's no better way to enjoy the classic flavors of chocolatey brownies and crunchy Oreos than in this delicious hybrid treat. Whether you're looking for a decadent dessert to share with friends or just want a tasty snack for yourself, Oreo Brownies are sure to satisfy.
These rich, decadent treats start with a classic brownie recipe that's made even better with the addition of crushed Oreos. To make them, preheat the oven to 350 degrees and mix together melted butter, sugar, eggs, and vanilla extract. Then, stir in unsweetened cocoa powder, all-purpose flour, and a pinch of salt. Once the batter is ready, add in a cup of crushed Oreos and stir to combine. Spread the batter in a greased baking pan and bake for 25-30 minutes.
When they're finished, Oreo Brownies will have a crispy top and a gooey center. The Oreos add a crunchy texture and sweet flavor that pairs perfectly with the fudgy brownies. You can top the brownies with extra Oreo pieces for an added crunch, and you can even experiment with different types of Oreos, like double-stuffed or mint-flavored.
Whether you serve them warm or cold, Oreo Brownies are sure to be a hit. They're the perfect combination of two classic desserts and make for a delicious and indulgent treat.
What goes into making the perfect oreo brownie?
Making the perfect Oreo brownie requires a few key ingredients and steps, and a bit of patience! It starts with a traditional brownie base that's both rich and chocolaty. Once the brownies are cooled, a layer of crushed Oreo cookies are spread over the top. The final step is to add a layer of creamy chocolate frosting that's made with melted chocolate chips and butter. The combination of the crunchy Oreos, smooth brownie, and sweet chocolate frosting creates a delicious treat that's sure to satisfy any sweet tooth.
What are the benefits of making oreo brownies over other desserts?
Oreo brownies are a delicious and easy dessert that offer lots of benefits! Here are a few reasons why you should make them over other desserts:
Quick and Easy: Oreo brownies are incredibly easy to make. All you need to do is mix a few ingredients together, pour it into a baking dish, and bake! Plus, they don't take long to bake, so you can have a delicious dessert in no time.
Delicious Taste: Oreo brownies are chocolaty, fudgy, and full of Oreo flavor. It's the perfect combination of two classic desserts, which is sure to please any crowd.
Versatile: Oreo brownies can be served in a variety of ways. You can top them with ice cream, whipped cream, or chocolate sauce. Plus, they can be cut into small squares and served as bite-sized snacks.
No Special Equipment Necessary: Unlike other desserts, you don't need any special equipment to make Oreo brownies. All you need is a baking dish, a few ingredients, and an oven!.
Making Oreo brownies is a great way to satisfy everyone's sweet tooth while saving time and money.
What tips can you use to make the best oreo brownies possible?
Making the best Oreo brownies possible is easy with these simple tips:
Start with your favorite brownie mix and follow the instructions on the box.
For a more intense Oreo flavor, mix some crushed Oreo cookies into the batter.
Layer Oreo pieces on top of the batter before baking.
Use a baking pan with a light-colored interior – this will help the Oreo pieces stay crispy.
Bake the brownies for the time specified on the box, or until a toothpick inserted into the center comes out clean.
Let the brownies cool completely before cutting them into squares.
How can you personalize oreo brownies to your tastes?
Making Oreo brownies is a great way to indulge your sweet tooth! But why settle for the classic recipe when you can make your own personalized version? Here are some ideas for how to mix-and-match different ingredients and flavor combinations to make Oreo brownies that are uniquely yours.
For a classic twist, you could add a layer of peanut butter to the brownie batter before adding the Oreos. Or why not try a double-chocolate version by adding a few tablespoons of cocoa powder to the batter?
You can also add a variety of mix-ins to the batter, such as chopped nuts, mini marshmallows, or chocolate chips. Or sprinkle a few extra Oreos on top of the brownies before baking them for an extra crunchy topping.
If you're feeling adventurous, you could try some more unusual flavor combinations. How about Oreo brownies with a layer of salted caramel in the middle? Or you could try adding a layer of lemon curd for a tart twist.
When it comes to Oreo brownies, the possibilities are endless! Get creative and experiment with different flavors and ingredients to find a recipe that's uniquely yours.