Ginger Cookies Recipe By Grandma
My Oma's ginger cookies are the perfect combination of sweet and spicy. I can still remember the first time I had them as a child. The smell of the freshly baked cookies filled the air with a warm and comforting aroma, and the taste was like nothing I'd ever had before. The combination of the soft and chewy texture, along with the spicy notes of the ginger, created an unforgettable experience. Oma's ginger cookies are a classic recipe that have been a family favorite for generations. I'm so excited to share this recipe with you so you can experience the same deliciousness I did!
Oma's Ginger Cookies Recipe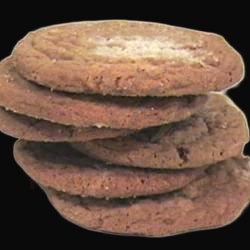 Ingredients
2 cups all-purpose flour
1 teaspoon baking soda
½ teaspoon salt
1 teaspoon ground ginger
½ teaspoon ground cloves
½ teaspoon ground cinnamon
½ cup butter, softened
½ cup white sugar
½ cup brown sugar
1 egg
¼ cup molasses
Instructions
Preheat your oven to 350°F and line a baking sheet with parchment paper.
In a medium bowl, whisk together the flour, baking soda, salt, ginger, cloves, and cinnamon.
In a large bowl, cream together the butter and both sugars. Beat in the egg, then stir in the molasses.
Gradually add the flour mixture to the wet ingredients and mix until combined.
Using a spoon or cookie scoop, drop cookie dough onto the prepared baking sheet.
Bake for 10-12 minutes, or until the edges of the cookies are golden brown.
Let the cookies cool on the baking sheet for 5 minutes before transferring to a cooling rack.
Enjoy Oma's ginger cookies!
Nutrition Facts
Calories: 220
Total Fat: 8.5 g
Saturated Fat: 5 g
Trans Fat: 0 g
Cholesterol: 25 mg
Sodium: 150 mg
Total Carbohydrates: 32 g
Dietary Fiber: 1 g
Sugars: 19.5 g
Protein: 2 g
What is the history behind oma's ginger cookies?
Oma's Ginger Cookies have been around for generations! The recipe for these delicious treats has been passed down from one generation to the next, with small variations being made along the way. It all began with a German immigrant named Oma, who settled in the small town of Chelsea, Michigan in the late 1800s. She brought with her a traditional family recipe for ginger cookies, which she adapted to the local ingredients and baking methods in her new home.
Oma's Ginger Cookies quickly became a local favorite, with people coming from miles around to get a taste of her delicious treats. Oma's recipe has been passed down through the generations, and the cookies still remain a beloved tradition in Chelsea. To this day, the recipe includes the same simple ingredients that Oma used all those years ago, including molasses, fresh grated nutmeg, and a touch of ground ginger.
Each time someone bakes a batch of Oma's Ginger Cookies, they are honoring a rich family tradition that has been passed down for generations. Oma's legacy lives on in these scrumptious treats, and we are sure that Oma would be proud of how far her recipe has come.
What makes oma's ginger cookies so special?
Oma's Ginger Cookies are truly special. From the first bite, you can tell the cookies are made with love. These cookies are soft, chewy, and perfectly spiced with ginger. Every bite is a burst of flavor that lingers in your mouth. Their texture is a delightful combination of crunchy and creamy, thanks to the sugar crystals sprinkled on top. Not to mention, they look just as delicious as they taste with a golden brown finish.
Oma's Ginger Cookies are also known for their long-lasting shelf life. The secret to this is their perfect combination of ingredients. The combination of butter, brown sugar, spices, and crystallized ginger creates a moist and flavorful cookie that won't dry out. With a few simple steps, the cookies can be easily stored in an airtight container and enjoyed for weeks.
It's no wonder why Oma's Ginger Cookies are so special! From the delicious flavor to their long-lasting shelf life, these cookies are sure to be an instant hit.
What tips can you share for baking the perfect batch of oma's ginger cookies?
Preheat your oven: Oma's ginger cookies require a nice hot oven to bake up to perfection! Make sure you preheat your oven to 375 degrees Fahrenheit before you start baking.
Choose the right ingredients: Oma's ginger cookies require high-quality ingredients. Use organic butter, unrefined cane sugar, freshly ground ginger, and the best molasses you can find.
Measure carefully: For the best results, measure all of your ingredients carefully and accurately. A little extra of one ingredient can throw off the entire batch.
Don't overmix: Overmixing can lead to tough and chewy cookies. When adding the wet ingredients to the dry, mix just until all of the ingredients are evenly combined.
Don't overbake: Oma's ginger cookies should bake for about 15 minutes or until the tops are just slightly browned. Overbaking can lead to dry, crunchy cookies.
Let cool completely: Let the cookies cool completely before transferring them to a wire rack or storage container. If you move the cookies too soon, they could break apart.
How have oma's ginger cookies become a cherished family tradition?
Oma's Ginger Cookies have become a cherished family tradition because they are full of flavor, easy to make, and evoke warm memories of holidays past. Ever since oma (grandmother in Dutch) shared her treasured recipe with her daughter, the delicious cookies have been a family favorite.
With a combination of spices like ginger, cinnamon, and nutmeg, these cookies have a unique flavor that's hard to forget. The recipe is simple, so even the youngest members of the family can participate in the baking process. Plus, the dough can be made ahead of time, so it's a great treat to whip up when unexpected guests arrive.
The warm memories of sharing Oma's Ginger Cookies with family and friends around the holidays is what makes them so special. These tasty treats have become a tradition that has been passed down for generations and will continue for many more. Whenever the family gets together, Oma's Ginger Cookies are sure to make an appearance.
What can you do to ensure oma's ginger cookies remain a treasured part of your holiday celebration?
The best way to ensure Oma's ginger cookies remain a treasured part of your holiday celebration is to make them an annual tradition! Planning to make them every year will give your family something to look forward to and will help keep the memory of your beloved Oma alive.
In addition to making them an annual tradition, you can also get creative with the recipe. Incorporating different spices, adding a frosting, or mixing in other ingredients like nuts or dried fruit can keep the cookies exciting and give them a unique twist. You could even adjust the shape of the cookies each year, such as rolling them into balls one year, and cutting them into shapes the next.
Another way to keep the cookies special is by inviting friends and family to get involved in the baking process. Ask them to come over and help measure out the ingredients, mix the dough, and cut out the shapes. Getting others involved in the baking experience will add an extra layer of fun and make the cookies even more memorable.
Lastly, enjoy the cookies! Share them with friends, family, and co-workers, and take the time to appreciate the memories that come with each bite. Oma's ginger cookies will be sure to remain a treasured part of your holiday celebration for years to come.