Delicious Mini Berry Pavlovas Recipe
Nothing kicks off a special occasion like a show-stopping dessert. For me, that means Mini Berry Pavlovas. A light, fluffy meringue is topped with a sweet, creamy whipped cream and fresh juicy berries. Every bite is a delightful combination of textures and flavors. I always get rave reviews when I serve my Mini Berry Pavlovas at a party or gathering. Whether you're a master baker or just getting started in the kitchen, this recipe is sure to impress.
Mini Berry Pavlovas Recipe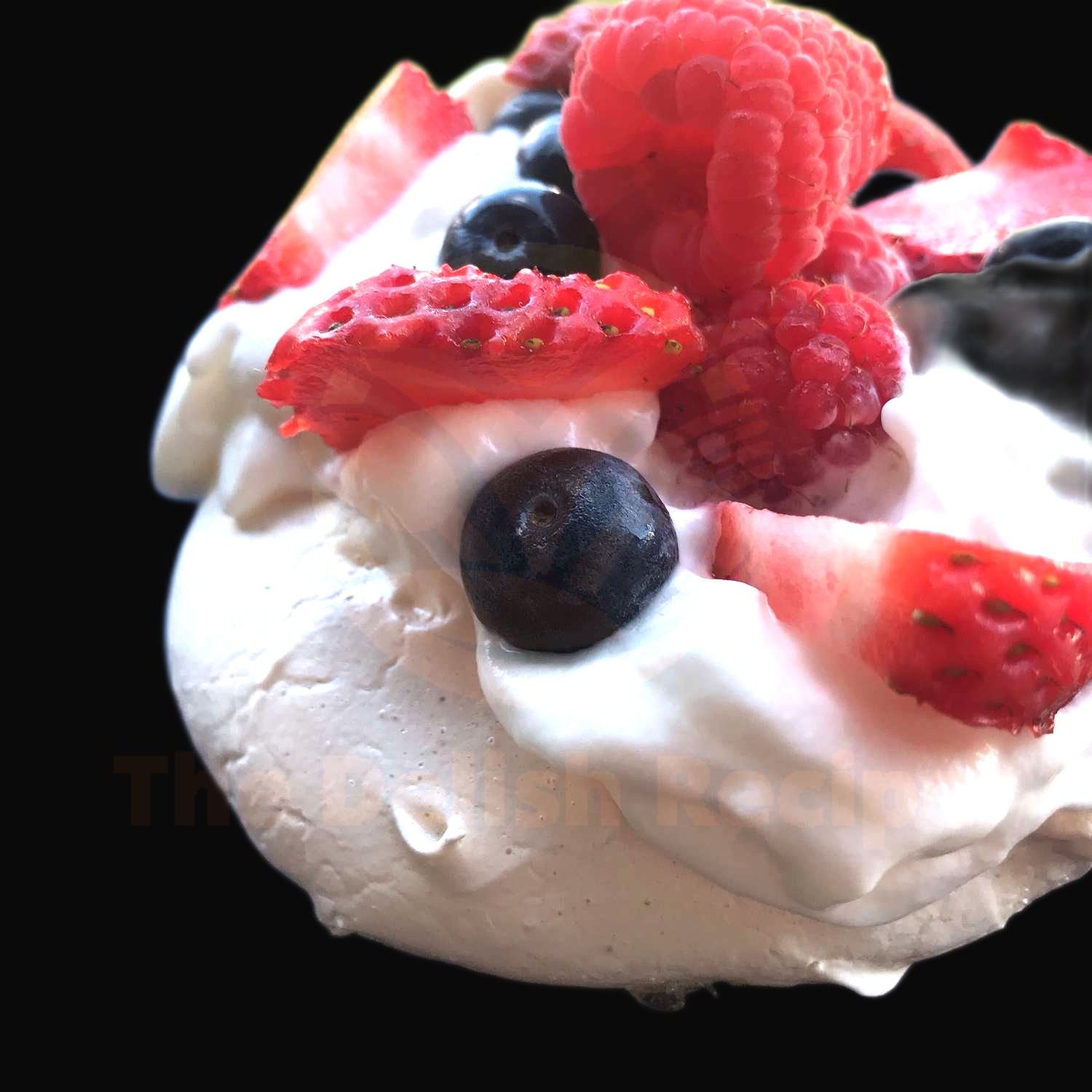 Ingredients
4 large egg whites
1/2 teaspoon cream of tartar
1 cup superfine sugar
1 teaspoon vanilla extract
2 tablespoons cornstarch
Pinch of salt
1/2 cup heavy cream
2 cups mixed berries (strawberries, blueberries, blackberries, raspberries)
2 tablespoons icing sugar
2 tablespoons toasted almonds, chopped
Instructions
Preheat your oven to 375°F (190°C).
In a large bowl, whisk together the egg whites and cream of tartar until soft peaks form.
Gradually add in the superfine sugar and continue to whisk until stiff peaks form.
Add in the vanilla extract, cornstarch, and pinch of salt and whisk until combined.
Using a spatula, spread the meringue onto a parchment-lined baking sheet into 4-5 small circles.
Place the baking sheet into the preheated oven and bake for 25 minutes or until golden brown.
Remove from the oven and let cool for at least 20 minutes.
In a separate bowl, whip the heavy cream until stiff peaks form.
Gently fold in the mixed berries and icing sugar.
To assemble the mini Pavlovas, place a meringue on a plate, top with a spoonful of berry cream, and sprinkle with the toasted almonds.
Enjoy your Mini Berry Pavlovas!
Nutrition Facts
Calories: 213
Total Fat: 12g
Saturated Fat: 7g
Cholesterol: 37mg
Sodium: 34mg
Total Carbohydrates: 24g
Dietary Fiber: 1g
Sugars: 20g
Protein: 2g
What are mini berry pavlovas and why are they the perfect summer dessert?
Mini berry pavlovas are a deliciously light and airy summer dessert that totally deserve all the hype! Pavlovas are a traditional meringue-based sweet that usually consists of a crunchy outside with a soft and marshmallow-like inside. When it comes to mini berry pavlovas, they take this classic dessert up a notch with a generous helping of fresh fruit and cream.
These sweet treats are the perfect way to end a summer day. Not only are they absolutely delicious, they're also super easy to make! All you need is egg whites, sugar, cream, and a selection of your favorite seasonal berries.
The meringue is made by whipping up egg whites until they're stiff and glossy, then slowly adding sugar until it's mixed in. Once the meringue is ready, spoon it into small mounds on a baking sheet and bake at a low temperature until lightly golden. Allow them to cool before adding a dollop of cream and a selection of your favorite berries.
Mini berry pavlovas are the perfect summer dessert because they are light and airy, full of flavor, and incredibly easy to make. Plus, they look beautiful and make for a great presentation. With so many delicious fruits in season during summer, you can mix and match to make a variety of different mini berry pavlovas.
How do mini berry pavlovas compare to other popular summer desserts?
Mini berry pavlovas are definitely a top contender in the race for the best summer desserts! Here are some reasons why they stand out:
They're light, fluffy and not too sweet – perfect for a summer afternoon.
The berry and meringue combination creates a unique flavor that's a hit among guests.
They're simple to make, yet look impressive and can be dressed up with extra fruits and cream.
Mini berry pavlovas are more refreshing than traditional, heavier desserts like cakes and pies.
What are the benefits of making mini berry pavlovas as opposed to other desserts?
Mini berry pavlovas offer a delicious, light and fluffy dessert option with plenty of benefits compared to other desserts. Here are just some of the advantages of making mini berry pavlovas:
Low in Calories and Fat: Mini berry pavlovas are much lower in calories and fat compared to other desserts such as cakes and cookies. They're a great option for those watching their weight or looking to cut down on their fat intake.
Delicious and Easy to Make: Mini berry pavlovas are super easy to make and taste amazing. With just a few simple ingredients, you can whip up a batch of these mini desserts in no time.
Perfect for Any Occasion: Mini berry pavlovas make for an impressive dessert and are perfect for special occasions such as birthdays and holiday parties. They also serve as a great sweet treat for a casual get-together or summer BBQ.
Variety of Toppings: Adding a variety of toppings to the mini berry pavlovas allows you to create unique and delicious combinations. Top with fresh and seasonal fruits, nuts, chocolate chips, or your favorite ice cream.
Making mini berry pavlovas is a great way to enjoy a light and tasty dessert without all the guilt.
What tips can you offer to guarantee success when making mini berry pavlovas?
Use the freshest berries you can find. If you can't find fresh berries, frozen ones work just as well.
Gently fold in the berries to the meringue so that you don't break the meringue.
Be sure to whip the egg whites until they are stiff and glossy.
Don't over bake the pavlova; take it out slightly before it's done as it will continue to cook in the residual heat.
Serve the pavlova with the favorite topping of your choice – cream, yogurt, or ice cream.
Use the freshest ingredients you can find to make the pavlova taste even better.
Give the pavlova time to cool down before serving.
What creative toppings can you use to add more flavor to mini berry pavlovas?
If you're looking for a way to add a delicious flavor kick to your mini berry pavlovas, there are so many creative toppings you can try. Whether you're making these as a summer treat or an after-dinner dessert, there's no shortage of ways to enhance the flavor and make these tasty treats even more special. Here are a few of our favorite ideas!
Shaved white chocolate – add a hint of sweetness and a beautiful contrast in color
Coconut flakes – the perfect way to add a tropical twist to the pavlovas
Crushed nuts – bring a crunchy texture and nutty flavor to the mix
Caramel sauce – make them even more decadent with a drizzle of caramel
Crumbled biscuit – for a delicious crunch, sprinkle some biscuit crumbs
Toasted marshmallow – a classic favorite that never gets old
Candied citrus – add a hint of tanginess with candied oranges or lemons
Dried fruit – get an extra dose of fruity flavor with dried cherries or cranberries
No matter what toppings you choose, mini berry pavlovas are sure to be a hit.
What is the best way to store mini berry pavlovas to ensure they stay fresh?
The best way to store mini berry pavlovas to ensure they stay fresh is to wrap each one individually in plastic wrap or foil and store in an airtight container in the refrigerator. This will keep them fresh for up to four days. For longer storage, you can also freeze mini berry pavlovas for up to three months. To freeze, wrap each one individually in plastic wrap or foil and store in an airtight container or freezer-safe bag in the freezer. When ready to eat, thaw in the refrigerator overnight or on the counter for a few hours.