Mincemeat is a traditional British holiday pudding or pie filling made with chopped fruit, spices, and either beef or mutton. These Mincemeat Cookies are a festive twist on the classic sugar cookie, and are perfect for any holiday gathering!
Ingredients
1½ cups packed brown sugar
1 cup shortening
1 egg
2 cups prepared mincemeat pie filling
3¼ cups all-purpose flour
¼ teaspoon salt
1½ teaspoons baking soda
Instructions
1. Preheat oven to 425 degrees F (220 degrees C).
2. Cream together brown sugar and shortening.
3. Add in egg and mincemeat, mix well.
4. Sift together flour, salt and baking soda then stir into the mincemeat mixture until combined well.
5. Drop dough onto a cookie sheet by spoonfuls or use a small ice cream scoop for uniform cookies, bake 7 – 10 minutes until set and lightly browned around the edges of the cookies
Nutrition Facts
-Serving size: 1 cookie
-Calories: 120
-Fat: 6 g
-Saturated fat: 2 g
-Cholesterol: 10 mg
-Sodium: 95 mg
-Carbohydrates: 17 g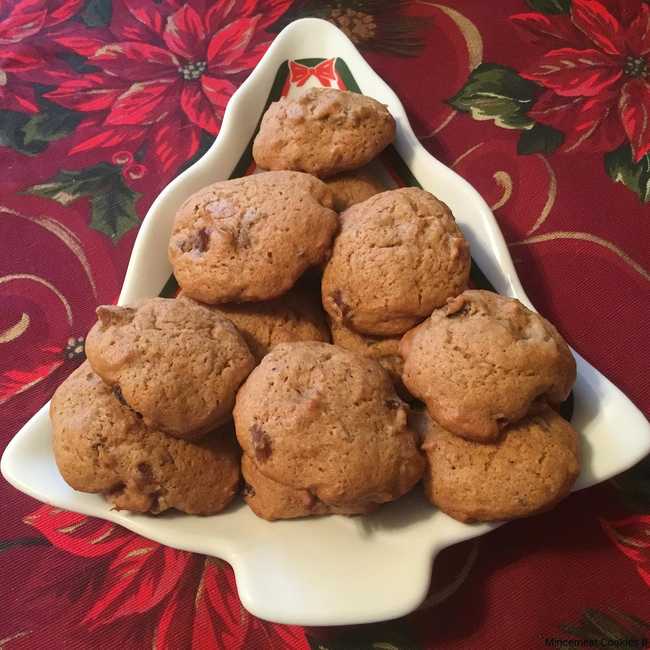 What can I do with mincemeat filling?
Mincemeat is a delicious filling made from fruit, spices, and sometimes even meat. It's traditionally used in pies and pastries, but there are so many other ways to enjoy it! Here are some ideas:
– Make mincemeat snack bars by combining mincemeat with oats, nuts, and dried fruit. Bake in a square pan and cut into bars. – Apple & mincemeat crumble is a classic comfort food dish that's perfect for cold winter nights. Top baked apples with a mixture of mincemeat, flour, sugar, butter, and spices. Serve with vanilla ice cream or custard. – Porridge is usually thought of as a breakfast food, but it can be enjoyed anytime! Stir some cooked porridge oats into heated mincemeat for a quick and easy snack or light meal. Add a touch of maple syrup or honey for sweetness. – Boozy mincemeat ice cream is an adults-only treat! Simply combine your favorite brand of vanilla ice cream with mincemeat (and rum or brandy if desired) and churn in an ice cream maker according to the manufacturer's instructions. Freeze until firm and enjoy! – Mincemeat pastry rolls are fun to make and even more fun to eat! Start with store-bought rolled puff pastry dough. Cut into rectangles, spread with mincemeat filling, roll up like cinnamon rolls, and bake according to the package directions. Sprinkle with powdered sugar before serving if desired.
Do mincemeat cookies have meat in them?
Mincemeat cookies are a holiday favorite in many households. But what exactly is mincemeat, and do mincemeat cookies have meat in them?
Mincemeat is a fruit and nut mixture that is traditionally used in pies and other desserts. It typically contains apples, raisins, nuts, and spices. Some brands of mincemeat also contain beef or pork, but most modern versions are made without meat. Therefore, most mincemeat cookies are also vegan-friendly.
What are mince meat tarts made of?
Mince meat tarts are made of a buttery crust filled with a sweet mixture of brandied minced fruit – apples, raisins, and candied peel – plus in its most traditional form, chopped beef. The English Christmas treat is typically served cold and can be enjoyed either on its own or with a dollop of whipped cream.
How do you make mincemeat cookies?
To make mincemeat cookies, first preheat your oven to 425 degrees Fahrenheit (220 degrees Celsius). Then, in a bowl, cream together brown sugar and shortening. Add in an egg and mix well. Next, add mincemeat to the mixture and stir until everything is combined.
Sift together flour, salt and baking soda. Slowly add the dry ingredients to the wet ingredients, stirring until everything is mixed together. Using a spoon or cookie scoop, drop dough onto a cookie sheet lined with parchment paper or a silicone baking mat. Bake for 7-10 minutes.
What is in a mincemeat cookie?
A mincemeat cookie is a type of cookie that contains mincemeat as one of its main ingredients. Mincemeat is a mixture of chopped fruits and vegetables, typically including apples, raisins, and spices. It is often used in pies and other desserts.
In addition to mincemeat, a typical mincemeat cookie recipe will also call for butter, sugar, eggs, vanilla extract, and all-purpose flour. Some recipes may also include baking powder. The cookies are usually made by first creaming the butter and sugar together before adding the other ingredients and then mixing everything together until well blended.
The dough is then formed into balls or logs (depending on the desired shape of the cookies) and chilled in the refrigerator for several hours or overnight. Once they are firm enough to slice, they are cut into thin slices (again, depending on the desired shape) and baked at a low temperature until golden brown.
Mincemeat cookies can be enjoyed on their own or with a cup of coffee or tea. They can also be decorated with icing or frosting if desired.