Delicious Mango Crepes Recipe
I love experimenting in the kitchen, and recently I decided to try something new – making mango crepes! I had heard wonderful things about them, and I'm so glad I gave them a shot. These crepes are sweet, light and airy, and the mango flavor really shines through. They're a refreshing treat that will make any morning brighter. They're easy to make and I can't wait to share my recipe with you!
Mango Crepes Recipe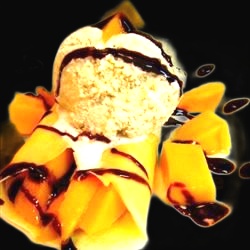 Ingredients
3 mangos, peeled and diced
1 cup all-purpose flour
2 eggs
1/2 cup milk
2 tablespoons butter, melted
2 tablespoons sugar
1/4 teaspoon salt
1/4 teaspoon cinnamon
1/4 teaspoon vanilla extract
Nonstick cooking spray
Instructions
Let's get started! Gather all the ingredients for this delicious Mango Crepes recipe. You'll need 3 mangos, peeled and diced, 1 cup all-purpose flour, 2 eggs, 1/2 cup milk, 2 tablespoons butter, melted, 2 tablespoons sugar, 1/4 teaspoon salt, 1/4 teaspoon cinnamon, 1/4 teaspoon vanilla extract, and some nonstick cooking spray.
Start by prepping the mangos. Peel off the skin and dice them into small cubes.
In a medium bowl, whisk together the flour, eggs, milk, melted butter, sugar, salt, cinnamon, and vanilla extract until everything is well combined.
Heat a nonstick skillet over medium-high heat and spray it with some nonstick cooking spray.
Pour 1/4 cup of the crepe batter into the skillet and tilt the pan to spread the batter out in a thin layer.
Cook the crepe for about 1 minute on each side, or until the edges are golden brown.
Slide the crepe onto a plate, top it with some diced mango, and then fold it in half.
Repeat steps 5-7 until all of the crepe batter is used.
Serve the Mango Crepes warm topped with some extra diced mango, if desired. Enjoy!
Nutrition Facts
Calories: 386 kcal
Carbohydrates: 48 g
Protein: 8 g
Fat: 19 g
Saturated Fat: 11 g
Cholesterol: 106 mg
Sodium: 320 mg
Potassium: 350 mg
Fiber: 3 g
Sugar: 15 g
Vitamin A: 1360 IU
Vitamin C: 34 mg
Calcium: 86 mg
Iron: 2 mg
What type of mango works best for mango crepes?
If you're looking for the perfect mango to top off your mango crepes, the Ataulfo mango is the one for the job! This delicious variety of mango is sweet, creamy, and has a unique flavor, making it the ideal choice for adding a delicious tropical twist to your crepes. Plus, the Ataulfo mango is easy to find and particularly affordable, so you can stock up on them without breaking the bank.
What other ingredients can you pair with mango crepes?
Mango crepes are a delicious and versatile breakfast or dessert option. While they taste great on their own, adding other ingredients can really elevate the flavors. So what other ingredients can you pair with mango crepes?
For a savory twist, try adding some fresh herbs like cilantro, basil, or mint. You can also add some diced onion, bell peppers, or other vegetables. Or why not get creative with a combination of savory and sweet ingredients? Try adding a sprinkle of cinnamon and a dollop of honey.
If you're looking for a sweeter dish, why not add some toasted nuts? Walnuts, pecans, and almonds are all great options. Or how about a sprinkle of shredded coconut? You could even make it a fruit-filled crepe and add some diced strawberries or bananas.
No matter what ingredients you choose, adding something to your mango crepes is sure to make them even more delicious.
What are the benefits of eating mango crepes?
Mango Crepes offer a delicious and nutritious way to enjoy the sweet, juicy flavor of mangoes! Here are just a few of the wonderful benefits of eating mango crepes:
Delicious Taste: Mangoes are one of the most delicious fruits on the planet, and when they are wrapped up in a crepe, they make a truly mouthwatering treat! The combination of sweet and tart flavors is unbeatable.
High in Nutrients: Mangoes are a great source of vitamin A, vitamin C, and other essential nutrients. Eating mango crepes can help you get the vitamins and minerals your body needs to stay healthy.
Easy to Prepare: Mango crepes are super easy to make. All you need is some fresh mangoes, crepe batter, and a pan. It's a great way to whip up a quick and delicious snack.
Versatile: Mango crepes can be enjoyed for breakfast, lunch, or dinner. They can be served sweet or savory, and with any number of different toppings.
How do you make the perfect mango crepe?
The perfect mango crepe starts with fresh, ripe mangos. Peel and dice the mangos, then lightly mash them with a fork or potato masher.
For the crepe batter, use a blender to mix together eggs, flour, sugar, and melted butter. Let the batter rest for about 15 minutes before cooking.
Heat a non-stick skillet over medium heat and grease it with butter. When the skillet is hot, pour in enough batter to thinly cover the bottom of the skillet.
Cook the crepe for about a minute or two, until the edges are golden-brown and the center is no longer liquid. Flip the crepe and cook for another minute or two.
Place a few spoonfuls of mashed mangoes in the center of the crepe and fold it in half. Cook for another minute or two and then transfer the crepe to a plate.
For more flavor, sprinkle the crepe with confectioners' sugar and drizzle with honey or maple syrup.
What are some creative ways to serve mango crepes?
If you're looking for some creative ways to serve up a delicious batch of mango crepes, you've come to the right place! There are so many fantastic ideas to make your mango crepes stand out. Whether you're a beginner in the kitchen or a crepe connoisseur, these creative mango crepe recipes will certainly please everyone's palate.
Topping your crepes with a combination of sweet mango and creamy coconut yogurt is a great way to create a delicious dessert. When choosing your mango, opt for one that is ripe, sweet, and juicy. To make the topping, simply combine the plain coconut yogurt with a few tablespoons of honey and a pinch of cinnamon. Top the crepes with the yogurt mixture and diced mango.
Another great way to serve mango crepes is to stuff them with a sweet and savory filling. Start by sautéing diced onions, garlic, and bell peppers in a large skillet. Once the vegetables are softened, add in some diced mango and freshly chopped cilantro. Cook until the mixture is fragrant and the mango is lightly caramelized. Spread the filling onto your crepes, roll up, and serve.
Finally, you can create an indulgent treat by rolling your crepes and topping them with mango ice cream. Simply layer your crepes with scoops of mango ice cream and top with a sprinkle of chopped pistachios, coconut flakes, and a drizzle of honey.
As you can see, there are so many creative ways to serve up mango crepes. Whether you're looking for something sweet and savory, or a more indulgent treat, these recipes are sure to please. Get creative and have fun experimenting with different ingredients and flavors.
What are the best toppings for mango crepes?
One of the best things about mango crepes is that they can be topped with almost anything! Whether you're looking for something sweet, savory, or even a bit spicy, there are endless possibilities when it comes to topping mango crepes. Some of our favorite toppings include sliced fresh mangoes, whipped cream, yogurt, granola, honey, toasted coconut flakes, and chopped nuts. For a savory kick, try adding some crumbled bacon, shredded cheese, diced tomatoes, or a fried egg. If you're feeling adventurous, you can also add a dash of chili powder or even a drizzle of sriracha for some added zing.