Lemon Bliss Pound Cake – A Taste Of Heaven!
I'm a big fan of baking, and one of my favorite recipes is my grandmother's Lemon Pound Cake. Whenever I make this cake, I'm immediately taken back to my grandmother's kitchen, breathing in the sweet, citrusy aroma and feeling the warmth of her love. This cake has become a family tradition, and I'm so excited to share it with you!
Lemon Pound Cake Recipe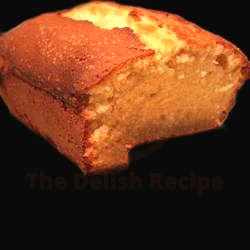 Ingredients
2 cups all-purpose flour
1 teaspoon baking powder
1 teaspoon baking soda
1/2 teaspoon salt
1 cup (2 sticks) unsalted butter, at room temperature
1 1/2 cups granulated sugar
4 large eggs
2 teaspoons pure lemon extract
1/2 cup sour cream
1/2 cup freshly squeezed lemon juice
2 teaspoons grated lemon zest
Instructions
Preheat oven to 350°F. Grease and flour a 9-by-5-inch loaf pan.
In a medium bowl, whisk together the flour, baking powder, baking soda, and salt.
In the bowl of an electric mixer fitted with the paddle attachment, cream the butter and sugar until light and fluffy, about 3 minutes.
Add eggs, one at a time, beating well after each addition.
Add the lemon extract, sour cream, lemon juice, and lemon zest, and mix until combined.
Add the dry ingredients in two batches and mix until just combined.
Pour the batter into the prepared pan and bake for 60 minutes, or until a toothpick inserted into the center of the cake comes out clean.
Let cool in the pan for 15 minutes before turning out onto a wire rack to cool completely.
Slice and serve with a dollop of fresh whipped cream, if desired. Enjoy your delicious Lemon Pound Cake!
Nutrition Facts
Serving Size: 1/6 of cake
Calories: 250
Total Fat: 10g
Saturated Fat: 6g
Trans Fat: 0g
Cholesterol: 50mg
Sodium: 250mg
Total Carbohydrate: 35g
Dietary Fiber: 1g
Sugars: 17g
Protein: 4g
What makes lemon pound cake so special?
Lemon pound cake is one of those classic desserts that always stands out for its unique flavor and simple, yet delicious, ingredients. What makes it so special is the perfect balance between sweet and tart, as well as its versatility as a dessert or snack. The moist, soft texture of the cake is enhanced by the tart lemon flavor, which makes it a perfect treat for any occasion. Plus, the extra lemony kick makes it a great option for those who don't like overly sweet desserts.
The secret ingredient that makes lemon pound cake so special is the inclusion of sour cream. This adds an extra level of depth to the cake's flavor, as well as providing a moist, creamy texture. Additionally, the use of fresh lemon juice, zest, and even lemon extract all help to create a truly special flavor.
Another great feature of lemon pound cake is its versatility. The cake can be served as is, with a light dusting of powdered sugar, or it can be enhanced with a dollop of whipped cream and a few fresh berries. It can also be served as an accompaniment to ice cream or other desserts. This makes it a great choice for any event, from a casual family get-together to a formal dinner party.
So, what makes lemon pound cake so special? It's the perfect balance of sweet and tart flavor, the creamy texture of sour cream, and the versatility of the cake that makes it a must-have for any special occasion.
What flavor combinations can you create with lemon pound cake?
When it comes to baking lemon pound cake, the possibilities are truly endless! From the classic lemon and sugar combination to more exotic flavors, the combinations you can create with lemon pound cake are truly mouthwatering. Here are some of our favorite flavor combinations to get you started:
Lemon and blueberry: This tart yet sweet combination is a classic in the world of lemon pound cake. The juicy blueberries pair perfectly with the bright, citrusy flavor of the lemon.
Lemon and pistachio: Add a hint of nuttiness to your lemon pound cake with a sprinkle of crushed pistachios. This combination will give your pound cake a subtle sweetness that pairs beautifully with the lemon.
Lemon and coconut: Nothing says summer quite like a lemon and coconut pound cake! The creamy texture of the coconut compliments the tartness of the lemon, making this flavor combination one of our favorites.
Lemon and rosemary: Add a unique herbal flavor to your pound cake with this combination. The unique flavor of the rosemary balances out the sweetness of the lemon and gives your pound cake a unique flavor.
These are just a few of the many delicious combinations that can be created with lemon pound cake.
What are the health benefits of lemon pound cake?
Yes, there are some incredible health benefits to lemon pound cake! Here are some of the biggest reasons why you should give this delicious treat a try:
Loaded with Antioxidants: Lemon pound cake is packed with antioxidants like vitamin C, which helps protect your cells from damage and boosts your immune system.
High in Fiber: The cake is made with whole wheat flour, which adds a healthy dose of fiber to each slice. This can help keep your digestive system running smoothly and support your overall health.
Low in Saturated Fats: Lemon pound cake is made with healthier ingredients, like vegetable oil or canola oil, which means it contains less saturated fat than other cakes.
Low in Sugar: Lemon pound cake has a natural sweetness from the lemons and other ingredients. This means it has less added sugar than other desserts, which can help keep your blood sugar levels stable.
Rich in Vitamin B: The cake contains plenty of B vitamins, which are essential for energy production and can help support your brain health.
What are some tips for baking the perfect lemon pound cake?
Preheat your oven to 350 degrees Fahrenheit! This will ensure your lemon pound cake is evenly cooked and has a nice golden color.
Grease your baking pan with butter or baking spray. This will prevent your cake from sticking and give it a nice golden crust.
Use a stand mixer to beat together the butter and sugar until they are light and fluffy.
Add in the eggs one at a time, mixing them in until they are fully incorporated.
Slowly add in the dry ingredients such as flour, baking powder, and salt until everything is mixed together.
For added flavor and texture, add in some lemon zest and juice.
Pour the batter into the prepared baking pan and bake in the oven for approximately 40 minutes.
Test the cake with a toothpick or cake tester to make sure it's done. If it's not done, add a few more minutes of baking time.
Let the cake cool completely before slicing and serving.
What are some creative ways to serve lemon pound cake?
If you've got a delicious lemon pound cake in your hands, you're probably wondering how to serve it in a creative way. Well, the good news is that there are plenty of fun and delicious options! Here are some of our favorite ways to serve up this classic dessert.
Ice Cream Sandwich – Slice your pound cake into two round layers and use it as a substitute for the buns of an ice cream sandwich. Simply fill the middle with your favorite ice cream flavor and you've got a decadent dessert that's sure to please.
French Toast – Cut the pound cake into thick slices and use it as you would regular bread when making French toast. It'll give the dish its own unique flavor and make it a bit sweeter.
Trifle – Layer cubes of pound cake with your favorite fruit, custard, and/or pudding. Top with whipped cream and a sprinkle of nuts for a light and delicious trifle.
Parfait – Layer cubes of pound cake with your favorite yogurt, fruit, and/or granola for a healthy and delicious breakfast or snack.
Topping – Cut the pound cake into cubes and use it as a topping for your favorite ice cream, pies, or other desserts.
Hopefully these creative ideas for serving lemon pound cake have inspired you to come up with your own one-of-a-kind versions.
What are some interesting facts about the history of lemon pound cake?
If you're a fan of lemon pound cake, you're in for a treat! There's a lot of interesting history behind this classic dessert. Here are some fun facts about the origins of lemon pound cake:
The origin of lemon pound cake can be traced back to the 1700s. It was first known as "pound cake" because it was made with a pound each of butter, sugar, eggs, and flour.
It wasn't until the early 1800s that lemon pound cake was created by adding lemon zest and juice to the original pound cake recipe.
Lemon pound cake quickly became a favorite dessert in the United States, especially in the South. It was often served as a traditional Sunday dessert in homes across the country.
Lemon pound cake is still popular today. It's often served as a light, summery dessert, or for special occasions like birthdays and weddings.
So there you have it – a few fun facts about the history of lemon pound cake! Now you know a bit more about this delicious dessert.