Delicious Lemon-Ginger Cookies – Easy Recipe To Make
I've been baking these Lemon-Ginger Cookies for years. They're a classic family favorite that never fails to bring a smile to everyone's face. The combination of fresh lemon and warm ginger makes for a unique and delicious flavor that can't be beat. Plus, it's sure to make your kitchen smell amazing! If you're looking for an easy and delicious treat, this is the recipe for you.
Lemon-Ginger Cookies Recipe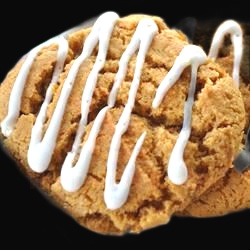 Ingredients
1/2 cup (1 stick) unsalted butter, softened
1/2 cup granulated sugar
1/2 cup light brown sugar
1 large egg
1 tablespoon freshly grated ginger
1 tablespoon freshly squeezed lemon juice
1 teaspoon lemon zest
1 teaspoon vanilla extract
2 1/2 cups all-purpose flour
1 teaspoon baking soda
1/2 teaspoon baking powder
1/2 teaspoon salt
1/2 cup chopped walnuts (optional)
Instructions
Let's make some delicious Lemon-Ginger Cookies!
Preheat the oven to 350 degrees Fahrenheit.
In a mixing bowl, cream together the softened butter and both sugars until light and fluffy.
Beat in the egg, grated ginger, lemon juice, zest, and vanilla extract.
In a separate bowl, whisk together the flour, baking soda, baking powder, and salt.
Gradually add the dry ingredients to the wet ingredients, stirring until just combined.
Stir in the chopped walnuts (optional).
Drop the cookie dough onto a greased baking sheet in heaping tablespoonfuls, leaving 3 inches between each cookie.
Bake for 10 minutes, or until the edges are lightly golden.
Allow the cookies to cool on the baking sheet for about 20 minutes.
Enjoy your delicious Lemon-Ginger Cookies!
Nutrition Facts
Calories: 150
Fat: 8g
Carbs: 18g
Protein: 2g
Sugar: 11g
Sodium: 120mg
How can this lemon-ginger cookie recipe be adapted to suit different dietary preferences?
Yes! This delicious lemon-ginger cookie recipe can easily be adapted to suit a variety of dietary preferences. Whether you're looking for a vegan, gluten-free, or dairy-free alternative, this recipe can be tailored to meet your needs. Here are some suggestions to get you started:
For a vegan version:
Replace the eggs in the recipe with an egg substitute such as chia seeds or flaxseed meal. You can also use vegan butter or margarine instead of regular butter.
For a gluten-free version:
Swap out the all-purpose flour for a gluten-free flour blend. Be sure to check the ingredients list to ensure that the blend is certified gluten-free.
For a dairy-free version:
Simply switch out the butter for a dairy-free margarine or vegan butter. You can also use an equal amount of coconut oil instead.
These are just a few ideas to help you customize this lemon-ginger cookie recipe to suit your dietary preferences. With a few simple substitutions, you can enjoy this delicious treat no matter your dietary restrictions.
What are the benefits of adding ginger to this lemon cookie recipe?
Ginger adds a spicy, zesty flavor to lemon cookies that really brings out the tartness of the lemon.
It also adds a warmth to the taste that makes it even more comforting and delicious.
Ginger is known for its medicinal properties, and adding it to this recipe can provide a range of health benefits. It is known to have anti-inflammatory properties, which can help reduce inflammation in the body. Additionally, it can help soothe an upset stomach, reduce nausea, and even boost your immune system.
Ginger is a natural sweetener and can help cut down on the amount of sugar needed in the recipe. This makes it an ideal addition for those looking to reduce their sugar intake.
Adding ginger to the recipe also has the potential to improve digestion. It can help break down food more efficiently, and it can even help reduce bloating.
Finally, ginger can add a bit of crunch to the finished product, giving the cookies a unique texture that will be sure to impress.
How do the flavors of lemon and ginger interact to make this a delicious cookie?
The combination of tart lemon and spicy ginger in these Lemon-Ginger Cookies is truly a match made in heaven! The tangy citrus flavor of the lemon perfectly balances out the warming spiciness of the ginger. Together, they make a unique, delicious cookie that is sure to be a hit with everyone!
Here's how the flavors of lemon and ginger interact to make this such a delicious treat:
The tartness of the lemon adds a bright, refreshing flavor to the cookie that is perfectly complemented by the spicy kick of the ginger.
The combination of the two flavors creates a unique, complex flavor that is sure to tantalize the taste buds.
The warming spice of the ginger brings out the sweetness of the cookie, making it even more delicious.
The lemon's zesty flavor adds a zing of freshness that helps to balance out the richness of the cookie.
What tips and tricks can be used to make the perfect lemon-ginger cookie?
The Perfect Lemon-Ginger Cookie: Tips and Tricks
Making the perfect lemon-ginger cookie can be a challenging but rewarding experience. Here are some tips and tricks to help you create the most delicious and flavorful cookies:
Use fresh lemons and ginger rather than extracts or bottled versions. The zesty lemon and spicy ginger will give your cookies a unique and flavorful taste.
For optimal flavor, add a pinch of lemon zest to the cookie dough. This will give your cookies a subtle citrus flavor that will take them to the next level.
To make the cookies more chewy, use less baking soda and baking powder. This will help create a softer cookie texture.
Use plenty of butter for a richer and more flavorful cookie.
For added texture, try stirring in chopped crystallized ginger into the cookie dough.
Bake the cookies for the recommended time. Overbaking will make the cookies dry and hard.
Let the cookies cool for a few minutes before transferring them to a cooling rack.
For a special touch, top the cookies with a sprinkle of powdered sugar or a drizzle of melted white chocolate.
Following these tips and tricks will help you make the perfect lemon-ginger cookie.
What makes this lemon-ginger cookie recipe so unique?
This lemon-ginger cookie recipe is one-of-a-kind! It combines the tartness of lemon and the spicy warmth of ginger for a truly unique flavor. The dough is made with both white and brown sugars, giving these cookies the perfect amount of sweetness. The fresh ginger adds a kick of flavor, while the lemon zest gives them a refreshing citrus taste.
How can this lemon-ginger cookie recipe be used to make a special dessert?
With a few simple ingredients and a little creativity, you can turn this delicious lemon-ginger cookie recipe into a special dessert that will wow your guests! To get started, prepare the cookie dough according to the recipe instructions, then use cookie cutters to cut out fun shapes like stars, hearts, and circles. Place the cookie shapes on a baking sheet, and bake until golden brown.
Once the cookies have cooled, use them to create a delicious layered masterpiece. Start by crumb coating the bottom of a serving platter with a layer of crushed cookies. Then, alternate layers of lemon curd, freshly whipped cream, and crushed cookies until the serving platter is full. Finish off with a dusting of powdered sugar and decorate with a few mint leaves for a stunning presentation.
This special dessert is sure to be a hit at any gathering. With its sweet and tangy flavors, it's the perfect way to end a meal and leave a lasting impression.
What other recipes could be adapted to include the flavor of lemon-ginger cookies?
Lemon-ginger cookies are a delicious and unique treat, and can be a great addition to a variety of recipes. With their subtle citrusy and spicy flavor, these cookies can be used to add a special twist to a range of dishes. Here are some creative recipes that can be adapted to include the flavor of lemon-ginger cookies!
Cake: Incorporating crushed lemon-ginger cookies into a cake batter can add a subtle, yet flavorful punch to any cake. Simply add a few spoonfuls of the crushed cookies to the cake batter for a delicious and unusual twist.
Ice Cream: Adding crumbled lemon-ginger cookies to a homemade ice cream can take a traditional recipe to a whole new level! A spoonful of the crushed cookies can be gently swirled in right before freezing, or the cookies can be combined with the cream before freezing for a more intense flavor.
Muffins: Lemon-ginger cookies can also be used to make delicious muffins. Simply add a few spoonfuls of the crushed cookies to the muffin batter and bake as usual!
Yogurt: Adding a spoonful of crushed lemon-ginger cookies to yogurt can provide an unexpected taste sensation. You can also add the cookie crumbles to a smoothie for a unique twist on your favorite beverage.
These are just a few of the recipes that could be adapted to include the flavor of lemon-ginger cookies.