Delicious Lemon Cheesecake Cookies Recipe
If you're looking for a delicious and easy way to satisfy your sweet tooth, then you need to try my Lemon Cheesecake Cookies! As someone who loves baking, I'm always looking for ways to create a delicious treat and these cookies never disappoint. They're made with a soft, buttery cookie base that's combined with a creamy, lemon cheesecake filling for a sweet and tangy flavor. Plus, they're easy to make, require minimal ingredients, and come together in a matter of minutes. So, if you're looking for a wonderful dessert to enjoy, these Lemon Cheesecake Cookies are just what you need!
Lemon Cheesecake Cookies Recipe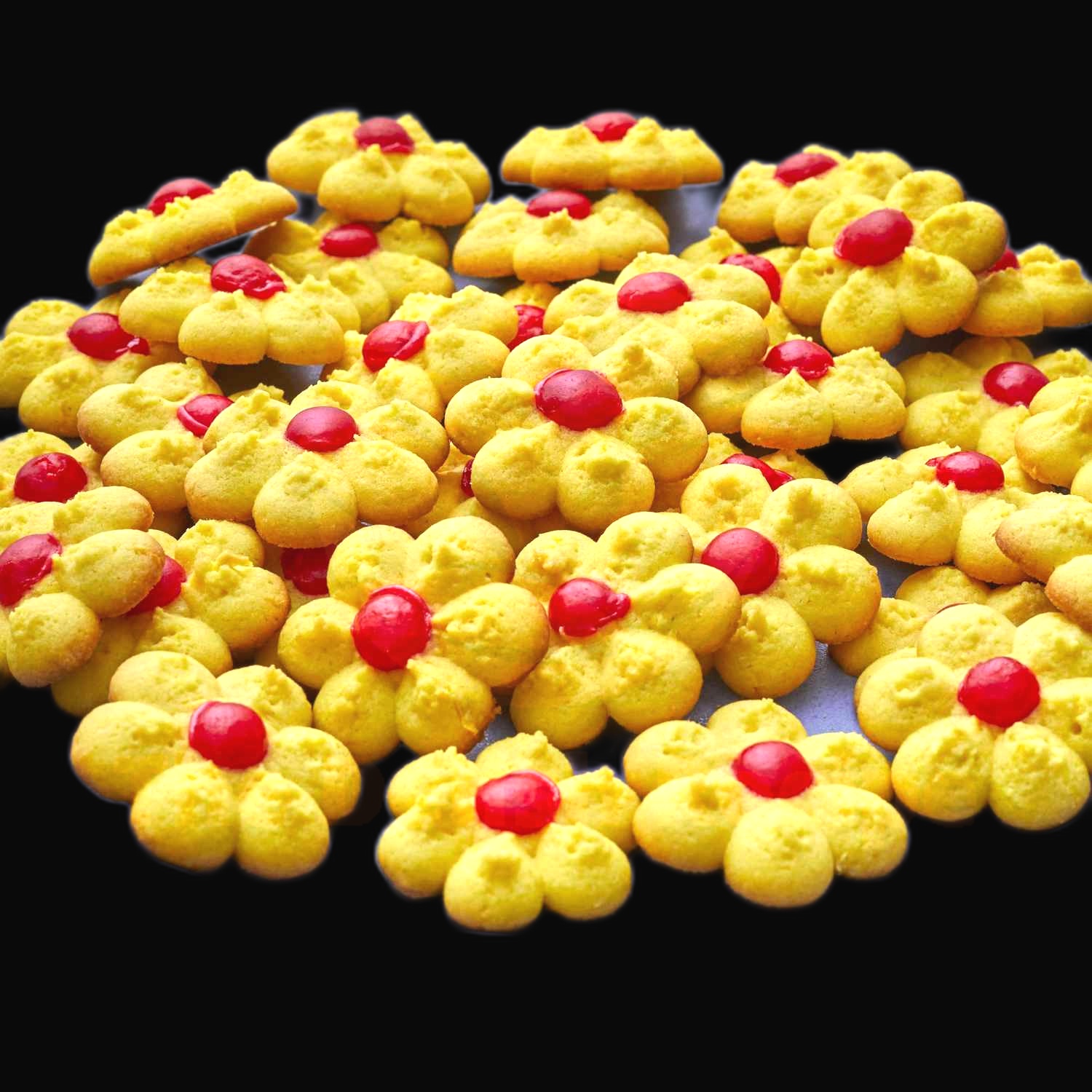 Ingredients
1/2 cup (113 grams) unsalted butter, room temperature
1/2 cup (100 grams) granulated sugar
1 large egg, room temperature
1 teaspoon vanilla extract
1 1/2 cups (190 grams) all-purpose flour
1 teaspoon baking powder
1/4 teaspoon salt
3 tablespoons fresh lemon juice
1/2 cup (100 grams) cream cheese, softened
1/3 cup (65 grams) granulated sugar
Zest of 1 lemon
Instructions
Let's get started! First, beat the butter and 1/2 cup of granulated sugar together in a large bowl until light and fluffy. Then add in the egg and vanilla extract and mix until fully incorporated.
In a separate bowl, sift together the all-purpose flour, baking powder, and salt. Slowly add the dry ingredients to the wet ingredients and mix until just combined.
Next, in a small bowl, mix together the lemon juice, cream cheese, 1/3 cup of granulated sugar, and lemon zest.
Using a spoon, scoop out 2 tablespoons of dough and make a ball. Press the dough flat and drop 1 teaspoon of lemon cheesecake mixture in the center. Wrap the cookie dough around the filling and roll into a ball. Place the cookies on a baking sheet lined with parchment paper and bake for 15 minutes at 350°F (175°C).
Allow the cookies to cool for 30 minutes before serving. Enjoy your Lemon Cheesecake Cookies!
Nutrition Facts
Serving size: 1 cookie
Calories: 160
Total Fat: 8g
Saturated Fat: 5g
Cholesterol: 30mg
Sodium: 70mg
Total Carbohydrate: 18g
Dietary Fiber: 1g
Sugars: 8g
Protein: 3g
What makes lemon cheesecake cookies so special?
You know those cookies that make you go "mmmmmm"? Well, lemon cheesecake cookies definitely fit the bill! Their creamy, lemony flavor is what makes them so special. Plus, they're incredibly easy to make.
The key to lemon cheesecake cookies is combining creamy, tangy flavors. The lemon zest gives the cookies a bright, citrusy flavor, while the cream cheese adds a rich, creamy texture. These two ingredients, combined with a buttery cookie dough, create a perfect balance between sweet and tart.
Another great thing about these cookies is that they look so pretty! The bright yellow hue stands out against the white cookie dough, making them a great choice for special occasions like birthdays or holidays.
Finally, lemon cheesecake cookies are just plain fun to make. Whether you're a beginner baker or an old pro, this recipe is sure to entertain. Plus, the cookies themselves taste so delicious, you'll want to make them again and again!
So, if you're looking for a tasty, easy-to-make treat, give lemon cheesecake cookies a try. The combination of creamy, tangy flavors and beautiful colors will make them a hit with your family and friends.
How do these cookies make a great snack or dessert?
You might be wondering how these Lemon Cheesecake Cookies make a great snack or dessert. Well, here's why:
They're super easy to make – all you need is a few simple ingredients and you'll have a delicious treat in no time.
They're light and fluffy with a hint of lemon that gives them a unique and refreshing flavor.
They're perfect for any occasion – you can serve them as a snack, or as a decadent dessert after a meal.
They're a great way to indulge your sweet tooth without overdoing it – just one cookie is enough to satisfy your craving.
What tips do you have for getting the perfect chewiness and texture in the cookies?
Start with the right temperature – Preheat your oven to 350°F (175°C). It's important to make sure that the oven is hot enough before baking your cookies.
Use the right ingredients – Make sure you start with the right ingredients. Use high-quality butter and cream cheese, fresh lemon zest and juice, and good-quality flour.
Measure carefully – Measure out the ingredients very carefully and precisely. This will help ensure that the cookies have the right texture and consistency.
Don't overmix – Don't overmix the dough. Overmixing the dough can cause the cookies to be too tough and chewy.
Bake for the right amount of time – Bake the cookies for 12-15 minutes. The exact baking time will depend on the size of the cookies. Keep an eye on the cookies and when they are lightly golden brown, they're ready to come out of the oven.
Let the cookies cool – Let the cookies cool completely before serving. This will help them to develop their perfect texture and chewiness.
What unique flavors come together to make these cookies?
When you bite into a Lemon Cheesecake Cookie, you're in for a truly delectable treat! These incredible cookies combine the two best flavors of the season – lemon and cheesecake – to create a unique and flavorful combination. The sweet, creamy cheesecake is perfectly balanced by the tart, citrusy lemon, making these cookies a tasty treat you'll want to enjoy over and over again.
These flavorful cookies are made with the perfect blend of ingredients. The lemon flavor comes from a combination of freshly-squeezed lemon juice and zest, which brings out the citrusy brightness of the lemon. The cheesecake component is achieved through a combination of cream cheese, sugar, and egg yolks. Together, these ingredients create a delicate and creamy taste that's sure to satisfy your sweet tooth.
The texture of these cookies is also worth noting – they are light and airy, yet still chewy enough to be satisfying. The sugar and cream cheese give the cookies a slight crunch, while the lemon adds a pleasant zing. This combination of flavors and textures makes these cookies truly unique and delicious.
So, what unique flavors come together to make these cookies? The answer is simple – a perfect balance of sweet cream cheese and tart lemon.
What are some ways to make these cookies extra special?
You can make your lemon cheesecake cookies extra special in so many ways! Start by using fresh lemon zest and juice in the cookie batter; this adds an extra zing to the flavor. You can also use flavored extracts like vanilla or almond to give the cookies an even more intense flavor. Another way to add a special touch is by coating the cookies in white or dark chocolate. For an added crunch, top off the cookies with chopped pistachios or almonds. If you want to go the extra mile, you can even make a lemon curd or cream cheese frosting to sandwich them together.