Fluffy Lemon-Blueberry Pancakes – A Perfect Start To The Day!
Waking up on a lazy Sunday morning, the scent of freshly made pancakes wafted through the air. I got out of bed, feeling my mouth start to water as I made my way to the kitchen. To my delight, my family had made a stack of Lemon-Blueberry Pancakes, and the sweet and tangy flavors were like a little taste of heaven. It was one of my favorite recipes growing up, and I can't wait to share it with you!
Lemon-Blueberry Pancakes Recipe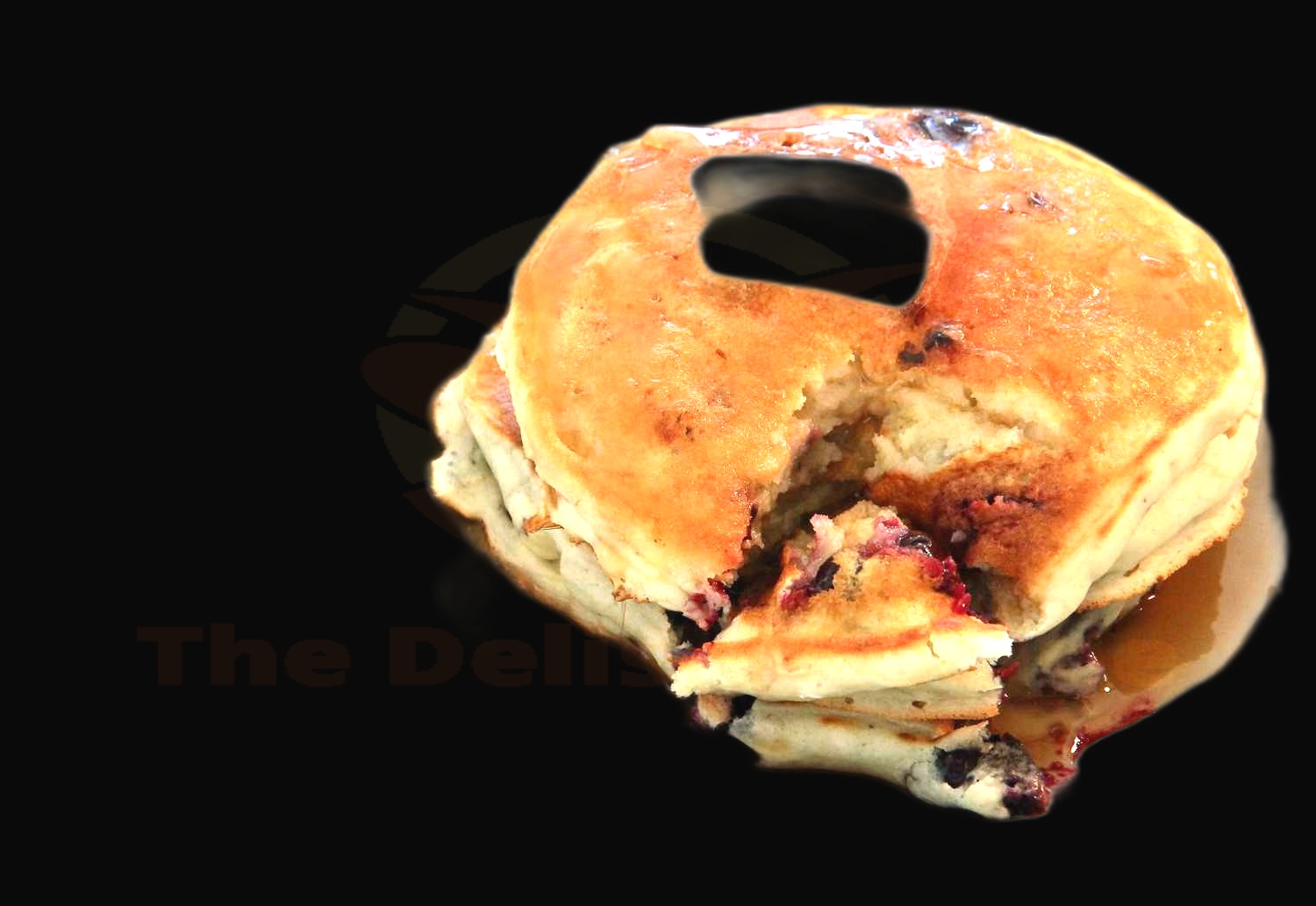 Ingredients
2 ½ cups all-purpose flour
1 tablespoon baking powder
1 teaspoon baking soda
½ teaspoon salt
2 tablespoons white sugar
2 eggs
2 cups buttermilk
4 tablespoons melted butter
2 tablespoons lemon zest
1 cup fresh blueberries
Instructions
Gather all the ingredients for Lemon-Blueberry Pancakes! You'll need 2 ½ cups all-purpose flour, 1 tablespoon baking powder, 1 teaspoon baking soda, ½ teaspoon salt, 2 tablespoons white sugar, 2 eggs, 2 cups buttermilk, 4 tablespoons melted butter, 2 tablespoons lemon zest, and 1 cup fresh blueberries.
In a medium bowl, whisk together the flour, baking powder, baking soda, salt, and sugar.
In another bowl, whisk together the eggs, buttermilk, butter, and lemon zest.
Gradually add the wet ingredients to the dry ingredients, stirring until just combined.
Gently fold in the blueberries.
Heat a large nonstick skillet over medium heat and spray with cooking spray.
Using ¼ cup of batter, pour into the skillet and cook until golden brown and cooked through, about 2-3 minutes per side.
Serve with your favorite toppings and enjoy!
With just 15 minutes of prep time and 5 minutes of cooking time, these Lemon-Blueberry Pancakes are sure to be a hit! Get creative with toppings and have fun!
Nutrition Facts
Calories: 297
Total Fat: 9.6 g
Saturated Fat: 5.8 g
Cholesterol: 82 mg
Sodium: 556 mg
Total Carbohydrate: 42.1 g
Dietary Fiber: 1.8 g
Sugars: 9.2 g
Protein: 7.6 g
Why are lemon-blueberry pancakes the perfect breakfast treat?
Lemon-blueberry pancakes are the perfect breakfast treat because they combine the zesty flavor of lemons with the sweetness of blueberries for a unique and delicious combination. Not only are they a great way to start your day with a burst of flavor, but they're also easy to make! All you need are basic pancake ingredients and a few lemons to get started. The pancakes also look impressive and will delight your family or guests.
What makes these pancakes so special?
These Lemon-Blueberry Pancakes are special because they combine the bright, citrusy flavor of lemon with the sweetness of blueberries for a delicious and unique breakfast treat. The combination of flavors creates a delicious balance of tart and sweet that is sure to make your taste buds tingle! Plus, the addition of the blueberries gives these pancakes a delicious, festive look.
What are the health benefits of eating lemon-blueberry pancakes?
Yes! Lemon-blueberry pancakes can be a healthy and delicious breakfast choice! Here are some of the great health benefits you'll get if you add them to your regular breakfast rotation:
Rich in Antioxidants: Blueberries and lemons are both rich in antioxidants, which help protect cells from damage and fight disease.
Source of Fiber: Pancakes made with whole-wheat flour provide extra fiber, helping you feel fuller and aiding digestion.
Vitamin C: The lemons in these pancakes provide a boost of vitamin C, which helps keep your immune system strong and supports healthy skin.
Low in Sugar: Many pancake recipes use a combination of lemon juice and blueberries to sweeten the pancakes without adding loads of sugar.
Protein: Adding protein powder to your pancake batter can help you stay full and energized throughout the day.
How can you make the perfect lemon-blueberry pancakes?
Making the perfect lemon-blueberry pancakes is easy! All you need is a few simple ingredients, a little bit of time, and a little bit of patience. Here's how to do it:
Ingredients:
All-purpose flour
Baking powder
Salt
Milk
Eggs
Butter
Lemon juice
Lemon zest
Blueberries
Instructions:
In a bowl, mix together the flour, baking powder, and salt.
In a separate bowl, mix together the milk, eggs, and melted butter.
Add the wet ingredients to the dry ingredients and mix until combined.
Stir in the lemon juice, lemon zest, and blueberries.
Heat a non-stick skillet or griddle over medium heat.
Grease the pan with butter or cooking spray.
Pour 1/4 cup of batter onto the pan and cook until the edges look dry and the bottom is golden brown.
Flip carefully and cook until the other side is golden brown.
Serve with butter and syrup, or your favorite topping.
What ingredients do you need to make lemon-blueberry pancakes?
If you're looking to make some delicious lemon-blueberry pancakes, you'll need a few simple ingredients. To get started, you'll need all-purpose flour, baking powder, salt, eggs, milk, butter, lemon juice, and blueberries. You'll also need some butter to grease the pan and maple syrup or powdered sugar for topping.
To make the pancakes, start by combining the dry ingredients of flour, baking powder and salt in a bowl. In a separate bowl, whisk together the eggs, milk, butter and lemon juice. Then, pour the wet ingredients into the dry ones and mix until just combined.
Once the batter is mixed, gently fold in the blueberries. Then, heat a lightly greased griddle or non-stick pan over medium heat and use a spoon or ladle to pour the batter onto the pan. When the edges of the pancakes start to look dry, flip them over and cook for another few minutes until golden brown.
Serve your lemon-blueberry pancakes with butter, maple syrup and a sprinkle of powdered sugar.
What are some creative toppings to add to lemon-blueberry pancakes?
If you're looking for unique and delicious toppings for your lemon-blueberry pancakes, you're in luck! Here are some creative ideas to add a special touch to your breakfast:
Coconut Shavings: A bit of nutty flavor and crunchy texture from coconut shavings will give your pancakes a tropical twist.
Nut Butter: Whether you like peanut, almond, or cashew butter, adding a dollop of nut butter to your pancakes will give them a creamy and nutty flavor.
Candied Lemon: For a zesty kick, add some candied lemon. It'll give your pancakes a lip-smacking tangy flavor.
Whipped Cream: Make your pancakes light and fluffy with a dollop of whipped cream.
Maple Syrup: You can't go wrong with the classic syrup topping. Add a sweet and sticky taste to your pancakes with pure maple syrup.
Berries: Fresh or frozen berries will bring a juicy and tart flavor to your pancakes.
Granola: Add some crunch to your pancakes with some granola. It'll add a nice texture and a hint of sweetness.
No matter which topping you choose, lemon-blueberry pancakes are sure to be a hit! With these creative ideas, you can make your breakfast even more special.