Refreshing And Delightful Watermelon Sorbet
If you're looking for a refreshing summer treat, then look no further than this delicious Watermelon Sorbet! As someone who loves anything watermelon-related, I was so excited to make this recipe for the first time. It was even better than I could have imagined — the sorbet was so juicy and flavorful, with a light, creamy texture that was just heavenly. Plus, it's super easy to make, so you can have it ready to enjoy in no time. So what are you waiting for? Let's get started with this delicious Juicy Watermelon Sorbet!
Juicy Watermelon Sorbet Recipe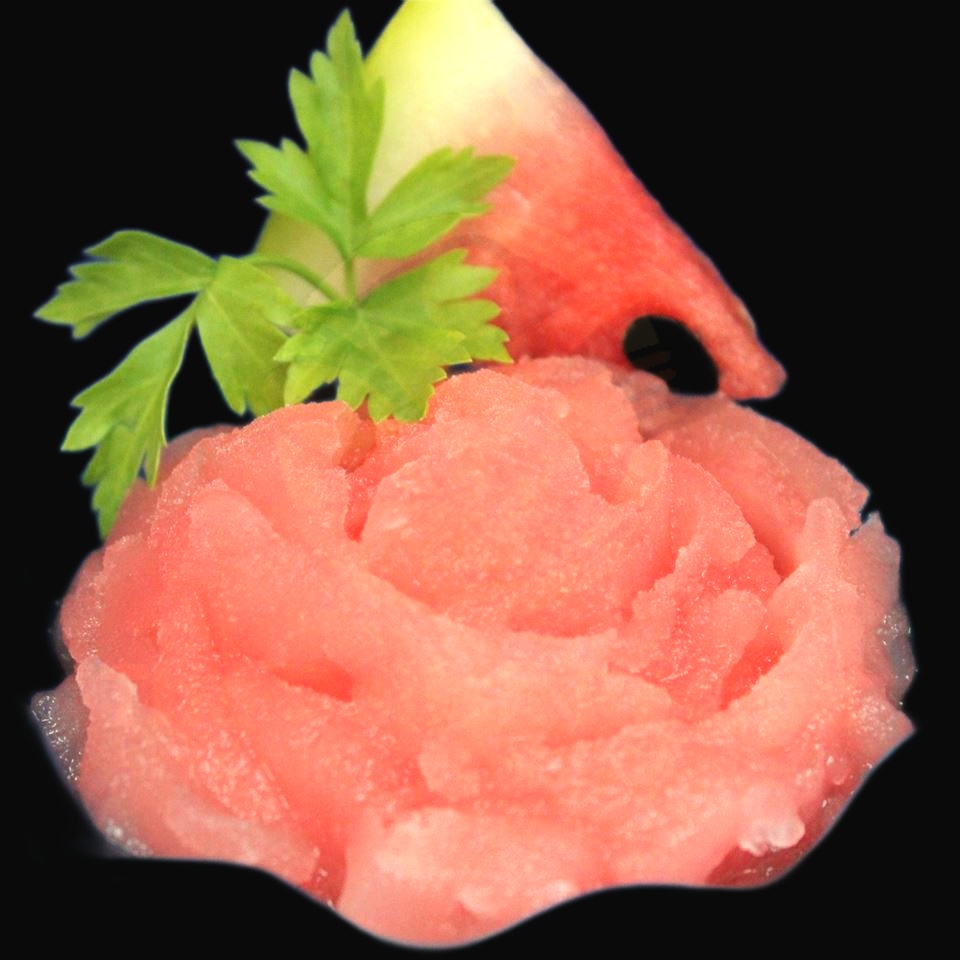 Ingredients
5 cups cubed seedless watermelon
1/4 cup sugar
1/4 cup light corn syrup
1/4 teaspoon freshly squeezed lemon juice
1/8 teaspoon almond extract
1/4 teaspoon kosher salt
Instructions
Let's get started making the Juicy Watermelon Sorbet! Grab a large bowl and 5 cups of cubed seedless watermelon.
Add 1/4 cup of sugar, 1/4 cup of light corn syrup, 1/4 teaspoon of freshly squeezed lemon juice, 1/8 teaspoon of almond extract, and 1/4 teaspoon of kosher salt.
Now it's time to mash the ingredients together. Use a strong spoon or a potato masher to mix everything until it's a smooth paste.
After that's done, pour the mixture into a shallow 9×13 inch baking dish. Cover it with foil and place it in the freezer for 30 minutes.
After 30 minutes, remove the baking dish from the freezer and let it sit for about 10 minutes. Then, use a spoon or a spatula to break up any chunks that have frozen.
Now it's time for the fun part! Scoop out the sorbet into chilled bowls and enjoy!
Nutrition Facts
Calories: 140
Total Fat: 0 g
Saturated Fat: 0 g
Cholesterol: 0 mg
Sodium: 120 mg
Total Carbohydrates: 35 g
Dietary Fiber: 1 g
Sugars: 31 g
Protein: 1 g
What are some variations of juicy watermelon sorbet?
Looking for a tasty and refreshing summer treat? Look no further than juicy watermelon sorbet! This light and delicious dessert is the perfect way to cool down on a hot summer day. But did you know there are a few variations of this popular dessert? Here are some of our favorite variations of juicy watermelon sorbet:
Coconut Watermelon Sorbet: This combination of sweet watermelon and creamy coconut is an absolute treat! Start with a base of ripe watermelon and add a splash of coconut cream to give it an extra creamy texture and hint of tropical flavor.
Lavender-Infused Watermelon Sorbet: This unique and delicate flavor combination makes for a truly special summertime dessert. Steep lavender flowers in a simple syrup, strain, and add the delicately flavored syrup to your base of ripe watermelon.
Chai-Spiced Watermelon Sorbet: This is a great way to give your watermelon sorbet an extra kick of flavor! Start with a base of ripe watermelon and add a mixture of chai spices like cinnamon, cardamom, and ginger to give it a unique and flavorful twist.
These are just a few of the delicious variations of juicy watermelon sorbet that you can make at home.
What are the essential ingredients for juicy watermelon sorbet?
When it comes to making the perfect juicy watermelon sorbet, there are only four essential ingredients you need: watermelon, simple syrup, lime juice, and a pinch of salt. Combine these ingredients in the right proportions and you can create a delicious and refreshing summer treat!
To start, you'll need ripe, juicy watermelon. Choose one that has bright-colored flesh, no bruises, and a sweet smell. Cut the watermelon into small pieces and then puree it in a blender or food processor until it's completely smooth.
Next, make a simple syrup by combining equal parts sugar and water and heating them over medium heat until the sugar is completely dissolved. Allow the syrup to cool before adding it to the pureed watermelon.
To add a hint of tartness, squeeze the juice of one lime into the mixture. Don't forget a pinch of salt to bring out the flavors.
Finally, transfer the mixture to an ice cream maker and freeze according to the manufacturer's instructions.
What are the benefits of making juicy watermelon sorbet?
Delicious and Refreshing: Juicy watermelon sorbet is a great way to cool down on a hot summer day! Its sweet and juicy flavor is sure to satisfy your taste buds. Plus, it's a great way to get your daily dose of vitamins and minerals.
Easy to Make: You don't need to be a professional chef to make delicious watermelon sorbet. All you need is a blender, a bit of sugar, and some frozen watermelon chunks. You can whip up a batch in no time!.
Low in Calories: One serving of watermelon sorbet usually contains less than 200 calories, which makes it an excellent choice for people who are looking to watch their weight. Plus, it's a great way to satisfy your sweet tooth without overindulging.
Nutrient-Rich: Watermelon sorbet is packed with essential vitamins and minerals, such as Vitamin A, Vitamin C, and magnesium. These nutrients can help boost your immune system and keep your skin looking healthy.
Fun to Make: Making watermelon sorbet is a fun way to get creative in the kitchen. You can experiment with different flavors and ingredients to create your own unique recipe.
How do you pick the perfect watermelon for your juicy watermelon sorbet?
Picking the perfect watermelon for your delicious watermelon sorbet is easy – just follow these tips!
Look for a watermelon that is symmetrical and heavy for its size. Watermelons that are rounder and heavier tend to be juicier and sweeter.
Give it a tap! Knock on the watermelon with your knuckles and listen for a low, hollow sound. This indicates that the watermelon is ripe and juicy.
Flip it over. The underside of the watermelon should be yellow or creamy in color. If it is still green, the watermelon is not fully ripe.
Check for blemishes. Make sure there are no soft spots or bruises on the surface of the watermelon.
Smell it. The watermelon should smell sweet, musky, and fragrant. If it smells sour, it's not ripe yet.
Following these tips will ensure you pick the perfect watermelon for your juicy watermelon sorbet.
How do you store your juicy watermelon sorbet after it's made?
Storing your Juicy Watermelon Sorbet is easy and delicious! Here are the steps you'll need to take to make sure your sorbet is ready whenever you have a craving:
Put your sorbet into an airtight container: Make sure it's well sealed so that no air can get in. This will keep your sorbet nice and fresh.
Keep it in the freezer: This will keep your sorbet cold and ready to eat. Make sure you leave enough room in the container so that it doesn't freeze too hard.
Enjoy it within a week: Your sorbet should stay delicious for up to a week, so don't wait too long to enjoy it.
Let it thaw before serving: When you're ready to eat your juicy watermelon sorbet, take it out of the freezer and let it thaw for 15-20 minutes before serving. This will help it get a nice, creamy consistency.
What are some tips and tricks to making your juicy watermelon sorbet the best it can be?
Start with ripe, juicy watermelons. The juicier the watermelon, the sweeter and more flavorful the sorbet will be.
Use ice cold watermelon for extra creaminess.
Incorporate other ingredients for added flavor such as lime juice, mint leaves, and even vodka!.
Freeze the mixture for several hours before blending for best results.
When blending, take your time and go slow. This will ensure a smooth, creamy texture.
For extra sweetness add a bit of honey or agave nectar to the mixture.
Serve the sorbet immediately for the best results.
What are some creative ways to serve your juicy watermelon sorbet?
Serving your juicy watermelon sorbet is a great way to bring a summery twist to your dessert menu. Whether you're enjoying a backyard BBQ, hosting a pool party, or just looking for a creative treat on a hot day, there are plenty of creative ways to serve your watermelon sorbet. Here are a few ideas to get you started:
Watermelon Floats: Give classic ice cream floats a fruity twist by offering watermelon sorbet and lemon-lime soda instead. You can even top off your floats with a few watermelon wedges for a fun presentation.
Watermelon Cups: Line mini muffin tins with fresh-cut watermelon wedges and use them as a serving cup for your watermelon sorbet. Top off with a dollop of whipped cream for an extra special treat.
Watermelon Mojitos: Take a classic mojito and give it a fruity twist by adding a scoop of watermelon sorbet. Serve in a tall glass and garnish with a few mint leaves for a refreshing summery sip.
Waffle Cones: Who doesn't love waffle cones? Take your watermelon sorbet to the next level by serving it in an edible waffle cone. You can purchase pre-made waffle cones or get creative and make your own.