Deliciously Sweet Jelly Bean Cookies Recipe
I've been making these delicious jelly bean cookies for years, and I'm so excited to share the recipe with you! Soft, chewy, and bursting with sweet jelly bean flavor, these cookies are always a hit with friends and family. They make a perfect addition to any special occasion, and I know you will love them just as much as I do!
Jelly Bean Cookies Recipe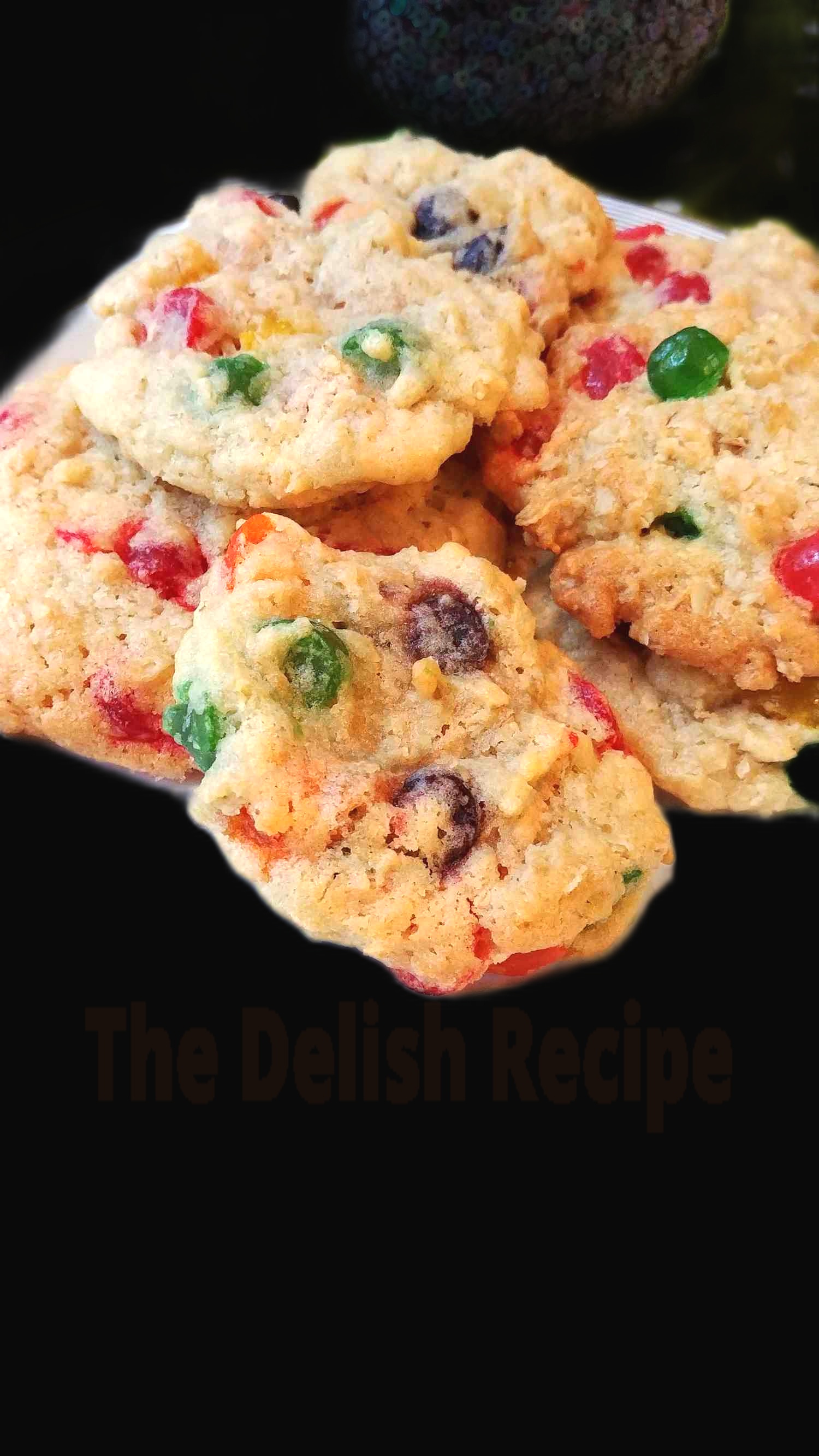 Ingredients
• 1 cup all-purpose flour
• 1 teaspoon baking powder
• ½ teaspoon salt
• 2 tablespoons butter, softened
• 2 tablespoons vegetable oil
• ¾ cup white sugar
• 1 egg
• 1 teaspoon vanilla extract
• 1 cup jelly beans
Instructions
Hey there! Let's make some Jelly Bean Cookies! Here's what you'll need:
cup all-purpose flour
teaspoon baking powder
½ teaspoon salt
tablespoons butter, softened
tablespoons vegetable oil
¾ cup white sugar
egg
teaspoon vanilla extract
cup jelly beans
Let's get started!
Preheat your oven to 350 degrees F (175 degrees C).
In a medium bowl, mix together the flour, baking powder, and salt.
In a large bowl, cream together the butter, oil, and sugar until light and fluffy.
Beat in the egg and vanilla extract.
Gradually blend in the dry ingredients.
Stir in the jelly beans.
Drop teaspoonfuls of the dough onto an ungreased cookie sheet.
Bake for 8 to 10 minutes in the preheated oven. Allow cookies to cool on baking sheet for 5 minutes before transferring to a wire rack to cool completely.
And you're done! Enjoy your delicious Jelly Bean Cookies!
Nutrition Facts
Calories: 295, Fat: 10g, Cholesterol: 32mg, Sodium: 176mg, Carbohydrates: 47g, Protein: 3.1g
What is so special about jelly bean cookies?
You may be wondering what makes jelly bean cookies so special – and we've got the answer! These delicious little treats are a combination of crunchy and chewy, with a blast of sweet flavor from the jelly beans. Plus, they make for a great conversation piece at any gathering. Whether you're having a dinner party or just looking for a unique twist on the classic cookie, jelly bean cookies are the way to go.
Not only are jelly bean cookies visually appealing, but they also provide a burst of flavor with every bite. The combination of sweet, chewy cookie dough and crunchy jelly beans is a treat for the taste buds. With just a few simple ingredients, these treats come together quickly and easily.
Jelly bean cookies also have a fun factor that sets them apart from other cookies. They are an easy way to add some whimsy to your baking. From traditional jelly bean colors like red and yellow to unique flavor combinations like raspberry and lime, the possibilities are endless. You can even customize the colors and flavors to match any occasion.
So, if you're looking for something special in the cookie realm, jelly bean cookies are the way to go. With their combination of crunchy and chewy textures and sweet flavor, they are sure to please any crowd. Plus, with the added bonus of being easy to customize, they are always a hit.
What are some creative ways to serve jelly bean cookies?
If you're looking for an exciting way to serve jelly bean cookies, you've come to the right place! There are plenty of creative ideas to make your jelly bean cookies stand out at your next event. Here are some of the most creative ways to serve jelly bean cookies:
Use a variety of colored jelly beans to make a rainbow-colored cookie. It's a fun way to make a bright and colorful cookie for any occasion.
Create a mini-version of jelly bean cookies. They're perfect for parties, as they're bite-sized and easy to eat. All you need to do is reduce the ingredients and cook time.
Get creative with shapes by using cookie cutters to make jelly bean cookies in unique shapes. You can use stars, hearts, or any other shape you like.
Mix it up with different flavors. Try combining different jelly beans to create unique flavor combinations. You can also get creative with texture by adding nuts, raisins, or other ingredients.
Top your jelly bean cookies with a glaze or icing. It's a great way to create a sweet finish and make your cookies look even more enticing.
These are just a few of the creative ways to serve jelly bean cookies. With a bit of creativity, you can make jelly bean cookies that are sure to be a hit.
How do you find the perfect jelly bean to use?
Finding the perfect jelly bean to use in your jelly bean cookie recipe is easy! Here are some tips to help you pick the best jelly beans for the job:
Taste Test: You don't want to use a jelly bean that tastes awful in your cookies. To make sure that you get the best flavor, taste test a few different types of jelly beans. Choose the one that has the most pleasing flavor for you.
Color Choices: Jelly beans come in a wide variety of colors and you can use this to your advantage. Pick out the colors that fit your theme or occasion. For a fun summer cookie, use bright, cheerful colors. For a winter recipe, choose muted hues.
Texture: Pick a jelly bean with the right texture for your recipe. If you want your jelly beans to remain intact, choose a firmer jelly bean. For a softer, chewier end result, select a jelly bean that has a softer texture.
Variety: Mix and match jelly beans of different sizes and flavors. This will add variety and interest to your cookies.
Quality: Choose a quality jelly bean. Cheap jelly beans may contain artificial colors, flavors, and preservatives. If you want the best flavor and texture, go with a top-notch brand.
Following these tips, you'll be sure to find the perfect jelly bean for your cookie recipe.
What are the benefits of making jelly bean cookies?
Making jelly bean cookies is a fun and easy way to bring a sweet treat to your next party or get-together! Not only are they delicious, but they also have some great benefits that make them the perfect dessert. Here are some of the top benefits of making jelly bean cookies:
Variety: Jelly bean cookies are an easy way to make a variety of flavors and colors, so you can find the perfect combination to match any occasion!.
Kid-friendly: Jelly beans are a kid-friendly ingredient, so you can make a batch of cookies for the younger ones without worrying about ingredients.
Cost-effective: Jelly beans are usually cheaper than other types of ingredients, so you can make a large batch of jelly bean cookies without breaking the bank!.
Time-saving: Making jelly bean cookies doesn't take long, so you can whip up a sweet treat in no time.
Fun: Jelly beans come in a wide range of colors and flavors, so you can have fun experimenting with different combinations and creating unique cookies!.
Making jelly bean cookies is an easy and enjoyable way to treat yourself and your friends.
How do you make jelly bean cookies last longer?
Store them in an airtight container: Storing your jelly bean cookies in an airtight container keeps them from going stale and preserves their flavor. You can also add a slice of bread to the container to help keep the cookies fresh.
Freeze the cookies: If you want to keep your jelly bean cookies for a long time, you can freeze them. Just make sure to wrap them in plastic wrap before putting them in the freezer. This will help keep the moisture out and protect the cookies from freezer burn.
Don't overbake: When baking jelly bean cookies, make sure you don't overbake them. Overbaking will make the cookies dry and hard, making them less enjoyable to eat.
Add an extra ingredient: Adding an extra ingredient like honey or vegetable oil can help make the cookies last longer. The extra moisture will help keep the cookies soft and chewy.
Avoid direct sunlight: Keeping your jelly bean cookies away from direct sunlight will help keep them fresh. Sunlight can make the cookies dry out quickly and lose their flavor.