Creamy Italian Butternut Squash Risotto – A Deliciously Satisfying Dish
When it comes to a cozy fall dinner, nothing beats Italian butternut squash risotto! I've been making this recipe for years now, and it never fails to put a smile on my face. With its creamy, comforting texture, and deliciously savory flavor, it's the perfect way to warm up on a chilly evening. Plus, the combination of butternut squash and sage is just irresistible. So grab your ingredients, start a pot of this Italian butternut squash risotto, and make your family's night extra special!
Italian Butternut Squash Risotto Recipe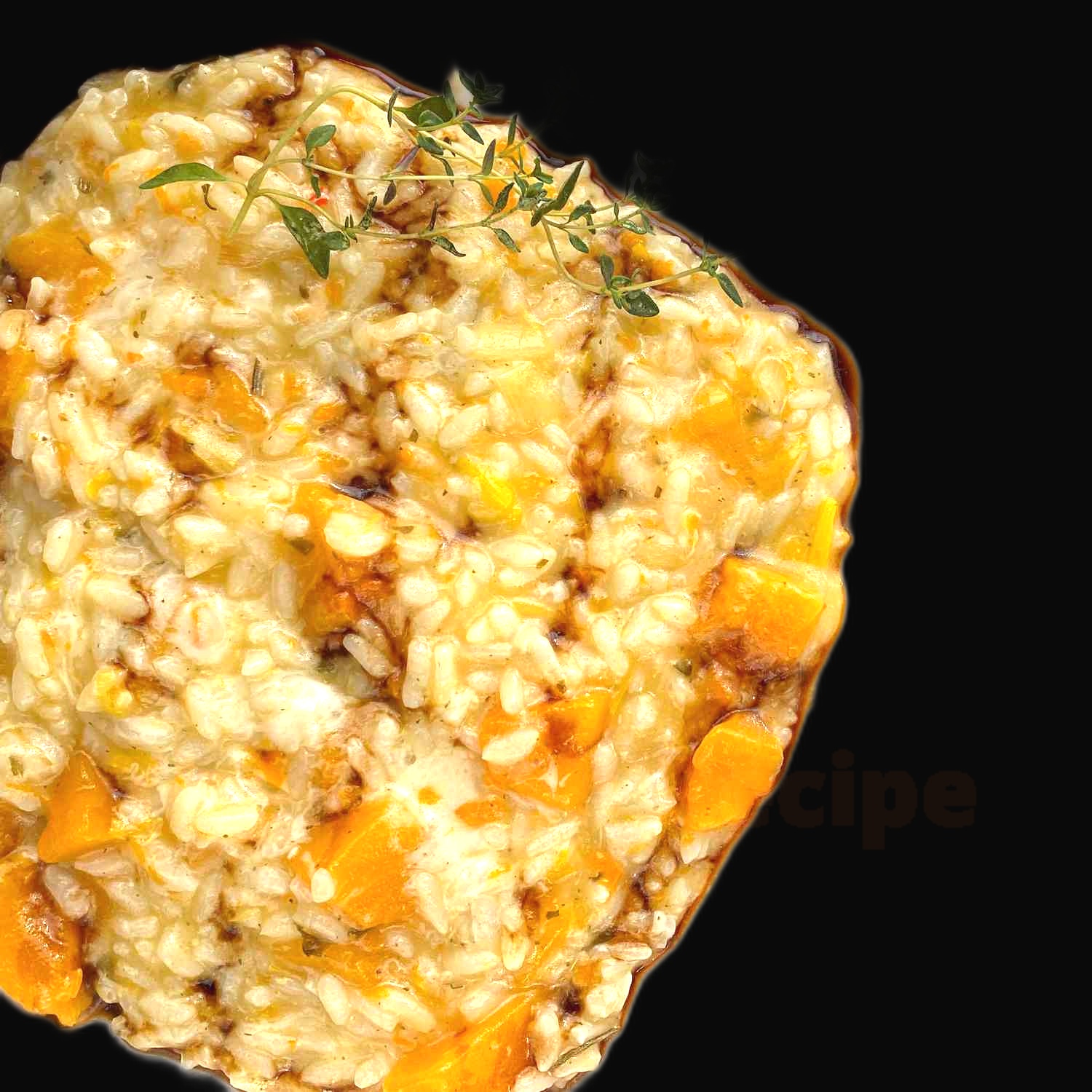 Ingredients
3 tablespoons olive oil
1/2 onion, diced
2 cloves garlic, minced
2 cups butternut squash, peeled and diced
1 cup Arborio rice
4 cups vegetable broth
1/4 cup grated Parmesan cheese
1/4 teaspoon ground nutmeg
Salt and pepper to taste
Instructions
Start by heating up a large pot over medium heat and adding in the olive oil.
Then, add in the diced onion and garlic and let it cook, stirring occasionally, until the onion is translucent and fragrant.
Next, add in the butternut squash and let it cook for 5 to 7 minutes.
Add in the Arborio rice and stir it in, making sure that all the ingredients are evenly distributed.
Pour in the vegetable broth and stir it all together, making sure that the broth is fully incorporated.
Bring the heat up to high and let the risotto simmer until the rice is cooked through, about 20 to 25 minutes.
When the risotto is almost done, stir in the Parmesan cheese, nutmeg, salt, and pepper.
Let it cook for a few more minutes so the flavors blend together.
Finally, turn off the heat and let the risotto sit and rest for 10 to 15 minutes before serving.
Enjoy your Italian Butternut Squash Risotto!
Nutrition Facts
Calories: 365 kcal
Carbohydrates: 51.2 g
Protein: 8.6 g
Fat: 13.9 g
Saturated Fat: 3.9 g
Cholesterol: 10 mg
Sodium: 773 mg
Potassium: 550 mg
Fiber: 5.3 g
Sugar: 6.7 g
What makes italian butternut squash risotto a delicious and unique dish?
Italian butternut squash risotto is an incredibly delicious and unique dish that is sure to tantalize your taste buds! It combines the creamy texture of risotto with the sweet nutty flavor of butternut squash, creating a truly unique culinary experience. The addition of Parmesan cheese and herbs adds an extra layer of flavor to the dish that makes it even more delicious. The dish is also incredibly versatile and can be served as a main course, side dish, or even as a starter. It is sure to be a hit with friends and family, and is a great way to add a little Italian flair to any meal.
What ingredients are used to make italian butternut squash risotto?
If you're looking for a delicious, comforting, and hearty meal, Italian butternut squash risotto should be at the top of your list! This classic Italian dish is made with simple, yet flavorful ingredients that are sure to please. The key ingredients for this classic Italian risotto include butternut squash, onion, garlic, Arborio rice, white wine, vegetable stock, and Parmesan cheese.
Beginning with the butternut squash, this sweet and nutty vegetable is the star of the dish. It is roasted and then pureed to create a rich and velvety base. Onion and garlic are added to the mix to add flavor and depth. Next, you'll need Arborio rice which is a short-grain, starchy rice that creates the risotto's creamy texture. White wine and vegetable stock are also necessary to create the perfect broth. Lastly, Parmesan cheese adds a salty and cheesy flavor that ties the dish together.
By combining these simple ingredients, you can create a delicious and comforting Italian dish that is sure to please.
What tips and tricks can you use to make sure your italian butternut squash risotto turns out perfectly?
Here are some tips and tricks to help you make the perfect Italian Butternut Squash Risotto:
Choose the right type of rice – Use a short-grain variety such as Arborio, Carnaroli, or Vialone Nano, as these types of rice have higher starch content and will give the risotto its creamy texture.
Toast the rice – Before adding the stock, heat the pan over medium-high and toast the rice for 2-3 minutes. This will help to enhance the flavor and texture.
Use the right amount of stock – Adding too much stock can make the risotto too watery, and not enough can make it too dry. Aim for adding 1/2 cup of stock at a time, and stirring until it is absorbed before adding more.
Stir often – Stirring the risotto frequently will help to release the starch from the rice which will create the creamy texture.
Don't forget the butter and cheese – Adding butter and cheese at the end will help to finish off the risotto and give it that extra creaminess.
Taste and adjust – After all the stock has been added, taste the risotto to see if it needs more seasoning or liquid. If it's too dry, add a bit more stock or butter; if it's too wet, let it cook a bit longer.
Serve immediately – Risotto is best served right away, so make sure to have the rest of your meal ready before you start cooking.
What are some of the health benefits of eating italian butternut squash risotto?
Italian butternut squash risotto is a delicious and nutritious meal that provides a range of health benefits.
It is a great source of carbohydrates, providing a steady and slow release of energy throughout the day.
It is also packed with fiber, an important nutrient for maintaining good digestive health.
The squash provides a healthy dose of vitamins and minerals, including vitamins A and C, potassium, and magnesium.
The risotto is also low in fat and sodium, making it a great choice for those looking to reduce their cholesterol or sodium intake.
The dish is also rich in antioxidants, which can help protect against free radical damage and reduce inflammation.
Eating Italian butternut squash risotto regularly can also help lower blood sugar levels and improve overall health.
The combination of the squash, rice, and other ingredients make this a hearty meal that will keep you feeling full for longer and reduce cravings.
What are some creative ways to serve italian butternut squash risotto?
Italian butternut squash risotto is a delicious, comforting dish that is perfect for an autumn dinner. But how can you make it even better? Here are some creative ways to serve it up:
Top it with fried sage leaves. This will give the risotto a fragrant, savory flavor and add a nice crunch to the dish.
Add some Parmigiano-Reggiano cheese shavings. This will give the risotto a cheesy flavor that will take it to the next level.
Sprinkle cooked bacon bits on top. This is a great way to add some smoky, salty flavor to the dish.
Serve it with a side of roasted vegetables. Roasted vegetables like Brussel sprouts or broccoli are a great addition to the risotto and make it even more flavorful and filling.
Drizzle some truffle oil over the top. Truffle oil will give the risotto a luxurious, earthy flavor that will make it taste like it came from a fancy restaurant.
These are just a few creative ways to serve Italian butternut squash risotto. With these tips, you can make this comforting dish even more delicious.