Easy Individual Fruit Crisp Recipe
I have a sweet tooth, and my favorite way to indulge it is with a delicious fruit crisp. It's the perfect combination of sweet and crunchy, and I always love to make individual servings so that everyone can have their own little dessert. This individual fruit crisp recipe is one of my go-to favorites, and I'm sure you'll love it too!
Individual Fruit Crisp Recipe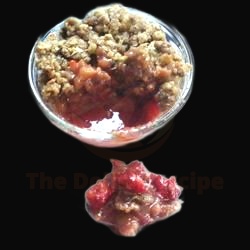 Ingredients
2 ripe peaches, sliced
2 tablespoons brown sugar
2 tablespoons all-purpose flour
2 tablespoons cold butter, cut into small cubes
2 tablespoons rolled oats
2 tablespoons chopped walnuts
1 teaspoon ground cinnamon
½ teaspoon ground nutmeg
Pinch of salt
Instructions
Preheat your oven to 375 degrees Fahrenheit and grease a baking dish with butter.
In a medium bowl, combine the sliced peaches, brown sugar, all-purpose flour, butter cubes, rolled oats, chopped walnuts, cinnamon, nutmeg, and salt. Mix it all together until everything is fully incorporated.
Once the mixture is ready, scoop it out into the baking dish and spread it evenly.
Bake in the preheated oven for 25 minutes.
Once the crisp is done baking, let it cool for 10 minutes before serving. Enjoy your delicious Individual Fruit Crisp!
Nutrition Facts
Calories: 410 kcal
Protein: 6g
Total fat: 15g
Carbohydrates: 65g
Fiber: 4g
Sugar: 30g
Sodium: 140mg
What makes individual fruit crisp such a great dessert?
Individual fruit crisp is an amazing dessert because it's so versatile and can be tailored to suit any taste. You can make it with your favorite type of fruit, whether it's apples, pears, peaches, or something else. Plus, the topping on a fruit crisp is absolutely delicious and adds the perfect crunch to balance out the softness of the fruit.
How many ingredients do you need to make individual fruit crisps?
You only need four ingredients to make individual fruit crisps – it's so easy! All you need is your favorite kind of fruit, some oats, a dash of butter, and a sprinkle of brown sugar. You can also add a pinch of cinnamon for extra flavor.
This simple recipe is a delicious way to enjoy a healthy and seasonal dessert. The combination of sweet fruit, crunchy oats and buttery goodness will have your tastebuds jumping for joy. It's also a great way to use up any extra fruit that you have lying around.
To make individual fruit crisps, preheat your oven to 350°F. Start by slicing or dicing your fruit of choice – apples, peaches and berries all work great. Place the fruit in individual oven-safe dishes and sprinkle with some oats, butter, brown sugar and cinnamon if desired. Bake in the oven for around 30 minutes until the top is golden brown and the fruit is bubbling.
Let your individual fruit crisps cool down before serving. Enjoy them warm and topped with a scoop of your favorite ice cream, a dollop of whipped cream or a sprinkle of nuts. They also make a great snack, with a scoop of yogurt or a drizzle of honey.
You can make individual fruit crisps in no time, and they make a delicious and healthy treat that everyone can enjoy.
What tips can you share to make individual fruit crisps even more delicious?
Start with the best fruit you can find, ripe and in season. You can't make a delicious crisp with lackluster ingredients!
Add a pinch of ground ginger or nutmeg for a warming, slightly spicy flavor.
Instead of plain sugar, use brown sugar and a dash of cinnamon.
Try a blend of fruits for a complex flavor, like apples and pears or cherries and peaches.
For an extra crunch, top the crisp with an oat and nut streusel – it's easy to make at home with oats, nuts, butter, and sugar.
For a decadent finish, serve the crisp warm with a scoop of ice cream or a dollop of freshly whipped cream.
What kind of fruit combination works best for individual fruit crisps?
The best combinations for individual fruit crisps depend on your personal taste, but some tried-and-true options include apples and cinnamon, cherries and almonds, peaches and walnuts, blueberries and oatmeal, and strawberries and brown sugar. Each of these combinations has a unique flavor that will make your individual fruit crisp stand out.
If you're feeling adventurous, you can also try combining a variety of fruits together in a single crisp. This can create an interesting flavor profile and allow you to experiment with different ingredient combinations. Try combining apples and cranberries, or peaches and raspberries. You can also incorporate other ingredients, such as nuts or shredded coconut, to add a different texture to the crisp.
You can also get creative and add spices to your individual fruit crisp. A sprinkle of cinnamon, nutmeg, or cardamom can add a unique flavor and aroma to your crisp. Try adding a few tablespoons of maple syrup or honey to create a sweet and syrupy topping.
No matter what combination you choose, individual fruit crisps are a delicious and easy dessert that anyone can make. With a few simple ingredients and a little creativity, you can create a unique and flavorful crisp that your family and friends will love.
How long does it take to make individual fruit crisps from start to finish?
Making individual fruit crisps from start to finish can take as little as 20 minutes! These delicious desserts are easy and quick to make, plus they look impressive and taste amazing. Whether you're hosting an event or just looking to treat yourself, these fruit crisps are the perfect way to satisfy a sweet tooth.
To make individual fruit crisps, start by preheating your oven to 375 degrees Fahrenheit and gathering all of your necessary ingredients. You'll need fresh fruit—such as apples, strawberries, peaches, or raspberries—sugar, butter, and cinnamon. The amount of each ingredient depends on how many individual crisps you plan to make, so adjust accordingly.
Next, prepare your baking sheets and line them with parchment paper. Then, evenly spread your fresh fruit on the parchment paper. Sprinkle sugar, butter, and cinnamon over the top of the fruit. Bake your individual fruit crisps in the oven for 10-15 minutes, or until the edges of the fruit crisp up and the sugar has caramelized.
Once the individual fruit crisps have finished baking, let cool for 5 minutes on the baking sheet. Then, using a spatula, carefully remove each individual crisp and place them on a wire cooling rack. Let cool for an additional 5 minutes, and enjoy!
So there you have it—individual fruit crisps can be made from start to finish in as little as 20 minutes! Try out this delicious dessert for your next get-together or anytime you're in the mood for something sweet.
What is the difference between individual fruit crisps and a traditional fruit crisp?
When it comes to fruit crisps, there are two distinct varieties. The first is the traditional fruit crisp that is made with a combination of fruit and a crunchy topping like oats and sugar. The other is an individual fruit crisp which is made with single serving portions of fruit topped with a buttery topping like crumbly granola.
The main difference between the two is that traditional fruit crisps are typically made in a large baking dish and serve multiple portions, while individual fruit crisps are made in individual ramekins or muffin tins. This makes them a great option for single servings, or for portion control when you're trying to eat healthier.
The traditional fruit crisp is often made with a mix of fruits like apples and rhubarb, while individual fruit crisps are often made with a single variety of fruit. This means you can enjoy a sweet and tart apple crisp, or a creamy and rich peach crisp, or any other combination your heart desires.
The other key difference is in the topping. Traditional fruit crisps usually have a crunchy topping made with butter and oats, while individual fruit crisps typically have a buttery crumb topping like granola. This makes for a delicious, light and crisp finish to the dessert.
No matter which type of fruit crisp you choose, you are sure to enjoy a delicious and comforting dessert.
What are some creative ways to serve individual fruit crisps?
When it comes to desserts, a classic fruit crisp is always a hit. Whether you're hosting a dinner party or just looking for a delicious treat, individual fruit crisps are a great way to impress your guests! But why settle for the same old bowl-and-spoon presentation? Here are some creative ways to serve individual fruit crisps that will have your guests raving:
In mini mason jars: For a rustic, country-chic presentation, serve your individual fruit crisps in mini mason jars. Add a few sprigs of mint or a mini scoop of ice cream to complete the look.
On a bed of mini marshmallows: To add a little bit of indulgence to your fruit crisp, try serving it on top of a bed of mini marshmallows. The marshmallows will melt as they heat up in the oven, creating a delicious and indulgent topping.
In ramekins: For a classic presentation, serve your individual fruit crisps in ramekins. Top with a dollop of whipped cream, a sprinkle of cinnamon, or a drizzle of caramel sauce for an extra special touch.
In waffle cones: For a fun dessert presentation, try serving your individual fruit crisps in waffle cones. This is perfect for guests who are looking for a sweet treat that's a little bit different.
No matter which presentation you choose, individual fruit crisps are sure to be a hit. With these creative ideas, you can make sure your guests have a delicious and memorable dessert experience.