Smooth And Creamy Hungarian Chicken Paprikash
As a Hungarian-American, I have been making Hungarian Chicken Paprikash for years—and it's always a hit! This classic dish combines tender chicken thighs, paprika, onions, and a creamy sauce to make a flavorful and comforting meal. Even if you've never tried Hungarian cuisine before, I promise you won't regret giving this recipe a try. The combination of flavors is simply irresistible!
Hungarian Chicken Paprikash Recipe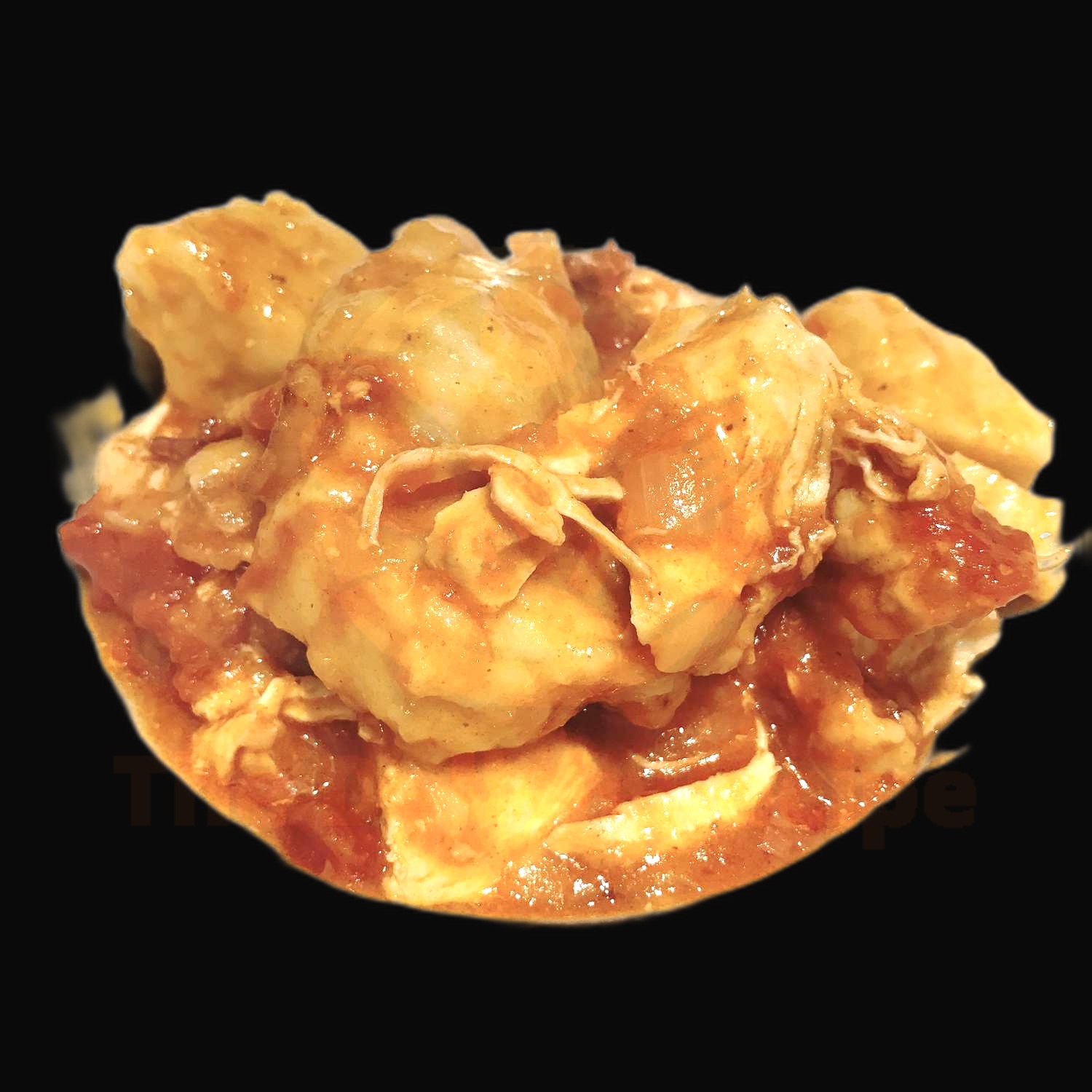 Ingredients
3 boneless and skinless chicken breasts, cut into 1-inch cubes
1 tablespoon olive oil
1 large onion, chopped
2 cloves garlic, minced
2 tablespoons Hungarian sweet paprika
2 teaspoons smoked paprika
1 teaspoon caraway seeds
1 teaspoon dried oregano
1/2 teaspoon salt
1/4 teaspoon black pepper
1 cup chicken broth
1/2 cup sour cream
2 tablespoons all-purpose flour
2 tablespoons butter
2 tablespoons chopped fresh parsley
Instructions
Let's get started making our Hungarian Chicken Paprikash! Get out 3 boneless and skinless chicken breasts and cut them into 1-inch cubes.
Grab a large skillet and put it over medium-high heat. Add in 1 tablespoon of olive oil.
When the oil is hot, add in the chopped onion and minced garlic. Saute until the onion is softened, about 3 minutes.
Now, add in 2 tablespoons of Hungarian sweet paprika, 2 teaspoons of smoked paprika, 1 teaspoon of caraway seeds, 1 teaspoon of dried oregano, 1/2 teaspoon of salt, and 1/4 teaspoon of black pepper. Stir everything together and let it cook for another 2 minutes.
Add in the cubed chicken and stir everything together. Let it cook for 5 minutes.
Pour in 1 cup of chicken broth and stir everything together. Bring the mixture to a boil and then reduce the heat to let it simmer for 20 minutes.
In a separate bowl, mix together 1/2 cup of sour cream and 2 tablespoons of all-purpose flour. Once combined, stir it into the chicken paprikash.
Add 2 tablespoons of butter and stir it into the chicken paprikash. Let it simmer for another 5 minutes.
Finally, sprinkle in 2 tablespoons of chopped fresh parsley. Give it one last stir and turn off the heat.
Your Hungarian Chicken Paprikash is ready to serve! Enjoy your delicious and flavorful meal!
Nutrition Facts
Calories: 246
Total Fat: 8.5g
Saturated Fat: 4.1g
Cholesterol: 73mg
Sodium: 545mg
Potassium: 435mg
Total Carbohydrates: 11.3g
Dietary Fiber: 1.6g
Sugars: 2.5g
Protein: 27.4g
What makes hungarian chicken paprikash unique?
Hungarian Chicken Paprikash is unique because it is made with succulent chicken and a range of unique and flavorful spices. The signature spice of this dish is paprika, which gives it a distinctive flavor that can't be found in other dishes. The other ingredients used in the dish add to the flavor profile and make it something truly special.
The chicken used in Hungarian Chicken Paprikash is usually cut into cubes and then left to simmer in a rich tomato sauce. The paprika is added to the sauce to give it its signature flavor, and other spices such as caraway and garlic add to the complexity. The dish is then finished with sour cream, which adds a creamy richness and helps to balance out the other flavors.
Hungarian Chicken Paprikash is also unique because it is usually served with a side of egg noodles. This adds a starchy component to the dish and helps to absorb all the delicious flavors. The noodles also provide a nice contrast to the tender chicken and creamy sauce. The combination of these ingredients makes Hungarian Chicken Paprikash a truly unique and delicious dish.
Hungarian Chicken Paprikash is a delicious dish that is sure to please any palate. The combination of succulent chicken and flavorful spices makes it a truly unique dish that you won't find anywhere else. The egg noodles provide a starchy element to the dish that helps to balance out all of the flavors. Whether it's served as a main course or as part of a larger meal, Hungarian Chicken Paprikash is sure to become a favorite.
What are the benefits of eating hungarian chicken paprikash?
Eating Hungarian Chicken Paprikash is a great way to enjoy a flavorful, healthy meal!.
Here are some of the benefits of adding this traditional dish to your regular diet:
It is rich in vitamins, minerals, and proteins. The paprika, onions, and other vegetables used in the dish provide an array of essential nutrients.
It is low in fat and calories, making it a great choice for those who are watching their weight or trying to maintain a healthier lifestyle.
It is a low-cost meal that is easy to make and can be enjoyed by the whole family.
It is a delicious, flavorful dish that is sure to please everyone. The combination of paprika, onion, and other spices create a unique blend of flavors that will tantalize your taste buds.
It is a great way to introduce your family to the traditional flavors of Hungary. The dish is a staple of Hungarian cuisine and is sure to be a hit with everyone.
It is a healthy way to enjoy a hearty meal and can be served as a main course or as a side dish. It is also perfect for entertaining guests!.
Eating Hungarian Chicken Paprikash is a great way to enjoy a flavorful, healthy meal and reap the benefits of traditional Hungarian cuisine.
How to choose the right ingredients for a delicious hungarian chicken paprikash?
If you're looking for the perfect ingredients to make a delicious Hungarian Chicken Paprikash, you're in the right place. Here's a quick guide to choosing the right ingredients to make the perfect dish:
Chicken – Choose a quality chicken, preferably free range and organic. The chicken should also be bone-in and skin-on, as this will give the dish the best flavor.
Paprika – Paprika is the star of the dish, so be sure to use a good quality Hungarian paprika. Look for "sweet" or "mild" paprika, as these will give the dish a milder flavor.
Onion – Choose a sweet onion, such as a Vidalia or Walla Walla onion. These will give the dish a sweet and mellow flavor.
Garlic – You can't go wrong with garlic. Use fresh garlic if possible, as it will give the dish the best flavor.
Tomatoes – For the best flavor, use canned whole peeled tomatoes. They will give the dish a rich, tomatoey flavor.
Sour Cream – The sour cream is what makes Hungarian Chicken Paprikash unique. Use full-fat sour cream for the best results.
Herbs and Spices – Add some herbs and spices to the dish to give it some pizazz. Try some oregano, thyme, and bay leaves for an authentic Hungarian flavor.
Salt and Pepper – Finish off the dish with some salt and pepper to taste.
By following these steps, you should be able to choose the perfect ingredients to make a delicious Hungarian Chicken Paprikash.
What are some tips for creating the perfect hungarian chicken paprikash?
Start with the right cut of chicken. Chicken thighs, breasts, or a combination of both work great in this traditional dish.
Add enough paprika to give the sauce a deep, rich flavor. Depending on your taste, you can use Hungarian sweet paprika or a combination of sweet and hot paprika.
Pick the right type of onion. Yellow onions work best, as they give a nice sweetness and texture to the sauce.
Make sure to cook the chicken until it's tender and juicy. This will ensure that the dish is flavorful and delicious.
Use a generous amount of sour cream. This will give the sauce a creamy texture and adds a nice tangy flavor.
Don't forget the garlic. Garlic adds an extra layer of flavor to the dish, so don't skimp on it.
Use fresh herbs for the garnish. Parsley, dill, and chives are all great options. They add a bright, fresh flavor to the dish.
What is the best way to cook hungarian chicken paprikash?
The best way to cook Hungarian Chicken Paprikash is with a slow and steady simmer. Start by cooking diced chicken in butter or oil until it's golden and slightly crispy. Then add in Hungarian paprika and stir until the paprika is fragrant and the chicken is coated. Add in onions, garlic, and other vegetables, if desired, and cook until the vegetables are softened. Then add in a few cups of chicken stock or water, bring the mixture to a boil, reduce the heat, and let it simmer until the chicken is tender and the sauce is thick and creamy. Serve your Hungarian Chicken Paprikash over hot, cooked egg noodles for a classic, delicious meal that your whole family will love.