Delicious Hummingbird Cupcakes Recipe
I'm so excited to share my favorite cupcake recipe with you today: Hummingbird Cupcakes! I've been baking these sweet treats ever since I was a little kid, and they always get rave reviews. The combination of pineapple, banana, and warm spices give these cupcakes a unique flavor that's absolutely irresistible. Plus, they look just as good as they taste! The soft, fluffy texture and vibrant colors make them perfect for any special occasion. Follow my easy instructions and you'll have a batch of these delicious cupcakes ready in no time.
Hummingbird Cupcakes Recipe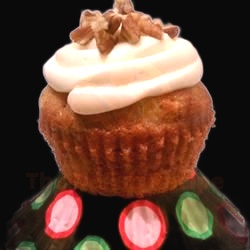 Ingredients
2 cups all-purpose flour
1 teaspoon baking soda
1 teaspoon ground cinnamon
¼ teaspoon salt
¼ teaspoon ground nutmeg
1 ½ cups granulated sugar
1 cup vegetable oil
3 large eggs
1 teaspoon vanilla extract
1 (8-ounce) can crushed pineapple, undrained
1 cup chopped pecans
1 ½ cups mashed ripe bananas (about 3 bananas)
¼ cup raisins
Instructions
Preheat your oven to 350 degrees Fahrenheit.
In a medium-sized bowl, whisk together the flour, baking soda, cinnamon, salt, and nutmeg.
In a larger bowl, beat together the sugar, oil, eggs, and vanilla extract until the mixture is light and fluffy.
Add the pineapple, pecans, bananas, and raisins to the wet ingredients and mix until everything is combined.
Grease a 12-cup muffin tin with butter or baking spray.
Divide the batter between the 12 muffin cups.
Bake the cupcakes for 20 minutes, or until a toothpick inserted into the center comes out clean.
Allow the cupcakes to cool in the pan for 15 minutes before transferring them to a wire rack to cool completely.
Enjoy your delicious Hummingbird Cupcakes!
Nutrition Facts
Serving size: 1 cupcake
Calories: 260
Total Fat: 8.9g
Saturated Fat: 1.8g
Trans Fat: 0g
Cholesterol: 35mg
Sodium: 179mg
Total Carbohydrates: 42g
Dietary Fiber: 1.2g
Sugars: 24.2g
Protein: 3.3g
What is the appeal of hummingbird cupcakes?
If you're looking for a tantalizing treat that is sure to tantalize your taste buds, then hummingbird cupcakes are the perfect choice! These cakes are packed with all the flavors of the tropics – sweet pineapple, rich banana, and tart cream cheese all come together to create a unique and delicious cake. Plus, they look just as good as they taste!
The secret to the appeal of hummingbird cupcakes lies in their delicious flavor combinations. The combination of sweet pineapple and tart cream cheese creates a flavor that is both complex and interesting. The addition of banana adds a depth of flavor and moisture that is hard to replicate with other cake recipes. Plus, it adds a fun texture and look to the cupcakes.
Hummingbird cupcakes also have a very unique aesthetic to them. The pineapple and banana topping gives the cupcakes a bright, vibrant look that is sure to catch the eye of anyone looking for a special dessert. The cream cheese frosting adds a wonderful sweetness and a creamy texture that completes the look. The colors and flavors of the cupcake make it a great choice for any special occasion or just as a fun dessert to enjoy on a regular basis.
At the end of the day, it's the unique flavor combinations and the vibrant look of hummingbird cupcakes that makes them so appealing. They combine sweet and tart flavors in a way that is truly unique, and their eye-catching presentation make them the perfect choice for any occasion.
What sets hummingbird cupcakes apart from other cupcake recipes?
Hummingbird cupcakes are like no other cupcake recipes you've ever tried. The combination of flavors makes these cupcakes stand out from all the rest. They have a delicious blend of pineapple, banana, cinnamon, and nuts that gives them a unique flavor. The combination of these ingredients adds a delicious zing to the cupcakes and will make your taste buds go wild!
These cupcakes are also very moist and fluffy with a rich and creamy texture. Baking them with a combination of butter and oil ensures that they stay nice and moist. The addition of a cream cheese frosting, gives the cupcakes an extra special touch. It complements the flavor of the cupcake perfectly and adds a creamy and decadent finish.
The best part about hummingbird cupcakes is that they are incredibly easy to make. All you need is a few simple ingredients and a little bit of time. You can even make them ahead and freeze them for a quick and easy cupcake treat anytime.
Hummingbird cupcakes are truly something special and a must-try for any cupcake lover. With the combination of flavors and the moist, rich texture, they are sure to become a favorite in your home. Get creative and try out different combinations of flavors to make your own unique and delicious hummingbird cupcakes.
What are some tips and tricks for making hummingbird cupcakes?
Start with a high-quality box cake mix or make a homemade recipe. Be sure to use ingredients like crushed pineapple and mashed banana for that unique sweet and fruity flavor.
Use a stand mixer or hand mixer to cream together the butter and sugar until light and fluffy. Add the eggs one at a time and beat until combined.
To get the perfect texture, use both plain Greek yogurt and sour cream in the mix.
For extra flavor, add a teaspoon of cinnamon and a teaspoon of nutmeg.
Make sure to use a good quality cream cheese frosting. Adding a few tablespoons of crushed pineapple or mashed banana will give the frosting an extra kick of flavor.
For added texture and flavor, top the cupcakes with toasted chopped pecans and sprinkle with finely shredded coconut.
What flavors and ingredients go into making hummingbird cupcakes?
When it comes to hummingbird cupcakes, you can expect a party for your taste buds! These cupcakes are packed with delicious flavors and ingredients that make them truly unique. They are a Southern specialty, so you can expect to find lots of sweet and tart flavors, from bananas and pineapple to pecans and cream cheese. The perfect combination of these ingredients creates a flavor that is unforgettable and truly irresistible.
Hummingbird cupcakes are typically made with a moist and flavorful banana cake base that is then topped with a creamy cream cheese frosting. The addition of pineapple and pecans add a hint of sweetness and crunch. To give the cupcakes a unique look, they are often topped with a sprinkle of cinnamon sugar and a dollop of cream cheese frosting on top. You can also find variations with different flavors such as coconut, lemon, and even rum.
No matter which flavors or ingredients you choose, hummingbird cupcakes are sure to be a hit with everyone. From their moist and flavorful cake to their creamy cream cheese frosting, these cupcakes are sure to make your taste buds dance. So don't wait, and whip up a batch of these delicious cupcakes for your next get-together.
What are some creative ways to decorate hummingbird cupcakes?
If you're looking for creative ways to decorate your hummingbird cupcakes, then you've come to the right place! There are so many fun and unique ways to decorate these delicious treats. Here are just a few of our favorites:
Get creative with colors! Instead of the classic brown and yellow, why not try a vibrant pink or blue?
Add an edible flower. Hummingbirds are attracted to bright colors, so a beautiful edible flower on top of your cupcake will be sure to draw them in.
Create a miniature hummingbird garden. Make a few tiny trees or shrubs using rolled fondant, then add a few hummingbirds cut from gummy candy!
Use a bird-shaped cookie cutter. Cut out shapes from fondant and place them on the top of your cupcakes. You can even use different colors to make a colorful hummingbird design.
Make a hummingbird nest. Place a few eggs made from white fondant in a nest made from shredded coconut, and top it off with a hummingbird cut from fondant or gummy candy.
Create a hummingbird mural. Use different shades of fondant to make a hummingbird mural on the cupcakes. You can even write messages or draw other elements in the background to make it even more special.
No matter which creative option you choose, your hummingbird cupcakes will be sure to impress.