Easy Homemade Fortune Cookies Recipe
I have been making homemade fortune cookies ever since I was a kid, and they've always been a hit with family and friends. I love the nostalgia of making these sweet treats in my own kitchen and watching the smiles on everyone's faces as they break open their cookies and discover their fortunes. Whether you're making them for a special occasion or as a fun activity to do with the kids, homemade fortune cookies are a delicious and easy way to bring a little bit of magic into your life.
Homemade Fortune Cookies Recipe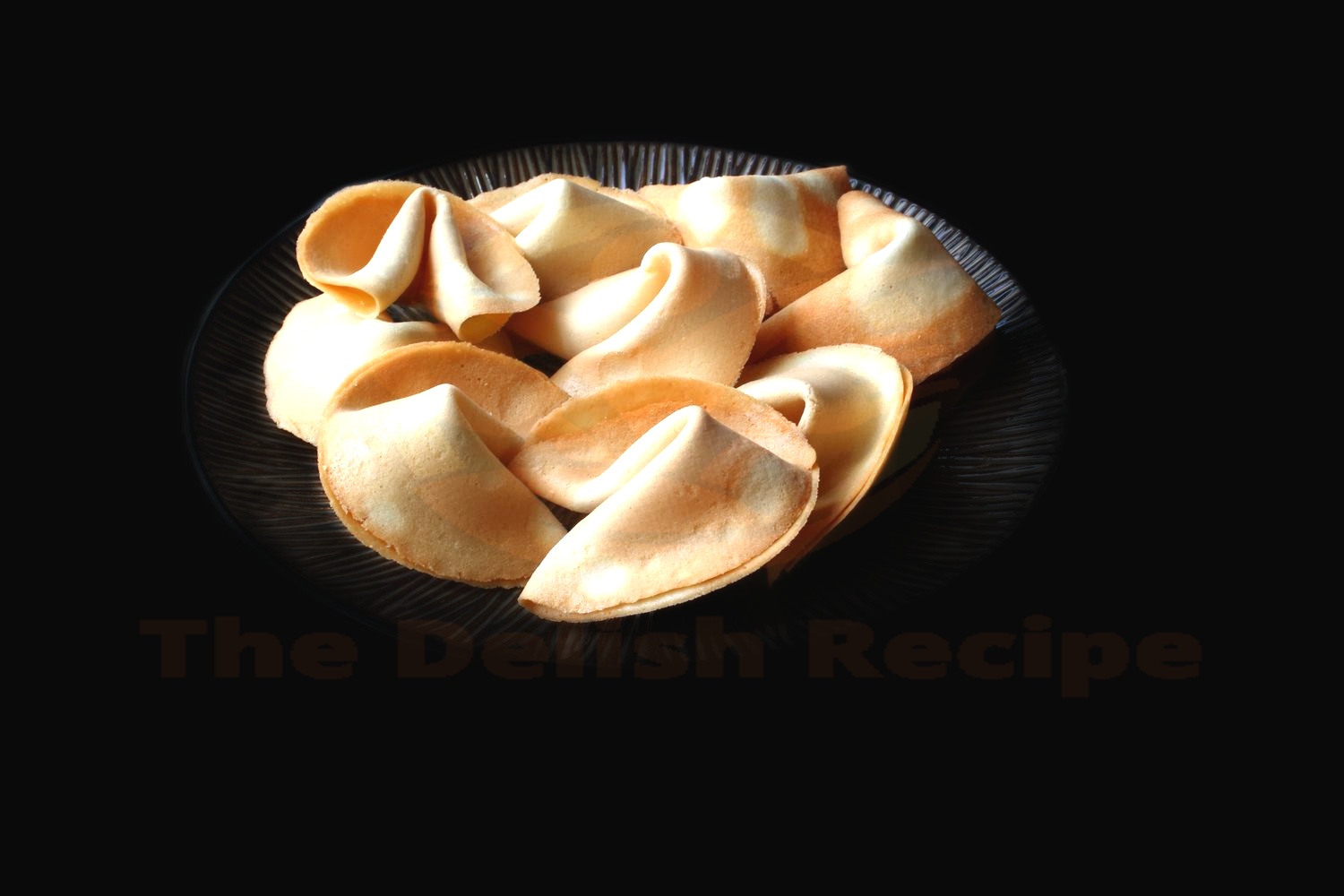 Ingredients
2 large egg whites
1/4 teaspoon almond extract
2/3 cup granulated sugar
2/3 cup all-purpose flour
1/4 teaspoon baking powder
4 tablespoons unsalted butter, melted
2 tablespoons whole milk
2 tablespoons vegetable oil
2-3 fortunes, written on small pieces of paper
Instructions
Preheat your oven to 350 degrees Fahrenheit.
In a medium-sized bowl, whisk together the egg whites, almond extract, sugar, flour, baking powder, melted butter, milk and vegetable oil.
Grease a baking sheet and use a spoon to drop small mounds of the cookie batter onto the sheet.
Bake the fortune cookies in the preheated oven for 8-10 minutes, or until they are lightly golden brown.
Once the cookies are done baking, carefully remove them from the baking sheet and place them on a flat surface.
Take one fortune cookie and place one of your fortunes in the middle of the cookie.
Fold the cookie in half and pinch the edges together to make the fortune cookie shape.
Repeat this process for the remaining fortune cookies.
Allow the fortune cookies to cool for 10 minutes before serving. Enjoy!
Nutrition Facts
Calories: 460 kcal
Carbohydrates: 32 g
Protein: 7 g
Fat: 31 g
Saturated Fat: 12 g
Cholesterol: 38 mg
Sodium: 218 mg
Potassium: 108 mg
Fiber: 1 g
Sugar: 14 g
Vitamin A: 310 IU
Calcium: 52 mg
Iron: 1.3 mg
What ingredients do you need to make homemade fortune cookies?
Making homemade fortune cookies is so much fun, and the best part is you don't need too many ingredients! All you need are some basic pantry staples and you can create delicious, personalized fortune cookies. Here's what you'll need:
All-purpose flour
Sugar
Cornstarch
Salt
Unsalted butter
Vanilla extract
Egg whites
Food coloring (optional)
These ingredients will give you the basic cookie dough, so you can customize your fortune cookies however you like. If you want to add a bit of color and flavor, you can add some food coloring or a few drops of your favorite extract. Then, you can add your own fortunes to the inside of each cookie.
Once you have all the ingredients, the rest is easy! Just mix everything together in a bowl, shape the dough into small rounds, and bake them in a preheated oven. Once they're done baking, let them cool before adding the fortunes and folding them into their iconic shape.
Making homemade fortune cookies is a fun and easy way to make something special for yourself or as a gift for someone special.
What is the process for forming the fortune cookies?
Creating your own fortune cookies is an easy and fun process! To make your own homemade fortune cookies, you'll need some basic ingredients, a few tools, and a little bit of time. Here's the step-by-step guide for forming the cookies and filling them with your own personalized messages.
First, combine the ingredients for the cookie dough in a mixing bowl. This usually includes butter, sugar, eggs, vegetable oil, and vanilla extract. Once you've mixed the dough together, roll it into small balls and place them on a baking tray. Then, use a rolling pin to flatten the balls into thin, round circles.
Next, bake the flattened discs in the oven for around 5 minutes. When the cookies come out of the oven, they should be slightly soft and pliable. Carefully transfer the cookies onto a flat surface and place your fortune inside each one. To help the fortune hold its shape, fold the cookie in half and pinch the edges together.
Finally, shape the fortune cookies into their classic form. To do this, you'll need a special fortune cookie mold. Place each cookie into the mold and press the edges together until you have the desired shape.
What is the key to making a perfect fortune cookie?
The key to making a perfect homemade fortune cookie is all in the technique. With the right folding and baking methods, you can create fortune cookies that are golden and crispy on the outside and chewy on the inside. Plus, you can customize your fortunes to make them as funny, inspirational, or wise as you want! Here are some tips for creating your own perfect fortune cookies.
What is the best way to write fortunes for your homemade fortune cookies?
The best way to write fortunes for your homemade fortune cookies is to be creative and fun! Think of writing fortunes as a form of mini-storytelling. Your fortunes can be funny, inspiring, or thought-provoking. You can even make them tailored to the person who is receiving the fortune cookie. The possibilities are endless!
When writing fortunes for your homemade fortune cookies, think about what kind of message you want to send. Do you want the fortunes to be light-hearted and humorous? Inspiring and motivational? Or more thought-provoking and deep? Once you have your theme in mind, brainstorm some fortune ideas that fit that theme.
To help you come up with ideas, look up some other fortune cookie quotes and use them as inspiration. Consider how you can adapt the quotes to make them more meaningful or personalized. For example, if you're writing a fortune for a friend, you could replace their name in the quote.
Finally, make sure that whatever fortune you write is easily understood and no longer than a few sentences. It's also important to make sure the fortune is appropriate for all ages. Once you have your fortune written, put it in a small slip of paper and tuck it into your homemade fortune cookie.
What are some unique ideas for fortune cookie fortunes?
If you're looking to put a unique twist on homemade fortune cookies, there are plenty of ideas to get you started! From funny one-liners to meaningful quotes, you can create fortunes that put a smile on the recipient's face. Here are some great ideas you can use to craft your own customized fortune cookies:
Make it rhyme – Rhyming fortunes are a fun way to catch someone's attention. For example, "A lucky star will soon shine your way, not just for today, but always every day."
Share a quote – A quote can be a great way to motivate and uplift. Consider using a famous quote from a beloved author or philosopher.
Add a joke – Everyone loves a good joke. Whether it's a corny pun or a clever one-liner, you can use your fortune cookie to bring a little humor.
Add a bit of wisdom – Add a bit of wisdom or an inspirational message to your fortune cookie. It's a perfect way to bring some positivity to someone's day.
Be creative – If you're feeling creative, come up with your own fortune. Think of something fun and original that you'd like to share with the recipient.
Creating your own handmade fortune cookies is a great way to make someone's day special. With these ideas, you can easily make your fortune cookies stand out.
How can you make homemade fortune cookies for special occasions?
Making homemade fortune cookies is a great way to add a special touch to any occasion! With the right ingredients, supplies and a little bit of time, you can easily make your own delicious and custom fortune cookies. Here are a few simple steps to help you get started:
Gather your ingredients: To make your fortune cookies, you'll need to have on hand all-purpose flour, egg whites, sugar, butter, vanilla extract, almond extract, and of course, some fortunes!
Preheat your oven: Preheat your oven to 375 degrees Fahrenheit before you begin making the dough.
Mix the dough: In a medium bowl, mix together the flour, sugar, butter, vanilla extract, almond extract, and egg whites to create the dough. Stir until everything is blended together.
Roll out the dough: Place a small amount of dough on a clean surface and roll out until it is about 1/8-inch thick. Cut out small circles using a biscuit cutter or a knife.
Place your fortunes: Place each fortune in the center of each circle and fold the edges together to create a half moon shape. Use a spoon to press the edges of the cookie to ensure it is sealed.
Bake the cookies: Place your fortune cookies on a greased baking sheet and bake for 8-10 minutes. Let cool before serving.
Making homemade fortune cookies is an easy and fun way to add a special touch to any occasion. With just a few simple steps, you can make delicious and unique fortune cookies that will be sure to impress your guests.
How can you store homemade fortune cookies after baking?
Storing homemade fortune cookies is super easy! As long as you've sealed them in an air-tight container, you can keep them around for up to two weeks. Make sure to place a paper towel in the bottom of the container to absorb any moisture, which could make them soggy. If you want to keep them for longer than two weeks, you can always freeze them.