Hearty Greek Bean Soup – A Delicious And Nutritious Dish
I'm absolutely in love with Greek Bean Soup! It's a staple in my home and never fails to satisfy. It's not your typical soup, as it has a unique combination of flavors that can't be found anywhere else. It's full of flavor and texture, with the addition of hearty beans, juicy tomatoes, and bright herbs. With the use of simple ingredients, this soup comes together quickly and easily, and it's sure to be a hit with your guests. So grab your ingredients and let's get cooking — you won't regret it!
Greek Bean Soup Recipe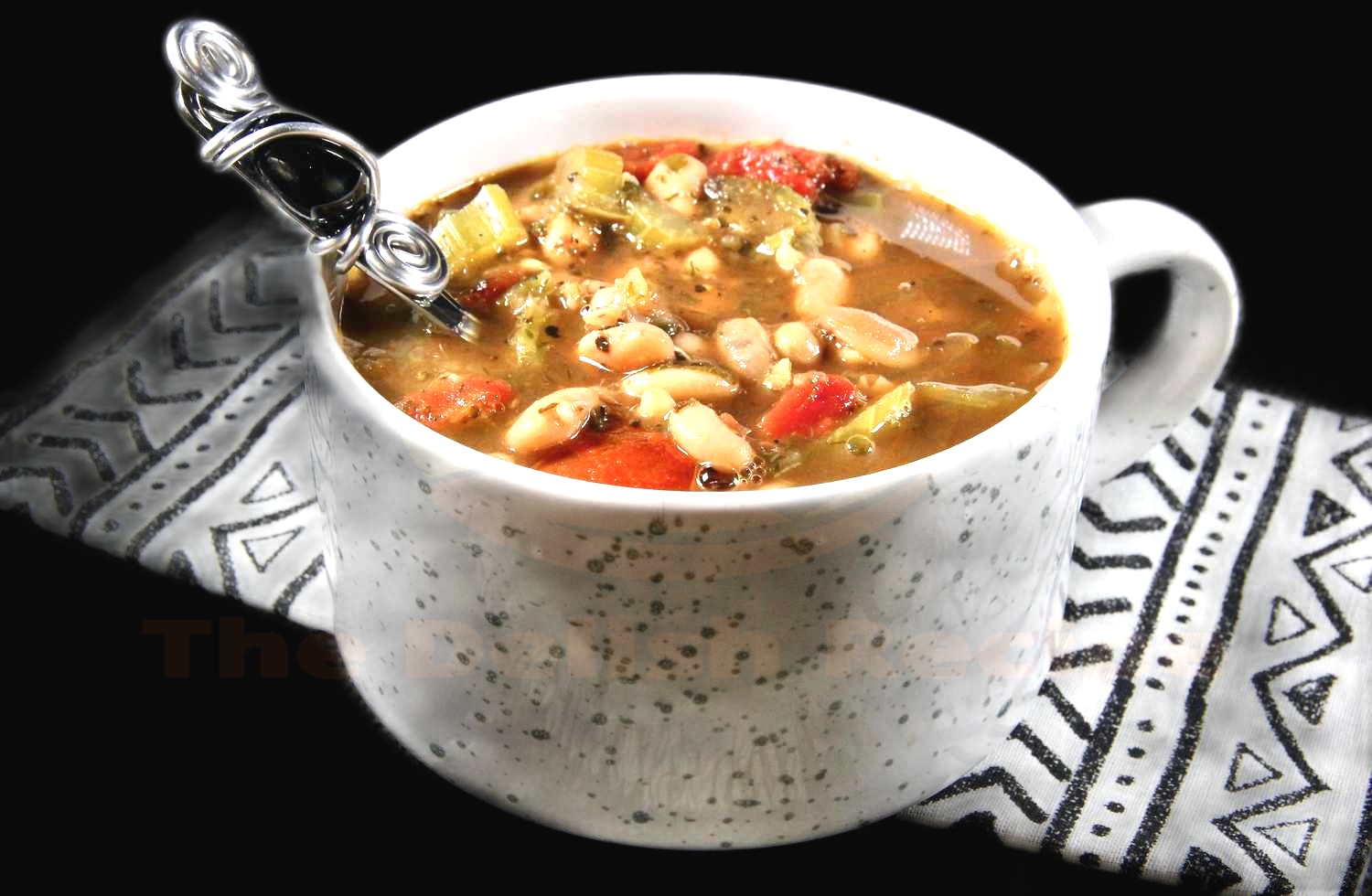 Ingredients
2 tablespoons olive oil
1 medium onion, diced
1 medium carrot, peeled and diced
1 celery stalk, diced
3 cloves garlic, minced
2 cups vegetable stock
1 can (14.5 oz.) diced tomatoes
1 can (15.5 oz.) kidney beans, drained and rinsed
1 can (15.5 oz.) garbanzo beans, drained and rinsed
1 teaspoon dried oregano
1 teaspoon dried basil
1 teaspoon paprika
1/2 teaspoon ground black pepper
2 tablespoons fresh parsley, chopped
1 lemon, juiced
Instructions
Greek Bean Soup
Let's get started making this delicious Greek Bean Soup!
First, heat the olive oil in a large pot over medium heat. Add the diced onion, carrot, and celery, and cook until the vegetables are softened, about 5 minutes. Add the minced garlic and cook for an additional minute.
Next, pour in the vegetable stock, diced tomatoes, kidney beans, garbanzo beans, oregano, basil, paprika, and ground black pepper. Stir to combine, and bring the soup to a low simmer.
Cover the pot and let the soup simmer for about 30 minutes, stirring occasionally until the vegetables are tender.
After the soup has finished cooking, stir in the chopped parsley and lemon juice. Taste and adjust seasonings if necessary.
Your Greek Bean Soup is now ready to enjoy! Serve it warm and enjoy the Mediterranean flavors. Enjoy!
Nutrition Facts
Calories: 177
Total Fat: 8.5g
Saturated Fat: 1.2g
Cholesterol: 0mg
Sodium: 847mg
Total Carbohydrates: 20.1g
Dietary Fiber: 5.7g
Sugars: 3.2g
Protein: 7.4g
Vitamin A: 17.1%
Vitamin C: 12.4%
Calcium: 5.3%
Iron: 10.7%
What makes greek bean soup special?
When it comes to Greek Bean Soup, there's something special about it. It's not just the warm, comforting combination of flavors and textures, or the fact that it's a one-pot meal that's easy to make. It's the magic of Greek flavors, combined with the heartiness of beans and vegetables, that really make this soup stand out.
The base of Greek Bean Soup is a flavorful tomato broth. Tomatoes are a staple in Greek cooking, and the acidity of the tomatoes combined with the sweetness of the vegetables and beans make for a perfect combination. Fresh herbs like oregano, thyme, and rosemary add that special Greek touch, as does a sprinkle of feta cheese.
The beans in Greek Bean Soup add a wonderful texture and protein to the soup. Chickpeas are usually the go-to bean, but you can also use white beans, kidney beans, or any other type of bean you prefer. The beans add a filling heartiness to the soup and help to make it a complete meal.
Finally, the vegetables in Greek Bean Soup are what really make it special. Carrots, celery, onions, and garlic are commonly used, but you can also add bell peppers, zucchini, or any other vegetables you have on hand. These vegetables bring a sweet and savory flavor to the soup and make it a hearty, wholesome meal.
So that's what makes Greek Bean Soup special. The combination of Greek flavors and hearty beans and vegetables make it a flavorful, comforting, and complete meal.
What are some of the health benefits of greek bean soup?
Are you looking for a delicious and nutritious meal that is packed with health benefits? Look no further than Greek Bean Soup! This hearty soup is filled with protein and vitamins, making it an excellent choice for your next meal. Here are just a few of the health benefits that Greek Bean Soup provides:
High in Protein: Greek Bean Soup is an excellent source of plant-based protein, making it a great choice for vegetarians and vegans. Protein helps to keep your muscles strong and provides your body with the energy it needs to stay healthy.
Rich in Fiber: The beans in Greek Bean Soup are a great source of dietary fiber. Fiber helps to keep your digestive system running smoothly, and can also help reduce your risk of developing certain diseases.
Low in Calories: Greek Bean Soup is relatively low in calories, making it an excellent choice for those who are trying to maintain a healthy weight.
Abundant in Vitamins and Minerals: Greek Bean Soup is filled with essential vitamins and minerals. Iron, calcium, vitamin B6, and magnesium are just a few of the many vitamins and minerals that you can get from this soup.
What is the history behind greek bean soup?
Are you curious about the history behind Greek Bean Soup? This traditional Greek soup is believed to have been eaten for centuries, and its origins are unclear. What is known is that this nourishing and hearty meal has been a staple in many Greek households for generations.
The earliest mention of Greek Bean Soup dates back to the 7th century BC. It is believed that the Ancient Greeks prepared the soup with very basic ingredients, such as beans, olive oil, garlic, onions, and herbs. This simple recipe has evolved over the centuries, and nowadays Greek Bean Soup often includes tomatoes, potatoes, and other vegetables.
Greek Bean Soup has always been a favorite among Greeks, and it is said to have healing properties. In ancient times it was believed that this soup could cure a variety of ailments, from headaches to chest colds. Today, it is still considered to be a comforting and nourishing meal that can help with digestion and provide energy.
Over the years, Greek Bean Soup has become a beloved dish around the world. Its popularity has spread from Greece to other countries in Europe, and even to the United States. No matter where you are in the world, you can enjoy a bowl of comforting Greek Bean Soup and savor the flavors of the Mediterranean.
What are the main ingredients for this soup?
If you're looking to make a delicious Greek Bean Soup, you'll need a few ingredients! The main ingredients that make up this mouthwatering soup are white beans (such as navy beans or cannellini beans), onions, garlic, tomatoes, oregano, bay leaves, olive oil, and vegetable broth.
First, start by preparing your ingredients. Chop the onions and garlic and set aside. Heat the olive oil in a large pot, then add the onion and garlic. Cook until the onions are translucent, and then add the tomatoes, oregano, and bay leaves. Let the mixture simmer for about 5 minutes.
Next, add the white beans and the vegetable broth to the pot. Bring the soup to a boil, then reduce the heat and let it simmer for about 25 minutes. Once the beans are cooked through, season the soup with salt and pepper, to taste.
What type of flavor does this soup offer?
This Greek Bean Soup is truly a flavor explosion! It has a robust taste of garlic, onion, and rosemary that's sure to tantalize your taste buds. The delicious ingredients combine to create a unique flavor profile that will have you coming back for more. The soup is also packed with protein-rich beans, making it a hearty meal. If you're looking for something flavorful and satisfying, this soup is definitely the way to go.
What is the best way to serve greek bean soup?
Serving Greek bean soup is easy and delicious! The best way to make this Mediterranean classic is to simmer it low and slow, allowing the flavors to combine and the beans to cook through. Start by sautéing onions, garlic, and any other desired vegetables in a large pot with a bit of olive oil. Add the dry beans and stock, and season with oregano, bay leaves, and freshly cracked pepper. Bring the soup to a boil, then reduce the heat and simmer for about an hour or until the beans are tender. Serve up the hearty soup with a sprinkle of grated cheese, a drizzle of olive oil, and warm crusty bread.
What are some creative variations you can make with greek bean soup?
You can make endless variations with Greek Bean Soup! Here are some creative ideas to get you started.
Spice it up with a variety of herbs and spices. Try adding some oregano, basil, thyme, rosemary, garlic, chili powder, and paprika for an extra kick of flavor.
Make it a creamy soup. Add a few tablespoons of heavy cream to the soup to make it extra rich and creamy.
Make it vegetarian. Substitute the meat with some sautéed mushrooms or hearty vegetables.
Add a touch of sweetness. A drizzle of honey can add just the right amount of sweetness to the soup.
Make it a meal. Add some cooked pasta or rice to the soup for a heartier meal.
With these creative variations, you can make a delicious and unique Greek Bean Soup for your next meal.