Grandma'S Famous Pumpkin Oatmeal Delights
Growing up, there was nothing I looked forward to more than grandma's pumpkin oatmeal cookies! Every time I visited Grandma, she'd have a plate of them waiting for me. These delicious treats were always warm, slightly crispy on the outside, and soft and chewy on the inside. There's nothing quite like the combination of pumpkin, oats, and spices that makes these cookies so special. Even now, as an adult, I still look forward to baking up a batch of Grandma's pumpkin oatmeal cookies!
Grandma's Pumpkin Oatmeal Cookies Recipe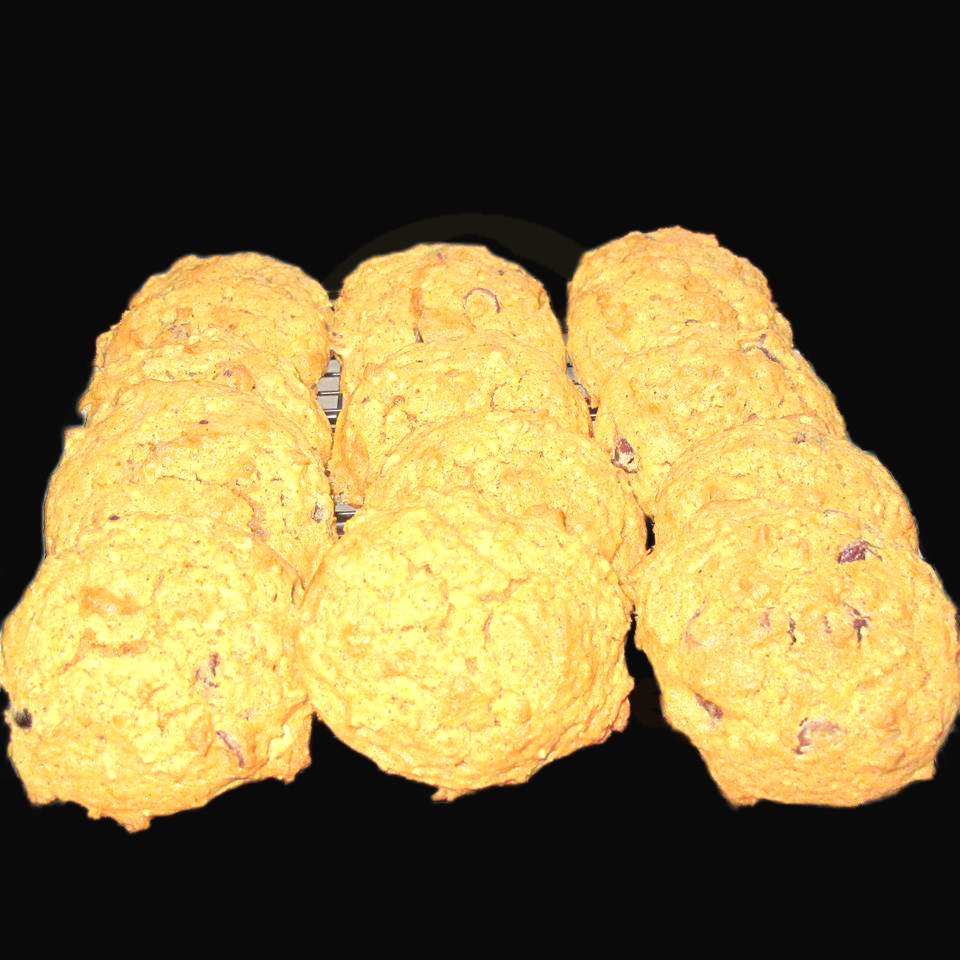 Ingredients
1 cup all-purpose flour
1 teaspoon baking soda
¼ teaspoon salt
1 teaspoon ground cinnamon
½ teaspoon ground ginger
⅛ teaspoon ground cloves
1 cup butter, softened
1 cup packed brown sugar
2 eggs
1 teaspoon vanilla extract
2 cups rolled oats
1 cup pumpkin puree
Instructions
) Preheat your oven to 375°F and grease a baking sheet.
) In a large bowl, sift together the all-purpose flour, baking soda, salt, ground cinnamon, ground ginger and ground cloves.
) In a separate bowl, cream together the butter and the brown sugar until light and fluffy.
) Beat in the eggs one at a time, then stir in the vanilla extract.
) Mix in the dry ingredients to the wet ingredients and stir until just combined.
) Add the rolled oats and the pumpkin puree and stir until everything is well mixed.
) Use a spoon or a cookie scoop to form small balls of dough and place them on the prepared baking sheet.
) Bake the cookies in the preheated oven for 10-12 minutes.
) Let the cookies cool on the baking sheet for 5 minutes, then transfer them to a wire rack and let cool completely, about 30 minutes.
) Enjoy your tasty Grandma's Pumpkin Oatmeal Cookies!
Nutrition Facts
Calories: 144 kcal
Carbohydrates: 21 g
Protein: 3 g
Fat: 6 g
Saturated Fat: 3 g
Cholesterol: 33 mg
Sodium: 137 mg
Potassium: 65 mg
Fiber: 1 g
Sugar: 10 g
Vitamin A: 1099 IU
Vitamin C: 1 mg
Calcium: 25 mg
Iron: 1 mg
What are the ingredients necessary for grandma's pumpkin oatmeal cookies?
When it comes to Grandma's famous pumpkin oatmeal cookies, there are five key ingredients necessary to get the perfect balance of chewy, sweet, and spicy. The first and most important ingredient is, of course, pumpkin puree. This gives the cookies their signature orange hue and helps to create the perfect fall-inspired flavor. The next ingredient is rolled oats, which gives the cookies their classic oatmeal texture. Then, you'll need some brown sugar, which adds sweetness and helps to create the perfect balance of flavors. After that, you'll need some baking powder and spices like cinnamon, nutmeg, and allspice. These ingredients help to bring out the flavor of the pumpkin and create a truly memorable cookie. With these five simple ingredients, you'll be able to create delicious pumpkin oatmeal cookies that are sure to be a hit with the whole family.
How do you make these pumpkin oatmeal cookies?
If you're looking for a delicious fall treat, these pumpkin oatmeal cookies are sure to hit the spot! Here's how to make them:
Preheat the oven to 375 degrees Fahrenheit.
In a medium bowl, whisk together 1 cup of all-purpose flour, 1 ½ cups of quick-cooking oats, 1 teaspoon baking powder, 1 teaspoon baking soda, ½ teaspoon ground cinnamon, and ¼ teaspoon ground nutmeg.
In a separate bowl, cream together ½ cup of butter and 1 cup of light brown sugar until smooth.
Add to the mixture 1 egg, 1 teaspoon vanilla extract, and ¾ cup of pumpkin puree. Beat until everything is well combined.
Slowly add the dry ingredients to the wet ingredients, stirring until everything is just combined.
Drop tablespoons of cookie dough onto a lightly greased baking sheet.
Bake for 10-12 minutes, or until the edges of the cookies are lightly golden brown.
Let the cookies cool on the baking sheet before transferring them to a cooling rack.
What tips can you give to ensure the perfect pumpkin oatmeal cookie?
Get your pumpkin puree just right- Make sure you use pureed pumpkin, not pumpkin pie filling. You want the pureed pumpkin to be smooth and creamy to ensure that your cookies won't be dry.
Don't overmix- Once you have your wet and dry ingredients combined, you'll want to mix them just until they are combined. Overmixing the dough can cause your cookies to become dense and chewy.
Measure correctly- Make sure you're measuring your ingredients correctly. Too much of one ingredient can change the texture of your cookies.
Don't forget the oats- Grandma's Pumpkin Oatmeal Cookies would not be complete without oats! The oats give the cookies a delicious oaty flavor.
Watch your baking time- Baking your cookies for too long can make them dry and hard. Remove them from the oven when they are still slightly soft and let them cool on the pan for a few minutes. This will help them stay soft and chewy.
Spice it up- Add some extra flavor with some of your favorite spices. Cinnamon, nutmeg, and ginger are all great additions to the traditional pumpkin oatmeal cookie.
Don't forget the finishing touches- The perfect pumpkin oatmeal cookie is not complete without a few finishing touches. Try adding some chopped nuts, dark chocolate chips, or a drizzle of melted white chocolate.
What is the history behind this recipe?
Grandma's Pumpkin Oatmeal Cookies have a long and delicious history that begins in the 1930s. The recipe was first created by a woman in rural Minnesota who was looking for a new way to use the pumpkins that grew in her garden. She combined the pumpkin with oats and other ingredients to create a delicious cookie that has become a beloved family tradition.
The cookies quickly gained popularity in the local community with people sharing the recipe and passing it down through generations. Over the years, the recipe has been tweaked and changed to suit different tastes and preferences, while still retaining its original flavor. Today, Grandma's Pumpkin Oatmeal Cookies are a beloved classic that continues to be passed down through generations of families.
Grandma's Pumpkin Oatmeal Cookies are a testament to the creative minds and resourcefulness of our ancestors. By taking advantage of the ingredients that were available in their local community, they created a delicious treat that has been enjoyed by countless families over the years. The history of Grandma's Pumpkin Oatmeal Cookies is a reminder of how much can be created with a little ingenuity and love.
What makes it special compared to other cookie recipes?
Grandma's Pumpkin Oatmeal Cookies are truly special! With a unique blend of pumpkin, oats, and spices, these cookies have a taste like no other. They have a delightful hint of pumpkin and cinnamon, making them the perfect treat for fall. The combination of the oats and pumpkin gives them a delightfully chewy texture, while the hint of spices adds a subtle kick to these delicious cookies. Plus, they're easy to make, so you can whip up a batch of these treats in no time! From the unique flavor to the ease of making them, these cookies are truly special and make a great addition to any fall celebration.
How long does it take to prepare these cookies?
Preparing Grandma's delicious Pumpkin Oatmeal Cookies is quick and easy! All it takes is about 15 minutes to mix the ingredients, 10 minutes to bake the cookies, and 5 minutes to cool them off.