Deliciously Spiced Gingerbread Scones
I remember the first time I had gingerbread scones – it was a cold winter morning and my grandmother had made them for a family gathering. I was amazed at how delicious they were – the combination of the slightly sweet and spicy gingerbread flavor with the buttery texture of the scones was a perfect match. I knew I had to get the recipe so I could make them myself, and now I'm excited to share it with you!
Gingerbread Scones Recipe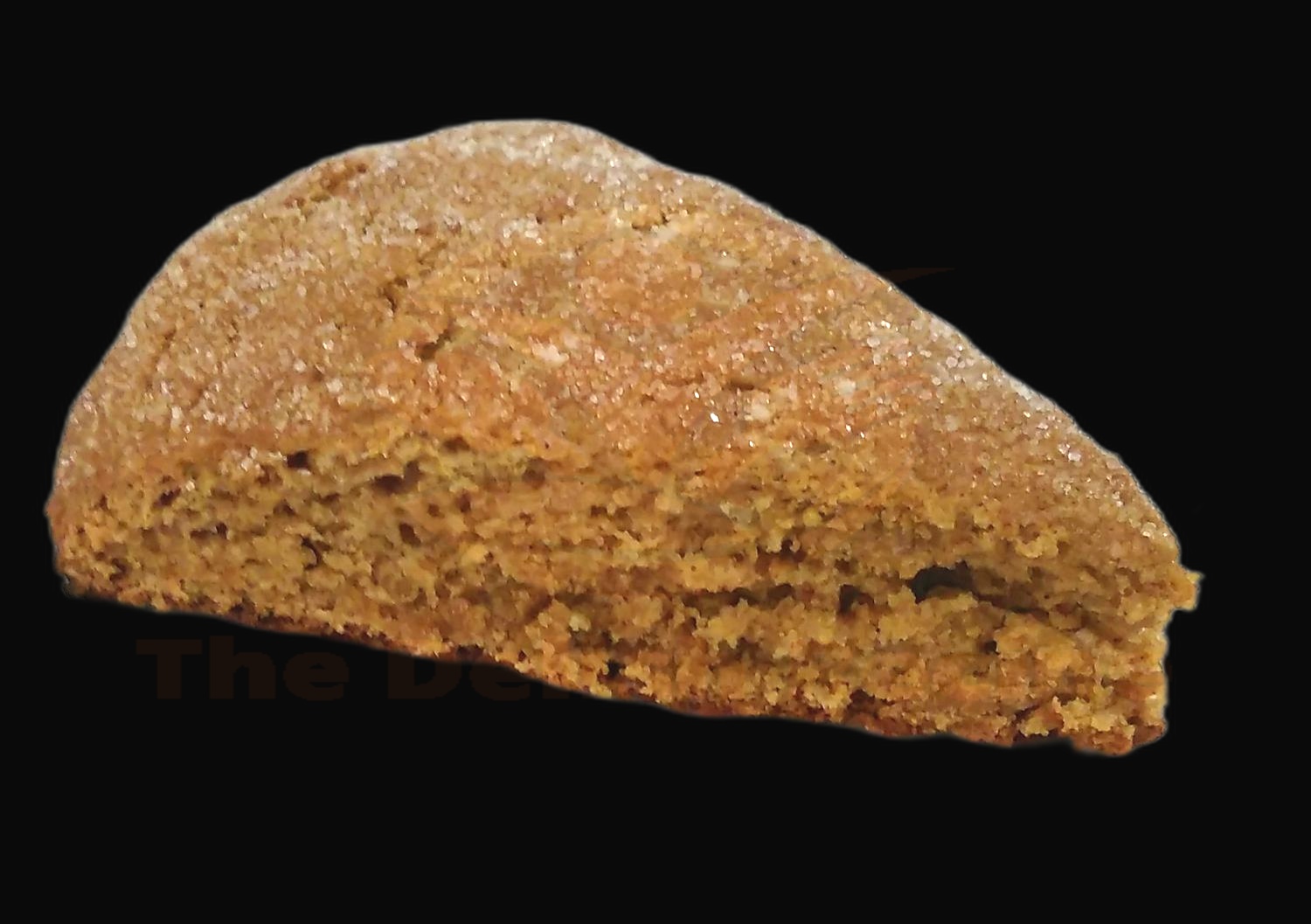 Ingredients
2 cups all-purpose flour
2 teaspoons baking powder
1/2 teaspoon salt
1/4 teaspoon baking soda
2 tablespoons ground ginger
1/2 teaspoon ground cinnamon
1/4 teaspoon ground nutmeg
6 tablespoons cold butter, cut into small cubes
3/4 cup packed light brown sugar
1/4 cup cold buttermilk
1 large egg
1/4 cup molasses
1/4 cup golden raisins
Demerara sugar, for sprinkling (optional)
Instructions
Welcome to my Gingerbread Scones recipe! We'll need to grab a few ingredients before we get started. Here's what you'll need: 2 cups all-purpose flour, 2 teaspoons baking powder, 1/2 teaspoon salt, 1/4 teaspoon baking soda, 2 tablespoons ground ginger, 1/2 teaspoon ground cinnamon, 1/4 teaspoon ground nutmeg, 6 tablespoons cold butter (cut into small cubes), 3/4 cup packed light brown sugar, 1/4 cup cold buttermilk, 1 large egg, 1/4 cup molasses, and 1/4 cup golden raisins.
We'll need to set aside 30 minutes for preparation, and 15-20 minutes for baking. Once the scones are out of the oven, they'll need 15 minutes to cool off.
Let's get started! Preheat your oven to 375°F.
In a large bowl, mix together the flour, baking powder, salt, baking soda, ginger, cinnamon, and nutmeg. In a separate bowl, whisk together the buttermilk, egg, and molasses.
Now, add the cold butter cubes to the flour mixture and cut it into the flour using a pastry cutter or two knives until the butter is in pea-sized pieces.
Next, stir in the brown sugar and raisins. Pour the buttermilk mixture into the flour mixture, stirring until everything is just combined.
On a lightly floured work surface, shape the dough into a round disc about 1 inch thick. Cut the disc into 8 wedges and transfer them to a sheet pan lined with parchment paper. Sprinkle the scones with Demerara sugar, if desired.
Bake the scones for 15-20 minutes, or until golden. Let them cool on the sheet pan for about 15 minutes before serving. Enjoy!
Nutrition Facts
Serving Size: 1 scone
Calories: 267
Total Fat: 8g
Saturated Fat: 5g
Cholesterol: 34mg
Sodium: 307mg
Total Carbohydrate: 44g
Dietary Fiber: 1g
Sugars: 23g
Protein: 4g
What's so special about these gingerbread scones?
Are you looking for something special to make for the holidays? Look no further than these irresistible gingerbread scones! These festive treats are made with a blend of warm spices and sweet molasses, creating a rich, flavorful experience for your taste buds. The perfect balance of spice and sweetness makes these scones a truly unique holiday treat.
To make them, you'll need all the classic gingerbread ingredients like ginger, cinnamon, and cloves, plus molasses and buttermilk. The combination of these flavors creates a robust and delightful combination that will have everyone reaching for seconds.
Not only do these scones have an amazing flavor, but they also have a great texture. The combination of the flaky scone dough with the crunchy sugar topping makes for a delightful sensory experience. Even better, they're incredibly easy to make. All you need is a few basic ingredients and you'll be on your way to enjoying these delicious gingerbread scones in no time.
So, what's so special about these gingerbread scones? Well, the combination of spices and sweetness is simply unmatched, and the flavor and texture are sure to please.
What are the benefits of using gingerbread spices in baking?
Gingerbread spices can add a delicious, comforting flavor to all kinds of baked goods! Here are some of the benefits of using gingerbread spices in baking:
Gingerbread spices bring a unique, warm richness to the flavor of your baked goods.
Gingerbread spices can add a hint of sweetness, making baked goods taste more flavorful and deliciously sweet.
The spiciness of gingerbread spices adds a perfect balance to the sweetness of baked goods, creating a balanced flavor that everyone will love.
Gingerbread spices are incredibly versatile – they can be used in cakes, cookies, muffins, scones, and more!.
The fragrant aroma of gingerbread spices is sure to make your home smell inviting and cozy.
Gingerbread spices have a long history of being used in holiday baking, making them a perfect addition to your holiday treats.
What are the best tips for baking gingerbread scones?
Are you looking for the best tips to bake delicious gingerbread scones? Look no further! Here are our top tips to help you make the perfect gingerbread scones:
Use fresh, high-quality ingredients for best results. This includes butter, flour, spices, and molasses.
Sift the dry ingredients together before adding the liquid ingredients, as this helps ensure that the scones bake evenly and come out light and fluffy.
Make sure to use cold butter when mixing the dough. This helps keep the scones light and airy.
Chill the dough in the refrigerator for 30 minutes before baking, as this allows the butter to cool and helps the scones rise.
Use a sharp knife or bench scraper to cut the dough into scones, as this helps prevent the dough from sticking together.
Bake the scones at a high temperature (400°F) for a short amount of time (10-12 minutes) to ensure a crispy exterior and a soft, fluffy interior.
Allow the scones to cool completely before serving.
How can these scones be served to make a tasty treat?
Serve these delicious gingerbread scones hot out of the oven for a real treat! Top them with a dollop of whipped cream and some freshly-squeezed lemon juice for a zesty flavor. Or, if you're feeling more decadent, spread each scone with a generous helping of butter and drizzle with a homemade honey glaze.
Where does the idea for gingerbread scones come from?
The idea for gingerbread scones likely originated from the classic gingerbread cookie. This beloved sweet treat has been around for centuries, with its origins tracing back to medieval Europe. Over time, the recipe for gingerbread cookies has evolved and adapted to different cultures, resulting in a wide variety of gingerbread-inspired dishes. Gingerbread scones are just one of these creations, combining the beloved flavors of gingerbread with the flaky texture of a scone. Whether you're an experienced baker or a novice, you're sure to love this delicious treat.
What other recipes could be made with gingerbread spices?
If you love the flavor of gingerbread scones, you're in luck – the gingerbread spices used to make them can be used in a variety of recipes! From cookies and cakes to muffins and breads, the possibilities are endless. Here are some of our favorite recipes to make with gingerbread spices:
Gingerbread Cupcakes: Make moist, flavorful cupcakes with a hint of gingerbread spice. Top them off with a sweet cream cheese frosting and a sprinkle of cinnamon for a truly delicious treat.
Gingerbread Cookies: Soft and chewy gingerbread cookies are a classic holiday favorite. For an extra-special twist, try adding chopped candied ginger and crystallized ginger.
Gingerbread Loaf: Perfect for a festive breakfast or brunch, this gingerbread loaf is full of cozy spices like cinnamon, ginger, and nutmeg. Serve it warm with a pat of butter for a delicious start to the day.
Gingerbread Pancakes: These gingerbread pancakes are light, fluffy, and packed with flavor. Top them with a dollop of whipped cream or a drizzle of maple syrup for the perfect pancake breakfast.
Gingerbread Muffins: You can't go wrong with these spiced gingerbread muffins. Serve them warm with a cup of hot cocoa for a cozy winter treat.
As you can see, there are tons of delicious recipes to try with gingerbread spices.