Win The Game With Delicious Victory Dessert
It's game day, and in my house, nothing is more important than a victory—especially when it comes to dessert! That's why I love to make my Game Day Victory Dessert. It's the perfect way to celebrate a win, with a delicious and easy-to-make treat that everyone will love. Trust me, it's a guaranteed crowd-pleaser! So, let's get started on creating the perfect game-day victory!
Game Day Victory Dessert Recipe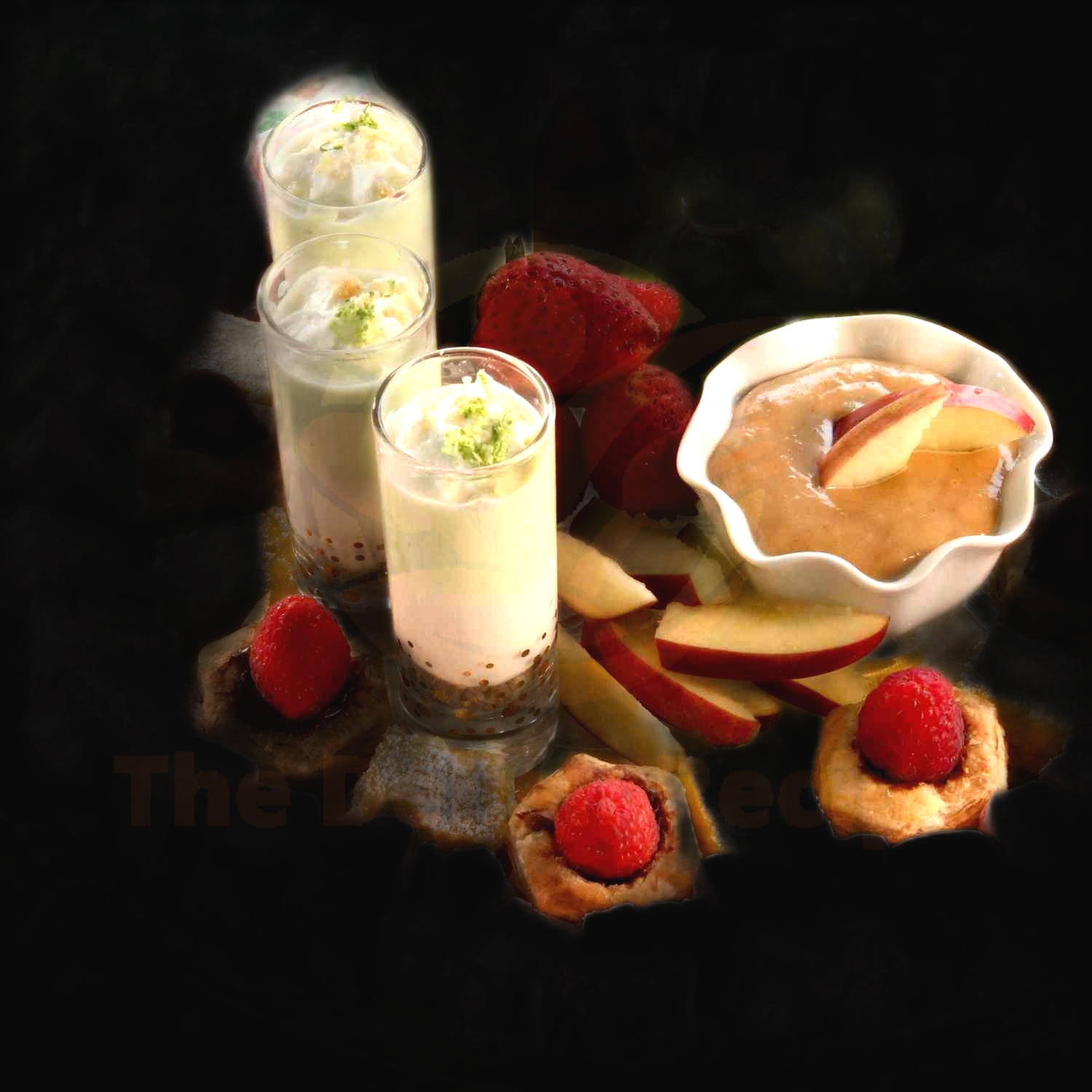 Ingredients
1 package of vanilla pudding mix
2 cups of milk
1/2 cup of heavy cream
1/4 cup of granulated sugar
1 teaspoon of almond extract
1/4 teaspoon of salt
1 cup of mini marshmallows
1/2 cup of semi-sweet chocolate chips
1/2 cup of crushed graham crackers
1/4 cup of peanut butter
Whipped cream (for topping)
Instructions
Gather all ingredients. Preheat your oven to 350°F
In a medium bowl, whisk together the pudding mix, milk, heavy cream, granulated sugar, almond extract, and salt.
Pour the mixture into an 8-inch baking dish.
Sprinkle the mini marshmallows, semi-sweet chocolate chips, crushed graham crackers, and peanut butter over the top.
Bake in preheated oven for 40 minutes or until golden brown.
Let cool before serving and top with whipped cream.
Enjoy your Game Day Victory Dessert!
Nutrition Facts
Calories: 432
Fat: 19.1g
Saturated Fat: 10.5g
Carbohydrates: 56.2g
Fiber: 2.2g
Sugar: 37.5g
Protein: 6.3g
Cholesterol: 43mg
Sodium: 556mg
What are some classic game day desserts that you can make to celebrate a victory?
Celebrating a game day victory is always sweeter with a delicious dessert. If you're stuck on what to make, here are some classic desserts that are sure to score big with your crowd.
First up is a classic: brownies. Whether you choose to make them from a mix or start from scratch, brownies are always a crowd favorite. Top them with a dollop of ice cream and a drizzle of chocolate sauce for an extra special treat.
For something extra special, try a scrumptious layer cake. Start with a classic yellow cake recipe, and then choose your favorite icing. You can even customize the cake with team colors and team logos.
If you're short on time, then you can't go wrong with cupcakes. Make them from a mix or start from scratch, and use a festive team theme. Pipe on some colorful frosting, and top with edible decorations for an extra special flair.
Finally, for a cool and refreshing treat, try a festive ice cream sundae bar. Set out an array of toppings – from chocolate sauce and cherries to shredded coconut and sprinkles – and let your guests build their own sundaes.
What are some creative ideas to make a game day dessert even more special?
You can make your game day victory dessert extra special with a few creative ideas! For starters, get creative with your presentation. If you're making cupcakes, try topping them with football-shaped sprinkles, or if you're making a cake, you could use a sports-themed cake topper. You can also add a festive touch to your dessert by incorporating team colors into the frosting, or adding team logos or mascots with edible decorations. Using themed paper plates, napkins, and cups is also a great way to add a festive touch.
You can also get creative with the flavor of the dessert. If your team's colors are red and blue, you could make a Red Velvet cake or cupcakes with blueberry frosting. You can also make a chocolate truffle cake, or a chocolate fudge brownie cake with peanut butter frosting to represent your team colors.
And of course, don't forget the drinks! You can make themed cocktails to go along with your dessert. If your team's colors are green and yellow, you could make a green and yellow margarita, or a green and yellow sangria. Or you could make a beer milkshake topped with whipped cream and chocolate footballs for a tasty and festive treat.
These creative ideas for a game day victory dessert will make your celebration even more special. With a little bit of imagination and a few festive touches, you're sure to impress your guests and show your team spirit.
What are some of the most popular desserts that you can make for game day?
You can really hit a home run on game day with one of these delicious and easy-to-make desserts! Some of the most popular desserts for game day are brownies, cookies, pies, cupcakes, and ice cream.
Brownies are always a hit and you can make them from scratch or with a mix. Cookies can be made with any flavor of chips and dough that you like. There are tons of recipes online to choose from. Pies are a great option, too – you could make a classic apple pie, or go for something different like a pumpkin or pecan pie.
Cupcakes are the perfect treat for game day. Top them with colorful, sports-themed sprinkles or a delicious buttercream frosting. You could even make a layer cake if you want to go all out! Lastly, ice cream is a crowd-pleaser and it's sure to bring some sweetness to the celebration. Top it with some hot fudge or caramel and you'll have a winning dessert.
What ingredients do you need to make the perfect game day dessert?
When it comes to game day desserts, you don't have to be an expert baker to whip up something delicious! All you need are a few simple ingredients to make the perfect sweet treat for your friends and family. Here's what you'll need to make the perfect game day dessert:
Sugar: Whether you prefer granulated white sugar or raw cane sugar, it's essential to have on hand for making cakes, cookies, and other sweet treats.
Flour: All-purpose flour is a must for making cakes, cookies, and other baked goods.
Butter: Unsalted butter is a great choice for baking and adds a delicious, creamy flavor to your desserts.
Eggs: Eggs are a key ingredient in many desserts and help to bind and leaven your recipes.
Milk: Whole milk is a great choice for baking and adds richness to your desserts.
Vanilla extract: A few drops of pure vanilla extract can give your desserts a signature flavor.
Chocolate: Whether you prefer dark or milk chocolate, it's a must-have for making brownies, truffles, and other chocolatey treats.
Nuts: Nuts are a great addition to many desserts and can give your recipes a crunchy texture.
Now that you know the essential ingredients for making game day desserts, you're ready to get baking! With these ingredients on hand, you can make all sorts of delicious treats.
How can you make sure your game day dessert looks festive and exciting?
You can make sure your game day dessert looks festive and exciting by getting creative with presentation! Instead of just setting out a bowl of cookies or a cake, why not arrange them in a fun and unique way? If you're making cupcakes, try arranging them in the shape of a football field or a jersey. If you're making a cake, try using a football-shaped cake pan or a cake topper with a mascot on it. You can also get creative with other decorations like sprinkles, food coloring, and edible decorations in team colors.
What are some recipes that can help you make the ultimate game day victory dessert?
It's game day, and you're ready to celebrate with an unforgettable victory dessert! Here are some delicious recipes to help you whip up a treat that will leave your team cheering.
For a classic game day dessert that never disappoints, try making a yummy Chocolate Chip Cookie Cake. All you need are some store-bought chocolate chip cookie dough, a springform pan, and some fun decorations! Press the cookie dough into the pan, top it with your favorite icing, and finish off with a few decorative flags or team colors.
If you're looking for a healthier option, try a tasty Fruit Pizza. Start by making a simple sugar cookie dough and press it into a pizza pan. Then top it with a layer of cream cheese and your favorite fruits. Finish it off with a drizzle of honey, and voila!
For a truly unique and creative game day dessert, create a Tailgate Cake. Start with a yellow cake mix and bake it in a 9×13 pan. Once it's cooled, use a football-shaped cookie cutter to cut out shapes from the cake. Top the cake with frosting and decorate it with your favorite team's colors and logos.