A Perfectly Sweet And Tangy Cranberry Treat!
I will never forget the first time I made Fresh Cranberry Upside-Down Cake. The tart cranberries combined with the sweet caramelized sugar topping was a combination I never knew I could love so much. The best part of this cake is that it is so easy to make, and the end result is a delicious and moist cake that is sure to please any crowd. If you're looking for a new holiday baking tradition, this is the perfect recipe to start with!
Fresh Cranberry Upside-Down Cake Recipe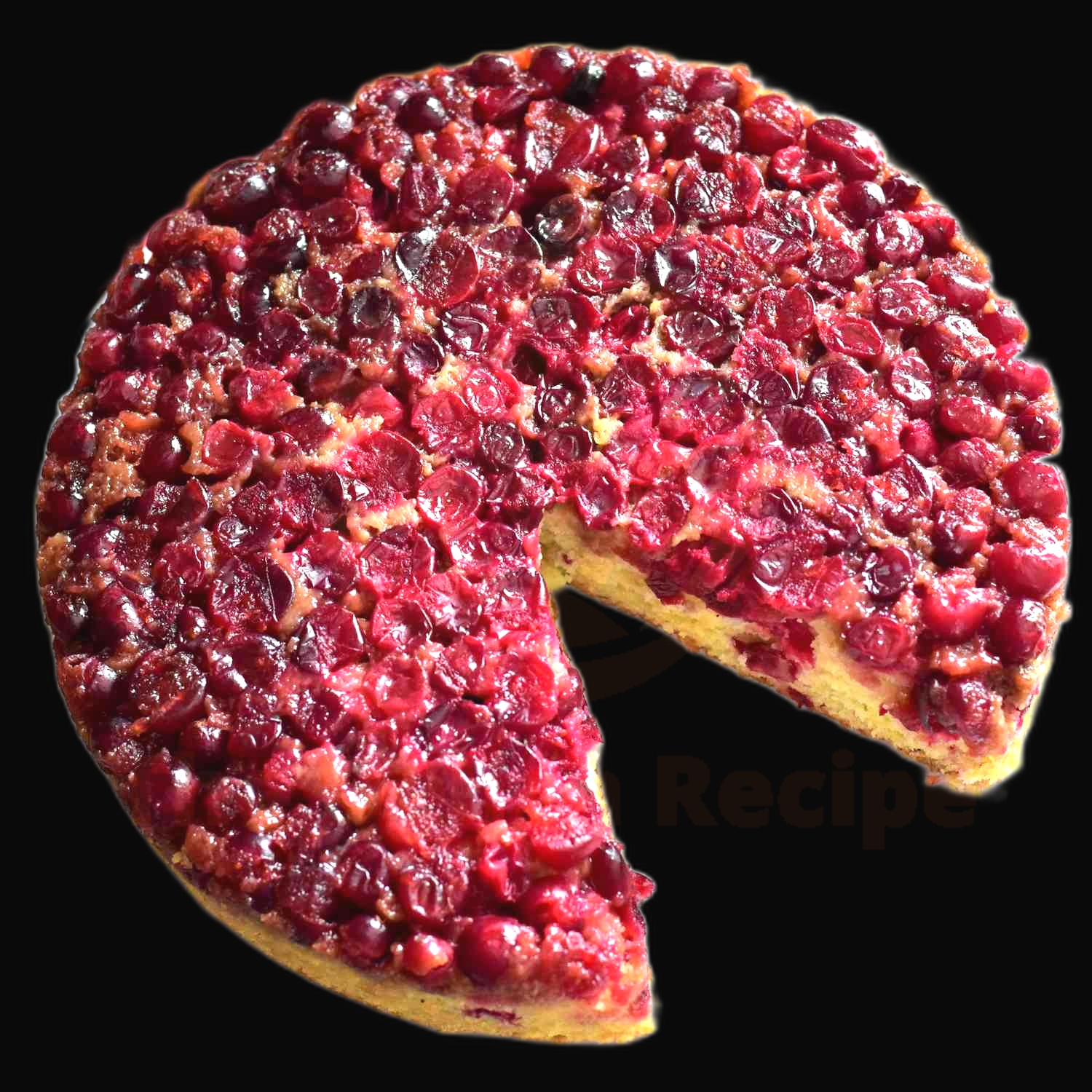 Ingredients
2 tablespoons butter
1/4 cup packed light brown sugar
2 tablespoons fresh cranberries
1/2 cup all-purpose flour
1/4 teaspoon baking powder
1/4 teaspoon baking soda
1/4 teaspoon salt
1/4 cup granulated sugar
3 tablespoons vegetable oil
1 egg
1/4 teaspoon ground cinnamon
1/4 teaspoon ground nutmeg
1/4 teaspoon ground ginger
2 tablespoons milk
1 teaspoon vanilla extract
Instructions
Preheat your oven to 350°F (175°C). Grease an 8-inch round cake pan with the 2 tablespoons of butter.
Sprinkle the brown sugar evenly over the bottom of the cake pan and top with the cranberries.
In a medium bowl, whisk together the flour, baking powder, baking soda, salt, granulated sugar, cinnamon, nutmeg, and ginger.
In a separate bowl, beat together the oil, egg, milk, and vanilla extract until combined.
Pour the wet ingredients into the dry ingredients and mix until just combined.
Carefully spoon the batter over the cranberries in the cake pan and spread it evenly.
Bake for 30 minutes, or until a toothpick inserted into the center of the cake comes out clean.
Let the cake cool for 15 minutes before flipping it out onto a plate. Enjoy your fresh cranberry upside-down cake!
Nutrition Facts
Calories: 775
Total Fat: 28g
Cholesterol: 75mg
Sodium: 950mg
Total Carbohydrates: 114g
Dietary Fiber: 4g
Sugars: 57g
Protein: 11g
What is the history of the fresh cranberry upside-down cake?
The history of the Fresh Cranberry Upside-Down Cake is an intriguing one! This classic dessert has been around since the early 1900s. It was originally created to make use of the abundance of cranberries that were being grown in Massachusetts at the time. The cake was made by pouring a batter over a layer of cranberries and a layer of butter and sugar in a hot skillet, and then inverting the cake onto a plate so that the cranberries were on the top. It quickly became popular due to its rich flavor and beautiful presentation. Today, the Fresh Cranberry Upside-Down Cake is still a staple at Thanksgiving dinners and other festive occasions.
What tips can you offer for achieving the perfect fresh cranberry upside-down cake?
Achieving the perfect fresh cranberry upside-down cake is easy with these simple tips!
Pick the freshest cranberries you can find. When selecting cranberries, look for bright, firm, deep red berries. Avoid any berries that are soft or have a whitish hue.
Take the time to make your own cake batter. Using a box mix is an easy shortcut, but making your own batter from scratch gives the cake a richer flavor and a lighter texture.
Use a heavy-bottomed pan. This will ensure that your cake bakes evenly and does not stick to the pan.
Don't forget the butter! Make sure to generously butter the pan for the best "upside-down" effect.
Measure your ingredients carefully. This will help you achieve the perfect balance of sweetness and tartness in the cake.
Let the cake cool before flipping it over. This will help prevent the cake from sticking to the pan.
Serve the cake with a dollop of fresh whipped cream and a sprinkle of cinnamon sugar.
What makes this cake so special?
This Fresh Cranberry Upside-Down Cake is truly something special! It's made with fresh cranberries and a homemade buttery brown sugar topping that oozes with flavor. The tartness of the cranberries is complemented by the sweetness of the topping, creating an irresistible combination. But that's not all – this cake is also incredibly moist and fluffy, thanks to the addition of sour cream and a generous amount of butter. To top it off, the finished cake is finished off with a sugary and buttery glaze that adds a delightful touch of sweetness. In short, this cake is the perfect balance of tart and sweet, moist and fluffy, and deliciously buttery. If you're looking for something special to share with friends and family, you can't go wrong with this Fresh Cranberry Upside-Down Cake.
What ingredients make up the fresh cranberry upside-down cake?
The Fresh Cranberry Upside-Down Cake is made up of simple, delicious ingredients you probably already have in your pantry! This mouthwatering dessert starts with a layer of tart cranberries, followed by brown sugar and butter, and topped off with a moist and flavorful yellow cake. Let's take a closer look at what goes into this irresistible treat.
The most important part of the Fresh Cranberry Upside-Down Cake is, of course, the cranberries! You'll need 1 cup of fresh cranberries, which add a delicious tartness to the cake. For the next layer, you'll need 1/3 cup of firmly packed brown sugar and 2 tablespoons of butter. This combination of ingredients creates a rich, caramel-like flavor that complements the cranberries perfectly. Last but not least, the cake itself is made up of a simple yellow cake batter. You'll need the usual suspects such as flour, sugar, eggs, and milk, as well as butter, baking powder, and salt. Once all of these ingredients are combined, you'll have a cake batter that is sure to make your taste buds sing!
With just a few simple ingredients, you can make a Fresh Cranberry Upside-Down Cake that is sure to tantalize your taste buds.
How can you serve the fresh cranberry upside-down cake to make it even more delicious?
Serving up a fresh cranberry upside-down cake is sure to make your guests smile! To make it even more delicious, there are a few easy steps you can take. First of all, consider using a high-quality, buttery cake mix. This will provide an extra layer of flavor and texture to the cake. You can also top the cake with a sprinkle of cinnamon and sugar before you bake it. This will add a sweet crunch to the top of the cake and make it even more delicious. Finally, consider adding a dollop of whipped cream or a scoop of ice cream to the side of the cake. This will make it even more indulgent and provide a cool, creamy contrast to the cake's warm, sweet flavors.