Delicious Dark Mocha Crinkle Cookies Recipe
I love making these Dark Mocha Crinkles! It's an irresistible treat that's surprisingly easy to make. Every time I whip up a batch of these soft, chewy cookies, the sweet scent of dark chocolate and mocha fills up my kitchen. Not only do they look beautiful, but they taste even better. When I bite into one of these cookies, it's like a burst of heavenly flavor that leaves me wanting more.
Dark Mocha Crinkles Recipe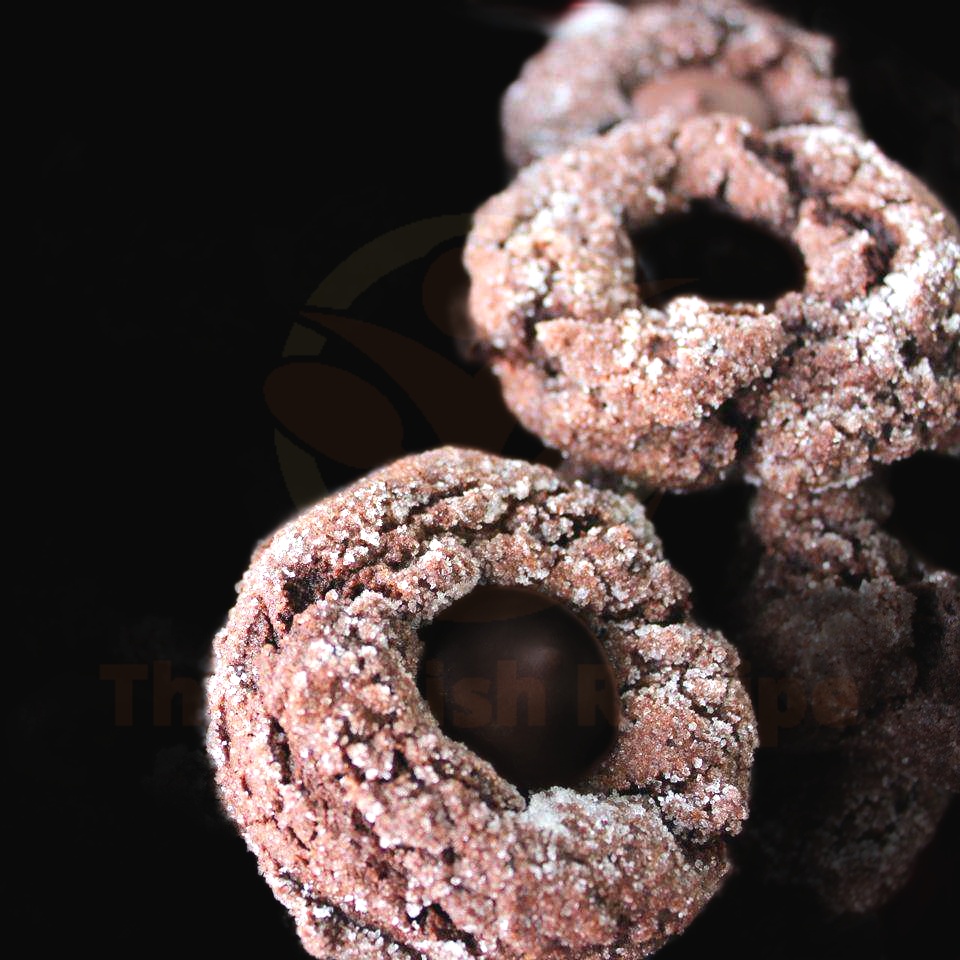 Ingredients
1/4 cup butter, softened
1/2 cup light brown sugar
1 egg
2 tablespoons instant coffee powder
1 teaspoon vanilla extract
3/4 cup all-purpose flour
1/3 cup cocoa powder
1/2 teaspoon baking powder
1/4 teaspoon salt
1/2 cup white sugar
Instructions
Preheat your oven to 350°F.
In a medium bowl, cream together the butter and light brown sugar until light and fluffy.
Beat in the egg and mix until well combined.
Dissolve the instant coffee powder in the vanilla extract and then add it to the bowl, mixing until everything is completely combined.
In a separate bowl, whisk together the flour, cocoa powder, baking powder, and salt.
Slowly add the dry ingredients to the wet ingredients and mix until a soft dough forms.
Roll the dough into 1/2 inch balls and roll them in the white sugar until they are evenly coated.
Place the dough balls on a greased baking sheet, leaving at least 2 inches of space between them.
Bake in the preheated oven for 20 minutes.
Let the Dark Mocha Crinkles cool for 10 minutes before serving. Enjoy!
Nutrition Facts
Calories: 200,
Total Fat: 8g,
Saturated Fat: 2g,
Trans Fat: 0g,
Cholesterol: 25mg,
Sodium: 160mg,
Total Carbohydrates: 30g,
Dietary Fiber: 1g,
Sugars: 16g,
Protein: 3g
What makes dark mocha crinkles so special?
You may have heard of Dark Mocha Crinkles, but if you haven't tried one yet, you're missing out! There's something special about these indulgent treats that make them stand out from the crowd.
The main reason why Dark Mocha Crinkles are so special is because of their rich, complex flavor. The dark chocolate is made from high-quality cocoa beans, and it has a deep, intense flavor that you won't find in other traditional crinkles. It's also complemented by a strong mocha flavor from the addition of espresso powder and ground coffee. The combination of dark chocolate and mocha is a real winning combination!
Another thing that makes Dark Mocha Crinkles stand out is their texture. They're baked to perfection, giving them a crunchy outside and a soft, chewy center. The flavors blend together perfectly, so every bite is a burst of deliciousness.
Finally, Dark Mocha Crinkles are special because they're made with love. Every batch is made with care and attention to detail, ensuring that each treat is as good as the last. These crinkles have become so popular that they've even been featured in magazines and on television shows.
So if you're looking for a delicious and indulgent treat, why not give Dark Mocha Crinkles a try? With their rich flavor and perfect texture, it's no wonder why they're so special.
How do dark mocha crinkles compare to other desserts?
Dark mocha crinkles are a delicious and unique twist on the classic cookie. They have a subtle coffee flavor and a crunchy texture, making them an ideal snack or after-dinner treat. Here's how they compare to other desserts:
They are a great alternative to traditional chocolate chip cookies. The coffee flavor adds a unique twist that is sure to tantalize your tastebuds.
They are perfect for those who love coffee, as the mocha flavor is subtle yet present.
They are a great way to satisfy your sweet tooth without being overly sweet. The slight bitterness of the coffee balances out the sweetness of the cookie.
They are a great way to add a bit of crunch to your dessert. The crunchy texture is sure to keep you coming back for more.
For those who prefer a more traditional dessert, dark mocha crinkles can be enjoyed with a glass of milk or a scoop of ice cream.
What ingredients are needed to make dark mocha crinkles?
Making dark mocha crinkles is easy and fun! All you need are some basic ingredients: flour, baking powder, cocoa powder, sugar, butter, milk, eggs, vanilla extract, and for a richer flavor, coffee. Once you have these ingredients, you're ready to start baking!
First, preheat your oven to 375°F. Then, in a large bowl, mix together the flour, baking powder, cocoa powder, and sugar. In a separate bowl, cream together the butter and sugar until light and creamy, then add in the eggs and mix until combined. Now add the wet ingredients to the dry ingredients, along with the vanilla extract and coffee, and mix until just combined.
Once your dough is ready, scoop it into balls and place them on a greased baking sheet. Bake for 12-15 minutes and let them cool before serving.
How can the recipe for dark mocha crinkles be modified for different occasions?
Yes! Dark Mocha Crinkles are incredibly versatile, and you can customize the recipe for different occasions. Whether you're hosting a dinner party, making a sweet treat for a potluck, or just want to get creative in the kitchen, there are plenty of ways to customize these delicious cookies.
To start, consider mixing in seasonal ingredients. For instance, add a splash of peppermint extract or ground nutmeg and cinnamon for a winter-time spin. For spring, you can add mini marshmallows or white chocolate chips. During the summer, consider adding lemon zest or fresh berries. In the fall, switch up the traditional chocolate chips for butterscotch chips and dried cranberries.
Another way to customize the recipe is to try different flours. If you'd like a heartier cookie, try adding freshly milled buckwheat flour or almond meal. For a more delicate cookie, substitute some of the all-purpose flour for cake flour. And for a gluten-free twist, replace the all-purpose flour with an all-purpose gluten-free flour blend.
Finally, you can customize the Dark Mocha Crinkle recipe by adding different mix-ins. Consider adding chopped nuts, shredded coconut, toffee bits, or mini candy bar pieces. You can also switch up the dark chocolate chips for other flavors like semi-sweet or white chocolate chips.
Whatever occasion you're celebrating, you can modify the recipe for Dark Mocha Crinkles to make the perfect cookie. With a few simple adjustments, you can make the perfect treat for any occasion.
What are some creative ways to serve dark mocha crinkles?
You can get creative with your dark mocha crinkles! Here are some ideas to inspire you. First, try making crinkle sandwich cookies by spreading mocha buttercream between two crinkles. For a more decadent treat, dip the crinkle edges in melted dark chocolate. Another great way to serve dark mocha crinkles is to use them as a topping for ice cream. You can also crumble some of the crinkles and use them to garnish cakes, brownies, or other desserts. Lastly, you can get creative and make a mocha crinkle trifle by layering crinkles with layers of mocha cream and coffee-flavored whipped cream.