Creamy Coconut-Infused Curried Mussels
I love mussels and curries, so when I discovered that I could make a delicious Curried Mussels dish at home, I was ecstatic! It's an easy recipe to make and the end result is always a hit with everyone. The fragrant spices and succulent mussels make a perfect combination that's sure to please even the most discerning palate. Try this Curried Mussels recipe for yourself and experience the deliciousness of this tasty dish!
Curried Mussels Recipe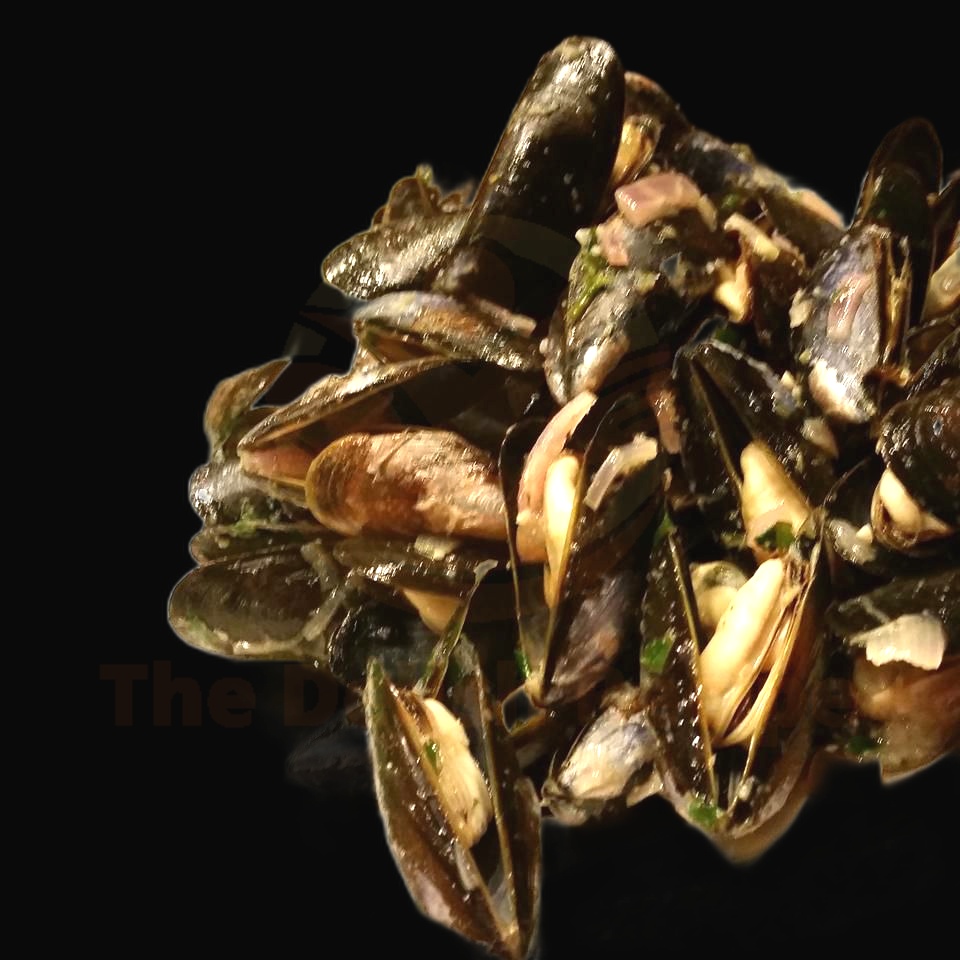 Ingredients
3 lbs. mussels
3 tablespoons olive oil
2 cloves garlic, minced
1 teaspoon curry powder
1/2 teaspoon cumin
1/4 teaspoon turmeric
1/4 teaspoon cayenne pepper
1 large onion, diced
1/4 cup white wine
1/4 cup water
1 tablespoon lemon juice
Salt and pepper to taste
Instructions
Firstly, begin by prepping all of your ingredients! Start by removing any beard from the mussels and discarding any broken or open mussels. Then mince your garlic, dice your onion and measure out all of the spices.
Next, heat the olive oil in a large pot over medium heat. Add in the garlic, curry powder, cumin, turmeric and cayenne pepper. Sauté for 1-2 minutes.
Now add the diced onion to the pot and sauté for another 2-3 minutes until the onion is softened.
Pour in the white wine, water and lemon juice, stir and bring to a simmer.
Add the mussels to the pot, cover and cook for 10 minutes.
After 10 minutes, check to make sure the mussels have all opened. If any have not opened, cover the pot and cook for an additional 5 minutes.
Once the mussels are cooked, remove the pot from the heat and season the mussels with salt and pepper.
Enjoy your delicious curried mussels!
Nutrition Facts
Calories: 169
Total Fat: 8.2g
Saturated Fat: 1.2g
Trans Fat: 0g
Cholesterol: 28mg
Sodium: 142mg
Carbohydrates: 6.7g
Fiber: 2.1g
Sugar: 2.6g
Protein: 13.7g
What makes curried mussels so special?
Curried mussels are truly something special! With a unique combination of spices, this savory dish is sure to tantalize your taste buds. The medley of fragrant flavors, combined with the succulent texture of mussels, creates a one-of-a-kind dish that is sure to please. Whether served as an appetizer or a main course, curried mussels are sure to make any meal memorable.
The star of this dish is undoubtedly the curry powder. A blend of spices including turmeric, cumin, coriander, and paprika, curry powder adds the perfect amount of heat and flavor to the mussels. The creamy base, made with coconut milk and lime juice, adds richness and a hint of tartness. Together, these ingredients create a dish that is both comforting and full of flavor.
To make curried mussels, start by sautéing onions and garlic in a pan with a bit of oil. Add the curry powder and sauté until fragrant. Next, add the mussels and stir until they are coated with the spices. Pour in the coconut milk and lime juice and simmer until the mussels are cooked through. Serve over steamed rice and garnish with fresh cilantro for a flavorful and satisfying dish.
Curried mussels are sure to be a hit with any crowd. So why not give them a try? With a few simple ingredients and a little bit of time, you can have a delicious meal on the table in no time.
What kind of flavors can i expect from curried mussels?
If you're looking for something truly special, then curried mussels should definitely be at the top of your list! The combination of flavourful spices, creamy coconut milk and succulent mussels creates a delicious, mouthwatering dish that you won't forget. You can expect a rich, exotic flavour with a hint of sweetness, as the spices and coconut milk balance each other perfectly. The mussels also add a unique texture to the dish, making it even more enjoyable. From the mild to the more intense flavours, curried mussels is a dish with a unique and unforgettable taste.
What are the health benefits of eating curried mussels?
Eating curried mussels can be incredibly beneficial for your health! Here are some of the top health advantages of adding them to your diet:
Mussels are rich in omega-3 fatty acids, which can help reduce inflammation and improve heart health.
They are high in protein and contain several essential vitamins and minerals, including vitamin B12 and selenium, which are important for cell growth, metabolism, and immunity.
Curried mussels are also a great source of zinc, which can help boost your energy levels and support a healthy immune system.
The healthy fats found in mussels can help reduce the risk of developing diabetes, while the polyunsaturated fats can help protect against heart disease.
Eating curried mussels can also increase your intake of dietary fiber, which can aid in digestion and help you feel fuller for longer.
The antioxidants found in mussels can help protect your cells from damage and reduce the risk of developing certain types of cancer.
What tips can i use to make the perfect curried mussels dish?
Start by heating your mussels in a large pot of boiling water for 3-4 minutes. This will make them easier to peel and will help them absorb the flavor of the curry.
When selecting your mussels, make sure that they are closed and discard any that are open.
For the curry, use a store-bought curry paste for a quick and easy meal. Alternatively, you can make your own curry paste with garlic, ginger, cumin, coriander, turmeric, and chili powder.
To add a bit of extra flavor, you can also add a splash of white wine to the curry.
Once the curry is ready, add the mussels and cook for an additional 5 minutes.
Finally, top off the dish with some fresh herbs, such as parsley or cilantro, and serve with a side of steamed rice.
What kind of ingredients can i use to make curried mussels?
If you're looking to make a delicious curried mussels dish, you'll need a few key ingredients to create the perfect flavor. Firstly, you'll want to use fresh mussels for the best taste and texture. You'll also need a few aromatic spices, such as cumin, turmeric, coriander, and cardamom. You'll also need garlic, onion, ginger, and some vegetables such as carrots, celery, and potatoes. Don't forget about the curry paste! If you don't want to make it from scratch, you can buy pre-made curry paste at most grocery stores. Lastly, you'll need some kind of liquid to create the curry sauce. Coconut milk, vegetable stock, or white wine would all work well. With these ingredients, you can whip up a flavorful curried mussels dish that's sure to impress your guests.
How can i make curried mussels in less than 30 minutes?
You can make delicious curried mussels in less than 30 minutes! All you need is some mussels, a few simple ingredients, and a few easy steps. Here's how:
First, prepare the mussels. Start by rinsing them in cold water and discarding any that are open and don't close when tapped. Then, debeard the mussels if necessary.
Next, heat some oil in a large skillet over medium heat and add some diced onions, garlic, and ginger. Cook until softened, about 3 minutes.
Add curry powder, garam masala, and turmeric to the skillet and stir until fragrant, about 30 seconds. Then, add some white wine and simmer for about 5 minutes.
Now, add the mussels to the skillet and cover with a lid. Cook for about 8 minutes, or until the mussels have opened. Discard any that don't open.
Finally, stir in some fresh cilantro and season with salt and pepper to taste. Serve hot with crusty bread or steamed white rice.