Delicious Homemade Crumpets Recipe
I have been making crumpets for years, and they never fail to make my mouth water! The smell of the crumpets toasting in the pan is one of the best smells in the world, and the taste of the finished product is even better. The crumpets are so light and fluffy, they melt in your mouth. I'm so excited to share this recipe with you so you can experience the deliciousness of crumpets for yourself!
Crumpets Recipe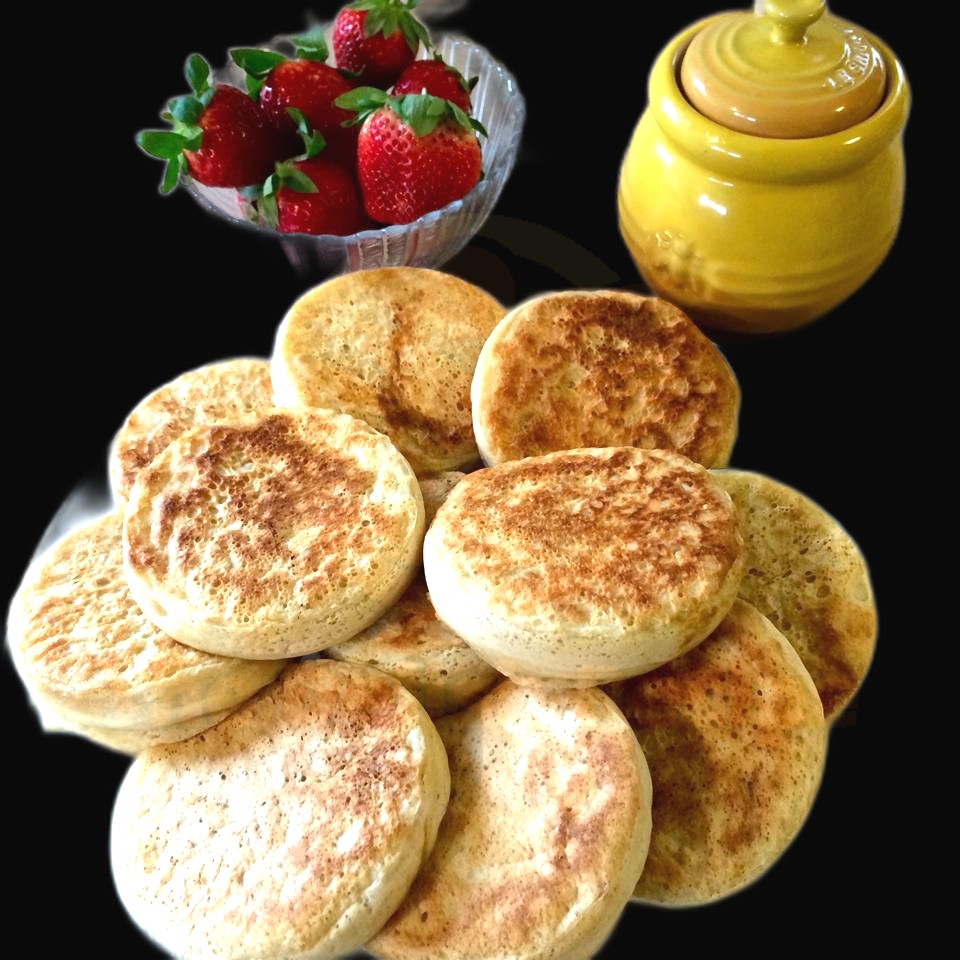 Ingredients
1 cup of all-purpose flour
1 teaspoon baking soda
1 tablespoon baking powder
1 teaspoon of sugar
1/2 teaspoon of salt
1 cup of milk
2 tablespoons of butter, melted
2 tablespoons of honey
Instructions
Gather all of your ingredients for the crumpets. You will need 1 cup of all-purpose flour, 1 teaspoon of baking soda, 1 tablespoon of baking powder, 1 teaspoon of sugar, 1/2 teaspoon of salt, 1 cup of milk, 2 tablespoons of butter, melted, and 2 tablespoons of honey.
In a medium-sized bowl, mix together the flour, baking soda, baking powder, sugar, and salt.
In a separate bowl, whisk together the milk, melted butter, and honey.
Pour the wet ingredients into the dry ingredients and mix until combined.
Grease a griddle or skillet with butter or oil and heat it over medium-high heat.
Drop a spoonful of the batter onto the griddle and cook for about 1 minute, or until the edges are set.
Flip the crumpet and cook for an additional minute or two.
Remove the crumpet from the pan and repeat with the remaining batter.
Enjoy your homemade crumpets warm with butter, honey, or jam!
Nutrition Facts
Calories: 473
Fat: 15.6g
Carbohydrates: 73.7g
Protein: 10.2g
Sodium: 945mg
What is a crumpet and why should you try one?
If you haven't tried a crumpet, you're missing out! Crumpets are a classic English snack comprised of a thick, spongy cake made with yeast, flour, and salt. They're usually served toasted and buttered, and they're an ideal accompaniment to a cup of tea.
Though they're often compared to English muffins, crumpets are much lighter and more moist. The texture is spongy and almost honeycomb-like, and the flavor is subtle and slightly sweet. Crumpets are traditionally cooked in a cast-iron griddle or a special crumpet ring, which gives them the classic holes in the top.
There's no wrong way to enjoy a crumpet—you can keep it simple with a pat of butter and a sprinkle of salt, or you can get creative and top it with your favorite jam, Nutella, or honey. Crumpets also make a great base for a savory snack, like an egg and cheese sandwich.
What are the health benefits of eating crumpets?
You may not have realized it, but eating crumpets can have a range of health benefits!
Crumpets are a great source of fiber and complex carbohydrates, both of which provide sustainable energy throughout the day.
Crumpets are made with whole wheat flour, giving them a high nutrient content and helping to reduce cholesterol levels.
The combination of fiber, complex carbohydrates, and whole wheat flour can help improve digestion and reduce the risk of diseases such as diabetes and heart disease.
Crumpets are low in fat and calories, making them a great snack for those looking to maintain a healthy weight.
Eating crumpets can also give you a boost of calcium and magnesium, two essential minerals for strong bones and healthy teeth.
Crumpets are also a great source of iron, which helps to keep your energy levels high and your immune system strong.
Finally, eating crumpets can help you get that much-needed daily dose of B vitamins, which can help boost your mood and energy levels.
What are some of the unique characteristics of a crumpet?
You may not have heard of crumpets before, but you're missing out! These delicious treats have a few unique characteristics that set them apart from other bread items. First, crumpets are made from a thick batter. This batter is then cooked in a special mold that gives the crumpet its signature shape and holes. Once cooked, the crumpet will have a spongy texture, with a crisp exterior.
Another characteristic of crumpets is their flavor. They have a slightly sweet taste that pairs perfectly with a range of topping. Whether you prefer jam, honey, or nut butter, you can create a delicious combination with crumpets. Plus, the spongy texture of the crumpet will hold up to whatever you choose to spread on top.
Finally, crumpets are also a great ingredient to use in recipes. Whether you want to make a savory breakfast dish or a sweet dessert, crumpets are the perfect base. They are especially great for French toast or bread pudding. So get creative and try out some new recipes with crumpets!
Crumpets may not be as popular as other bread items, but they are definitely worth trying. With their unique shape, flavor, and texture, crumpets are a great addition to any meal.
What are the different ways to serve crumpets?
There are so many delicious and creative ways to enjoy crumpets! To start, you can top them with melted butter and a dash of honey for a sweet and savory snack. Or, try some classic toppings like jam, Nutella, peanut butter, or cream cheese for a satisfying breakfast. For lunch or dinner, get creative with a variety of ingredients such as smoked salmon, cream cheese and capers, or pesto, feta cheese, and tomato. Crumpets are also great when toasted and topped with melted cheese and your favorite herbs or spices. And if you're in a rush, you can always just grab a crumpet and munch away. No matter how you choose to enjoy them, crumpets are always a delicious and healthy way to start your day.
What are some creative ideas for topping crumpets?
When it comes to topping your crumpets, the options are endless! Whether you're looking for something sweet or savory, you can get creative and come up with some delicious topping ideas. Here are some of our favorite ideas for topping your crumpets:
Spread a layer of nut butter or honey and top with fresh berries for a sweet and crunchy snack.
Sprinkle your crumpet with shredded cheese and add a few slices of tomato and spinach for a savory lunch.
Top with a fried egg and crispy bacon for an indulgent breakfast treat.
Make a crumpet sandwich and layer with cream cheese and smoked salmon.
Spread a layer of cream cheese and top with fresh herbs and a sprinkle of cracked pepper.
Add a dollop of jam or preserves for a classic sweet treat.
Mix up a savory spread and top with your favorite herbs and spices.
With so many possibilities, you'll never get bored of topping your crumpets! Get creative and come up with some delicious combinations and enjoy.