Cinnamon Chip Heaven: Deliciously Sweet And Moist Scones
I love baking scones, and the Cinnamon Chip Scones I recently made were absolutely delicious! With the sweet aroma of cinnamon wafting through my kitchen, I was excited to try them for the first time. The scone dough was light and fluffy, and when I added the cinnamon chips, I could barely contain my excitement. After baking, the scones were golden brown and the chips made them even more flavorful. Enjoy these warm Cinnamon Chip Scones with your favorite cup of tea or coffee!
Cinnamon Chip Scones Recipe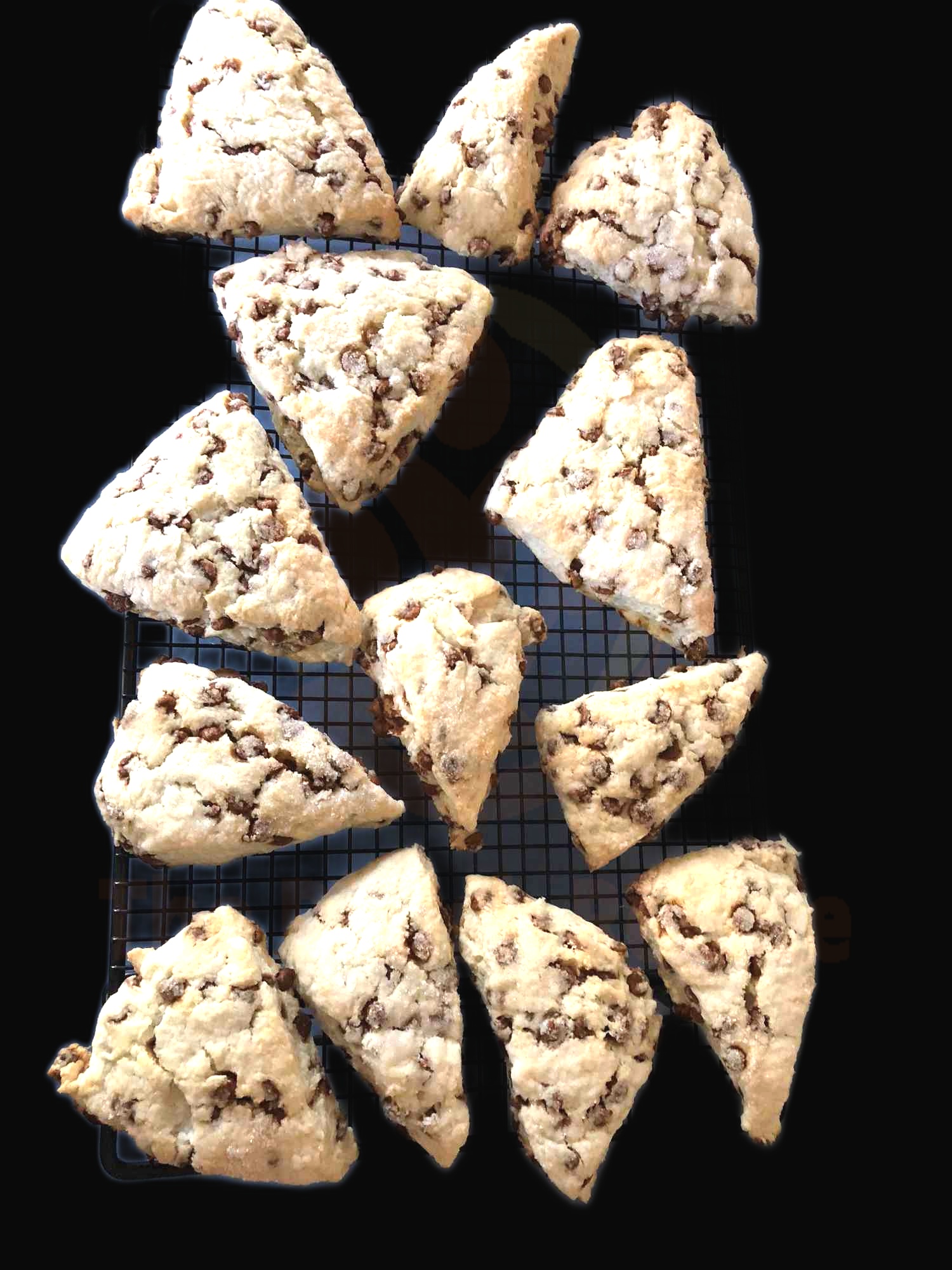 Ingredients
2 cups all-purpose flour
4 teaspoons baking powder
1/4 teaspoon salt
1/4 cup white sugar
1/2 cup cold butter, cut into cubes
1/2 cup cinnamon chips
2/3 cup half-and-half
1 teaspoon pure vanilla extract
Instructions
Preheat your oven to 375 degrees F.
In a large bowl, combine the all-purpose flour, baking powder, salt, and sugar and mix them together.
Cut the cold butter into cubes and add them to the flour mixture. Use a pastry blender or a fork to cut the butter into the flour until the mixture resembles small pebbles.
Add the cinnamon chips to the mix and stir them in.
In a separate bowl, combine the half-and-half, vanilla extract, and melted butter.
Pour the wet ingredients into the dry ingredients and use a rubber spatula to mix them together.
Form the dough into a ball and place it on a lightly floured work surface.
Pat the dough into a circle about 1/2 inch thick. Cut the circle into 8 triangles.
Place the scones onto a baking sheet and bake them for 20 minutes or until golden brown.
Let the scones cool for 5 minutes on the baking sheet and then transfer them to a wire cooling rack.
Enjoy your warm, delicious cinnamon chip scones!
Nutrition Facts
Calories: 431
Total fat: 20g
Saturated fat: 12g
Cholesterol: 49mg
Sodium: 341mg
Carbohydrates: 54g
Sugar: 14g
Protein: 6g
Fiber: 2g
What is so special about cinnamon chip scones?
Cinnamon chip scones are so special because they are a delicious treat that can be enjoyed for breakfast, brunch, or as an indulgent snack. Not only are they packed with warm and spicy cinnamon flavor, but they also have delightful chunks of sweet chips that add a delightful crunch and sweetness. The combination of the sweet and spicy flavors makes them irresistible and sure to be a hit with any crowd! Plus, they're surprisingly easy to make and require only a few simple ingredients.
Do cinnamon chip scones take a long time to make?
No way! Cinnamon chip scones take no time at all to make. In fact, you can whip up a batch of these delicious treats in just 45 minutes. That's right, you can be enjoying a warm and cozy cinnamon chip scone in no time!
To make cinnamon chip scones, you'll need to gather some ingredients. You'll need flour, baking powder, baking soda, salt, butter, sugar, eggs, and of course, cinnamon chips. Start by preheating your oven to 375°F and then sift together the dry ingredients in a bowl. Next, cut the butter into small cubes and add them to the dry ingredients. Then, use a pastry cutter to incorporate the butter until the mixture resembles coarse meal.
In a separate bowl, whisk together the eggs and sugar. Then, add the liquid mixture to the dry ingredients and mix until everything is evenly combined. Finally, fold in the cinnamon chips and pour the dough onto an ungreased baking sheet.
Shape the dough into circles and brush the tops with melted butter. Bake the scones for 15-18 minutes, or until they are golden brown. Let them cool for 5 minutes before serving.
What are some tips and tricks to making the perfect cinnamon chip scones?
Use cold butter: incorporating cold butter into the scone mixture is essential to create a light, fluffy texture. Cut the butter into small cubes, and then use your fingers to work the pieces into the dry ingredients.
Add the cinnamon chips sparingly: Too many cinnamon chips can lead to a denser texture. Gradually add the chips, tasting as you go and stopping when you reach the desired level of sweetness.
Glaze for an extra kick: A glaze made with powdered sugar and a splash of milk will make your scones extra delicious.
Use a biscuit cutter: Using a biscuit cutter will give you the perfect round shape for your scones.
Let them cool: Allow your scones to cool for about ten minutes before serving. This will give them time to set and ensure that they don't fall apart when you bite into them.
Are cinnamon chip scones a great snack or dessert?
Yes! Cinnamon chip scones are a great snack or dessert! Not only do they taste delicious, but they're also incredibly easy to make.
These scrumptious treats are made with simple pantry ingredients that you can quickly mix together and bake. The combination of cinnamon, sugar, butter and chips give these scones a sweet, comforting flavor that is sure to satisfy your sweet tooth.
The best part is that you can enjoy them any time of day. Whip up a batch for a quick snack, have them as a dessert after dinner, or enjoy them with a cup of coffee in the morning. The possibilities are endless!
Cinnamon chip scones are also surprisingly versatile. You can customize them to suit your taste. Add in some dried fruit or nuts for a bit of crunch. You can also switch out the chips for chocolate or butterscotch chips, or use a combination of both.
Overall, cinnamon chip scones make a great snack or dessert that is sure to delight your taste buds. With its delicious flavor and easy preparation, these scones will quickly become a favorite in your household.
What do cinnamon chip scones taste like?
Cinnamon chip scones are a delicious treat for breakfast or dessert! They have a light and fluffy texture, with a hint of cinnamon spice and bursts of sweet chocolate chips. The combination of the two flavors creates a delightful balance on the palate that is sure to please any sweet tooth. The cinnamon also helps to bring out the sweetness of the chocolate chips and provides an extra layer of flavor and complexity. They are the perfect way to start off your morning or enjoy as a snack in the afternoon.