A Taste Of Peru: Shrimp Chowder Chupe
As a long-time lover of seafood, there are few dishes that compare to the deliciousness of Chupe. This traditional Peruvian shrimp chowder has been a part of my family for generations, and I'm excited to share it with you. This creamy chowder is full of flavor, with a mild heat that keeps it from overwhelming the palate. The combination of fresh shrimp, potatoes, and aromatic spices make it a dish that I can't get enough of. With its simple yet flavorful ingredients, Chupe is a dish that is sure to please even the most discerning eaters. So let's get cooking – it's time to make a delicious and comforting Chupe!
Chupe (Peruvian Shrimp Chowder) Recipe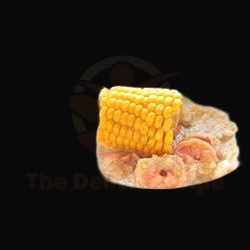 Ingredients
12 large shrimp, peeled, deveined and rinsed
3 tablespoons olive oil
1 onion, diced
3 cloves garlic, minced
1 teaspoon ground ají amarillo
1 teaspoon ground cumin
2 tablespoons achiote paste
1 teaspoon dried oregano
1/2 teaspoon smoked paprika
2 tablespoons tomato paste
2 cups vegetable or chicken broth
1/2 cup heavy cream
1/2 cup white wine
2 potatoes, peeled and diced
1/2 cup corn kernels
1/4 cup green peas
1/4 cup cooked quinoa
1 teaspoon freshly-squeezed lemon juice
Salt and pepper, to taste
Chopped fresh cilantro, for garnish
Instructions
To make this delicious Chupe (Peruvian Shrimp Chowder), let's get started!
Heat up 3 tablespoons of olive oil in a large pot over medium-high heat. Once the oil is hot, add in the diced onion and minced garlic. Sauté for about 2 minutes, stirring occasionally.
Now, add in the ground ají amarillo, ground cumin, achiote paste, dried oregano, and smoked paprika. Stir everything together and cook for another 2 minutes.
Add in the tomato paste, vegetable or chicken broth, heavy cream, and white wine. Stir everything together and bring to a boil.
Once boiling, reduce the heat to low and add in the peeled and diced potatoes, corn kernels, green peas, cooked quinoa, and peeled, deveined, and rinsed shrimp. Simmer for 25-30 minutes until all the vegetables and shrimp are cooked through.
To finish, add in a teaspoon of freshly-squeezed lemon juice, salt and pepper to taste, and chopped fresh cilantro for garnish.
Congratulations! You've now made a delicious and hearty Chupe (Peruvian Shrimp Chowder). Enjoy!
Nutrition Facts
Calories: 542
Fat: 34g
Carbohydrates: 37g
Protein: 19g
Sodium: 872mg
Cholesterol: 151mg
Fiber: 6g
Sugar: 8g
What is chupe and why is it special?
Chupe is a traditional Peruvian shrimp chowder that is truly special! It's a thick and flavorful soup that's prepared with a variety of fresh ingredients, like shrimp, potatoes, onions, garlic, and cilantro. The soup is also often enhanced with either aji amarillo (a type of yellow chili pepper) or aji panca (a type of red chili pepper). The combination of flavors creates a unique and incredibly delicious soup that's sure to tantalize your taste buds.
Aside from its amazing flavor, chupe is also special because of its nutritional benefits. Shrimp is a great source of protein, and its also low in calories and fat. The potatoes, onions, and garlic provide carbohydrates, vitamins, and minerals. The peppers provide an extra boost of vitamins and antioxidants. All of these ingredients come together to make a hearty and healthy soup that's sure to give you a nutritional boost.
Chupe is a classic Peruvian soup that is sure to tantalize your taste buds and provide you with a nutritional boost.
Where does chupe come from?
Chupe is a traditional Peruvian dish made of shrimp and a creamy broth. While the exact origin of chupe is unknown, it is believed to have been around for centuries. Chupe is made with a mixture of shrimp, potatoes, and seasonings cooked in a creamy, cheesy broth. It can be served as an appetizer or a main course and is often accompanied by rice. The dish is a favorite in Peru and is a popular dish throughout Latin America. Thanks to its rich flavor and creamy texture, chupe has gained global recognition, often featuring on menus in restaurants around the world.
How do you make chupe?
Making Chupe is surprisingly easy, and it's sure to be a crowd pleaser! Here's how to make this classic Peruvian shrimp chowder:
Preheat your oven to 375°F.
Place 12-15 shrimp in a shallow baking dish and season with salt and pepper.
Bake the shrimp for 8-10 minutes until they are opaque and cooked through.
Remove the shrimp from the oven and let cool for a few minutes before peeling and deveining.
In a large pot, heat 2 tablespoons of vegetable oil over medium heat. Add 1 chopped onion, 1 chopped red bell pepper, and 1 minced garlic clove and cook until the vegetables are softened, about 5 minutes.
Add 4 cups of chicken broth, 1/2 teaspoon of ground cumin, and 1/2 teaspoon of ground coriander to the pot and bring to a boil.
Reduce the heat to low and simmer for 10 minutes.
Add the cooked shrimp, 1/2 cup of heavy cream, and 1/4 cup of chopped parsley and simmer for 5 minutes.
Season with salt and pepper to taste.
To serve, ladle the chupe into bowls and top with extra parsley and a generous squeeze of fresh lime juice.
What ingredients are used to make chupe?
Chupe is a delicious Peruvian shrimp chowder that is made with a variety of ingredients. It typically includes shrimp, potatoes, corn, eggs, garlic, onion, cilantro, aji amarillo (Peruvian yellow chili pepper), cumin, and sometimes cheese. All of these ingredients are cooked together in a flavorful broth, creating an incredibly flavorful and hearty dish. The finished chupe is usually served with a sprinkle of fresh parsley or cilantro and a slice of lemon or lime.
What makes chupe a great dish?
Chupe is an amazing Peruvian dish that is sure to tantalize your taste buds! This delicious shrimp chowder is bursting with flavor, thanks to its combination of rich spices, creamy textures, and fresh vegetables, all of which work together to create a comforting and satisfying meal. The shrimp adds a nice meaty texture and the vegetables provide a bright and colorful contrast. All of these components make chupe an incredibly tasty and nutritious dish that is sure to please any palate.
How can you serve chupe to make it a complete meal?
Serving chupe as a complete meal is easy and delicious! This Peruvian shrimp chowder is packed with flavor and makes for a hearty and satisfying dinner. To make a complete meal out of chupe, you can add a few simple sides.
A light salad of lettuce, tomatoes, and cucumbers, dressed with olive oil and lemon juice, makes a great accompaniment. You can also add a side of steamed white rice or boiled potatoes to round out the meal. For a little extra protein, serve chupe with a side of cooked eggs or a fried piece of fish.
To add some crunch, you can also serve chupe with toasted bread or crackers, or with a side of fried plantains or yuca fries. These sides are all simple, flavorful, and will help make your chupe into a delicious and filling meal.
So don't forget to add some sides to your chupe! It's an easy way to turn this Peruvian chowder into a complete and satisfying meal for all to enjoy.