These Chocolate Mint Cookies have a crispy outside and a soft, chewy inside. They are made with real chocolate and mint extract, and they are perfect for the holidays or any time you want a special treat!
Ingredients
-1 cup butter, softened
-1 cup sugar
-2 tablespoons water
-2 cups semisweet chocolate chips
-2 eggs
-3 cups all-purpose flour
-1 teaspoon baking soda
-½ teaspoon salt
-36 chocolate mint wafer candies
Instructions
1. In a large pan over low heat, cook butter, sugar and water until butter is melted.
2. Add chocolate chips and stir until partially melted. Remove from heat and continue to stir until chocolate is completely melted. Pour into a large bowl and let stand 10 minutes to cool off slightly.
3. At high speed, beat in eggs, one at a time into chocolate mixture. Reduce speed to low and add dry ingredients, beating until blended. Chill dough about 1 hour.
4 5 Preheat oven to 350 degrees F (175 degrees C). Roll dough into balls and place on ungreased cookie sheet about 2 inches apart
Nutrition Facts
Serving size: 1 cookie
Calories: 120
Fat: 7g
Saturated fat: 4g
Unsaturated fat: 2.5g
Trans fat: 0g
Carbohydrates: 15g
Sugar: 10g
Fiber: 1g
Protein: 2g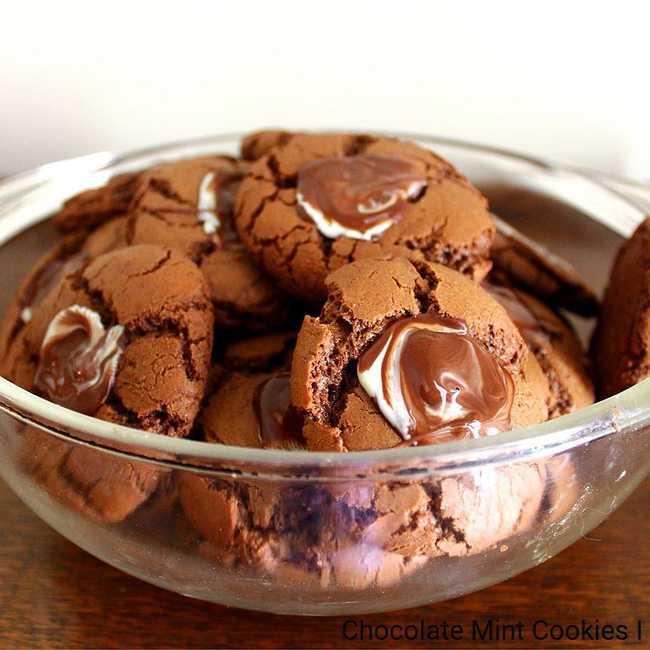 What can I make with chocolate mint chips?
There are a variety of recipes that can be made with chocolate mint chips. Some examples include mint chocolate chip cake, pancakes, cupcakes, brownies, and whoopie pies. These recipes generally utilize the chocolate chips in the batter or frosting, providing a delightful mint flavor. Other recipes call for melting the chocolate chips down to create a decadent ganache or glaze.
When it comes to baking with chocolate mint chips, the options are endless. For those who enjoy making cakes at home, a classic mint chocolate chip cake is always a hit. This recipe typically calls for green food coloring to give the cake an extra festive touch. If you're looking for something on the lighter side, pancakes are also a great option – simply add some chocolate mint chips to your favorite pancake recipe and enjoy!
For those who prefer cupcakes over cake, these can also be easily made with chocolate mint chips. Simply bake your favorite cupcake recipe and then top with a homemade frosting made with melted chocolate mint chips mixed into buttercream icing. The result is an irresistible treat that's perfect for any occasion!
Brownies are another delicious option when it comes to baking with chocolate mint chips. One easy way to make them is by using a boxed brownie mix and adding some melted chocolatemint ips into the batter before baking accordingto package directions. You could also try making cheesecake brownies – simply prepare your brownie batter as usual but add in some cream cheese before pouring into the panand bake as directed.
Can you add mint extract to chocolate chip cookies?
Mint extract is a clear, greenish-brown liquid with a characteristic minty odor. It is used to flavor many foods and beverages, including chocolate chip cookies.
Yes, you can add mint extract to chocolate chip cookies. The mint extract will give the cookies a refreshing flavor and make them perfect for holidays such as Christmas or Saint Patrick's Day.
How do you make chocolate mint cookies?
Chocolate mint cookies are a delicious and easy-to-make treat that are perfect for any occasion. Here is a simple recipe to follow:
Preheat oven to 350°F. Line 2 baking sheets with parchment paper. Using an electric mixer, beat butter and sugar in large bowl until well blended. Beat in eggs and peppermint extract. Add flour and cocoa powder; mix until well blended. Drop dough by rounded tablespoons onto prepared baking sheets. Bake cookies until edges begin to firm but center still appears soft, about 9 minutes.
Can you add peppermint extract to cookie dough?
You can absolutely add peppermint extract to cookie dough! In fact, adding peppermint extract is a great way to give your cookies a little extra flavor. The dough is simple, with all the right things: butter, flour, eggs, baking powder, salt, and both vanilla and peppermint extracts. Rolling them in sugar before they hit the cookie sheet gives them a little sparkle and crunch.
Can I add mint extract to chocolate chip cookies?
Mint chocolate chip cookies are very easy to make from scratch. All you need to do is cream some butter and sugar together, mix in an egg and some peppermint extract, add the dry ingredients and mint chocolate chips, and bake up some tasty cookies.
So can you add mint extract to chocolate chip cookies? The answer is yes! Mint extract will give your cookies a refreshing flavor that is perfect for summertime. Just be sure to use peppermint extract rather than spearmint extract, as the latter can be quite overpowering.