Chocolate Cookie Buttercream Frosting
This is the best Chocolate Cookie Buttercream Frosting recipe! It's so easy to make and only requires a few ingredients that you probably already have in your pantry. This rich and creamy frosting is perfect for topping cakes, cupcakes, or cookies.
Ingredients
1/2 cup butter, softened
1 cup confectioners' sugar
1/4 cup cocoa powder
1 teaspoon vanilla extract
1/4 cup milk
Instructions
In a mixing bowl, cream together the butter, confectioners' sugar, cocoa powder, and vanilla extract. Slowly add in the milk until the frosting reaches a spreadable consistency. Spread on top of chocolate cookies or other cookies or bars of your choice. Enjoy!
Nutrition Facts
Serving Size: 1
Calories: 120
Fat: 7 g
Saturated Fat: 4.5 g
Unsaturated Fat: 2.5 g
Trans Fat: 0 g
Cholesterol: 20 mg
Sodium: 60 mg
Carbohydrates: 16 g
Fiber: 1 g
Sugar : 14g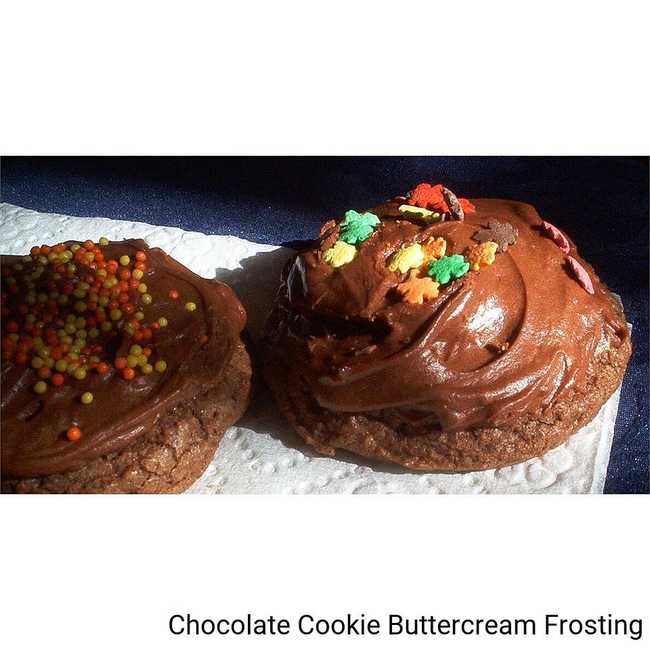 What kind of frosting goes on cookies?
There are many different types of frosting that can be used on cookies, but one of the most popular and versatile is buttercream frosting. Buttercream frosting is made from fat (butter) and sugar, and the way you choose to combine these ingredients can change the consistency and type of buttercream frosting that you end up with.
One common way to make buttercream frosting is to cream together butter and sugar until they are light and fluffy, then add in milk or cream to thin out the mixture as desired. This results in a smooth, spreadable frosting that can be easily piped or spread onto cookies. Another way to make buttercream is to cook sugar and milk together until it forms a thick syrup, then add this hot syrup into softened butter while whisking vigorously. This creates a much lighter, fluffier icing that is perfect for decorating cakes or cupcakes.
No matter which method you use, there are endless possibilities when it comes to flavoring your buttercream icing. You can add in extracts like vanilla or almond, chocolate chips or cocoa powder for a chocolate flavor, fruit purees for fruity flavors, or even spices like cinnamon or nutmeg.
Can I use cookie icing to decorate a cake?
Cookie icing, also known as royal icing or flood icing, is a type of icing made from sugar, water, and meringue powder. It is often used to decorate cookies, hence its name. However, cookie icing can also be used to decorate cakes.
When making cookie icing, it is important to note that the mixture should be thick but still pourable. If it is too thin, it will run off the cake; if it is too thick, it will be difficult to spread evenly on the cake surface. Once you have achieved the desired consistency, you can then proceed to decorating your cake with cookie icing.
One thing to keep in mind when using cookie icing on cakes is that since this type of icing hardens as it dries, any mistakes made while decorating will be permanent. Therefore, take your time and be careful while applying the icing to avoid any mishaps. Additionally, since cookieicing is best used when warm, dripping designs may not work well since the buttercream could melt – in this case we suggest using our easy ganache recipe instead (which uses Candy Melts candy and heavy whipping cream).
Can cookie icing be used on cakes?
No, cookie icing cannot be used on cakes. Cookie icing is best used when warm, and if you were to use it for a drip cake design, the buttercream would melt. We suggest using our easy ganache recipe instead, which is made with Candy Melts candy and heavy whipping cream.
Can I use buttercream to decorate cookies?
Yes, you can absolutely use buttercream to decorate cookies! In fact, it's one of the most popular ways to decorate them. Buttercream is very easy to work with compared to royal icing, and it has a delicious flavor that everyone will love. You don't need any fancy equipment to decorate gorgeous cookies with buttercream – all you need is a piping bag and some creativity.
What is the difference between cookie frosting and cake frosting?
When it comes to decorating baked goods, there are two main types of frosting: cookie frosting and cake frosting. Both have their own unique properties that make them ideal for different purposes.
Cookie frosting is generally thicker than cake frosting, making it better suited for cookies that can support a heavier coating. This type of frosting is also typically more brightly colored and decorated than cake frosting, which gives cookies a fun and festive look.
Cake frosting, on the other hand, is thinner and often used as a glaze or filling between layers of cake. It can also be used to create delicate designs on the top of a cake. Because it's thinner than cookie Frosting, it's less likely to crack or break when applied to cakes.