Crispy And Cheesy Chicken Tortilla Bake
I have been making this Chicken Tortilla Bake recipe for years now and it's always a hit! This delicious, cheesy casserole is so easy to make and always packs a ton of flavor. I love how the tortillas become crispy yet still remain soft and chewy on the inside. Plus, it's a great way to use up leftover chicken or rotisserie chicken in a new and exciting way. Give this Chicken Tortilla Bake a try and you won't be disappointed!
Chicken Tortilla Bake Recipe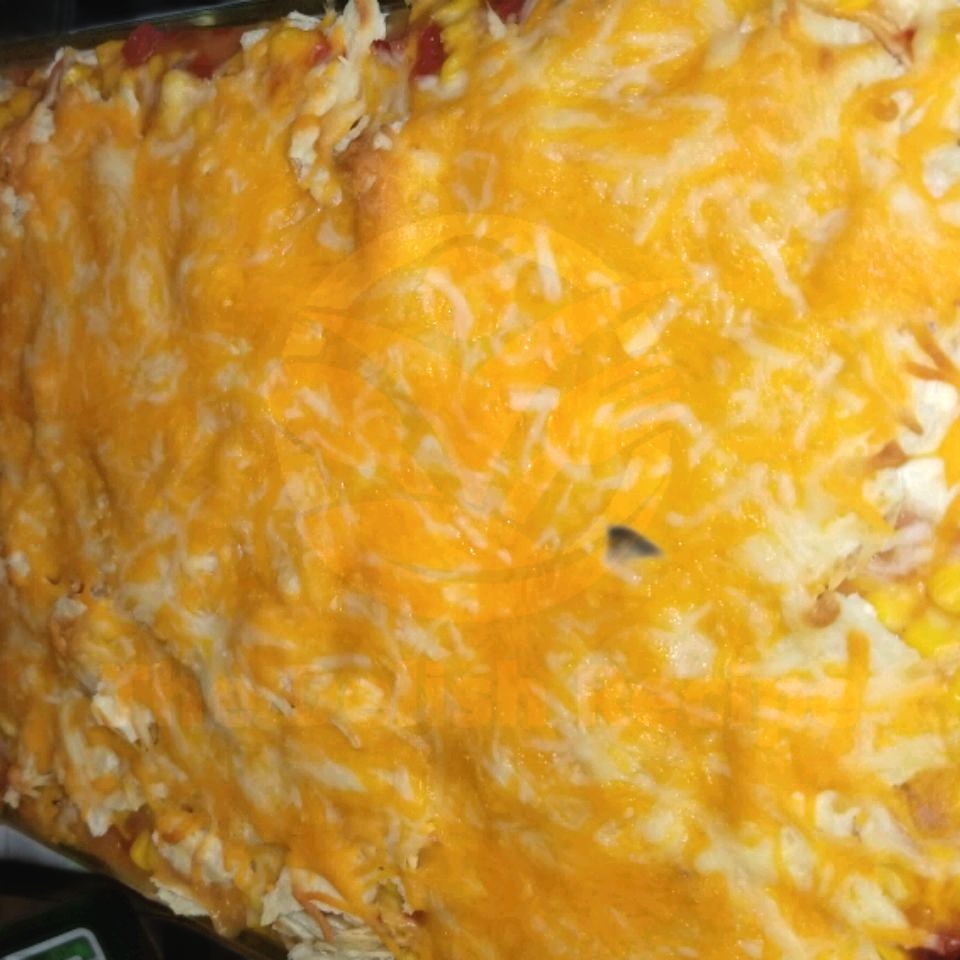 Ingredients
3 boneless, skinless chicken breasts, diced
1/2 teaspoon garlic powder
1/2 teaspoon onion powder
1/2 teaspoon chili powder
1/4 teaspoon paprika
1 teaspoon cumin
2 tablespoons olive oil
1/2 cup chicken broth
1 can (14.5oz) diced tomatoes
1 can (4.5oz) diced green chiles
1/2 cup frozen corn
2 tablespoons lime juice
4-6 (6-inch) corn tortillas, cut into strips
1/2 cup shredded cheddar cheese
1/4 cup chopped fresh cilantro
Instructions
Preheat oven to 350°F.
In a large bowl, combine diced chicken, garlic powder, onion powder, chili powder, paprika, cumin, olive oil and chicken broth.
Mix together until chicken is evenly coated.
Grease a 9×13 inch baking dish with cooking spray and spread chicken mixture in the dish.
In a medium bowl, mix together diced tomatoes, diced green chiles, frozen corn, lime juice and tortilla strips.
Pour the tomato mixture over the chicken.
Top with cheese and cilantro.
Cover the baking dish with aluminum foil and bake in preheated oven for 30 minutes.
Remove foil and bake for an additional 25 minutes.
Serve hot. Enjoy!
Nutrition Facts
Calories: 350
Fat: 14g
Carbohydrates: 30g
Fiber: 2g
Sugar: 4g
Protein: 22g
Sodium: 670mg
Cholesterol: 50mg
What is chicken tortilla bake?
Chicken Tortilla Bake is a Mexican-inspired dish that is both flavorful and easy to make. It is a layered casserole made with shredded chicken, tortillas, cheese, and various other ingredients. The dish is often cooked in the oven and served hot, making it a great option for a family dinner. It is popular among both kids and adults alike, and can be customized to suit different tastes.
What health benefits does chicken tortilla bake offer?
Chicken Tortilla Bake is a nutritious meal that offers a variety of health benefits.
It is a great source of lean protein, with cooked chicken providing around 25 grams of protein per 3-ounce serving. This helps your body build and repair muscle, and also helps keep you feeling full and satisfied.
Chicken Tortilla Bake is also packed with essential vitamins and minerals. Chicken is a good source of B vitamins, such as thiamin, riboflavin, niacin, and vitamin B6, which are all important for energy production and metabolism. Additionally, it provides minerals like phosphorus, selenium, and zinc.
Eating a balanced diet can help reduce the risk of chronic diseases and Chicken Tortilla Bake can be a tasty and healthy way to get essential nutrients. The vegetables, such as tomatoes and peppers, add additional vitamins and minerals, while the cheese and tortillas add calcium and fiber.
Finally, Chicken Tortilla Bake is low in calories, which can help with weight management. A single serving contains around 350 calories, making it a great option for those looking to maintain a healthy weight.
What tips can you offer for making chicken tortilla bake?
Preheat the oven to 350 degrees Fahrenheit.
Begin by spraying an oven-safe baking dish with non-stick cooking spray and layer the bottom with 1/3 of the tortilla chips.
Spread 1/2 of the cooked, shredded chicken over the chips, followed by 1/2 of the black beans, 1/2 of the corn, and 1/3 of the cheese.
Top with 1/2 of the salsa and 1/2 of the enchilada sauce.
Repeat the layers using the remaining ingredients, ending with the last 1/3 of the chips and cheese.
Bake for 25 minutes or until the cheese is melted and bubbly.
Serve with your favorite toppings such as sour cream, diced tomatoes, jalapenos, cilantro, and green onions.
What ingredients are needed to make chicken tortilla bake?
To make a delicious chicken tortilla bake, you will need the following ingredients: cooked chicken, canned tomatoes and green chilies, taco seasoning, cream of mushroom soup, sour cream, shredded cheese, and corn tortillas. Additionally, you may want to add some diced onions, jalapenos, or other vegetables.
To start, preheat the oven to 375 degrees. In a large bowl, combine the cooked chicken, tomatoes and green chilies, taco seasoning, cream of mushroom soup, sour cream, and shredded cheese. Mix until everything is evenly combined.
Then, spread about a cup of the mixture in a 9×13 baking dish. Place several uncooked corn tortillas on top of the mixture, then spread over the remaining chicken mixture. Place more tortillas on top, and sprinkle with more cheese.
Bake in the preheated oven for 25-30 minutes, until the cheese is melted and lightly browned. Let cool for 5 minutes before serving.
How long does it take to prepare and cook chicken tortilla bake?
It takes approximately 45 minutes to prepare and cook a chicken tortilla bake.
A chicken tortilla bake is a delicious Mexican-style dish that makes for a great weeknight meal. It's easy to make and can be made ahead of time and kept in the refrigerator until ready to bake. This dish is loaded with flavor, thanks to a combination of chicken, corn tortillas, tomatoes, beans, and cheese.
To make chicken tortilla bake, start by preheating the oven to 350°F. Next, prepare the chicken by seasoning it with a mixture of chili powder, garlic powder, cumin, and salt. Heat some oil in a large skillet over medium-high heat. Add the chicken and cook until browned and cooked through.
While the chicken is cooking, prepare the tortilla chips by crushing them into bite-size pieces. Place the tortilla chips in the bottom of a 9×13-inch baking dish. Top with the cooked chicken, beans, tomatoes, and cheese.
In a medium bowl, whisk together the enchilada sauce, sour cream, and milk. Pour the sauce mixture over the top of the ingredients in the baking dish. Sprinkle with additional cheese, if desired.
Bake for 30 minutes, or until the cheese is melted and bubbly. Let cool for 10 minutes before serving. Enjoy!
With a bit of preparation and some simple ingredients, it takes 45 minutes to make a delicious chicken tortilla bake.
What variations can you make to chicken tortilla bake?
When it comes to chicken tortilla bake, there are endless variations you can make to customize the dish to your liking. Here are a few ideas to get you started:
Change up the type of cheese: While a traditional chicken tortilla bake calls for cheddar cheese, you can switch it up by using Monterey Jack, pepper jack, queso fresco, or even a combination of different cheeses.
Spice it up: For a spicier version of chicken tortilla bake, try adding some diced jalapenos or a few tablespoons of your favorite hot sauce to the mix.
Add vegetables: You can easily turn your chicken tortilla bake into a one-dish meal by adding some chopped bell peppers, onions, mushrooms, or even some frozen corn or black beans.
Use different types of tortillas: Instead of using the same type of tortillas every time, switch it up by using corn tortillas, flour tortillas, or even spinach or tomato-flavored tortillas.
Top it off with your favorite toppings: Give your chicken tortilla bake a unique flavor by adding some chopped olives, diced tomatoes, cilantro, or even some sliced avocados to the top.
By making a few simple changes to your chicken tortilla bake, you can quickly and easily create a unique and delicious dish that is sure to please even the pickiest eaters.