Delicious Cherimoya-Almond Cake Recipe
I'm always on the lookout for new and delicious desserts, and this Cherimoya-Almond Cake definitely fits the bill! Made with sweet and creamy cherimoya and crunchy almonds, this cake is a real treat that's sure to become a family favorite. It's really easy to make too – just combine the ingredients, pour into a greased cake pan, and bake. The result is a moist, flavorful cake that's sure to please even the pickiest of eaters. So give it a try – I'm sure you won't be disappointed!
Cherimoya-Almond Cake Recipe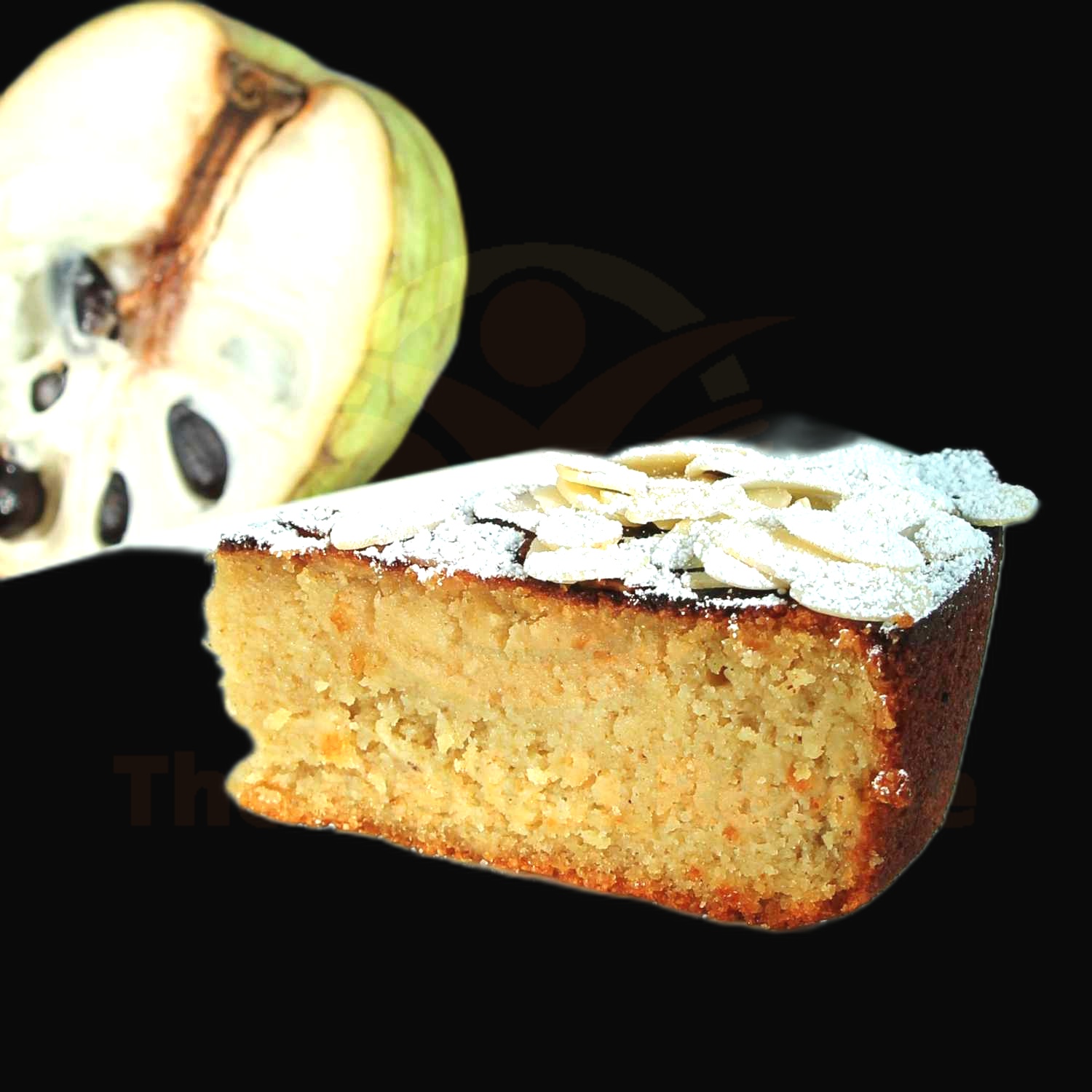 Ingredients
3/4 cup all-purpose flour
1/2 teaspoon baking powder
1/4 teaspoon salt
3/4 cup sugar
1/2 cup almond flour
1/2 cup butter, melted
2 large eggs
1 teaspoon almond extract
2 large ripe cherimoya, scooped out and mashed
1/2 cup slivered almonds
Instructions
Preheat the oven to 350°F and grease an 8-inch round cake pan.
In a medium bowl, whisk together the all-purpose flour, baking powder, salt, sugar and almond flour.
In a separate bowl, mix together the melted butter, eggs and almond extract.
Add the wet ingredients to the dry ingredients and stir until just combined.
Fold in the mashed cherimoya and slivered almonds.
Pour the batter into the prepared cake pan and spread evenly.
Bake for 45 minutes or until a toothpick inserted into the center comes out clean.
Let the cake cool completely before serving. Enjoy!
Nutrition Facts
Calories: 520
Total Fat: 26g
Saturated Fat: 11g
Cholesterol: 115mg
Sodium: 350mg
Total Carbohydrate: 58g
Dietary Fiber: 3g
Sugars: 35g
Protein: 11g
What is a cherimoya and why should you use it in your cake?
You should use cherimoya in your cake because it's a delicious, sweet, and versatile fruit! A cherimoya is a round, green fruit with white fleshy pulp. It's native to tropical climates, but is also grown in temperate climates. The flavor is a mix of banana, pineapple, papaya, and strawberry, and it has a soft, custard-like texture when ripe. It's a great addition to any cake recipe, as it adds a unique flavor and a soft, creamy texture. It's also a great source of vitamins, minerals, and dietary fiber, making it a nutritious and delicious addition to your baking.
How do you decorate the cherimoya-almond cake for a special occasion?
To decorate your Cherimoya-Almond Cake for a special occasion, you can use a few simple techniques to make it truly spectacular:
Start by making a fresh whipped cream frosting. You can use either a basic simple syrup and cream mixture or a more complex mixture with cream cheese, butter, and sugar. Once you've finished frosting the cake, you can use fresh cherimoya for decoration. Cut the fruit into thin slices and layer them in a circular pattern around the top of the cake.
For a more festive look, you can add a few edible flowers. You can place them on top of the cherimoya slices or around the edges of the cake. You can also sprinkle some toasted almonds on top of the cake for a crunchy texture.
You can also pipe some extra frosting on top of the cake in a decorative design. You can use a star tip or a flower tip to create a unique design. Add a few extra cherimoya slices and flowers around the edges of the cake to complete the look.
Finally, you can add a personal touch by writing a special message on top of the cake using a food-safe marker. You can also add a few sparkles to make the cake even more festive.
Making a Cherimoya-Almond Cake for a special occasion is a great way to show your love and appreciation. With these simple decorating ideas, you can make a beautiful and delicious cake that is sure to impress your friends and family.
What unique flavor does the combination of cherimoya and almond create?
If you combine cherimoya and almond together, you're in for a delightful surprise! The combination of these two distinct flavors creates a uniquely delicious and sweet taste that will have you coming back for more. The cherimoya brings a tropical and fruity flavor while the almond adds an earthy and nutty taste that complements the cherimoya perfectly. Together, the two flavors create a unique and irresistible flavor combination that is sure to delight your taste buds!
Whether you're making a cherimoya-almond cake from scratch or using a pre-made mix, the unique flavor combination is guaranteed to be a hit. The cherimoya's sweet and fruity flavor pairs perfectly with the almond's nutty flavor, creating a taste that is truly memorable. The cherimoya's soft and creamy texture also adds an extra layer of texture to the cake, making it even more enjoyable.
This combination of cherimoya and almond is sure to be a hit with your friends and family. If you're looking for a unique and delicious cake that will be sure to impress, try making a cherimoya-almond cake.
What are the special baking techniques required to make this cherimoya-almond cake?
Making a delicious Cherimoya-Almond Cake requires a few special baking techniques. From prepping the ingredients to making the batter and baking the cake, you'll need to pay close attention to each step to get the perfect results.
First, you'll want to make sure you have all the ingredients you need before you begin. The most important ingredient is the cherimoya, a tropical fruit native to Peru. To prepare the cherimoya, you'll need to peel and remove the seeds. You can then mash the fruit into a paste using a food processor or a fork.
Once you have all the ingredients ready, you can start making the batter. This cake requires a unique mixture of almond flour, baking powder, and melted butter. These ingredients need to be mixed together in a bowl with a spoon or a whisk until they are fully combined.
The next step is to add the cherimoya paste to the almond mixture and blend it until it forms a thick batter. This batter should be spread evenly into a greased cake pan and baked at 350 degrees Fahrenheit for 30 minutes.
Once the cake is done baking, you may want to top it off with a sweet almond glaze. To make the glaze, mix powdered sugar, melted butter, milk, and almond extract in a bowl until it forms a thick creamy consistency. Spread the glaze over the cake and let it cool before serving.
Making a Cherimoya-Almond Cake isn't as hard as you might think. With the right ingredients and a few special baking techniques, you can have a delicious cake ready to serve in no time.
What other variations can you make with the cherimoya-almond cake?
There are plenty of delicious variations you can make with cherimoya-almond cake! With just a few simple tweaks, you can turn this classic dessert into something new and exciting. To start, you can try adding a hint of citrusy flavor by substituting the almond extract with a teaspoon of freshly grated orange or lemon zest.
You can also switch up the nutty topping by using hazelnuts or walnuts instead of almonds. Or, if you're feeling adventurous, you can try combining two different kinds of nuts—like almonds and pistachios—for a more complex flavor.
You can also get creative with the cherimoya itself. Try adding a layer of cherimoya puree for an extra fruity kick, or you can even fold in some diced cherimoya at the end for added texture.
Finally, you can also change up the presentation by using different kinds of cake pans or molds. For example, you can bake the cake in a loaf pan to create a more rustic look, or you can use a Bundt pan to give it a more elegant shape.
As you can see, there are so many ways to make cherimoya-almond cake your own. With a few simple tweaks, you can turn this classic dessert into something completely unique.