Delicious Cheeseburger Sliders Recipe
I'm a huge fan of cheeseburgers and, when I discovered cheeseburger sliders, I was immediately hooked. These delicious sliders are the perfect combination of beef and cheese, and they're easy to make too. All you need is some ground beef, cheese slices, buns, and a few other ingredients, and you can have a tasty snack or dinner in no time. Trust me, once you try these, you'll be hooked too!
Cheeseburger Sliders Recipe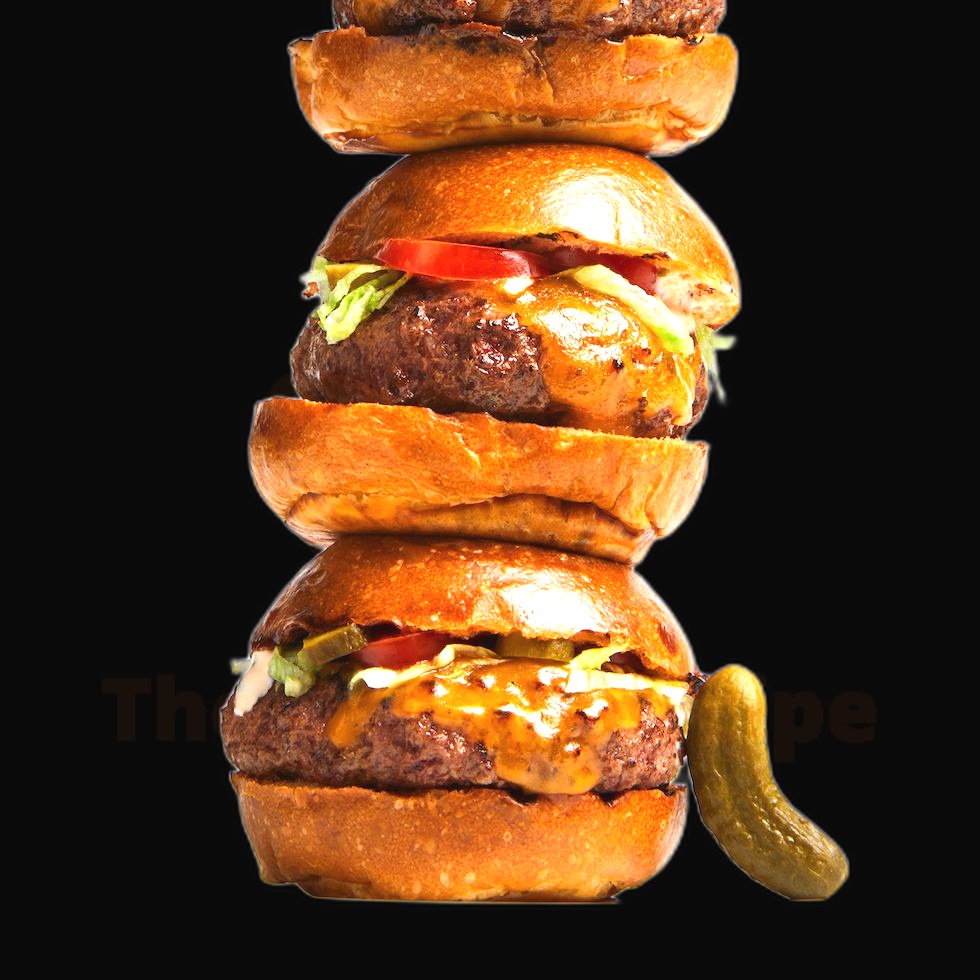 Ingredients
10 slider buns (5 per serving)
10 slices American cheese (2 per serving)
2 lbs. ground beef
1/2 cup onion, diced
3 tsp. garlic powder
3 tsp. Worcestershire sauce
1 tsp. black pepper
1 tsp. salt
4 tablespoons ketchup
4 tablespoons mustard
Instructions
Welcome to Cheeseburger Sliders! Let's get started!
Preheat your oven to 375°F.
In a large bowl, mix together the ground beef, onion, garlic powder, Worcestershire sauce, black pepper, and salt until well combined.
Form the beef mixture into 10 patties, about 2 ounces each.
Heat a skillet over medium-high heat and cook the patties for about 7-8 minutes, flipping them over halfway through.
Place the buns on a baking sheet, and place a slice of cheese on each one.
Place the cooked patties on the buns, and top each one with a teaspoon of ketchup and mustard.
Bake the sliders in the oven for 10 minutes, or until the cheese has melted.
Let the sliders cool for 5 minutes before serving.
Enjoy your Cheeseburger Sliders!
Nutrition Facts
Calories: 402
Fat: 22g
Carbohydrates: 17g
Protein: 28g
Sodium: 483mg
Cholesterol: 83mg
What are cheeseburger sliders and why should you try them?
If you're looking for a delicious and bite-sized snack, look no further than cheeseburger sliders! These mini burgers are packed with flavor, perfect for a light meal or a tasty appetizer.
Cheeseburger sliders are made with the same ingredients and flavors as regular burgers, but in smaller form. They're usually cooked on a griddle and can be served up on a bun, a lettuce wrap, or as a slider patty. The toppings that usually accompany sliders are cheese, ketchup, mustard, pickles, and onions.
So why should you try cheeseburger sliders? Well, sliders are a great way to get a lot of flavor without feeling like you've over-indulged. They're also the perfect size for quick and easy snacking. Whether you're looking for a snack to bring to a party or a quick lunch or dinner, cheeseburger sliders are a great way to go.
Plus, cheeseburger sliders are super customizable! You can add any topping you like for a unique flavor combination. Try adding some jalapenos for a kick of heat, or BBQ sauce for a sweet and savory flavor. The possibilities are endless!
So if you're looking for a delicious and bite-sized snack, cheeseburger sliders are the way to go. Not only are they packed with flavor, but they're also incredibly versatile and make for a great appetizer or light meal.
What are the key ingredients for the perfect cheeseburger sliders?
The key ingredients for the perfect cheeseburger sliders are simple: a savory and delicious patty, some gooey melted cheese, some crispy bacon, and a bun that's just the right size. Here's how to make the perfect cheeseburger sliders.
First, you'll need to start with the star of the show – the patty. Pick out a lean ground beef that's packed with flavor. Season it with salt and pepper, and form it into thin patties that are small enough to fit your slider buns.
Next, you'll want to add some gooey melted cheese. A classic cheddar is always a great choice for cheeseburger sliders. Top each patty with a thin slice of cheese and let it melt away.
Adding some crispy bacon is a great way to add a bit of crunch to your sliders. Fry up a few slices of bacon until they're nice and crisp, then add them to the top of each patty.
Finally, you'll need to find the perfect bun. Look for small slider buns or potato rolls that are the right size for your patties. Toast them until they're lightly golden and spread with some mayonnaise or butter.
Put all of the ingredients together and you've got the perfect cheeseburger sliders! Serve them up with some salty fries and a cold drink for the perfect summer meal.
What tips and tricks can you use to make the perfect cheeseburger sliders?
You can make the perfect cheeseburger sliders with these easy tips! Here's how:
Start with the right ingredients: Use ground beef that is 80/20 blend of fat/meat, or leaner if desired. Choose a cheese that melts easily, such as American or cheddar. Use small buns or dinner rolls that fit the size of the patties.
Form your patties: Form your patties into small discs that are roughly the same size as the buns. Make sure the patties are not too thick or too thin, as this will affect the cooking time.
Season your patties: Add some salt and pepper to the patties and mix until well combined. This will add flavor and help to keep the patties from sticking to the pan.
Cook the patties: Heat up a non-stick pan and cook the patties for about 3-4 minutes per side, or until the desired doneness is reached.
Assemble the sliders: Place a slice of cheese on the cooked patty and top it off with a bun. Spread some ketchup and mustard, if desired.
What sides go well with cheeseburger sliders?
When it comes to cheeseburger sliders, the possibilities for sides are endless! You can't go wrong with the classic french fries and onion rings, but why not get a bit creative and try something new? Here are some delicious pairings to make your mini burgers the star of the show!
One delicious option is to serve a fresh house salad with your sliders. The crisp, cool lettuce and veggies will act as a delicious contrast to the savory, juicy sliders. Add some croutons, a sprinkle of cheese, a drizzle of balsamic vinaigrette, and you've got the perfect side dish.
If you're feeling adventurous, why not try sweet potato fries? Not only are sweet potatoes packed with vitamins, antioxidants, and dietary fiber, their natural sweetness will take your sliders to the next level. Serve them with a spicy aioli to complete the flavor combo.
If you're looking for a healthier option, veggie slaw is the perfect choice. Slaw can be made with a variety of vegetables, so you can mix and match to your taste. Serve it with a light and zesty vinaigrette dressing, and you've got a light, refreshing side to go with your sliders.
If you're looking for something a bit more indulgent, macaroni and cheese is the way to go. Mac and cheese is always a crowd pleaser, and it's the perfect pairing for cheeseburger sliders. Top it off with a sprinkle of cheese and some crumbled bacon, and you have a match made in heaven.
No matter what side you choose, cheeseburger sliders are sure to be a hit. Whether you keep it classic or get creative, you can't go wrong with one of these delicious sides.
How can you make cheeseburger sliders a more nutritious meal?
You can make cheeseburger sliders a more nutritious meal by making a few simple swaps! Start by replacing the white buns with whole wheat buns, which are a great source of fiber and other nutrients. You can also opt for leaner meats like turkey or chicken, as these are lower in saturated fat. For a vegetarian option, try swapping the beef or turkey for grilled mushrooms or vegan patties. Finally, top your sliders with a slice of low-fat cheese and plenty of fresh vegetables; tomatoes, lettuce, and onions are all great choices.
What variations of cheeseburger sliders can you make?
You can make endless variations of cheeseburger sliders! From the classic cheeseburger to more creative takes, there's something for everyone. Start off with the classic cheeseburger slider – a mini cheeseburger with juicy beef patties, melted cheese, and your favorite condiments. Then, you can customize your own slider by adding toppings like bacon, grilled onions, jalapeños, sautéed mushrooms, and more.
For a more unique slider, try adding a fried egg or a spicy chili topping. If you're looking for something lighter, you can opt for a turkey or veggie patty instead of beef. You can also switch up the cheese, from classic American to Swiss, pepper jack, and more.
If you're feeling creative, you can also play around with different flavored buns. Try a pretzel bun, a honey wheat bun, or go all out with a jalapeño bun. For a real party, you can even make a slider bar with all different kinds of cheeseburger sliders! The possibilities are endless. So go ahead and make some delicious cheeseburger sliders that everyone will love.